Almost every college student can benefit from having a part-time job. Learn what high paying jobs for college students you can take advantage of in 2020.
College is an amazing time in a person's life. It is the first real time you are out on your own. You are meeting new friends. Learning new things. Building a foundation for your career and so on.
College is also the perfect time to get started with your first real part-time or full-time job. College schedules can be quite erratic so a normal job can be difficult to maintain. This is especially true in one of the tougher disciplines like engineering or medical.
Want free money?
Aspiration: Want to get spotted a $100 for free? Simply sign up for Aspiration, and the free banking app will give you cash for free, you just relax while it gives you $100 just for opening a new debit card. There's no catch, just use your card to make at least $1,000 in cumulative transactions within 60 days of opening an account. This bank account is legit and only takes two minutes to sign up for an account.
College is also very expensive so having a source of income is necessary. This is where a side hustle fits the bill perfectly.
A full-time or even work from home job allows you two main things. One, to set your own schedule. Two, make some good money!
Starting your first job is basically your first step towards adulthood. You are the "owner" of your money and you run the show. Our ideas below will revolve around those college students who have an entrepreneurial spirit.
If you have no idea what job for college students is right for you then read below!
9 Legit High Paying Jobs for College Students
1. Moving Service
Starting a moving service in college is really cheap and really easy. All you have to do is find a couple buddies that want to start a moving service with you. Then make some fliers and hand them out. Post on a few local social media pages. Go knock on your neighbor's door.
All college students must move at the beginning of the year and at the end of the year. Most of the time it is from dorm to dorm, dorm to apartment or apartment to apartment. Due to this, you only have to move things a short distance. I.e. fewer costs and fewer chances of damaging items.
Start-up costs are very low. You can go to Walmart and get moving boxes for about $1 a piece. Most colleges allow you to print a few hundred pages a semester for free. Design your own fliers and print them at the computer lab.
For less than $20 you can land your first client!
Trust me, parents don't like to move their kids. It is a lot of work and regular moving companies can be quite expensive. Don't overcharge and you can move a lot of people each fall and spring.
2. Tutor
Do you want to learn how to become a tutor? In every college class, there are people that rock the class and people that struggle with it. It is a fact of college.
If you are one of the ones that rock your class then use that to your advantage. Help out people that are struggling.
Getting good grades in college is important, people are willing to pay for help in getting those good grades.
Students will already have their books and course material so that won't cost you anything. Hand out flyers, post on Facebook groups, and other social media accounts.
You could also sell your tutoring services on sites like Fiverr and if you want to make legitimize your service you can use this free blog starter guide to start your own web site.
If are you considering becoming a tutor, be sure to put your heart into every session—a short tutoring session can easily turn into the highlight of your day.
Not only can it advance your knowledge but you can also add it to your resume.
3. Event Organizer/Promoter
Do you love the social scene at your school? Why not take advantage of it?
You can work with local groups and organizations to schedule and promote events.
There are always going to be local bands, groups, bars, etc that want to get their name out there.
If you enjoy being part of the social scene then this can be a great option for you.
It will also help you build skills, like marketing, for future jobs and even side hustles.
4. Resume Writing Service
What is one thing that every college student will need towards the end of their college career? A kick-ass resume. Resumes are difficult for many people to write. They are, however, very easy once you know how to write a great one.
Spend some time learning how to write a great resume. There are a ton of great resources online from very reputable sites. I went from having no clue how to write a resume to be awesome at it.
How do I know I was awesome at it?
Every human resource or hiring manager that saw my resume commented on it. They asked how a college student with no experience could have such a great resume.
Learning to write a resume is not difficult, it just takes a little bit of time to learn. Once you learn it then you can repeat the same process for each individual resume your write.
Then you can start charging for your resume and cover letter writing services on Fiverr.
5. Delivery and Errand Service
With all of the gig economy apps out there today this one is an easy one for college students to make money.
All you need to have is a car or bike, in most cases.
Grocery delivery services like DoorDash, Postmates, and Instacart are easy to sign up for and start making money. There are always people that are looking for a ride or looking to get something delivered.
Another great part about doing this is that you can pick your hours. If you have 30 minutes between classes you can do a ride or two.
---
Want to get paid to play games on your phone?
Mistplay (Android)

 - If you have an android device, you can download this app and start getting cash rewards for playing new games.

Solitaire Cube (iOS)

 - Earning money by playing games on your phone sounds like a dream. But this app really pays you for playing solitaire with cash rewards.
Lucktastic (Android) - This free app offers the same daily scratch-off cards that you find at your local convenience store — but here you can play for free and win real money.
---
If you are only available 8-11 at night then you can work then. It is extremely flexible and you can make good money doing it.
6. Dropshipping
Dropshipping is a great option for college students because it requires very little upfront capital. You don't have to ever see the goods. You don't have to buy the goods until you have a customer that already paid you.
If you are good with technology then you can build your own website and save even more startup costs.
It is extremely easy to do through Shopify. Shopify also allows you to connect to apps that allow you to manage all of your orders making the process even easier! Sign up for Shopify through this link and get 14 days for free.
Oberlo allows you to easily import products from AliExpress directly into your Shopify store and ship directly to your customers – in only a few clicks. It's very simple to open a shop on Shopify and drop ship items in order to create a business without too much risk.
You can literally start and set up a dropshipping business with any type of product in one afternoon with minimal risk as Shopify has a 14-day free trial (Shopify 14-day free trial) and Oberlo is completely free.
If you don't know how to build a website or set up Oberlo on your shop then check out Fiverr. You can have a website built for you for a couple of dollars.
From there all you need to do is start marketing and can use Snapchat or Instagram to start promoting your dropshipping site to your followers.
7. Freelancing
Freelancing is how I made my first $500 in college.
It was my go-to side hustle.
Freelancing can be a wide array of things:
You can build websites
Manage social media accounts
Design logos
Create videos for business
Translating
Get paid to chat and much more!
There are a ton of great websites that making freelancing extremely easy.
They help you get your services out there and help you find clients and build your freelance portfolio.
My personal favorite site is Fiverr. I have built many websites for clients using Fiverr. You are able to list a ton of different services, such as the ones listed above.
You can offer your services for as little as $5 and up to thousands of dollars.
The more you sell and the more reviews you get the higher the level seller you become. The higher your level the more options you have when listing your services.
Other great sites are Freelancer and Upwork. Both of these sites are great for both Freelancers and people looking for freelancers. These freelancing sites offer over 120 categories to choose from, so you can easily find a category that is relevant to your skills.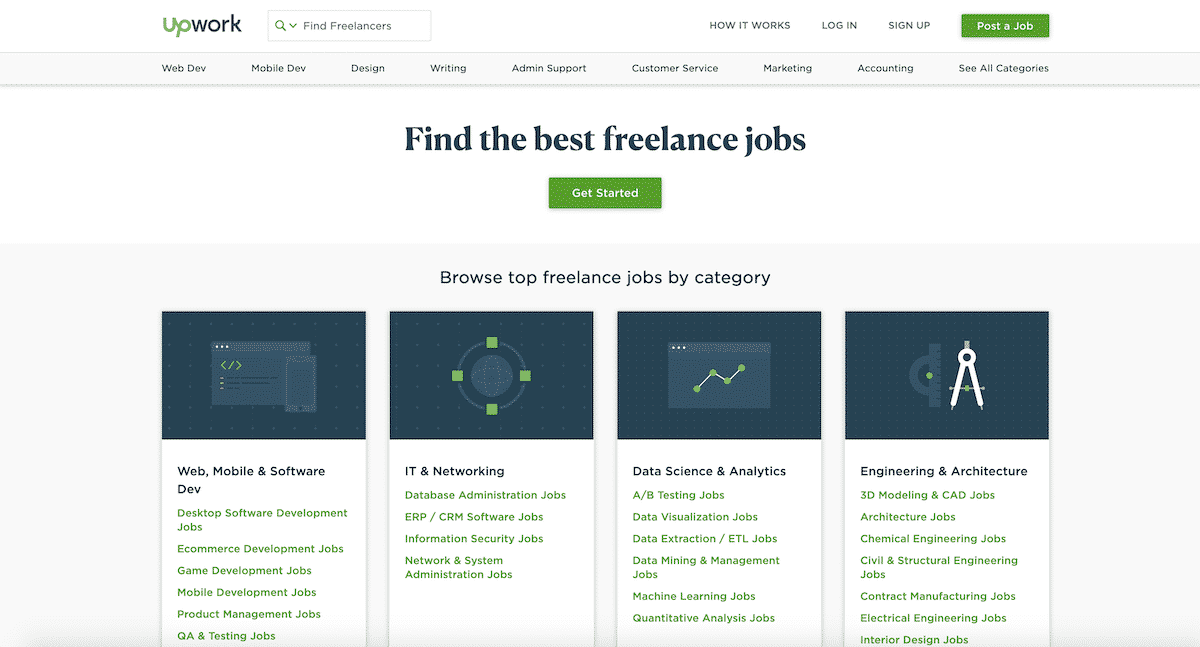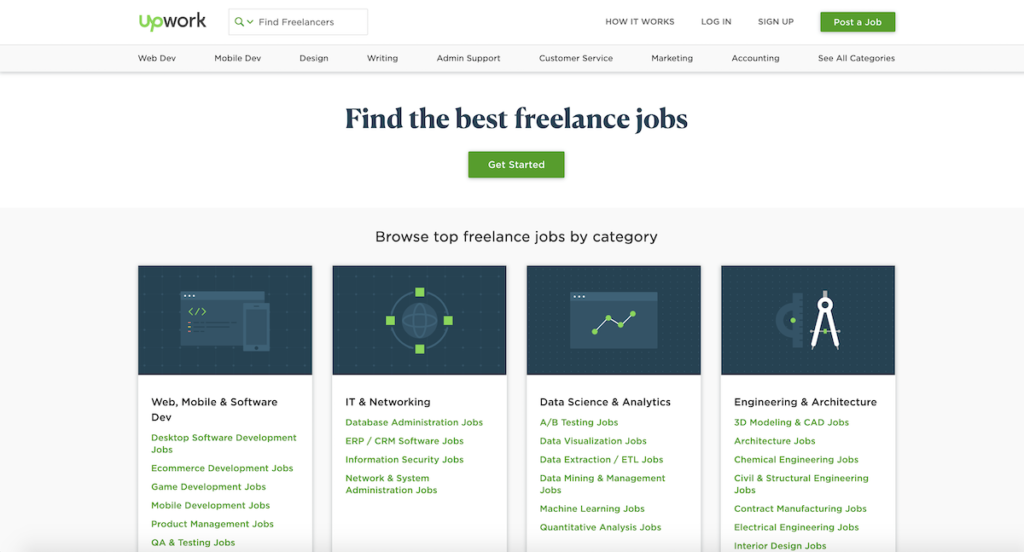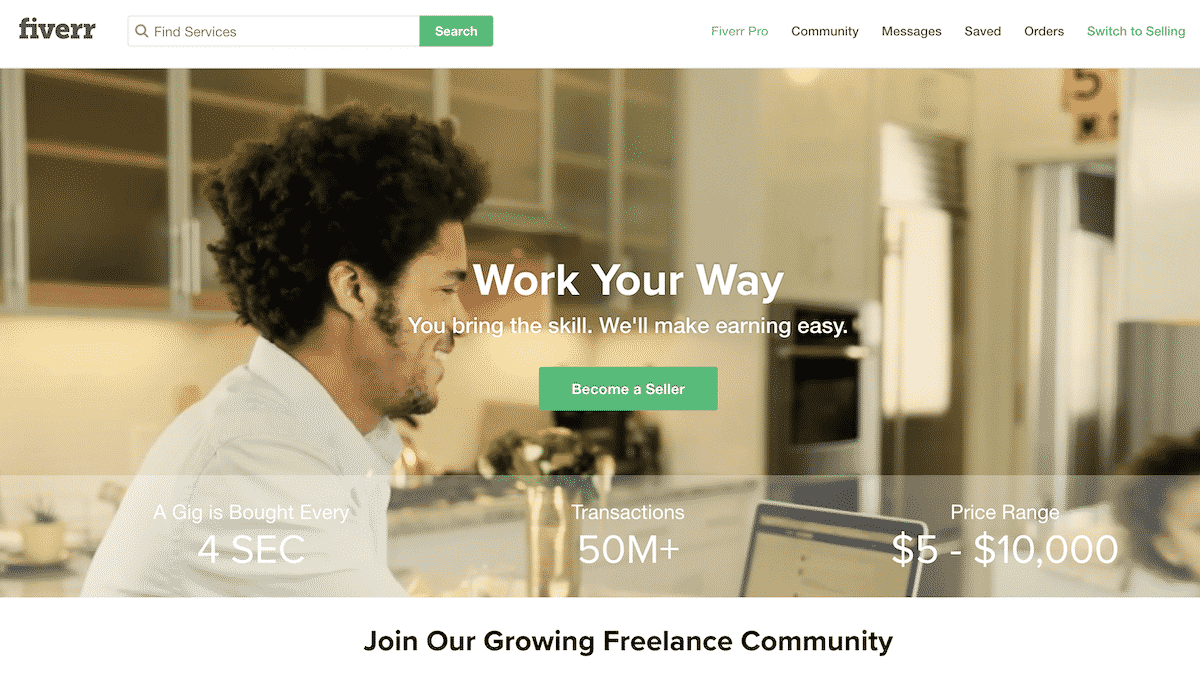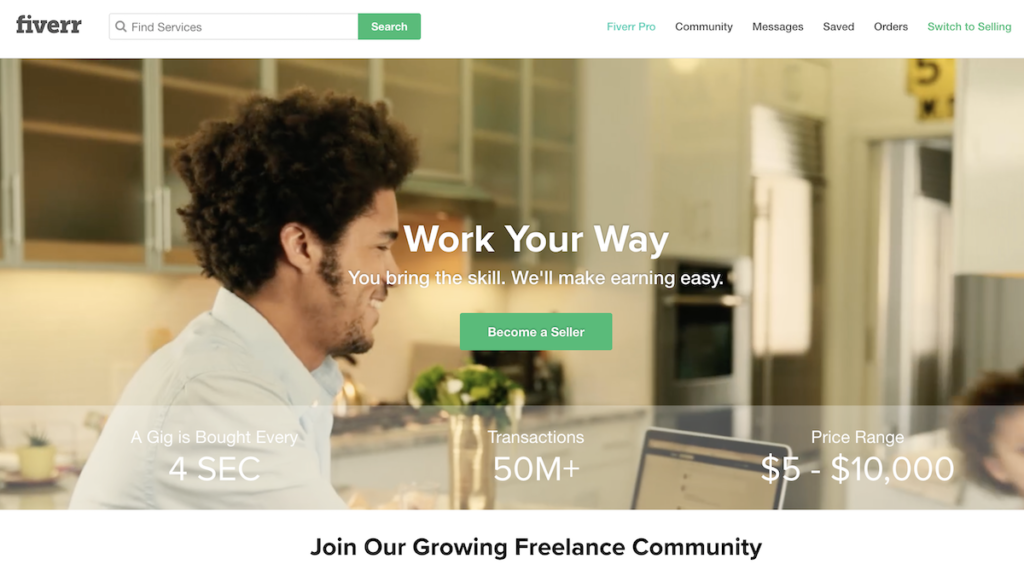 Freelancing tip: With so many different categories to choose from on Fiverr and Upwork, you'll be sure to find a service you can offer. Whether it's transcription or social media management, you are set to make money as a freelancer even as a beginner. If you wanted to make money in college, here's your chance with beginner-friendly freelancing sites.
8. Book Reviews
Are you ready to see how you can read fiction, novel, science fiction, romance, crime, or even the best money books and get paid?
Have you ever sat down to read a new book and thought, "I wonder if I could get paid to do this."
You'd be surprised to know there are actually ways to get paid to read.
Getting paid to read books sounds like a dream, but in fact, you could make $1,857 a month by reading and writing books online, according to Forbes.
If you wanted a slice of the pie, read this article of the 9 best favorite book reviewer jobs and creative ways you can get paid to read books.
9. Work-Study Positions
According to the Federal Student Aid website, Federal Work-Study provides part-time jobs for undergraduate and graduate students with financial need, allowing them to earn money to help pay education expenses.
The program encourages community service work and work related to the student's course of study.
Here's a quick overview of Federal Work-Study:
It provides part-time employment while you are enrolled in school.
It's available to undergraduate, graduate, and professional students with financial need.
It's available to full-time or part-time students.
It's administered by schools participating in the Federal Work-Study Program. Check with your school's financial aid office to find out if your school participates.
This can be a great way to earn money while in college, especially if you really need the money.
Ready to Make Money in College?
If you aren't a fan of the whole part-time job idea or have an 18-course-credit-hour semester right now you can look into making money from your dorm.
If you wanted to see more online jobs for teens you can check here.
There are jobs for just about any college student and this list will help if you're keen on making money for paying off student loans, saving money, or a bar-hopping fund.
What did you do in college to make money? or What have you taught your children to do to make money while in college?
Want free money?
Robinhood is a free investing app for your phone. I really mean free all around – free to join and they don't charge any fees to buy or sell the stock. You can get a share of stock like Apple, Ford, or Sprint for free when you join through this link. The value of the free share may be anywhere between $2.50 and $500 and fluctuates based on market movements. You've got nothing to lose.