Get paid to write online, work at flexible hours, set your own schedule, spend more time with your family and friends…No really!
Attention, freelance writers! Want to get paid to write articles online?
It's a good source of side income and you can enjoy full job flexibility. Plus, you can work from wherever you are, keep your own hours, and accept the jobs you can handle and the topics that interest you.
It sounds like a dream job, right?
Over 57 million Americans choose to do freelance work. Many writers choose to make an income on the side by writing because it can be one of the easiest ways to make money online from the comfort of your own home.
You won't even need to change out of your PJs for this one. Heck, you don't even need to be a published author or experienced journalist. As long as you can write clearly and concisely, then there'll be a writing gig for you.
Can People Really Get Paid to Write Articles?
Of course, you know it's possible to get paid to write online by becoming a freelance writer or applying for online typing jobs on job boards.
You probably know that bloggers are making a killing by blogging and monetizing websites. However, this post is for those who don't have a blog and still want to make money online by writing articles online.
I did some research on sites that pay you to write articles and found a few diamonds in the rough. There are a lot of other articles out that that have over 50+ websites that pay you for writing, but you only need less than 10 in your arsenal.
I did the hard work for you and found writing sites that get you paid quickly. Today you'll learn which ones and also some tips for aspiring freelance writers and those looking for new avenues to get paid to write online.
How to Get Started Writing Articles for Money
I get it — if you're a new writer with no contacts, it can be hard to break into the business. Here are some tips for you if you want to enter the freelance writing market and get paid to write articles online.
Step 1: Build Your Portfolio
The first thing clients will ask is to see samples of your work. Now don't make the newbie mistake of submitting your "personal writing" – nobody really cares about your poetry and online blog.
You have to be able to show relevant writing samples and a freelance writing portfolio. Most writing gigs will ask you to do research, write a review, describe a product, create a website page or landing page, or give tips on a topic in a clear and engaging way.
So if you want to get good clients and get paid to write articles online, start by building that diverse portfolio. Either write it for practice and file it away or submit your work to a free website just to get published.
You may not get a lot (or even any) money right away, but with each article, you gain exposure and experience.
Step 2: Join Freelancer Sites
Get started as a freelancer on sites like Upwork and Fiverr and you can easily get paid to write. It's very simple for freelancers to learn the platforms, build a portfolio, take relevant tests, and apply for relevant job openings and get paid. Be sure to stick to what you know best, so if you have a degree in Finance, stick to personal finance writing assignments.
Tip: On Upwork, the rates for top content writers can range from as low as $15 dollars an hour to as high as $80, though most fall in the $30-50 range.
Upwork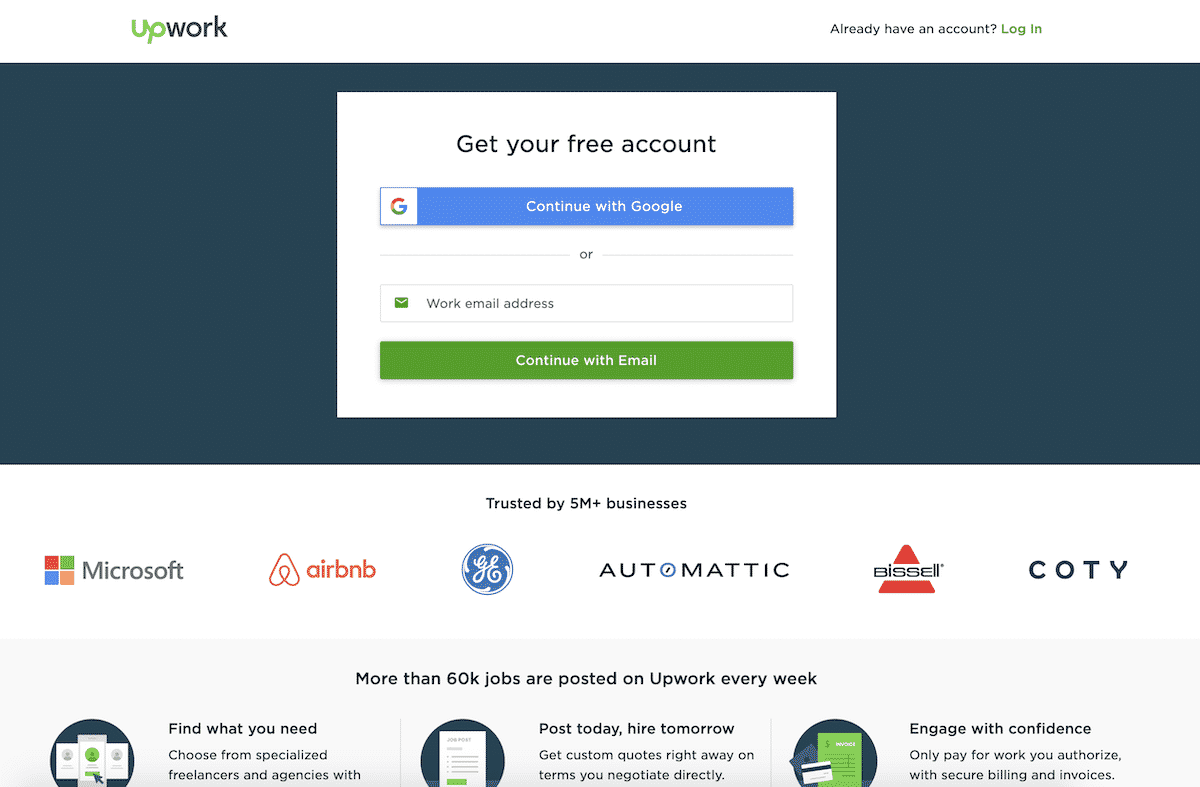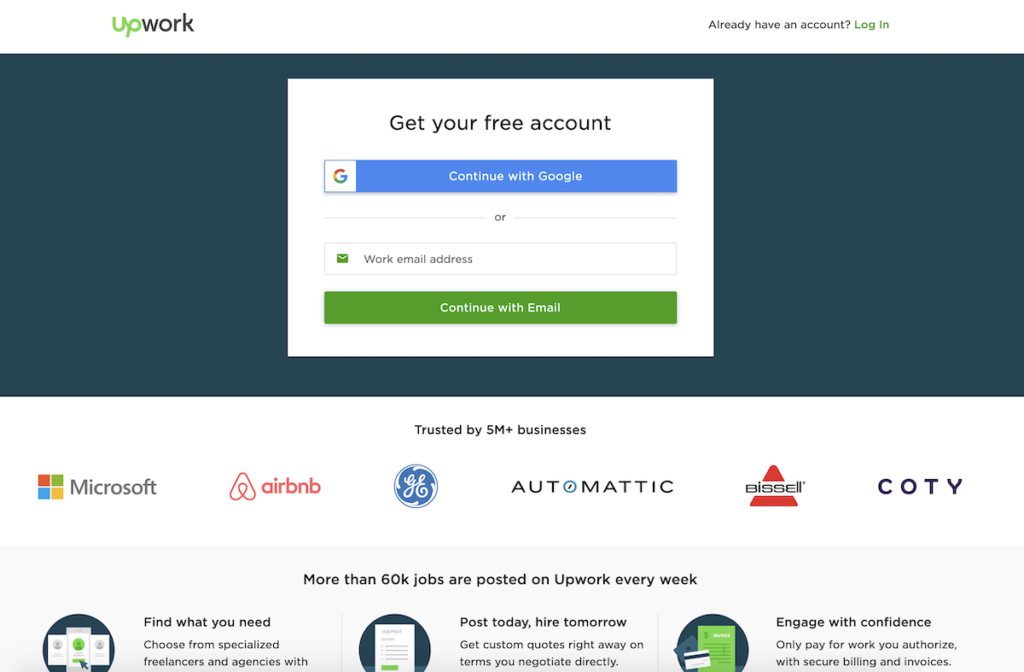 What is Upwork?
What is it: Upwork connects businesses of all sizes to freelancers, independent professionals, and agencies for all their hiring needs such as online writers.
How do you get paid: Upwork has it's own invoice and payment system and you can set your own rates. Fees are 20% for the first $500 billed with the client and the rate lowers the more you work with the client.
Where to sign up: https://www.upwork.com/freelance-jobs/writing/
Fiverr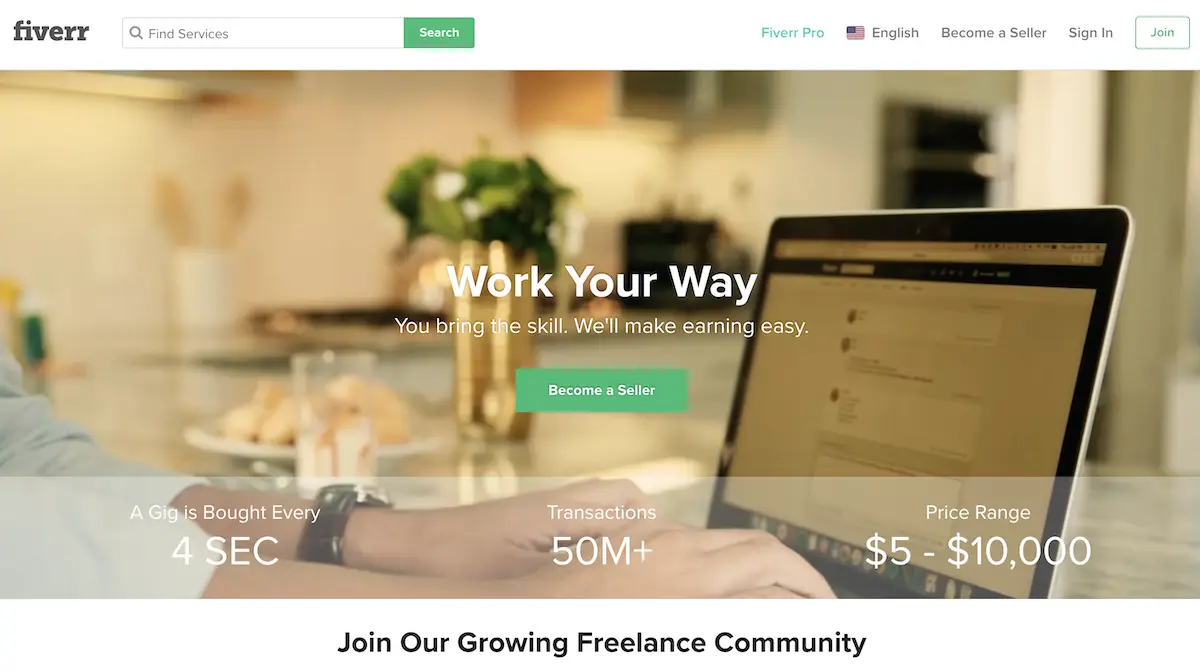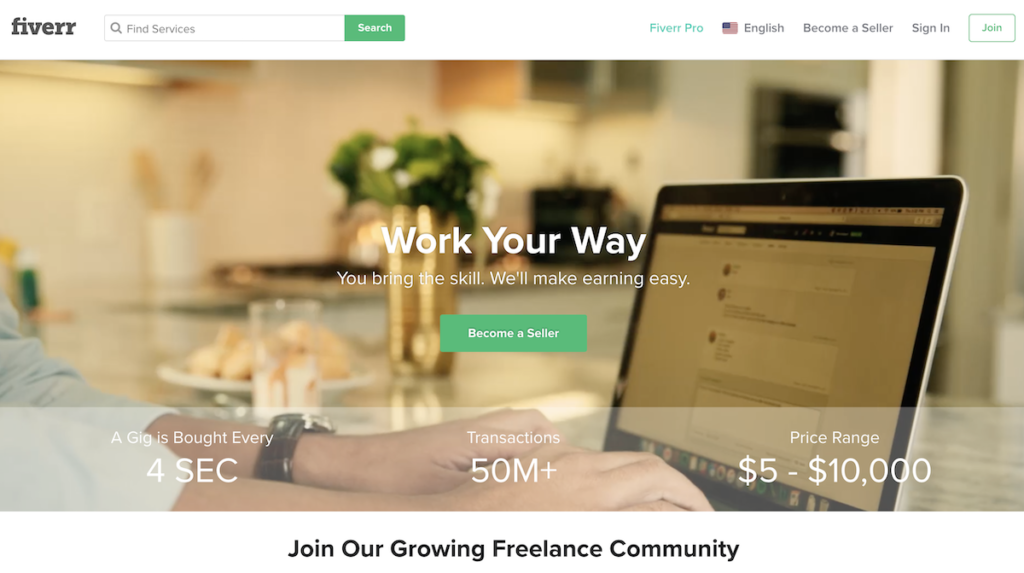 What is Fiverr?
What is it: On Fiverr you can create a writing gig for free and work with Fiverr's global audience. You get notified when you get an order and use the system to discuss the details.
How do you get paid: You get paid on time, every time and payment is transferred to you upon order completion. You can cash out your earnings from Fiverr by using PayPal which is immediately after the payment is transferred which takes a few days. As a seller, 20% of each order's earnings go to Fiverr.
Where to sign up: https://www.fiverr.com/start_selling
Step 3: Develop a Competitive Edge
Let's face it: there are thousands of writers out there.
So to stand out among a sea of applicants, develop unique skills.
Some examples of popular skills are:
Knowledge of keywords and search engine optimization
Social media and content marketing
Simple layout or graphic design skills
Proofreading and copyediting skills
Transcription and translation
These are all different ways to get an edge over other writers and increase your chances to get paid to write articles online. Plus, it opens out other ways to earn money. Aside from simple articles and blog posts, you can now edit or write ebooks, make simple social media images or brochures, or work with a developer to build website pages. Your opportunities to earn expand.
Step 4: Make a Writing Routine
While one of the best things about getting paid to write articles online is its extreme flexibility, it's important for new writers to develop discipline and writing speed. The only way to do that is to write every day without fail.
Set aside a specific time and place. Train yourself to write even if you're not in the mood or if you're tired. That way, when you finally get a writing job, you know you can deliver the project.
How to find Writing Jobs Online
Freelancing platforms like Upwork and Fiverr are a convenient way to search for writing assignments and non-phone work from home jobs. If you have a specialization – like you have a culinary degree and can write food recipes and tutorials, or you're a music enthusiast with a deep knowledge of music history and trends – try to contact online publications that specialize in these topics. They're always on the lookout for writers who have a deep understanding of the subject matter.
One of the most challenging parts of writing jobs or typing gigs is finding people that'll pay you to do it.
Based on our research, here are of the best online writing jobs available today that allow you to work from home.
BloggingPro
If you like to write blog posts, BloggingPro may be the place for you! The website promotes that their job boards are "updated daily, with fresh paid blogging jobs". The job boards are free to access, and applying to these jobs is simple. You click on the job you're interested in, click apply to this job, and you are taken to the website of the company hosting that job. This site is merely a job board; payment is processed through each individual client.
Apply for this online writing job:
Constant-Content
Constant-Content has over 100,000 writers and thousands of job opportunities. Like the sites above, everything is flexible and made to work around your schedule. You set your own price and find clients at the touch of a button. If you want to write for them, you create an account, take and pass a quiz, and provide a short sample. In order to get paid, you must earn at least $5.00. Payments are rendered the first week of every month.
Apply for this online writing job:
ProBlogger
Not to be confused with the aforementioned BloggingPro. ProBlogger is made for freelancers, and their credentials for writing for them are legitimate. In order to write for ProBlogger, you must sign up on METRO, and take and pass an English Comprehension Assessment, with a Comprehension Credential Level III. You must then take the English General Writer Assessment. It sounds like a lot of work, but if you want a good writing job, working hard to get that job will be worth it!
Apply for this online writing job:
FlexJobs
FlexJobs has jobs in 50+ categories, including writing assignments. Everything you do is according to your time. They have full-time and part-time jobs and they're very flexible (hence the company name). They have successfully helped people find jobs for over 10 years, and are considered the biggest site for "curated remote and flexible jobs". You can view job listings for free, but to apply, you have to pay. Subscriptions are $14.95 monthly, $29.95 quarterly, or $49.95 yearly. For good, flexible writing jobs, it may benefit to pay.
Apply for this online writing job:
Getting Paid to Write Online is Possible
If you don't want to spend time freelancing and seeking writing jobs online — you're in luck. At Writing Jobs Online you are able to write conveniently at home, work at flexible hours, set your own schedule, spend more time with your family and friends, and get a nice big fat paycheck at the end of the month.
They work with big network partners to bring you fresh and creative opportunities to get writing jobs online. The company has been featured on sites like MSNBC, Entrepreneur, About.com, Yahoo!, and more.
This is a perfect opportunity for freelance writers and just about anybody who can write that just don't have time for a commute to a dead end, part-time job. Or, for anyone who wants to sit in their pajamas and work at home.
Things that I like about the opportunity:
Earn up to $30-$120 per hour
Get paid up to $50 per article
Get paid up to $500-$1,000 for short ebooks
Get cash from 1,000's of daily high-paying writing jobs
All kinds of writing jobs for you to choose from
Flexible working hours, work when you want to
Write content anywhere in the world
No experience needed to join!
Now you can try and live the digital nomad lifestyle and make extra cash by providing written content to thousands of their partners that need them for their websites, blogs, books, magazines, marketing materials and many more!
These are just some of the ways you can make money with their online writing jobs and strategic partnerships with major corporations.
Go Get Paid to Write
I hope you found this resource useful and it has provided you with more insight into giving writing for a living a go. Do you know of any other sites that will pay you to write that I missed? Let me know in the comments below!