Looking to make extra money? Better yet, are you interested in having a stable side hustle that earns you passive income?
Then you should consider signing up for Turo or Getaround. The best part about these gig apps is that you use what you've got to earn money — your car.
Peer-to-peer car sharing is an inexpensive way of renting out your car and earning an income from it.
This may be particularly ideal for making car payments or earning from your ride while it's not in use, like when you're working from home during the pandemic.
You might be wondering how it all works and what's the best option for going down that road. I'll be reviewing Turo and Getaround — two notable companies that offer this service — and make a selection on which one is the best to rent out your car.
Stick around to find out which one of these gig economy apps is better.
What is Turo?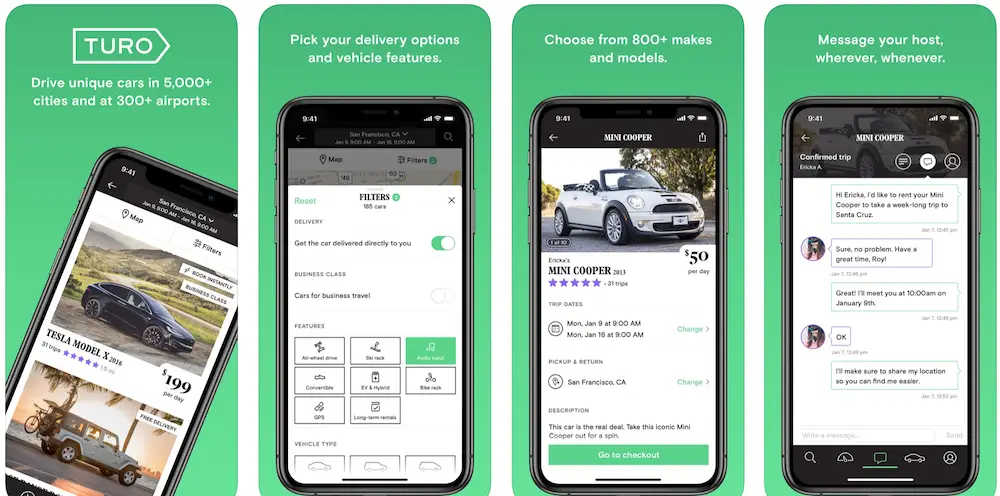 Turo is a peer-to-peer car-sharing marketplace that facilitates the hosting and renting of vehicles on their digital platform.
Headquartered in San Francisco, California and operational in three countries: United States, Canada and the United Kingdom — Turo promises renters they'll find a vehicle that is 'way better than a rental car.'
Catchy tagline aside, the company hosts almost half a million cars on their platform, from sports cars to minivans and everything in between.
How Turo Works
Simply put, Turo works by signing up to the platform, listing your vehicle, and setting your price, availability, and rules for use.
Once a renter books your car, you direct them on how to get the keys either via meetup or self-check-in.
You start earning as soon as the trip begins.
Turo states that hosts earn an average of $706 per month.
It's quite a bold statement to add, but it reassures anyone who's considering joining the platform wanting to make money fast.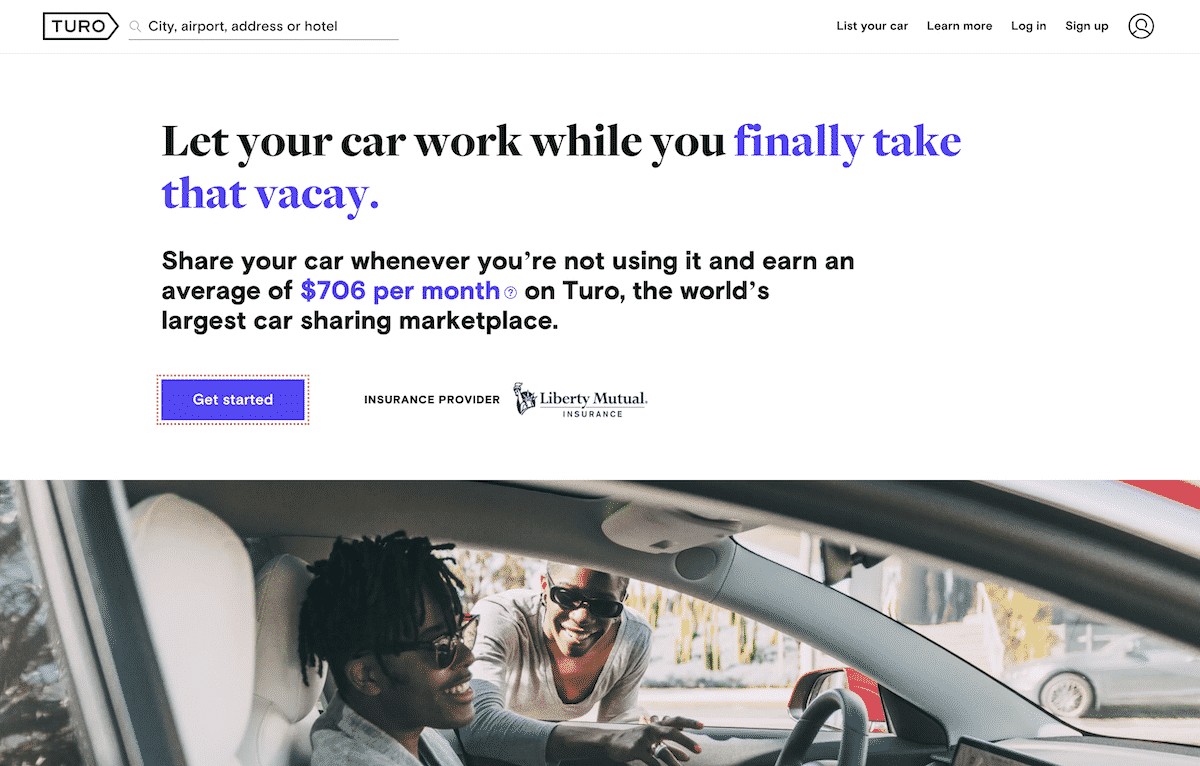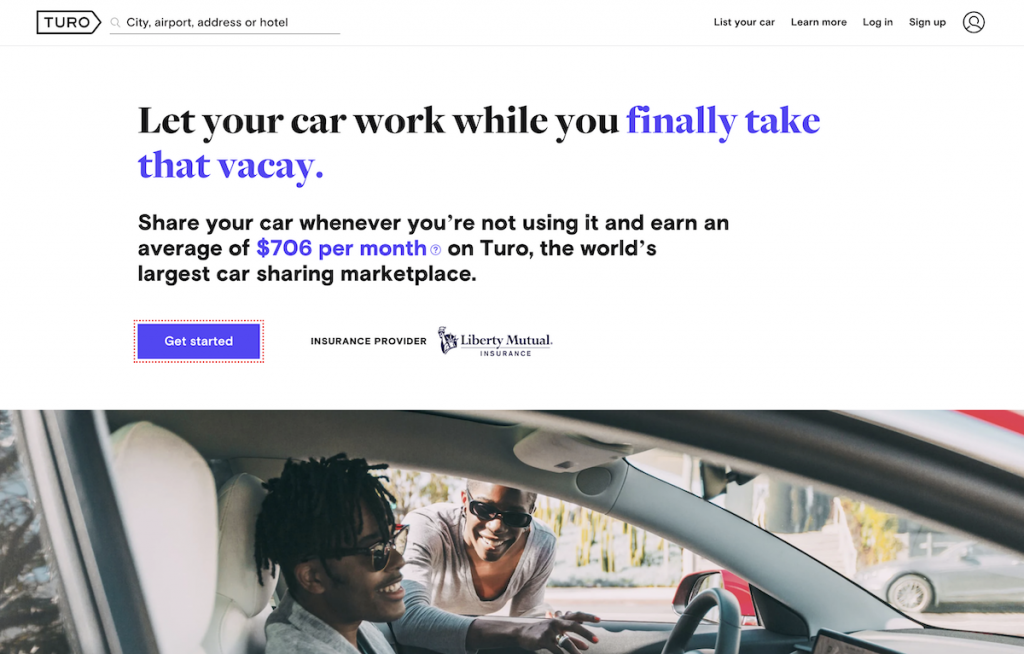 What makes Turo interesting is that you have the freedom to choose when your car is available for use, which means you can use it and only rent it out when you don't need it.
Peer-to-peer hosts can get up to $750,000 in third-party liability insurance in the United States, $2 million in Canada, and £20 million in the UK.
There are five protection plans available, with varying levels of coverage on physical damage reimbursement and roadside assistance, with some trade-offs:
Earning 60% of the trip price on the highest protection plan
Or, earning 85% of the trip price on the lowest protection plan
Rental car companies can also sign up to Turo as commercial hosts and rent their fleet of cars.
They are required to cover commercial rental insurance for themselves and their guests.
This makes them eligible to earn 92.5% of the trip price within the US and 80% outside of the US.
Pros and Cons of Turo
Let's start with the bad news first.
Turo is not available in the state of New York.
In Canada, vehicles can only be registered and located in Alberta, British Columbia, Nova Scotia, Ontario, and Quebec.
Turo also dictates that you can not list your car on any other car-sharing platform or any other site, for that matter.
That means you must commit to exclusively listing your car on their site.
The good news is, they offer plenty of flexibility with the ability to set guidelines for your vehicle's use, and they offer plenty of support with getting your listing optimized for success.
They also have a range of insurance plans to choose from.
It's a great way to offset car payments.
What is Getaround?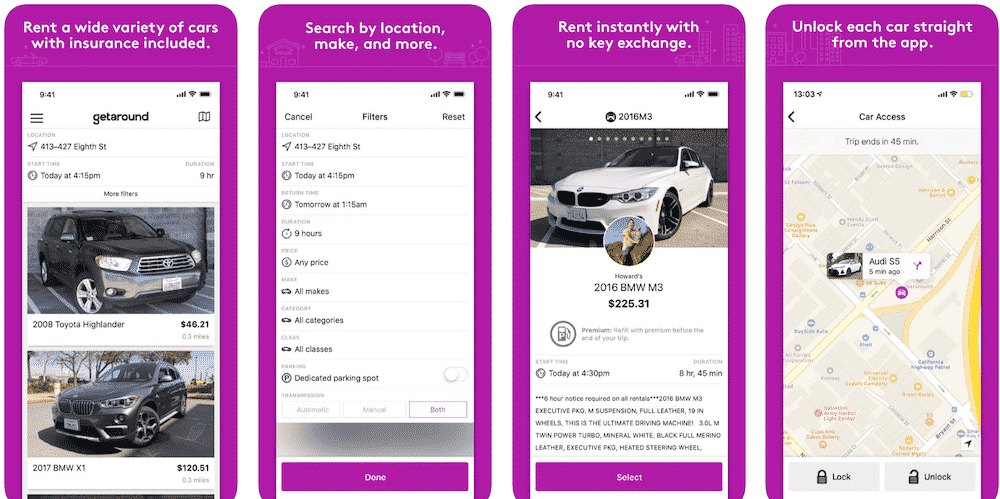 Getaround is a car-sharing marketplace available in 300 cities in the US and Europe.
Hosts have the option of renting out a car or a fleet of vehicles — by the hour or by the day.
You can set your own rates or use the predictive pricing feature, which automatically sets the price for your vehicle by taking certain factors into consideration like the year, make and model of your car, location, seasonality, and peak demand hours.
What makes Getaround unique is the standard installation and use of Getaround Connect on all cars listed on their platform.
Getaround Connect is a device that facilitates keyless entry eliminating the need to meet with renters or coordinate key pick up while still providing GPS tracking and anti-theft functionality to increase vehicle safety.
How Getaround Works
To list your vehicle on Getaround, you submit your details on the website and a representative contacts you to set up your vehicle profile and install Getaround Connect.
Once your vehicle is listed on the platform, renters can view it and pay to use it.
Hosts make 60% of the trip price, while Getaround takes 40% to cover insurance, driver screening, 24/7 support, and platform costs.
All vehicles have liability, collision, and comprehensive insurance coverage of up to $ 1 million.
You're able to manage vehicle availability and are responsible for maintenance.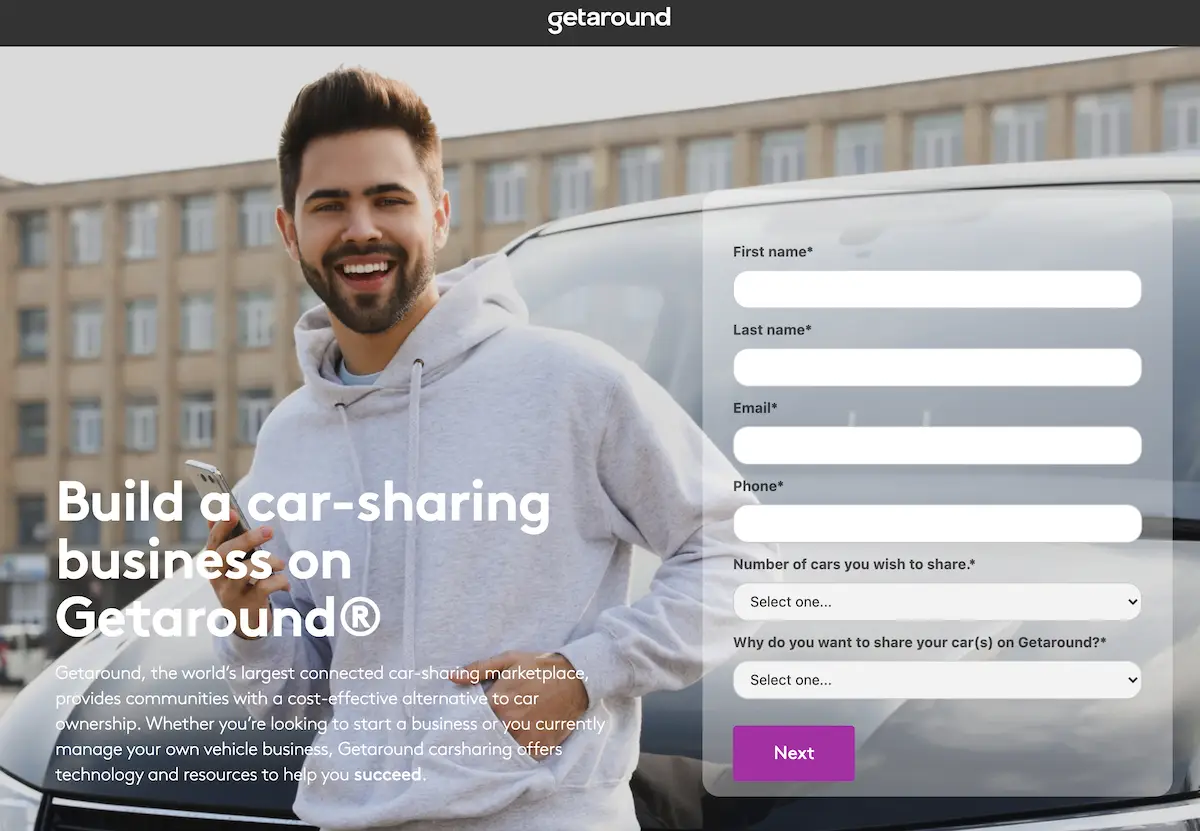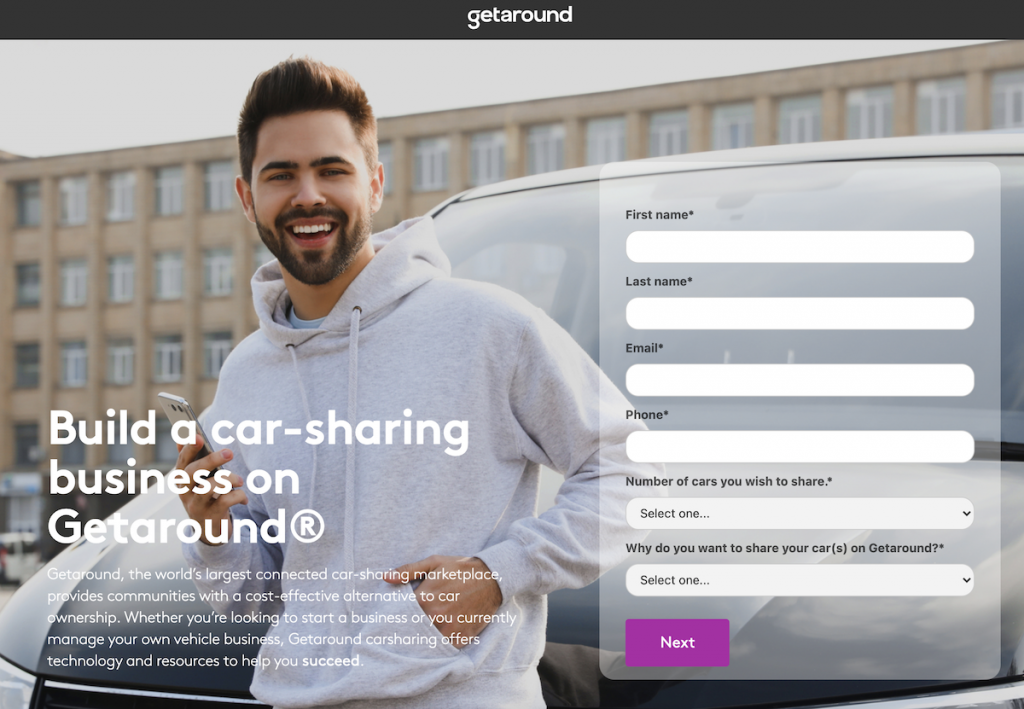 Every driver is screened and verified for a clean driving record.
Additionally, vehicles can only be driven by the renter and have a mileage limit of 200 miles per day for each vehicle that's rented.
When a renter exceeds the limit, they incur additional mile fees, which are disbursed to the owner.
Although you get a 90 day free trial for Getaround Connect, you eventually pay a data subscription fee of $20 per month to cover network costs.
Device installation also comes at a price — $99, to be exact.
Getaround also has a "drive with Uber" program in select locations where car owners can register for ridesharing with Uber or other delivery jobs.
Once approved, renters can hire the car via Getaround and use it for ride-hailing or Uber Eats.
Pros and Cons of Getaround
The downside of Getaround is that it takes a high percentage of the trip price. The monthly data subscription fee is also a recurring cost you'll have to think of.
Unfortunately, Getaround also has a list of ineligible vehicles that include all BMW, Infiniti, Maserati, Mercedes, and Tesla models.
Other vehicles include Chevrolet Camaro, Chevrolet Corvette, Dodge Challenger, Dodge Charger, and Ford Mustang.
On the bright side, you can share a leased car on Getaround, they screen and verify every driver to ensure they have a clean driving record, and you can list your vehicle on other platforms.
To increase accountability, the vehicles can only be driven by the renter and no third parties.
The Getaround Connect device also ensures you can track your vehicle and prevent theft by switching it off remotely.
Lastly, you can rent out your car by the hour with this gig job.
Which is Better for Drivers? Getaround vs Turo
Having looked at the two services separately, let's put them side by side to see how they fare against each other.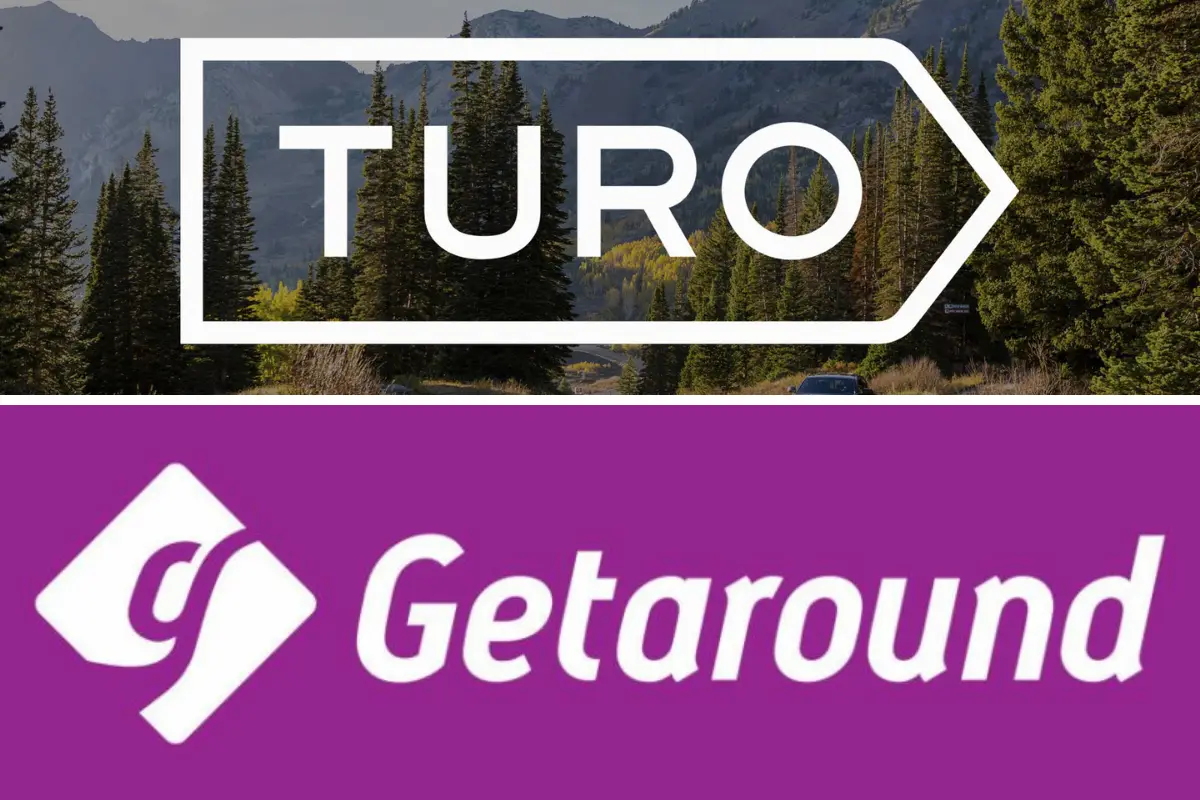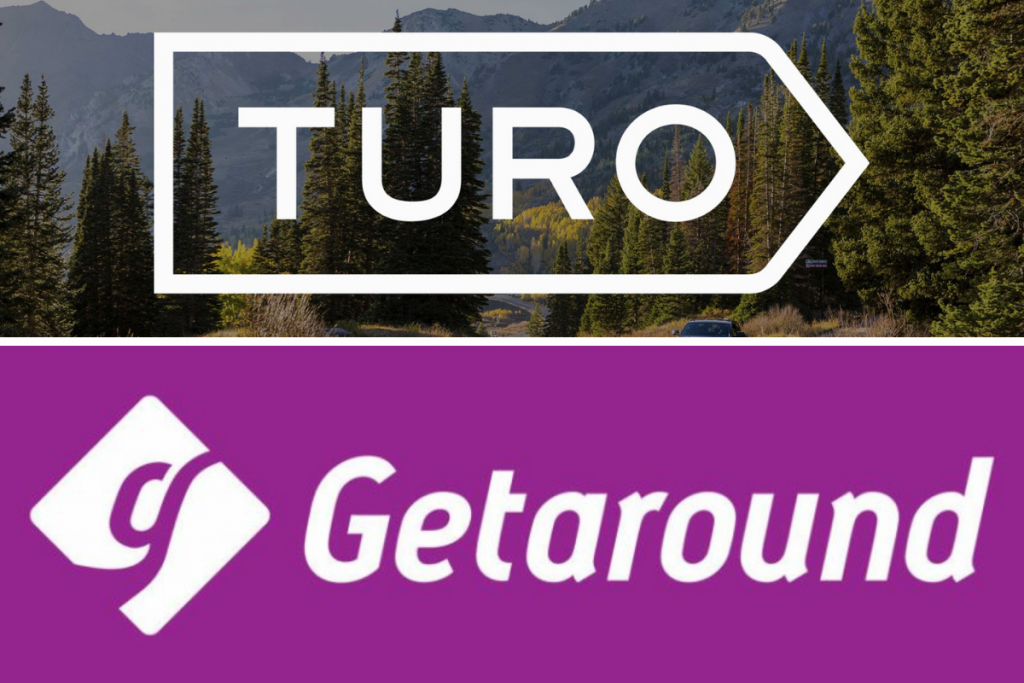 Turo vs Getaround on Availability
Turo is available in the United States except for New York, select provinces in Canada, and the UK. Getaround is available in 300 cities in the United States and Europe.
Turo has a broader reach in North America, while Getaround has a wider reach in Europe. Both have limitations, but in the United States, Turo seems like a better option in terms of availability.
Across the pond, Getaround takes the cake — but since we're focused on North America, Turo takes the lead.
Turo vs Getaround on Eligibility Requirements
Turo has varying requirements for different locations and types of vehicles, but I'll focus on requirements for the United States.
Both require vehicles not older than ten years and mileage not exceeding 130,000 miles, although Turo allows cars over the limit to be listed as long as they are in good condition, whereas Getaround does not.
They also agree on registering a car that has not been issued with a salvage/repair title and seats no more than eight people.
Getaround does not have a cash value limit on cars, whereas Turo requires that the vehicle have a fair market value of up to $150,000 and never have been declared a total loss.
Both require that the vehicle be well maintained, and Getaround specifically does not accept vehicles with physical alterations or performance enhancements.
The biggest difference comes in with Getaround not accepting certain makes of vehicles like BMW and Mercedes while Turo is not that picky.
On the other hand, Turo requires hosts to commit to exclusively list on their platform, whereas Getaround does not.
That alone gives Getaround the win.
Turo vs Getaround on Rates
Getaround gives the option of setting hourly rates or daily rates, providing more flexibility in how hosts earn, while Turo only has daily pricing.
They both have a predictive pricing feature that automates pricing to ease the complexity of setting rates, but Turo only offers it in select locations.
However, Getaround requires the host to talk to customer support to get assistance in pricing if not using the automated pricing feature. In comparison, Turo has a "Carculator'' on their platform to help hosts determine their rates.
Hosts on Turo can make 60% to 92.5% of the trip price depending on which protection plan they choose, while hosts on Getaround are subjugated to making 60% of the trip price with no option to select a higher percentage.
They're also required to pay a monthly data subscription fee on top of paying for the Getaround Connect installation.
Turo gets the win.
Getaround vs Turo on Accessibility
All vehicles on Getaround are fully operational on keyless entry courtesy of the technology in Getaround Connect.
In contrast, Turo offers the same features but in select locations, and one has to opt-in to 'Turo Go' to have access to the feature.
In terms of accessibility, Getaround has a more seamless experience for hosts and guests when handing over the vehicle, while Turo requires a meetup or coordination for key pick-ups.
Getaround takes this round.
Getaround vs Turo on Customer Service
Both platforms offer round-the-clock assistance to hosts and optimize listings for maximum profitability by providing tips and guidance.
The onboarding process is relatively straightforward.
You sign up and submit a set of required documents, wait for communication from either representative and get assistance in setting up your listing if approved.
Both services offer 24/7 roadside assistance for hosts and renters in case of an incident.
It's a tie.
Getaround vs Turo: Which is Better?
Having looked at all the factors, I bet you're in a position to decide for yourself.
But in case you haven't made up your mind, let me chime in with my take on which is the better option.
All things considered, both platforms tie when comparing their services side by side, but we need a winner.
Let's look at the facts again.
Turo requires hosts to commit to listing their cars exclusively on their site, but they allow a wider variety of vehicles and are located all over the US.
Getaround has no barrier to hosting on other platforms, but they're restrictive on which vehicles can join the platform.
Getaround makes up for it by allowing you to host leased vehicles on their platform and a fleet of vehicles while still offering you insurance.
On the other hand, Turo doesn't provide insurance for fleet owners.
Turo has no sign-up or monthly fee, and their cut of the trip price is dependent on the protection plan a host picks, whereas Getaround has a sign-up and monthly subscription fee plus a fixed amount of the trip price (which is almost half, by the way).
It's not an easy decision to make, but it looks like we have a winner.
If you're an individual looking for a side hustle that doesn't require you to go out of your way, then Turo will work best for you.
It's available throughout the United States and provides users with flexibility in more ways than one and best of all? You're not overly restricted to what type of vehicle you can list, so go ahead and sign-up that Mustang.
Other benefits? Well, there's no monthly subscription or "sign-up" fee, plus you're free to pick your protection plan and maximize earnings — Heck.
You can even earn up to 85% of the trip price.
The exclusivity might seem like a bummer, but if you look on the bright side, it means that Turo will be committed to seeing you flourish so they can reap the benefits as well.
That seems like a pretty good deal to me.
Want more ways to make money with your car? Learn how you can get paid to drive during the pandemic.