Looking for the best places to sell textbooks? Before you place your textbooks on a bookshelf to collect dust, don't forget that you can get some money back for these college books.
Many people don't know where they can sell them. For example, I noticed a lot of Google searching for how to sell old books online and sell reading books for cash.
Let's face it, college textbooks are expensive and after your last final for that class, you likely won't open that textbook again. It doesn't help that the cost of textbooks has increased more than 800% since the 1970s. That's why I always sell my textbooks and rack up some extra cash for my semester worth of books.
You probably want to do the same and are wondering where to sell textbooks near me or where can you sell your textbooks for the most money?
Look no further. Here are a few ways to make the most when selling your books after you're done using them.
Best Places to Sell Used Textbooks Online
Don't leave money on the table. Selling your used textbooks at the campus bookstore during buyback is a sure way to throw money down the drain. Not only will you be competing with thousands of students to get a measly few dollars for your book, but you will probably have to stand in line to boot!
Smart students buy and sell online using free websites that instantly will give you a cash offer for your used textbooks. Here are the best websites to sell textbooks online.
Pro-Tip: The ISBN is the unique 10 or 13 digit number located on the back cover of any textbook. Most of these websites will ask you to enter them in to find out the value of your used textbooks.
1. BookScouter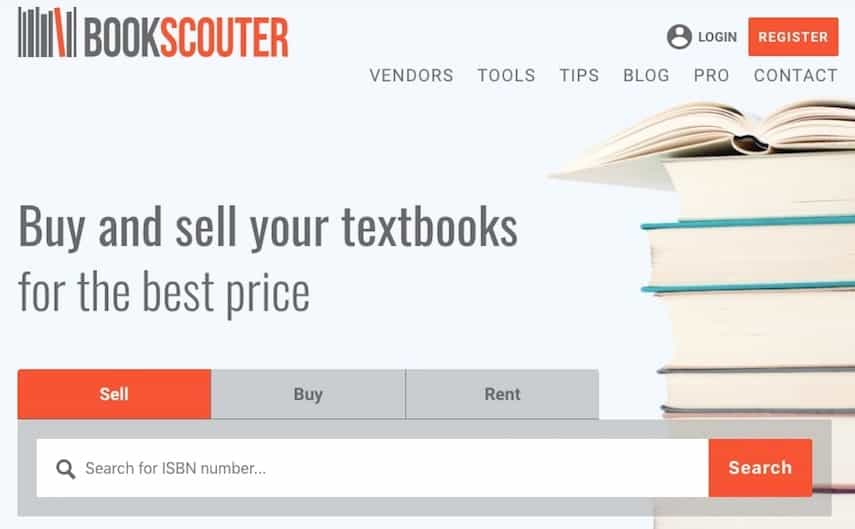 BookScouter helps you sell your books for the highest price. They compare prices from 64 book-buying websites so you can quickly and easily find who is paying the most for your books. Book prices fluctuate often and can vary greatly between vendors. Compare each across various criteria to help you know where to sell your books for the best price.
The use of BookScouter is free, with no registration required. However, frequent users might be interested in BookScouter Pro, a monthly subscription that features a Bulk Lookup Tool, BookScouter Deals, notifications, tracking, historical vendor data, and uninterrupted usage. You can sell your textbooks on BookScouter here.
2. Decluttr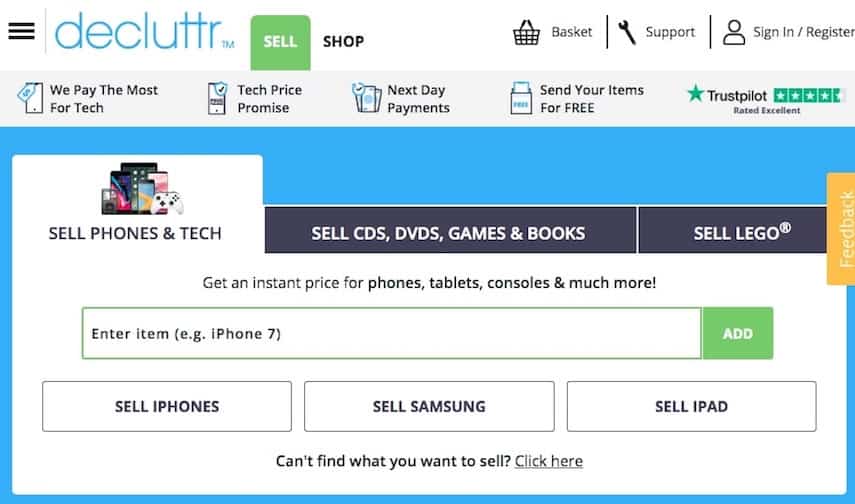 Do you have an old textbook lying around? I know most of my friends and family do. Decluttr will pay you for them.
You can try listing your junk on eBay or Craiglist, but this can prove to be quite the hassle. You can easily sell your books on Decluttr for cash. This is the easiest way to sell it quickly.
3. BookByte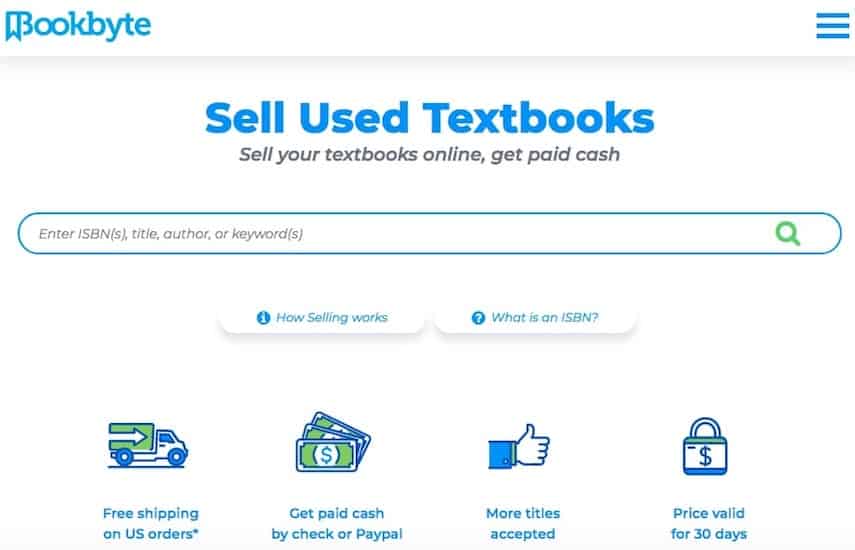 BookByte has been around for 2 decades. They have the buyback process down pat. They make buying your textbooks in really simple and easy. They accept textbooks in all conditions, so if your book is worn out you may find this a more profitable option. The company is based out of Oregon, and they will pay you straight up cash via PayPal or check.
4. BooksRun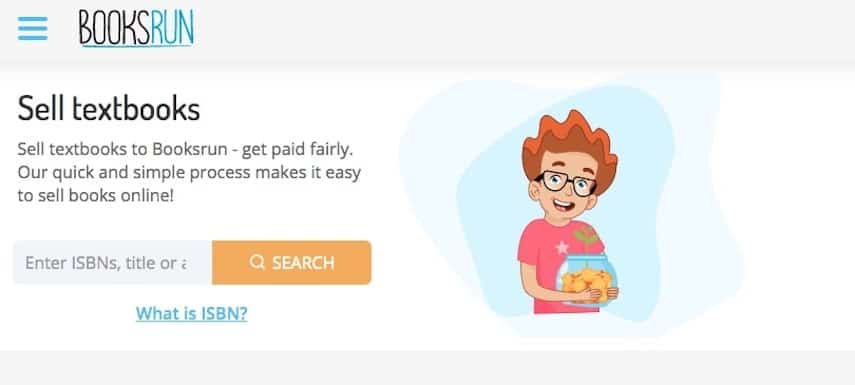 BooksRun is another one of the best places to sell your textbooks. On the main page, type the ISBN of the book you want to sell into the search box and click the Search button. The book will be either added to the seller cart automatically or show the buy / sell / rent offers. After checking out, you'll have to print the prepaid shipping label and send your books within 5 days after creating the order.
5. ValoreBooks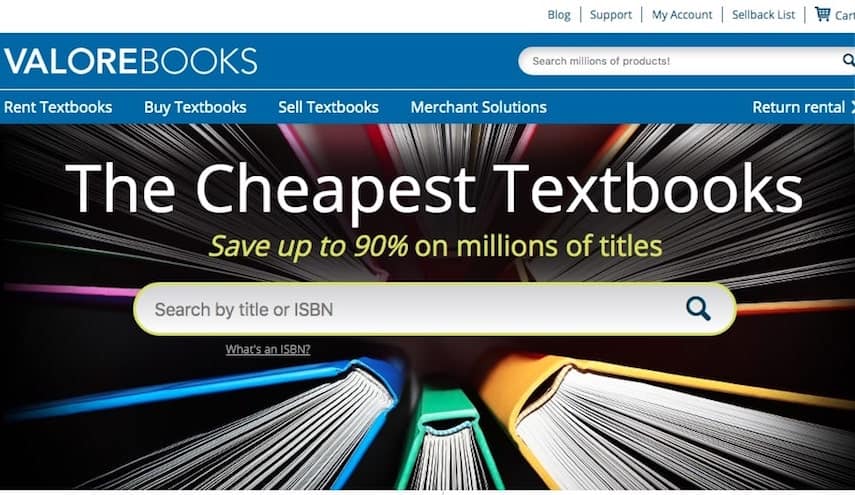 Sell your old textbooks with ValoreBooks and they'll give you a prepaid shipping label. That means you get to ship your used textbooks for free! Plus they will keep you updated on the status of your sell back order, so you always know where your shipment is and when you'll receive payment. They also offer the biggest variety of textbook titles, so it's worth checking to see how much your used textbooks are worth here.
6. TextbookRush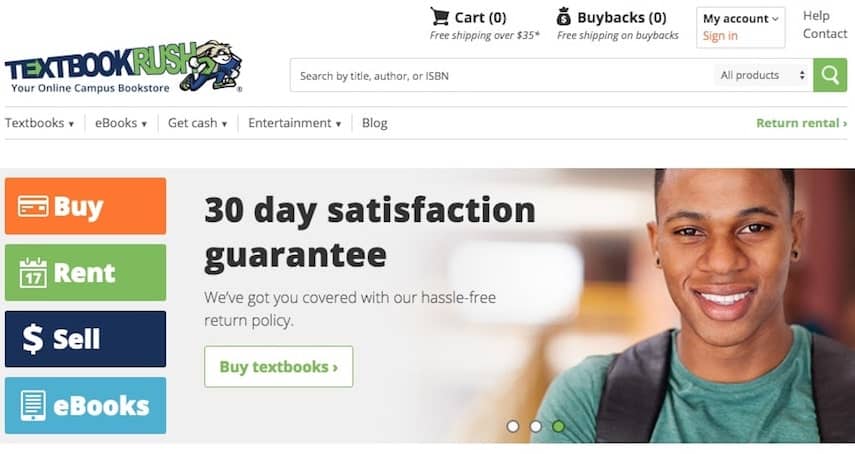 TextbookRush is another one of the best places to sell textbooks and is a great way to earn extra money. Find your textbook by entering the ISBN in the buyback search field on the Sell Books page. If you are happy with the quote then go ahead and ship using the pre-paid shipping label and wait for your payment. Please note that the prices offered are a quote and are subject to change if the information provided differs from what is received.
7. Barnes & Noble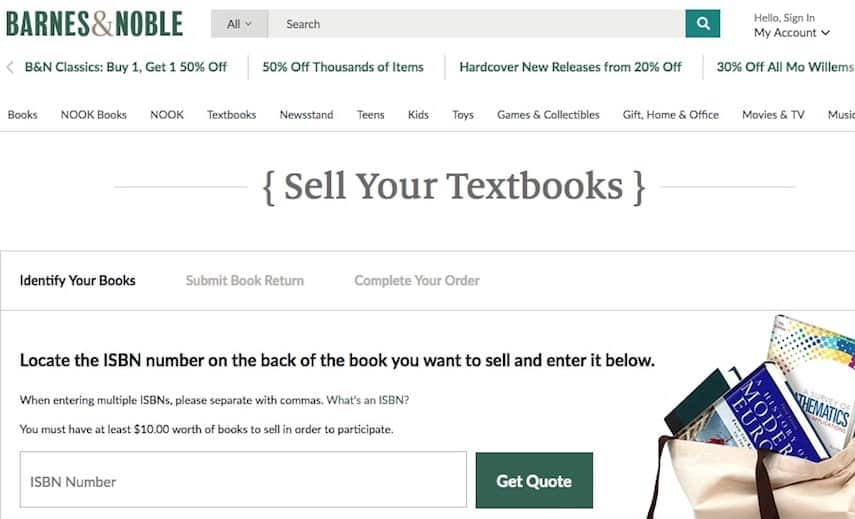 If you wanted to sell your books at Barnes & Noble just head over to their "Textbook BuyBack page" and enter in your textbook's ISBN. The process is quick, easy, and straight forward. However, you must have at least $10.00 worth of books to sell in order to participate.
8. CampusBooks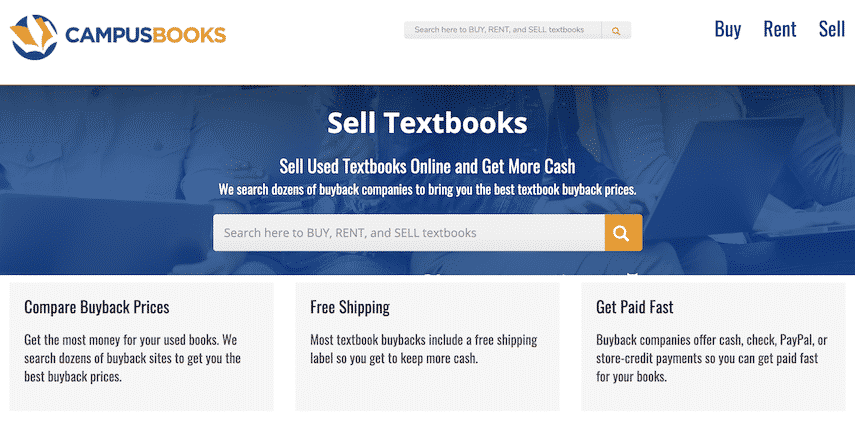 CampusBooks is another one of our favorite places to sell used textbooks. They make the process of selling your books easy and make sure you get top dollar. You can get the most money for your used books since they act as a broker and search dozens of buyback sites to get you the best buyback prices. After you search for your book, click on the buyback offer you want and complete your buyback on the buyback merchant website.
9. Amazon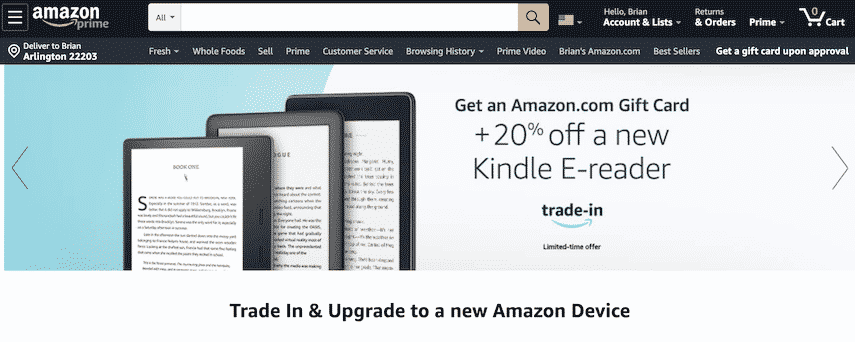 Who doesn't love Amazon? In case you didn't know, they also will buy back your textbooks. The Amazon Trade-In Program allows you to sell your textbooks, cell phones, video games, and more. You can access the trade-in program by clicking here. You may want to quickly check what price Amazon is providing to find the fair value of your textbook before venturing into your other options.
10. AbeBooks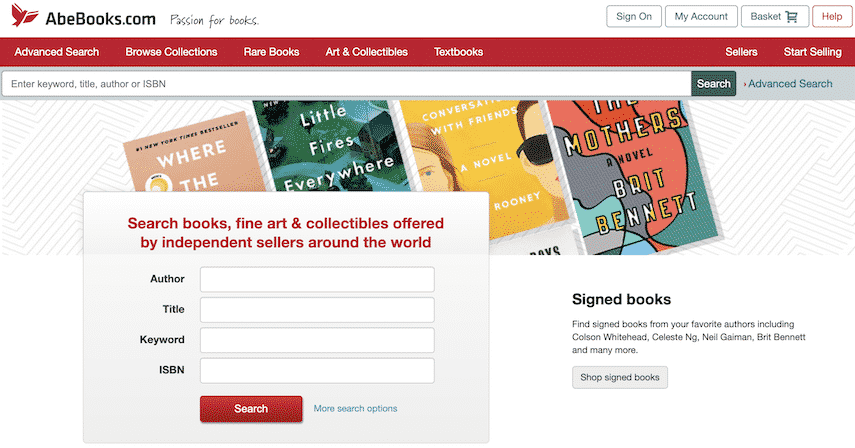 AbeBooks is useful if you want to sell your books that are rare, vintage or are an international version. They even accept books that do not have an ISBN. AbeBooks buys your textbooks from you and they'll cover the shipping too. This is one of the best places to sell textbooks if the other options on this list do not work out.
11. Textbooks.com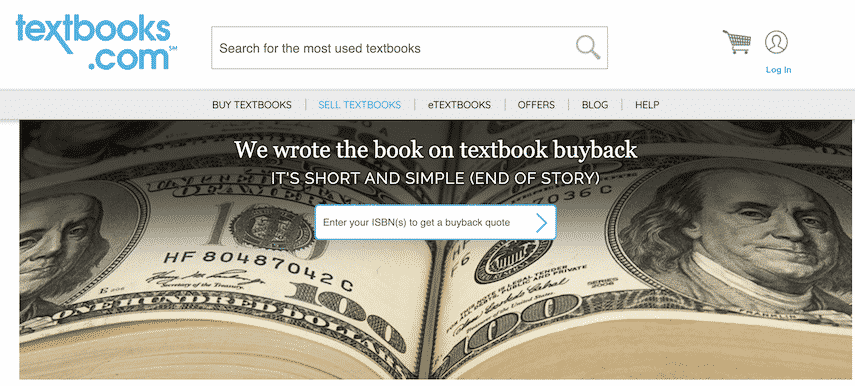 Textbooks.com is the go-to website for students to save on books AND sell books. 10 million books in stock and up to 90% off makes this a site you should bookmark for any college student. They also give you the best bang for your buck. You simply let them know what books you have on their site and they get you paid. You can ship your books for free via UPS. They pay you cash via PayPal or by check.
12. Chegg Books

Chegg Books will buy your textbooks with ease. You can get an instant quote and find the worth of your used textbooks. Just enter the textbook ISBN here and if you're happy you can ship to Chegg for free. You can get your cash once they receive the book.
13. Sell Back Your Book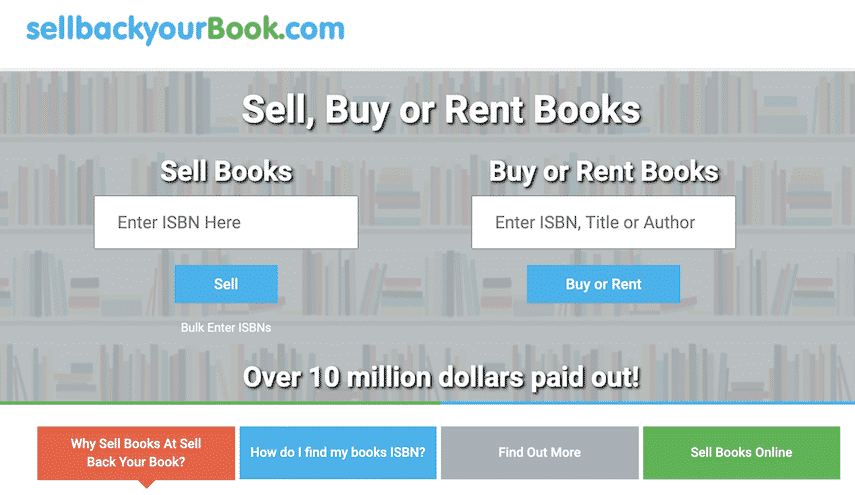 Selling Books online to Sell Back Your Book could not be easier. Simply enter your books ISBN number in the box on the homepage and they will give you an instant price quote. You can sell books with free shipping and no worries about if your book will sell or not. The online book buyback tool they offer is another way to get value for your used books.
14. Textbook Recycling
You can also sell your books on Textbook Recycling. However, they aren't as lenient with the free shipping that other websites provide. The minimum buyback order value is $50 to qualify for free shipping. If the final buyback value falls below $50 after processing they reserve the right to charge a $5.99 shipping and handling fee against the buyback total. Also, they can only take a maximum of 10 low-value books (less than $5 in value) per order.
15. FirstClassBooks.com
FirstClassBooks.com also gives you online quotes for your books. To get started, just enter the ISBN numbers of the textbooks you wish to sell into this input box. Click on the "Check Prices" button and they will tell you how much they are paying for each book. FirstClassBooks.com can pay you directly by check or PayPal. Payments are usually sent within 2 business days after receiving your textbooks. The interface for this site is really outdated though.
16. Powell's
Selling your books at Powell's is also seamless. Enter the ISBN of each book you wish to sell, and receive an offer immediately. If you like Powell's bid, just send the books to them (we'll cover the freight) and you will receive a credit to your Powells.com account or payment via PayPal.
17. eCampus
Another one of the best places to sell textbooks is eCampus. Selling your books back at the end of the semester is really easy here. If you like your book offer, chose in-store credit because it pays out the most money.
18. CKY Books
CKY Books is another option for selling textbooks online for money. You can enter in your ISBN on the homepage and get an instant quote. They offer free shipping and you can get your money via PayPal.
19. CollegeBooksDirect.com
CollegeBooksDirect.com is another option you can use to buy and sell used textbooks. However, the website is really outdated so you have better options here.
20. TextbookX
TextbookX claimed you can earn up to 2 times more when selling your books back on its marketplace. To see if that's the case you can enter in your ISBN and select the condition and price for your book. If an instant offer appears, you can choose to accept or ignore it.
Where to Sell Used Textbooks Near Me (in Person)
I'll break down the best selling apps, which will help you sell your books in no time and make some money while doing so. There are a few different options that we shared that let you pad your bank account with your unused books.
You always try to list on third-party selling apps, sell them on your college campus, or easiest method is likely selling them on Amazon or you can use the selling apps below:
21. Letgo App
Letgo is also a great app if you are looking to sell old stuff easily. All transactions happen on the app, and listings are populated by zip code, which makes it easier especially for rural buyers and sellers.
22. OfferUp App
OfferUp is an app that is great for repeat sellers. It rewards repeat sellers if they provide great customer experiences and if they get good feedback from the buyer. This app lets you check out product listings, chat with the seller, and make them counter offers as well.
23. eBay
eBay is not just for buying and selling things that need to be shipped across the world. It can be a very handy tool if you are looking to sell large items locally as well. Post the item, along with your details, and have the buyer pick up the item.
24. VarageSale
VarageSale app has a cool name which plays on "Garage Sale" with the V standing for verification. VarageSale verifies the identity of both the seller and the buyer using Facebook to make sure that they are real people. This app also makes it very easy for you to post your listing to your social media page, increasing its visibility.
25. Wallapop
Wallapop allows you to sell just about anything on this app. It also gives you the option to pay for your listings if you want to prominently feature it and get more visibility.
26. Social Sell
Social Sell (iOS only) allows you to sell almost anything on this app as well. Has great chat features and in-app payment options.
27. Tradyo
Tradyo app allows you to sell individual items locally in your neighborhood. Items are listed by pin code, and the buyer contacts you via the chat feature in the app.
Selling Textbooks Tips
If you're in a tight financial spot and need money quickly then the apps above will help. But, before trying the selling apps listed here to sell your textbooks locally (and online) you should follow a few simple tricks to get the best bang for your buck.
Follow these tips to sell your items successfully on these best apps to sell stuff:
Be Honest
I am always upfront about the condition of each textbook I am selling and honest about each product or item I've listed.
Use Google Voice
I used Google Voice phone number in all my Craigslist posts/selling apps, which makes potential costumers feel more at ease knowing they can contact me. I don't like disclosing my personal cell phone number or have someone calling my real phone number 3 months after I sold them an item.
Create a Craigslist Email Address
Having a selling app or Craigslist-only email address keeps all your selling activity separated from day-to-day life.
Be Assertive, yet Friendly
My time is probably the more expensive thing I have. I let the buyers know I won't stand for low ball offers, and that they will be simply ignored. I post that in all my ads. Just don't be a pushover.
No Trades
Trying to make money here, and I only deal with cash.
Use a Brief and Accurate Headline
I use a concise headline, for example, it would be- "Campbell Biology 11th Edition – Used"
Pricing
I price my items so I have a little wiggle room to price haggle.
Check Multiples Sources Before Selling Your Used Textbooks
There are plenty of selling apps you can use to sell your used textbooks near you or online. Some people love keeping books around because you can get paid to read books sometimes.
However, if you are just looking to sell your textbooks or items around the house you no longer need, I would recommend trying these best places to sell textbooks or using selling apps to list your textbooks. This will increase your odds of finding a motivated buyer.
Remember, you usually will make more money by selling them online but you can sell them quickly by using a book buyback site like BookScoute or Decluttr.
Have you sold textbooks online before? If so, please let us know your experience below!