Thanks to the enormous expansion of the internet over the last decade, under the table jobs are becoming more of a reality to many people all over the world.
Whether you are a stay-at-home mom or even a business executive and whether you want to earn a living or are just looking to make a little extra cash, there are plenty of under the table jobs to make money in your town.
No matter what your interests or expertise are, if you have the desire and motivation to earn an income, there is someone, somewhere that needs your skills and are willing to pay for your interests and services.
Here's a list of under the table jobs you could look into if you are thinking about earning money from home and are in need of a little inspiration.
While you don't necessarily need to claim taxes on these under the table jobs, you should.
Disclaimer: Gigs Done Right does not endorse undertaking any certain job type in order to avoid paying taxes.
Real Jobs That Pay Under the Table Near Me
If you have the motivation to find cash jobs that make money, there is someone, somewhere that needs your skills and is willing to pay for your time. Here are the top jobs that pay under the table.
Here is a list of the best under the table jobs.
Babysitting
One of the best under the table jobs is becoming a babysitter. Babysitting jobs aren't just for students and even older adults or stay-at-home parents can earn money for caring for kids.
You can find babysitting gigs by asking your friends or family, referrals, checking with jobs sites like Care.com, or mom's clubs and church groups.
You're typically paid straight-up cash and the national hourly average for babysitters in 2021 is $17.73 per hour for one child, $20.30 per hour for two kids, and $21.49 per hour for three kids.
Cleaning Jobs
Are you are looking for under the table jobs then you should considering cleaning jobs. An easy way to try and find home cleaning gigs is by asking people you already know. Your friends or family may want their house cleaned.
Thankfully, there are several websites online so you can advertise your services online like Craigslist and Facebook and easily find cleaning gigs. You're generally paid in cash and it'll be under the table.
Pet Sitter
This is another work under the table job that is for all the animal-lovers out there. By becoming a pet sitter or dog walker you can spend time with dogs and even get some exercise.
You can easily create a free account on Rover to list your pet setting services.
Rover is one of the nation's largest networks of pet sitters and dog walkers. Users can easily search for the services they need, connect with a sitter or dog walker. It is actually a pretty lucrative gig in case you were wondering how much you can make with Rover.
Watching Videos
This has got to be one of the easiest ways to get paid cash under the table. You can actually get paid to watch videos online, movie previews, celebrity videos, news, and all sorts of other videos.
You can sign up on sites like Swagbucks and Survey Junkie that will pay you to watch certain videos.
These types of sites will tell you how many minutes you need to watch the video for and you might also be asked to like the video.
While you not going to make a career out of it, it's very easy money for very little work. You'll get paid cash (via PayPal) so you can technically make money under the table with this gig.
Photography
So you like taking photos or have a few old photos on your phone that you think might have some potential? Turns out you don't even need to be a professional to earn money from your photos these days.
You could sell your photos online on sites such as Shutterstock and Pixabay. It's as easy as signing up, adding your personal details, uploading your photos, and waiting for them to be approved.
Even if you don't think your photos are that great, it could be exactly what someone else is looking for.
A lot of sites will purchase photos from just about anyone, so don't underestimate your potential. You'll get paid cash (via PayPal) so you can technically make money under the table with this gig.
Virtual Assistant
Do you have general administration, marketing, consulting, or client relation skills? Any kind of skill for that matter and you could work for someone from the comfort of your own home.
Virtual Assistants, commonly referred to as VAs, can do everything from checking emails and assisting with marketing activities to making travel arrangements and handling internet research.
Top virtual assistants can earn anything between $50-$100 per hour and can get paid cash via PayPal. If you are interested, you should learn about becoming a virtual assistant for free.
Stay-at-Home Mom Jobs
Have you considered being a stay-at-home mom? Then you can join the Moms Business Network that matches stay-at-home moms with the best online jobs of 2023.
There are a ton of jobs for moms and this is a great job opportunity for mothers or those looking to work from home.
They get it.
Why work hourly and generate income for someone else when you can start your own business and build your own team?
It's super simple to sign up with just your name and email address and watch the job offers pile in.
Microtasker
Amazon Mechanical Turk (MTurk) is a marketplace for work where you can find micro-task jobs. You can pick from various micro-tasks that are required across the platform.
Businesses or developers that need tasks done can use MTurk to access thousands of high quality, global, on-demand workers just like you.
Work includes tasks such as identifying objects in a photo or video, selecting the correct spelling for search terms, rating search results for keywords, transcribing audio recordings, or researching data details, among numerous other tasks. It is also one of the top-rated jobs for introverts.
At-Home Daycare
This is a great option for stay at home moms or dads that want to earn cash weekly. If you are home looking after your own children, you might as well start an at-home daycare and get paid for your efforts.
In fact, even if you don't have your own children, if you have a maternal instinct and love children you could follow this under the table job.
You would, of course, need to follow the correct legal processes and obtain the relevant certifications but generally speaking, it should be easy enough.
Parents often prefer leaving their children at a private institution, with a trusted individual, rather than a corporate daycare. This is because there are fewer children which means more individualized attention and better care.
Baker
Many people don't seem to realize how lucrative their cooking skills could be. You could even look into running a catering business straight from your kitchen to make some extra cash.
If you look around, you will find that there are always corporate events, dinner parties, and birthday parties taking place in your area or nearby. Many people either don't have the time or the skills to cater for their own parties and are looking for someone to do it for them.
You can start off small and build your client base and business as you go. If you are really good at what you do, word of mouth can go a long way with clients passing your details on to new prospective clients. Always keep food safety laws in mind, since you don't want a lawsuit on your hands.
Stylist
You could start a very lucrative side business right at home and earn extra cash. These days you could do just about anything thanks to the internet.
You could become an online personal stylist, travel agent, beauty consultant, the opportunities are endless. Sure it's a lot of hard work and effort but in the long run, you could establish a very lucrative business that you could commit to full-time.
Alternatively, you could join an existing company, like Stitch Fix, Avon, or Jamberry which would help you get started. Or if you have specialized marketing or accounting skills, you could offer your services to businesses in your community that may need your help.
Fitness Coach
Becoming an online fitness coach or consultant for others is becoming more valuable with the rise of popularity in social media.
If you are very savvy at social media or are a fitness expert then selling your time and hopping on a Skype call or Google hangouts is a great hustle to make your next paycheck.
You don't even have to start your own website at first, you can use Instagram to make money, for example.
Freelance Writer
Freelance work is a great way to increase your household income by getting paid to write.
Do you perhaps have a hidden writing talent? Maybe you could proofread or edit articles for clients or even write your own articles?
Well-known and trusted sites like Upwork have thousands of clients that search for freelancers on a daily basis.
You can search and apply for various jobs across the platform and take on as many clients as you feel you are able to. There's great potential to turn your freelancer status into a full-time position or just to make some extra cash.
Teach English Online
As a middle school teacher, my side hustle of choice has always been tutoring. I've found it to be one of the best side hustles for teachers, in fact.
Have you ever considered becoming an online tutor? You can teach English online, pick your own hours too — all that is required is that you are fluent in English, have a bachelor's degree, and have some tutoring experience.
This a great way to earn money from home and you could join 30,000+ people who use VIPKID to teach English from home.
With an opportunity to make $650 a month, just from one hour out of your day, this cash paying job may be worth looking it. You can learn more about teaching English online on VIPKID's website.
Crafter
You can find dozens of hobbies that'll make you money just like crafting. Put your crafty side to good use. You can pick up interesting items at flea markets or online at Craigslist, restore them, add your personal touch, and then sell them for a profit.
There are plenty of ideas on Pinterest, to get your creative juices flowing. You would be surprised at how many people are willing to pay top dollar for custom made items and even trash that has been turned into treasure.
If you have a creative flair and are looking for an artistic outlet, you could make a lot of money from your talents. You could even look into starting your very own Etsy store if you have something unique to offer to the market.
Freelancer
There are a ton of great websites that making freelancing extremely easy. They help you get your services out there and help you find clients.
Freelancing can be a wide array of things:
You can build websites.
Manage social media accounts.
Design logos.
Write articles.
Create videos for business.
Translating and much more!
Whatever you are good at, you can list your services on dozens of freelancing sites. My personal favorite site is Fiverr. You are able to list a ton of different services, such as the ones listed above. You can offer your services for as little as $5 or up to thousands of dollars. The more you sell and the more reviews you get the higher the level seller you become. The higher your level the more options you have when listing your services.
Other great sites are Freelancer and Upwork. Both of these sites are great for both Freelancers and people looking for freelancers. Check out one of these sites and get going today.
Book Reseller
There are a number of platforms out there that have opened up the market to sell items online such as Facebook, Craigslist, eBay, and Amazon. E-commerce is a booming market and whether you want to start a full-on business or just sell a few of your old items, there has never been a better time.
Do you have old textbooks from college lying around? You should consider selling them on Amazon. In addition to textbooks, you can probably sell old books, DVDs, cell phones, or other electronics you may have lying around. You would be surprised how much you can get for your unwanted items.
Manual Labor
Manual labor jobs are one of the most popular under the table jobs that people use to get cash fast. You can find some quick manual labor jobs on Craigslist.
The most common manual labor jobs include lawn work, cutting wood, painting, or moving stuff. While it may sound like hard work, you can leave with cash at the end of the day.
Salesperson
Like a door-to-door salesperson only with far less leg-work, hosting sales "parties" at your home on behalf of the likes of Avon and Pampered Chef is a great way to meet new people and make some money.
Ways to Find Under the Table Jobs
Finding these jobs that pay cash under the table is a lot easier than you think — if you know where to look.
Craigslist
Craigslist hosts classified ads that cover practically every category you can think of, including cash paying jobs near you. So if you are looking to make make money under the table then you should start with Craigslist gigs section.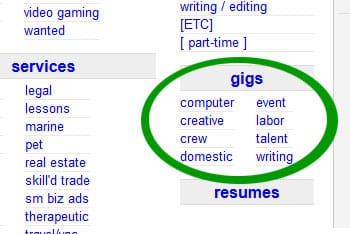 One man actually made over $600 hustling on Craigslist gigs, which included tearing down art displays ($40), moving gig ($170), clean-up demolition ($250), mowed lawn ($25), chauffeured a dude ($40), cleaned up a home ($80), and finally modeled ($50).
It's easy to find a gig that pays you straight up cash, all you have to do is email the ad, and then the person will contact you if they are still looking to hire for the job. When you complete the work, you'll get money under the table.
Job Websites
Another option to find some of the best paying cash jobs is by using regular job sites online. You'll want to search for jobs that are nearby you and you can usually spot out which jobs will pay you cash or you can ask during the interview process.
The best job search sites include:
Indeed
LinkedIn
Glassdoor
CareerBuilder
Monster
Google for Jobs
Company career pages
SimplyHired
Of course, not all of these jobs will pay you under the table but it's worth a look to see if you find one that likely will. However, Craigslist will be your best bet but I am just going over every option to find work under the table.
Facebook Groups
Another sneaky option to find jobs paying cash is by using Facebook groups. You can look up the jobs section and usually spot jobs that pay cash only. Or you can join groups in your city that post jobs.
To find these, just type in your city + hiring now in the Facebook search bar and you'll usually find a ton of relevant Facebook groups. Usually these groups are very active and people all over your city are looking to find people to put to work.
Under the Table Jobs for 2023
Now that you know how to find under the table jobs you can start earning cash daily or weekly.
Because I get it, a lot of people wish that free money grew on trees.
But, while there may not be a free lunch at least you can get paid for what really interests you with these quick cash gigs.
Do you have any under the table jobs that make money that we missed? Let us know below!