Are you wondering how to make money on Instagram? If so, you're not alone.
Instagram is one of the most popular social media platforms today.
With over a billion monthly users, Instagram provides a huge audience for businesses or anyone looking to make money on the social media app.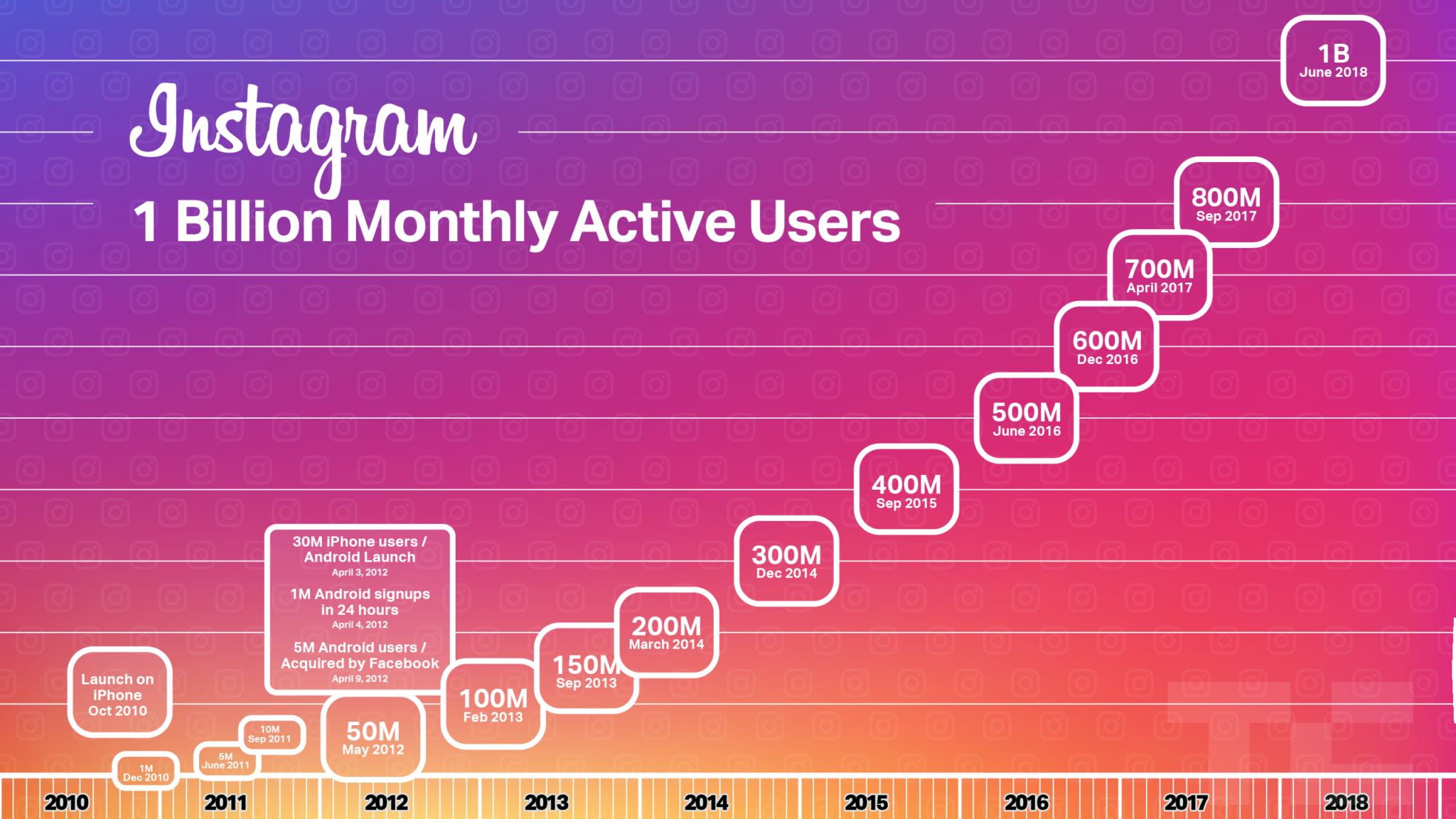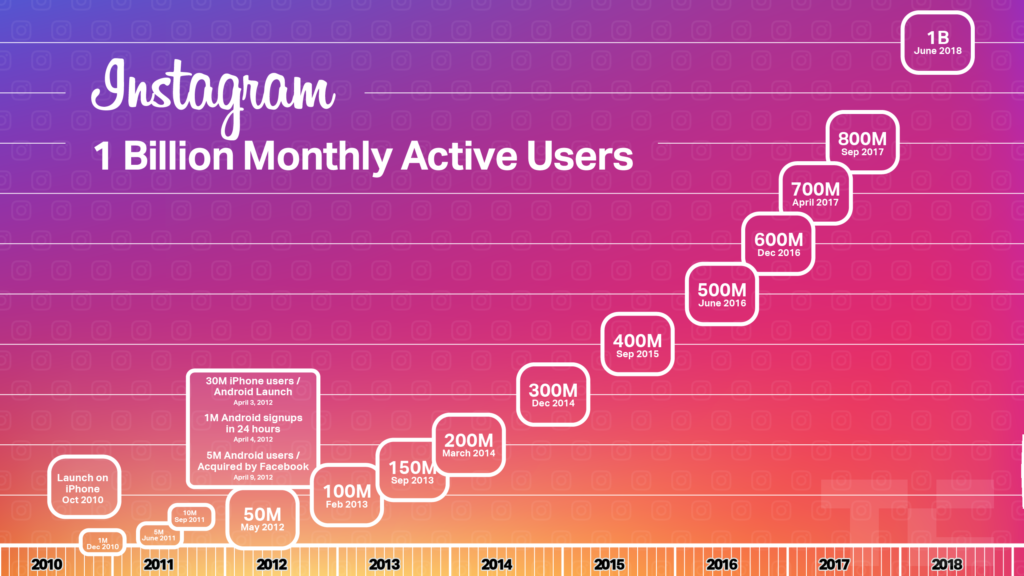 In fact, Instagram reports that there are over 25 million business profiles on Instagram worldwide, and over 200 million Instagrammers visit one of those business profiles daily.
Whether you run a brick and mortar business, an e-commerce website, a blog, or you're just looking to find a way to capitalize on the many opportunities on Instagram, making money is very possible.
Today, I'll break down some ways to make money on Instagram.
If you are in a hurry, take a look at some of the ideas I'll be sharing which is summed up nicely in this YouTube video below.
First Steps Before Making Money on Instagram
Before you can really make money on Instagram, you'll need to put some time and effort into your account.
It's pretty much impossible to make money on social media if you don't have any followers, or if you have very few followers.
Before you try to monetize your account, you'll need to focus on social media growth. Take these steps to start on your path to making money on Instagram.
1. Switch to a Business Profile
Business accounts on Instagram have access to Instagram Insights, which offers information like follower demographics, locations, peak times for engagement, and more.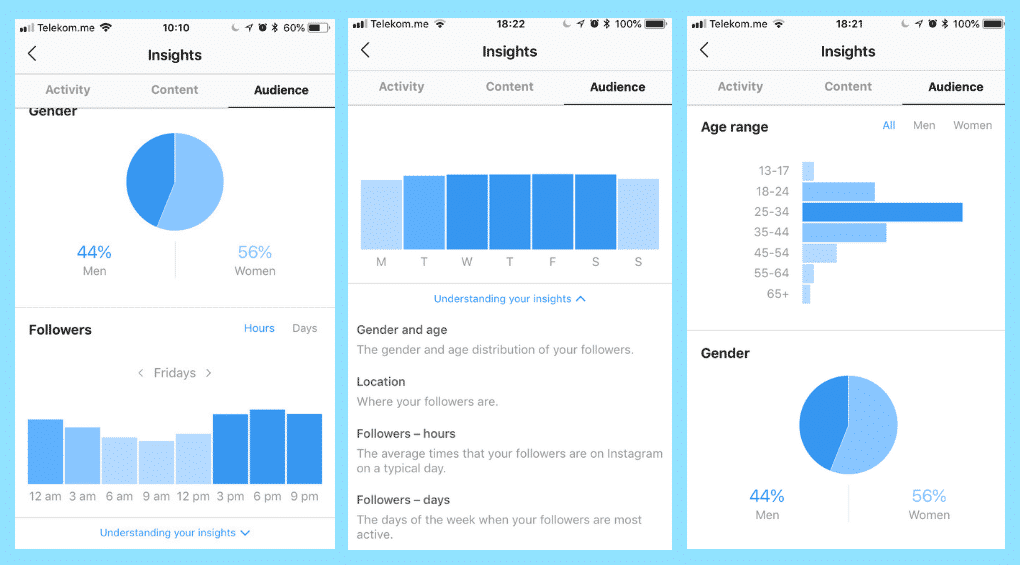 These metrics are free, so it makes good sense to take advantage of this feature.
You'll also need a business profile to tag products with Instagram shopping tags.
2. Optimize Your Bio
Your username should be the same as your business or blog when applicable, and your bio should concisely sum up what your account or business is all about.
You should also utilize the link in your bio, as it's one of the only places that you can easily link on Instagram.
Your profile picture should be your business logo if you have one, or a clear picture of yourself.
3. Post Relevant, Quality Content
All of your photos and videos should be high quality, clear, and focused.
Your content should also be relevant to your brand or business, and stay on topic so that followers aren't confused about the purpose of your account.
Use relevant hashtags in your niche to find new followers and grow your account.
If your business is local, use location tags as well to find local followers.
For example: Look at the Foundr post below. They are using the caption to include relevant hashtags that will get their Instagram post to the right audience which can really grow their exposure. You can do the same thing.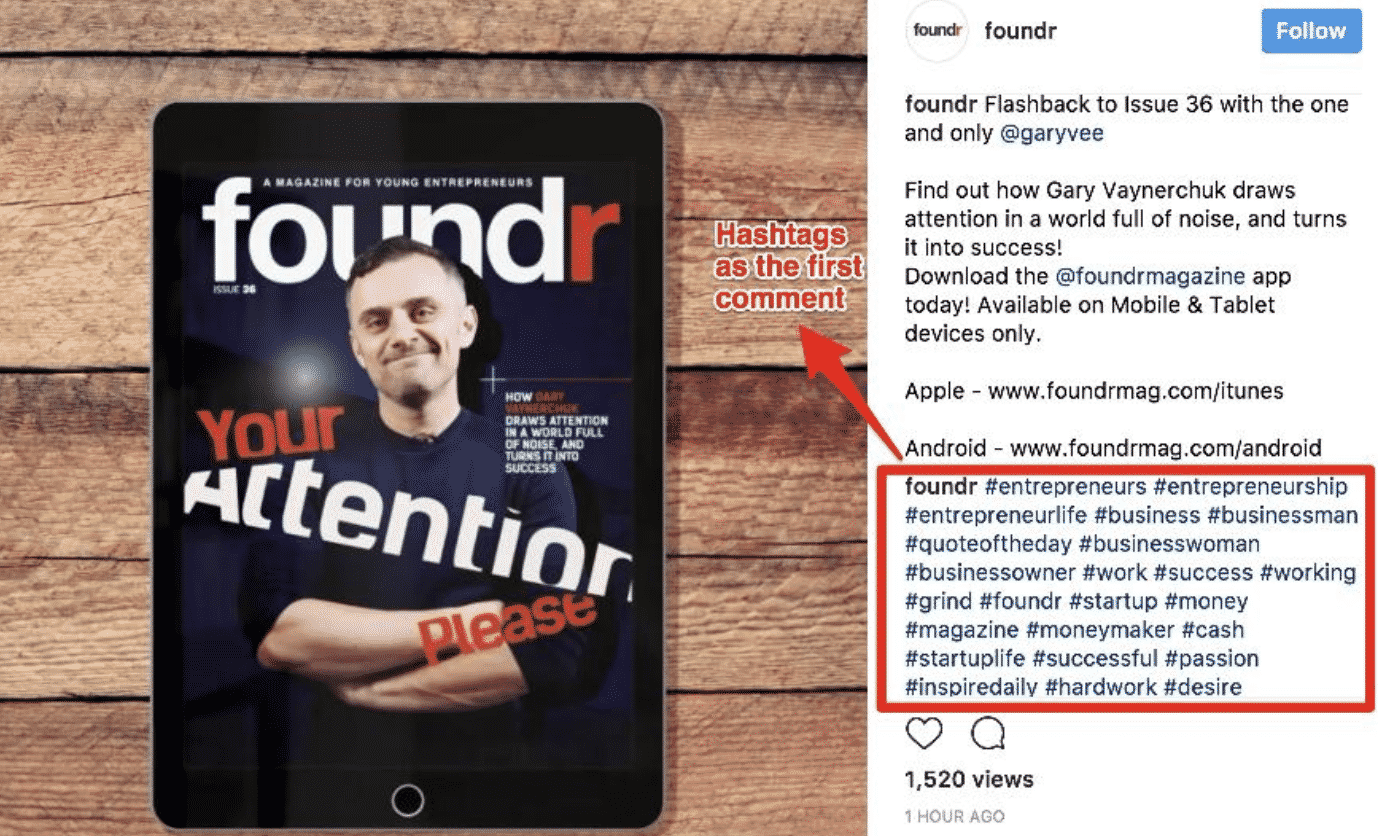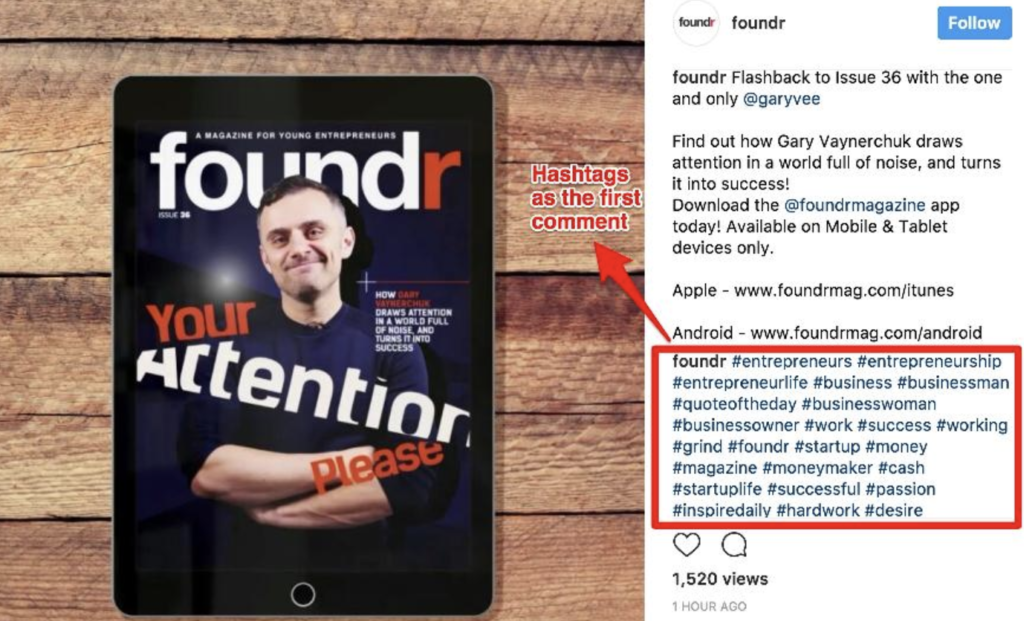 5. Engage
It's vital that you engage with your followers so that they engage back.
Follow and like posts from accounts that you want to connect with.
Ask questions in your captions for feedback from followers or customers, so that you can tailor your account to their interests.
8 Proven Ways to Make Money with Instagram
Let's now explore how to make money on Instagram after you've collected a decent base of followers.
Here are eight ways to make money on Instagram:
1. Use Instagram Marketing for Business
This is probably the most obvious way to monetize an Instagram account, but the platform is a great, free way to promote your business.
If you own a business, you should absolutely make an Instagram account to promote your business.
Finding Instagram followers, especially local ones if you run a brick and mortar establishment, can lead to new customers, better brand recognition, and more.
Use Instagram to promote your business, whether it be via posts, stories, or get paid to post ads.
60% of people say they discover new products and brands via Instagram, so you don't want to miss out on potential customers.
A well maintained, branded Instagram account for your business will very likely improve your marketing and therefore sales, helping you to earn money through a free Instagram business profile.
2. Make Money with Instagram E-Commerce
Instagram is a fantastic platform for sharing an e-commerce business.
Much like brick and mortar businesses, e-commerce businesses can promote and market their products on Instagram for better reach and brand awareness.
E-commerce brands have the added option to sell products directly on Instagram, however.
One of Instagram's latest developments is the new feature to tag products directly on Instagram, creating clickable, shoppable tags.
This feature is perfectly tailored to e-commerce companies since they sell their products online anyway.
Some of the best industries for Instagram e-commerce includes clothing, shoes, and jewelry, but any business that sells physical products can apply.
Another huge development is the in-app checkout for e-commerce brands, which you can see below.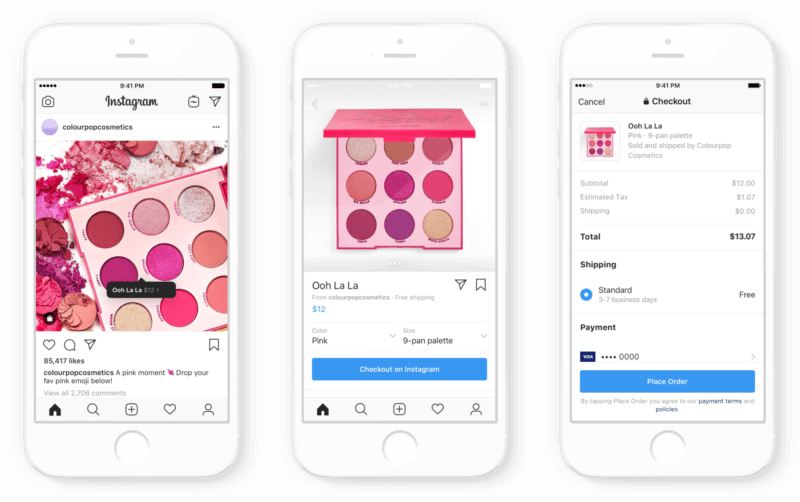 Instagram created this native shopping feature, making it easier than ever for users to make purchases within the app.
Your business could create a free Instagram post or story and let customers click the link and complete their purchase, all directly on Instagram.
Instagram has become one-stop shopping through this native payment feature and shoppable product tagging, so the opportunities for e-commerce on Instagram have only gotten better and better.
3. Try Affiliate Marketing on Instagram
Affiliate marketing is a form of marketing in which a person, website, or business promotes products from another business and makes a commission for each sale.
If you set up an affiliate marketing account with a certain retailer, you can promote their products and if someone clicks your link or uses your product code to buy it, you receive a certain percentage of that sale.
Affiliate marketing is a great way to make money on Instagram. A wide variety of businesses have affiliate programs, including Amazon, which can be adaptable to a wide variety of industries.
If you have a large following on Instagram and think that you can persuade some of those followers to make a purchase, affiliate marketing can be an easy way to make money.
This form of Instagram marketing is popular among those in the fashion industry, beauty bloggers, travel bloggers, and more. Affiliate marketing is versatile, so there's a lot you can do to make money via affiliate links.
4. Get Paid for Instagram Posts
Imagine getting money just for shouting out a product or brand on your Instagram posts.
This is a very feasible reality; Instagram is a highly visual platform, and many businesses will pay for promotion from other accounts.
Becoming a brand ambassador or sponsor for a certain product or business can be extremely lucrative.
For example: Look at the post from workyourcloset Instagram account below, it is clearly labeled a sponsored post. She must have been paid with free clothing or a good amount of money.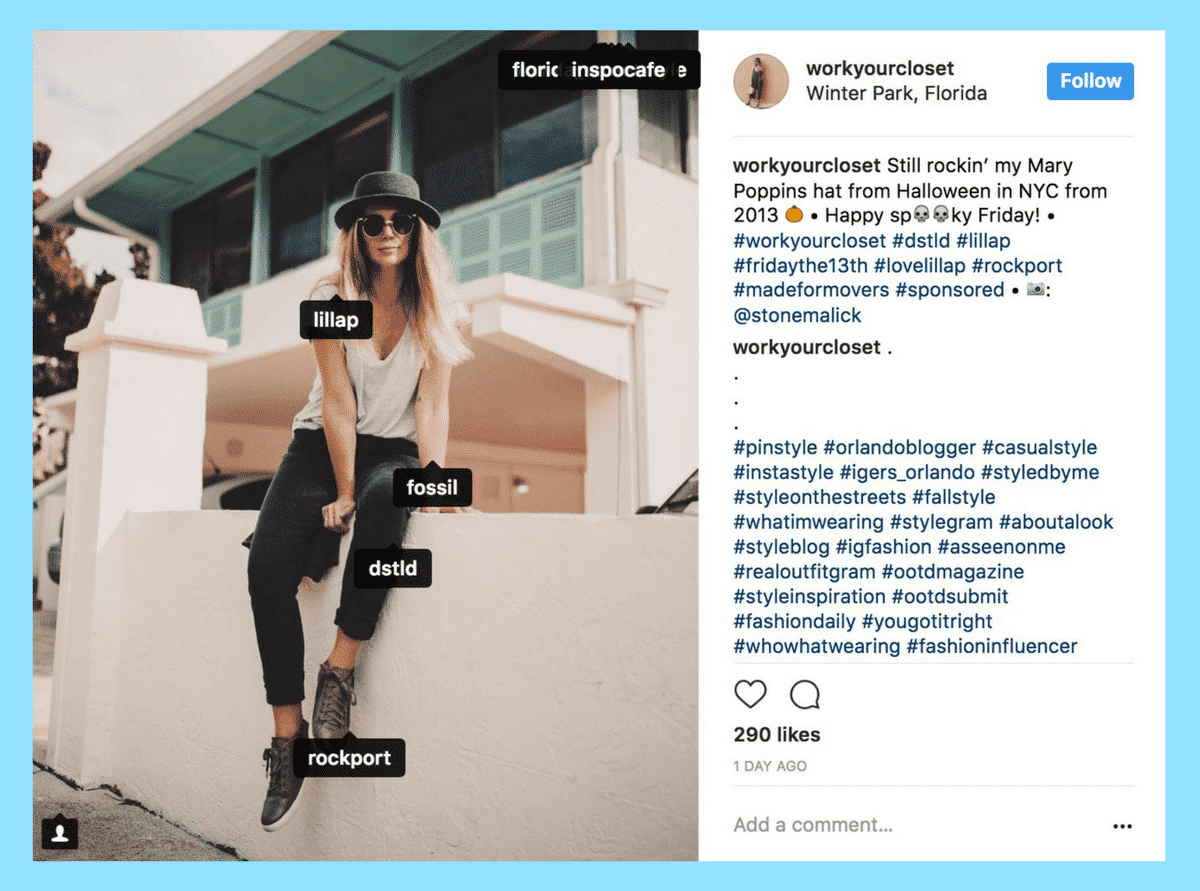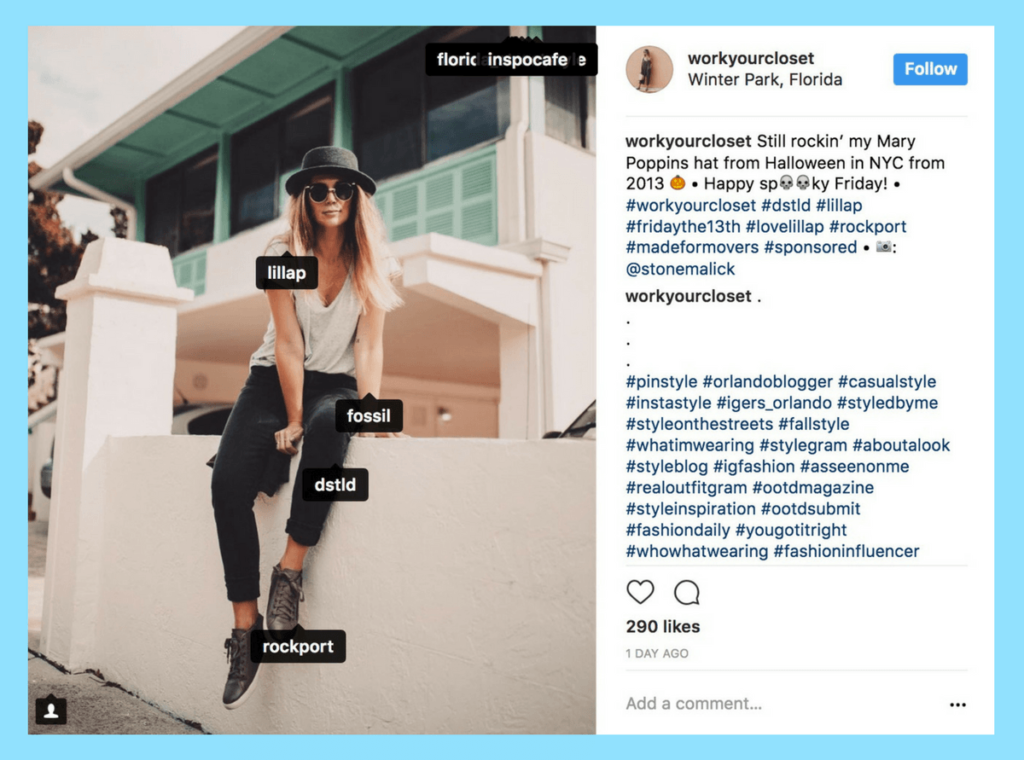 If you have enough followers who are engaged with your posts, and you have a high-quality Instagram account, you can get paid for sponsored posts.
Reach out to businesses that match your or your account's aesthetic and values, and inquire about getting paid for a sponsored post.
At the very least, many companies will send free products in exchange for a promotional post.
5. Become an Instagram Influencer to Make Money
Instagram influencers are users with huge, engaged Instagram followings. According to MediaKix, Instagram is the most influential social media channel for influencer marketing.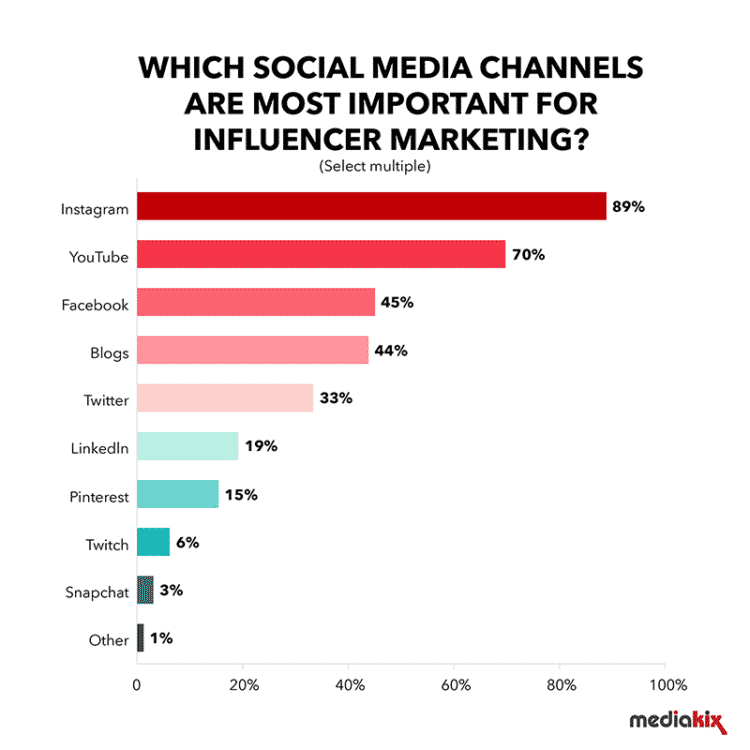 Instagram influencers can make money through a variety of methods. They can work via a form of affiliate marketing, get paid for sponsored posts or ads, or get paid simply for wearing or using certain products and mentioning them.
Depending on how many followers you have as an influencer, and how engaged those followers are, you can make anywhere from a few hundred bucks to $20,000 for a single post.
Those numbers are hard to reach, but micro-influencers can make a decent living on less pricey posts.
Instagram influencers are a sought after way of marketing, so businesses will reach out to popular influencers for brand deals, sponsorships, partnerships, and more.
The biggest Instagram influencers have gone on to run their own businesses within their industries with great success because they already had a huge following.
6. Promote and Monetize Your Blog on Instagram
Many bloggers from a variety of industries have turned to Instagram.
Instagram bloggers can share posts with snippets from their larger blog posts and encourage followers to click a link to read the full story or get more information (if you have over 5,000 followers).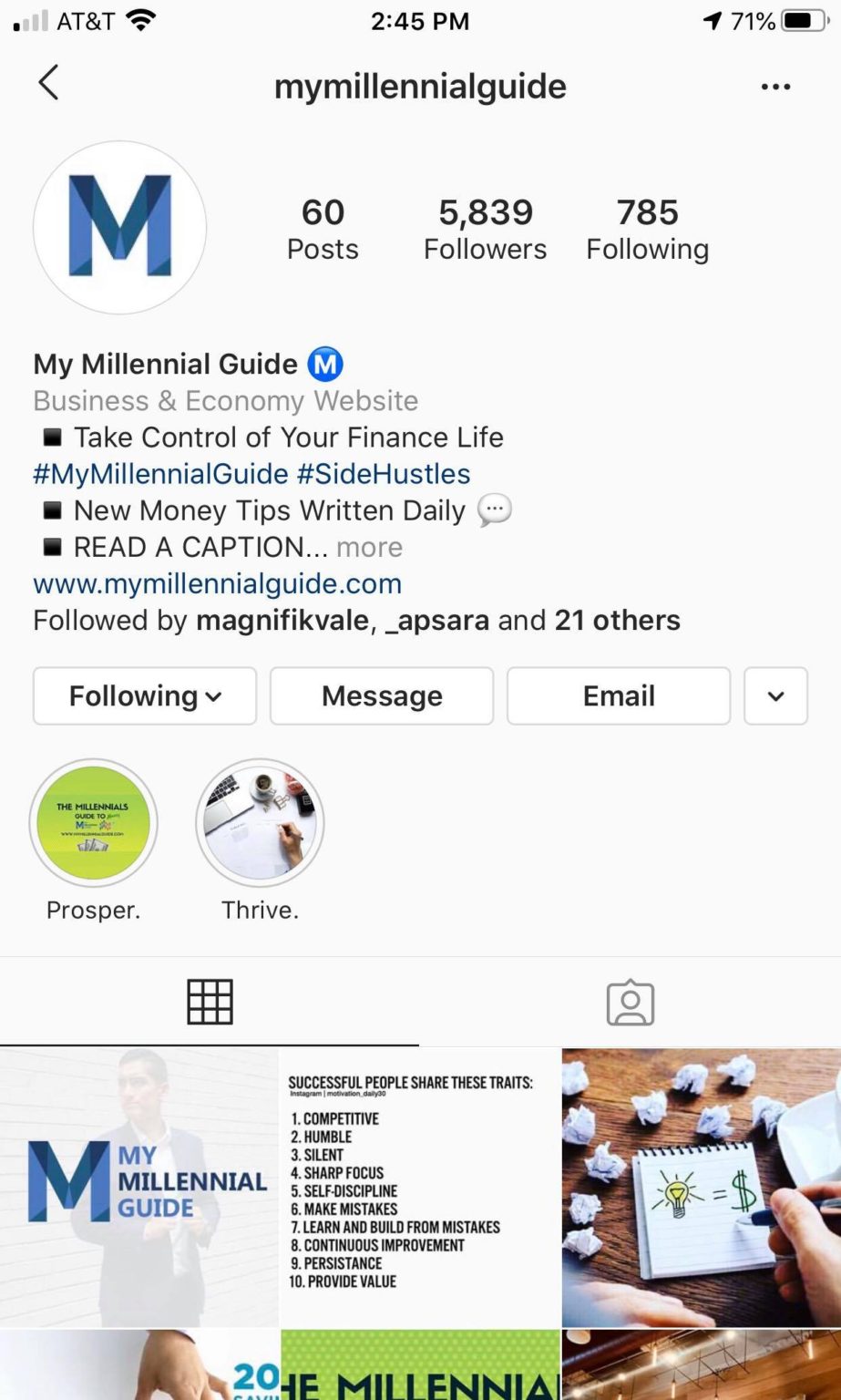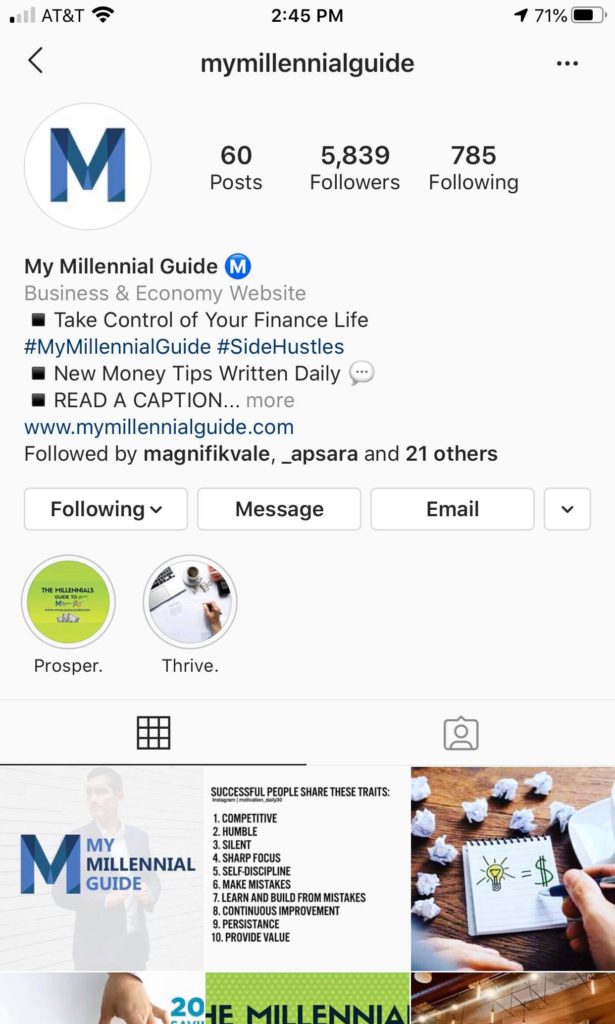 Promoting a blog on Instagram has led many to huge success, especially if your blog content translates well to a visual platform with images, videos, or other enticing information.
For example: A personal finance blog for Millennials, My Millennial Guide, uses Instagram to promote its brand and latest blog posts through Instagram to get more traffic to its website.
If you can grow your Instagram account and develop a loyal following, you can likely get those followers to click through to your blog.
No matter what your blog is about, there are plenty of opportunity to make money.
You can use affiliate links on your blog to sell products, write sponsored posts about certain brands, or even simply sell ad space.
Plenty of companies will pay to advertise on your blog if you have enough traffic, and you can use Instagram to drive that traffic.
7. Sell Your Instagram Photos to Earn Money
While people won't just buy individual posts, there is a market on Instagram to get paid for your photography or artwork.
Visual artists can share photos and sell them via Instagram, as it's easy to get a lot of eyes on your artwork on social media platforms like Instagram.
Be sure to add a watermark to your images on posts so that they cannot be stolen or screenshotted, which can be done by using Canva. Set up buying instructions either on captions or your bio.
There are also websites that help artists sell via Instagram. Check out Twenty20 or CommunityFoap to sell photography online.
Showcasing your artwork on Instagram is also a great way to market your services and get booked for photoshoots, events, or to have your art featured in a gallery and make some money or advance your career.
8. Sell Your Instagram Account
Did you know that you can sell your Instagram account?
There are a few sites that make it easy to sell your account.
Depending on how many followers you've accumulated, you can sell your Instagram account for a decent amount of money.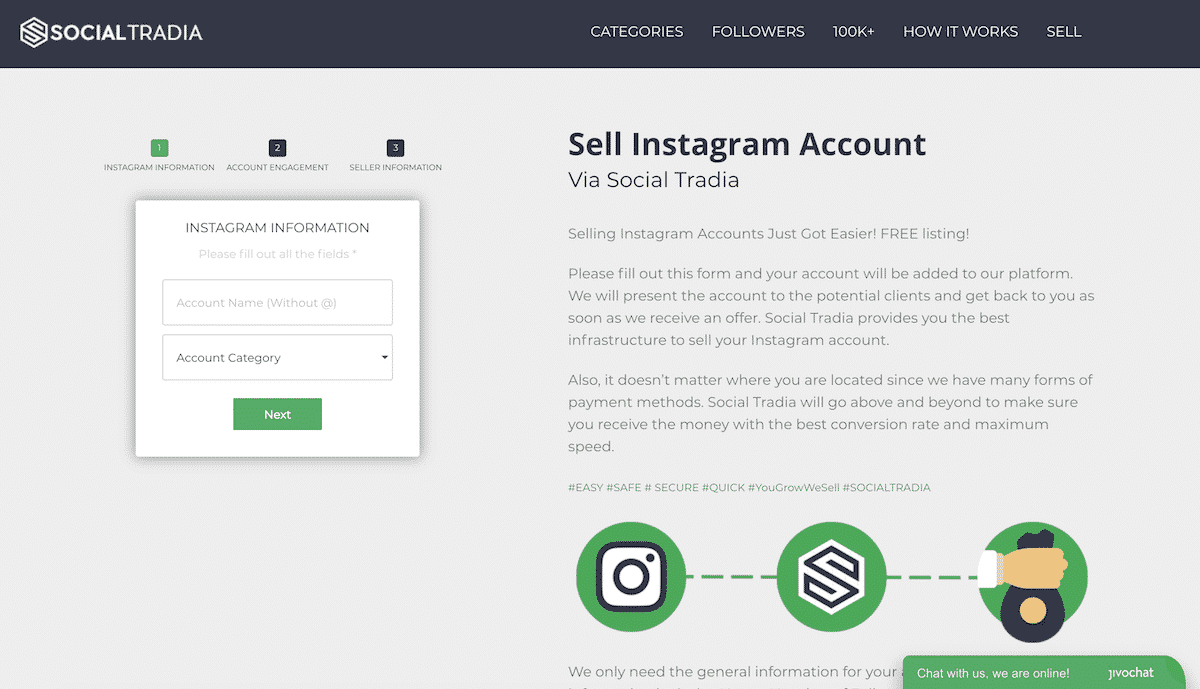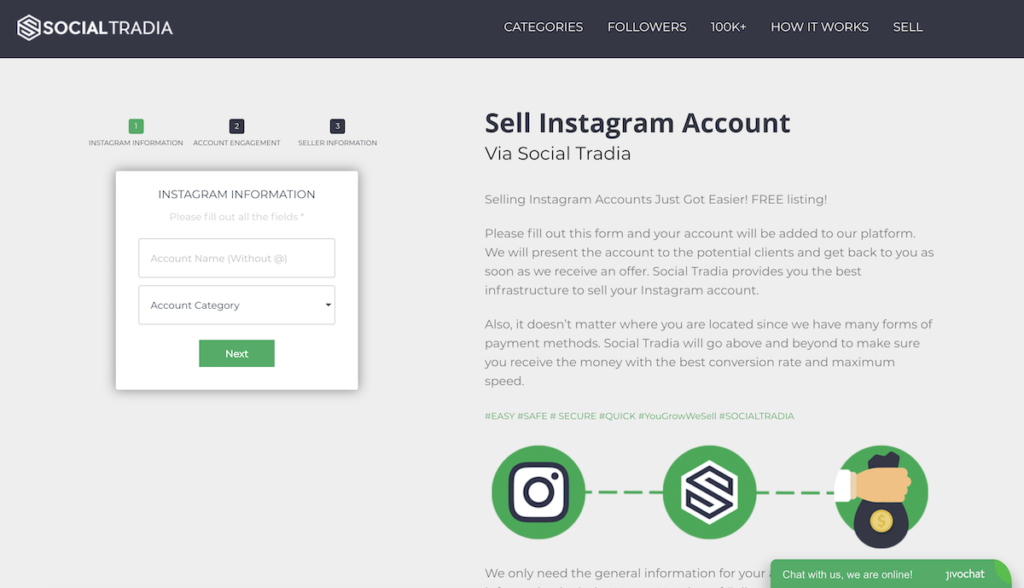 If you're tired of Instagram and ready to cash in on your account, check out websites like Social Tradia, Too Fame, Fame Swap, or Viral Accounts.
Get a quote from a few different buyers to make the most from your sale!
How to Turn Social Media Followers Into Customers
Odds are if you are interested in making money on Instagram, you also could benefit from making money from your followers on Snapchat, Facebook, Twitter, and other social media platforms.
Anyone can post on social media and gain a lot of followers, but turning those social media followers into customers is another story.
Establishing relationships with your target audience that converts to sales is key to monetizing your social media platforms.
Your business could have a huge fan base, but if your followers fail to convert, the complete marketing strategy becomes useless.
But don't worry.
With the following tips, you will surely be able to boost your social media conversions and turn your social media followers into customers.
Research
As your followers increase, take out time to find out who they really are, and what do they care about.
What bothers them? What do they like? What do they do for a living? Researching your followers is important for two main reasons.
First, you can personalize your connection with them and improve your relationship.
Second, if you do not have a clear picture of your ideal client, then start formulating one.
Or, if you do have a clear picture, you can check how well you are attracting them and even more importantly, how you can serve them better.
Communicate on a Personal Level
Everyone likes to feel special.
What you need to do is send your followers a tailored and personalized message that includes a short and simple call to action.
Begin the message by mentioning something that you find interesting about your followers.
Keep it precise, and make it about them.
Introduce New Stuff Thoughtfully
Introducing thoughtful content is key to converting followers into customers.
If you are not sure how to do that, here are a few questions for you to answer:
Which of your social media networks send the highest leads?
Which posts did best?
What is the ideal time(s) for posting updates
What is the demographics of your followers (location and age)?
Sure, it will be tempting to promote your brand at every chance you get, but you should not stop engaging, interacting and offering great content to your followers.
You can throw in some products and special offer announcements in-between interactive posts.
That way, they will surely be more impactful.
Strike the Right Balance
Posting thoughtful content, promoting, and engaging with your followers can be very overwhelming.
However, the secret is to find the right balance.
Constantly asking questions or continuously bombarding your followers with promotional content will only make them feel bored, or worse you will just end up annoying them.
If you usually post pictures on your feed, switch it up by posting a video.
In addition, you can stand out by experimenting with some of the new social "features" such as Instagram Stories in order to get more views on your page
However, if you keep balancing all types of connections, your followers will be more eager to return and engage more with you.
They will be curious to see what you have in store for them.
Hashtagging is a great way to provide a strong call to action.
When you post content on any of your social media accounts, ensure all posts include a strong call to action in the form of a hashtag.
Some of the popular forms of call to action is to ask your followers to incorporate "tag a friend in the post", "hit like and share" and "sign up today for free" to receive newsletters/emails.
If you are also running a blog regularly, make sure to promote your blog posts via your social media platforms by asking your followers to "click the link in bio" to read the full story.
Generate Loyalty
By now you must have figured out that loyal followers equal loyal customers. However, in order to promote loyalty in your customers, you as a business owner should take the first leap.
But how can you show loyalty?
All you need to do is be frequent and consistent with your content, and show concern for your followers.
Post regularly: whether this means on particular days of every week, or a particular number of times every day.
The point is to keep your followers hooked on your content. It is alright to take some time off, but make sure to share that with your audience.
For instance, let them know that you will be inactive for a certain amount of time, that you will miss them and that you can't wait to start sharing once you are back.
This shows that you value their connection and time.
Similarly, show your concern by letting them know that their opinions matter to you.
Follow up when they ask you a question or leave a comment.
Continue showing your concern, just like you would with your everyday friends.
Provide Exclusive Deals
Exclusive content is the king of social media marketing.
It strengthens your relationship with your followers, encourages them to interact with your brand on personal and long-term, basis.
Make them feel special by offering exclusive deals that will make them keep coming back, over and over.
Such deals don't have to be complex, rather keep them fun and simple.
For instance "10% off on our brand new makeup – exclusive for our Instagram followers".
Arrange a VIP Experience
A great way to converting your followers into customers is to invite them to something personalized and fun.
For example, invite your Instagram followers to a Q/A session or host a live chat with your Facebook followers.
You can do the same with other sites such as Twitter, YouTube, Snapchat, etc.
Make sure to let them know when to send in their questions.
Promote Your Followers
Promoting your followers is a surefire way to gain credibility, give back to your followers, and strengthen your relationship with them.
This doesn't mean mentioning every follower in your tweets.
Instead, pick a specific day of the week and use it to promote a follower and explain why you value them.
Count on Social Proof
Testimonials go a long way in reminding your followers about the services and products that you offer.
In addition, it shows that others found your services valuable.
So encourage your followers to share their feedback, and share the reviews on other social media platforms, on your website, etc.
Is Everyone Searching How to Make Money on Instagram?
Yes. In the age of online side hustling, so many people just like you are trying to take advantage of social media to make money online fast.
I know this because I'm trying to as well and spend a lot of time analyzing Google Searches to help identify user needs.
The goal of this quantitative endeavor is to answer questions and come up with the best solutions for Gigs Done Right readers.
Check it out, these are the most searched phrases on Google related to "How to Make Money on Instagram":
How to make money on instagram without followers
How to make money on instagram with Clickbank
How to make money on instagram as a teenager
How to make money on instagram (2023)
How many followers do you need to make money on Instagram
Get paid for instagram posts
How to make money on instagram with 500 followers
Does instagram pay you for followers
Get paid for instagram posts
Get paid to like instagram photos
How to get paid on Instagram
Over 300,000 people search these terms each month. Clearly, there is a need to learn how to make money on IG! While there are many pages online that try to answer this question, this post lists out the 8 top ways to get paid on Insta.
Social media marketing keeps evolving into 2023. Instagram is a social media platform that is gaining popularity with each passing day.
According to a recent report, Instagram's ad revenues in the US are expected to hit $39.7 billion in 2023. The photo-sharing app's revenue is projected to grow even more in 2024 so don't quit if you really want to earn money on this social media app.
If you wanted to get in on the action, try one or a few of these 8 methods to earn money on Instagram. Monetize your account today and make the most of Instagram's free platform.
Good luck making money on Instagram!