As a middle school teacher, my side hustle of choice has always been tutoring. I've found it to be one of the best side hustles for teachers, in fact.
Taking a biology class? Take your notes and tutor biology online! Taking a calculus course? You guessed it, get paid for tutoring calculus online.
Whatever class you are taking, tutoring gigs make it possible for you to continue teaching even with a busy academic or work schedule.
Some of the most popular subjects you can tutor include:
Calculus
Biology
Computer Science
Antitrust Law
Voice Lessons
Astrophysics
Zoology, and 1000s more!
If you are a college student or just someone looking to make an extra few bucks a week, being a tutor is great.
But how do you get started? For those that aren't teachers, how do you find students? How can you get your name out there? How much should you charge? I will tell you how to become a tutor in order to earn extra income and make it your side hustle.
How to Become a Tutor
Here are the steps to take if you want to learn how to become a tutor:
Step 1: Tell Everyone You Are Willing to Tutor
Before I even wanted to be a teacher, I was a tutor. I told my parents, my relatives, and friends. They, in turn, told their friends/relatives with kids and that's how I got some of my first students.
My first tutoring student in college was my boyfriend's aunt's nail lady's 9-year-old daughter. Word spreads and I find that parents who are looking for tutors tell everyone in hopes of scoring a good tutor for their kid.
Step 2: Get on a School's Tutoring Lists
Many schools and even school districts have a running list of tutors that they hand out to parents. At a middle school, I taught at, the office had a list they handed to parents that listed the tutor's name, contact information, subjects taught and cost.
Before I was a teacher, I made flyers and asked the district's office registration desk if they were willing to leave flyers there for parents. As parents came in to enroll their kids in school, they would find my information and give me a call.
Step 3: Work at a Tutoring Center
As a summer gig, I taught at a popular tutoring center. As the summer went on, a few parents and students actually stopped me to ask if I was willing to tutor privately.
They liked my teaching style and were willing to pay me for one-on-one tutoring. It was a good transition from a full-time summer gig to a few hours a week during the school year.
Step 4: Figure Out Your Tutoring Rate
The amount you charge your students really depends on several factors:
Your educational background
Teaching experience
Location
I'm based in Los Angeles and teach at a really high performing school. I have a bachelor's, teaching credential, and a master's. Colleagues of my similar background charge between $60-80/hour. For small groups, I charge $35/student up to 4 students.
When I first started out in college, I charged $20/hour teaching elementary school students. As more students came around, I started charging $30+. As a college student or even a graduate student, I would charge at least $30.
I would even venture to charge more ($50) if you are capable of teaching harder subjects like physics, biology, or calculus. Those tutors are hard to come by.
Step 5: Find Tutoring Jobs Online
Did you know that you can make money by teaching online? There are a bunch of companies that are hiring tutors online. You can find a list of the best online tutoring jobs below.
Best Online Tutoring Jobs
If you're looking for places to get started seeking online tutoring gigs, here are some recommended websites to get started with:
#1 — Chegg Tutors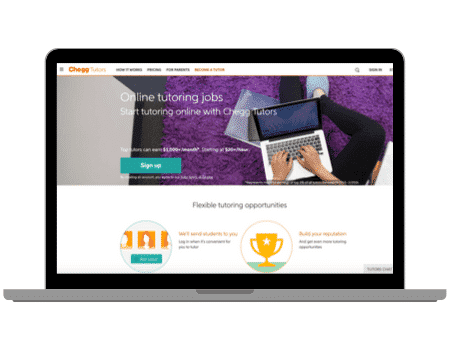 Chegg Tutors is one of the easiest ways to find online tutoring jobs. Here you can find tutoring jobs from a wide range of subjects and earn subject bonuses for tutoring high-demand subjects.
Earnings: Depending on what you teach, pay can go up to $25 (USD) per hour or more.
Sign up page: https://www.chegg.com/tutors/become-a-tutor/
#2 — Skooli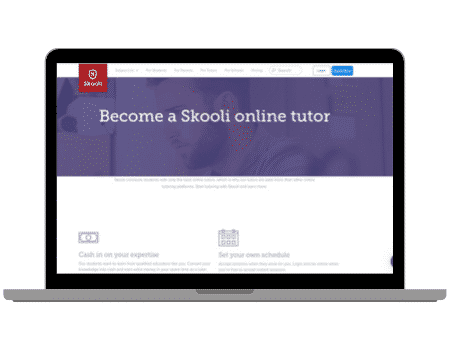 Skooli is a dynamic online tutoring space. Convert your knowledge into cash and earn extra money in your spare time as a tutor. All you need is your expertise, a device, and a wifi connection. Here you can accept sessions when they work for you. Login and be online when you're free to accept instant sessions.
Earnings: Skooli tutors earn $25 (USD) per hour and are compensated for the time they spend in the classroom.
Sign up page: https://www.skooli.com/for_tutors
#3 — Wyzant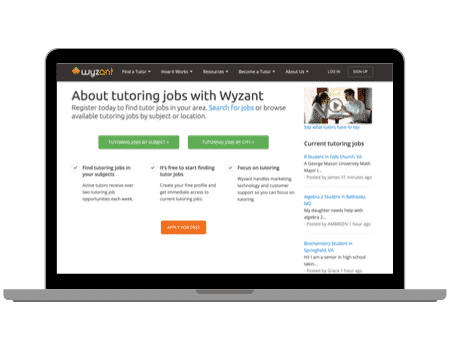 At Wyzant, active tutors receive over two tutoring job opportunities each week. Here it is easy to create your free profile and get immediate access to current tutoring jobs. Wyzant handles marketing, technology and customer support so you can focus on tutoring.
Earnings: Skooli tutors earn $19 (USD) per hour and are compensated for the time they spend in the classroom.
Sign up page: https://www.wyzant.com/tutorhome
#4 — Tutor.com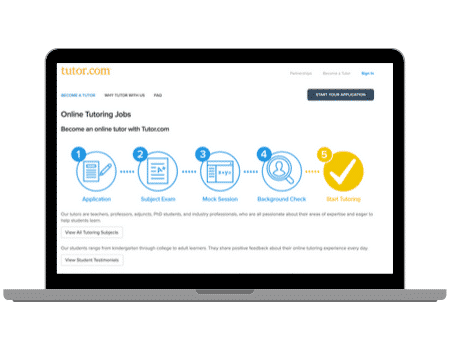 In order to become an online tutor with Tutor.com you must submit an application, pass a subject exam, pass a mock session, and then pass a background check. Once you complete all these steps you can start tutoring and join other teachers, professors, adjuncts, Ph.D. students, and industry professionals who are eager to help students learn.
Earnings: Tutor.com tutors earn up to $555 (USD) per week and are compensated for the time they spend in the classroom.
Sign up page: https://www.tutor.com/apply
The Bottom Line
Hopefully, this article has given you a starting point of how to get started with a tutoring side hustle.
If are you considering becoming a tutor, be sure to put your heart into every session—a short tutoring session can easily turn into the highlight of your day. Not only can it advance your knowledge but you can also add it to your resume.
If you wanted more ways to make money online besides tutoring, take a look at some of the best online jobs I've found.