How much can you make with Uber Eats in a week?
You've probably seen the blog posts, YouTube videos, and affiliate marketing sites exclaiming:
YOU CAN MAKE $500 A WEEK WITH UBER EATS!
or
HOW I EARN $500 A WEEK DELIVERING FOR UBER EATS!
I'm here to tell you that it is possible, but it depends on the day. Today I made $140 in 7 hours. I'm in NYC. But it varies for me on certain days.
You probably know that Uber is an example of a great gig economy company that is now worth $48 billion. The company went public last year and it is the number one ride-sharing service in the world. But that's not all they do.
Uber is taking on new services — including Uber Eats.
Let's start from the beginning:
Uber Eats is one of the best delivery app gigs, that allows you to order food from local restaurants near you. You can get food delivered to your doorstep in a matter of minutes.
Who is delivering the food?
That would be the delivery drivers for Uber Eats.
Delivery drivers for Uber Eats are independent contractors who pick up and drop off food orders, similar to driving for Postmates and DoorDash.
Interested in driving for Uber Eats? In this article, we will go over how to become an Uber Eats partner and everything you should know before signing up.
Total Time: Fast
Uber Eats Setup: Fast
Allow about a week for the application process, the background check can take up to five days.
Uber Eats Payment:
UberEats pays out weekly or daily, depending on the option you select.
Requirements
What You Will Need:
You'll need a way to deliver food from restaurants, but it could be by car, scooter, or bike, or even by foot depending on service.
A smartphone is necessary to accept and process orders.
Each delivery service has a minimum age requirement, but it varies by service.
What Does a Driver for Uber Eats Do?
Like most other common food delivery gig economy apps — a delivery driver will pick up food and deliver it to the customer's home.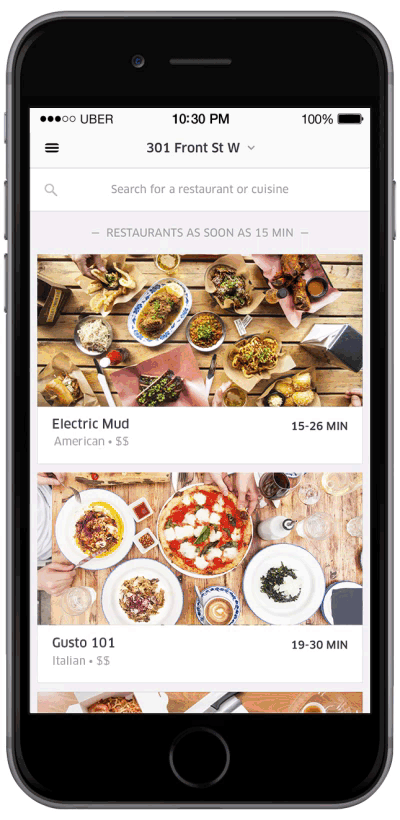 The entire process is mapped out in the Uber Eats delivery app, even getting paid. Customers will use the Uber Eats app to pay for the food and driver fees.
A driver uses a car, bike, scooter, or even on foot, and delivers whenever they want—for an hour, a weekend, or throughout the week.
Food is delivered to the customer's address and overall it is a straightforward gig.
How would a driver for Uber Eats day look like?
It would first start with you getting on the road and logging in to the Uber Partner app to begin accepting delivery requests. You'll use the app for navigation and information is provided in the app to help deliveries run smoothly. Once a delivery is made you can track your earnings on the app, and enjoy getting paid weekly.
How Much Money Do Delivery Drivers Make?
If you are considering different gig economy apps then it's important to know how much you stand to make.
According to Earnest, they found that the median Uber driver makes $155 a month — third-most among the nine gig platforms surveyed (people working with Airbnb and Lyft tended to earn more.) Meanwhile, the average Uber driver makes $364 a month — fourth most — suggesting some drivers are taking home a fair amount each month. While Uber drivers and Uber Eats are two separate services – the results are likely similar.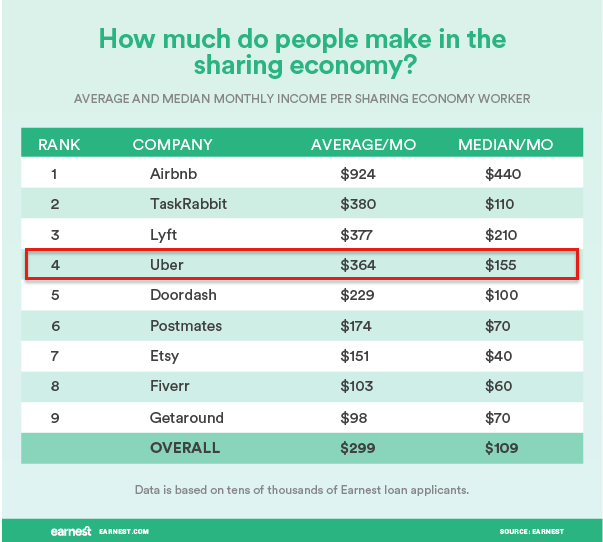 Gigs Done Right found that the amount of money that you will make with Uber Eats varies on how many orders you choose to accept.
On average — how much do drivers for Uber Eats make?

According to Glassdoor, the average delivery driver earns $12.25 hourly after factoring in vehicle expenses (gas, maintenance, etc). Delivery fees can vary quite a bit from day to day or hour to hour, and it's often more lucrative to work lunch and dinner rushes in order to earn on the higher end of the pay scale.
How Are Earnings Calculated?
To know this — we must discuss your net fare, how much you can make for multiple orders and different types of fees, promotions and adjustments.
Your net-fare
There are 4 main components to your net fare. You can get this breakdown for each delivery in the Earnings section of the app.
Pickup: The flat amount for picking up one or multiple orders
Dropoff: Flat amount per order delivered
Distance: per-mile rate from pickup to delivery, with distance determined by the most efficient route
Time (in select cities): per-minute rate based on the time expected to complete a trip—from when you enter the restaurant (including wait time) to when you complete the delivery
For multiple orders
If you complete a delivery with multiple orders, you'll still receive the usual pickup amount, plus the applicable time and distance rate.
Additionally, you'll receive an amount for each delivery—one for each time you drop off an order.
The service fees, promotions, and adjustments
Uber's service fee will remain the same and be deducted at the end of the trip.
Promotions and any tips will be added on top of the net fare.
If any changes need to be made to a fare, you can contact Support.
How Do I Become a Delivery Driver for Uber Eats?
If you are interested in becoming an Uber Eats driver then you should be happy to know that the process is simple.
Uber Eats is available in hundreds of cities around the world. To see if Uber Eats is available in your city, visit this link. 
Next, you will want to ensure that you meet the driver and vehicle requirements which we will cover next.
How to apply: For all the information you need, head over to the Uber Eats sign-up page.
You'll create an account and fill out some basic information. Make sure that you have your driver's license, proof of insurance, and vehicle registration handy.
After submitting your application, expect to hear back within 2 to 3 business days.
Wait for an email for your account username and password (if approved).
Download the app and start earning money as a Uber Eats delivery partner.
Delivery Driver for Uber Eats Requirements
Requirements: Be at least 19 years old if delivering by car. Delivery options via car (must be a 1997 or newer with at least two doors), bike, scooter or foot depending on your area. Pass a background check. Have a valid driver's license and insurance (if you deliver by car or scooter).

How to apply: For all the information you need, head over to the Uber Eats sign-up page.
Uber Eats Vehicle Requirements
Want to get started? Read below to learn more about the requirements needed to deliver with Uber Eats.
Does your vehicle qualify to drive with Uber?
Most four-door cars do, but Uber driver requirements vary by vehicle option. Here are the basics:
Vehicles must be 20 years or newer
4-door vehicle
Good condition with no cosmetic damage
No commercial branding
Pass a vehicle inspection
Registration
Uber accepts both official and temporary registration documents. The vehicle does not need to be registered in your name to qualify.
Insurance
All partners must maintain their own insurance policy in accordance with state and local laws. In addition, Uber maintains automobile liability insurance on behalf of all U.S. partners.
Other Minimum Requirements
– Smartphone
– Eligible 4-door vehicle
– Valid driver's license
– Be at least 21 years old
– At least 1 year of licensed driving experience (3 if you are under 23)
– Vehicle registration and insurance
Already Drive for Uber? Switching to Uber Eats is Easy
Early retirement is the dream for many! Who wouldn't want less stress and more time for family and traveling sooner than later? Even if you are a student, delivering with Uber Eats as a student is the perfect side gig. However, it can sometimes seem like retirement is a million years away when you're punching the time clock every day.
If you're struggling to save enough money to sustain yourself in the years to come, you may already be driving for Uber. Making the switch to Uber Eats is simple if you are already driving with Uber.
Becoming an Uber Eats delivery partner is easy to do and you can choose to work your full-time gig while earning extra money on the side through driving to put towards your retirement.
With no set hours, you are free to deliver with Uber Eats before work, after work, or anytime that suits your schedule.
A lot of people do this full time, so you can imagine that's it definitely possible to do this on the side and make extra money and be your own boss.
Click here to learn more about driving for Uber.
If you have a car but don't want to drive people around, your other option is delivering food with Uber Eats.
Click here to learn more about becoming an Uber Eats Delivery Partner.
The Bottom Line
If you're free nights and weekends, you can earn extra money delivering food for fellow citizens around your city. It's easy to delivery food with Uber – if you have a car, it's a perfect way to make a good amount of extra cash whenever it's convenient for you.
A lot of people do this full time, so you can imagine that's it definitely possible to do this to make money on the side and make money by delivering food with Uber and be on your own schedule.
Related: