Both Uber and Lyft are popular car riding services.
Personally, I use Lyft and Uber a few times a week and even have an Uber ride pass since I use it so often.
But if you are looking for top ways to get paid for driving, then these rideshare apps provide you with a great source of income.
For all the potential drivers who want to know who pays better between Uber and Lyft, we have got you covered.
Both gig economy apps have many similarities regarding how they operate, but there are some differences as well.
Take a closer look at what you can get by working for either of these ridesharing services.
Uber vs. Lyft: drivers comparison guide
Depending upon the availability of your time and needs, driving for both Uber and Lyft at the same time is worth it due to the boost you can get in your overall income.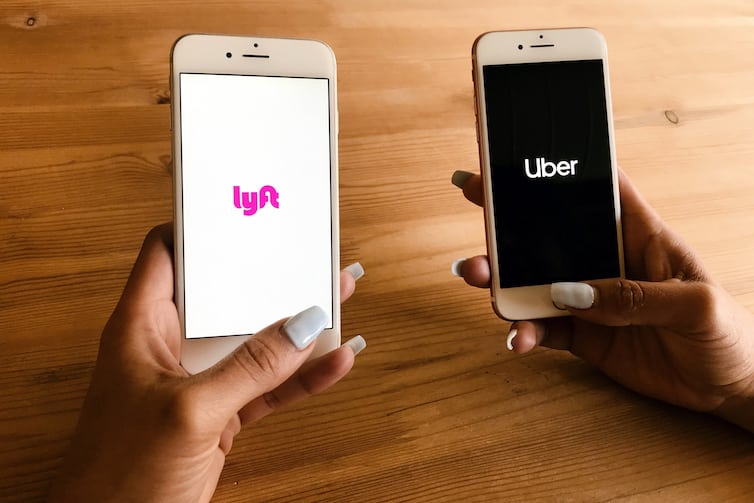 However, if you wanted to stick with just one ridesharing app you should know which ridesharing app is better for drivers and which one pays more.
First, take a look at the similarities between Uber and Lyft from a driver's perspective.
Key similarities between Uber and Lyft
Both services can be operated via a smartphone app. The drivers can log in whenever they have time and both the services offer drivers the freedom to choose the riders they want.
Uber and Lyft both give the price estimation depending on the distance traveled, the time taken, type of vehicle and base rate.
Both services allow the riders to make an addition of a trip when the ride ends.
Both companies offer some period of time when drivers can earn more than the usual fare depending on the rider's demand (it is often called as prime time or surge price).
Both Uber and Lyft offer drivers to rent or buy vehicles.
In addition to the similarities, there are some differences as well.
Key differences between Uber vs. Lyft
Currently Uber is operating across the world, in 83 different countries while Lyft is just starting its international service.
Uber introduced a tipping feature in mid-2017 while Lyft has this option since the beginning.
The riding environment of Uber is more professional as compared to the Lyft experience which is more fun and friendly.
How to drive using a rental car?
Becoming a rideshare driver isn't as complicated as people think. Even if your current vehicle does not fit the Lyft or Uber vehicle requirements, but you're able to pass the background check, and you meet the other driver requirements, then you can rent a car for ridesharing.
For example, if you wanted to get on-demand car rentals for rideshare drivers you can start driving for only $100 with HyreCar.
HyreCar is a carsharing market place that helps local car owners in all 50 states rent their personal vehicles to Uber and Lyft drivers. This way, car owners earn passive income from renting a car they don't use very much to rideshare drivers.
So you can sign up for free here and find a car to rent out through this company that you can use for Lyft, Uber, Uber Eats, or other food delivery apps.
Who pays more?
According to a recent survey of close to 1200 drivers, rideshare platforms revealed that Lyft drivers averaged around $17.50 per hour, close to $2 more per hour than Uber drivers.
Lyft and Uber drivers earn approximately the same average per month, but the tips and earnings per trip are higher for Lyft.
The amount of money you can make by driving for Uber or Lyft is actually dependent on numerous factors including the type of vehicle, operational expenses, and the time duration for which you drive.
But which company has more driver fees? If you want to know which company takes more commission from the fare of each rider, it's Uber.
Uber will take a fixed percentage Service Fee on the fare that a rider pays you on every trip (UberPool excluded). On UberX trips, this fee will be 25%. On other trip types, such as UberXL, Comfort, SUV, and Lux, this fixed service fee will be 28%.
Lyft takes 20 percent of each fare. From that fare, the city also takes a sales tax of 8.875 percent and the Black Car Fund takes a fee of 2.5 percent. But these fees can change at any moment.
Uber charges 25% while Lyft takes 20%.
But, there are some other considerable factors as well.
Booking fees
When a rider pays for a ride, the booking and operating expenses are also included in it that go directly to the company.
Both Uber and Lyft charge differently.
The booking charges are different in different cities. Uber usually costs from $1.85 to $2.45 while this pick-up fee for Lyft ranges between $1 to $2.
Lyft has lower booking fees so you can take home more money with each trip on average.
What are real drivers actually making?
It is usually claimed that a driver can earn from $20 to $30 per hour by driving for either of the company.
But that's not exactly true.
According to a survey conducted, an Uber driver earns up to $15.68 per hour while a driver at Lyft can earn about $17.50 per hour. You can earn more by driving with Lyft on average.
These are the average amounts that each driver can make but the actual amount pocketed is less than these because of the factoring in expenditures like maintenance and gas.
Factoring in driving expenses
The fueling and maintenance charges usually vary from vehicle to vehicle. It also depends on the age and condition of your car.
If you are driving an old car, you might need to spend more on repair and maintenance.
For both Uber and Lyft, these expenses will reduce the amount of money you get to take home.
You can deduct the actual expenses of operating the vehicle, including gasoline, oil, insurance, car registration, repairs, maintenance, and depreciation or lease payments.
Or you can use the standard IRS mileage deduction.
Rewards and bonuses
Both platforms offer multiple rewards, incentives, and bonuses. You can get a weekly promotion, fuel rewards, and frequent driver bonuses.
Lyft rewards for drivers include cash bonuses at Gold and Platinum, credit to take Lyft rides, up to 5% cash back on gas with the Lyft Direct debit card, free or discounted tax services, free or discounted roadside assistance and even an AT&T cell phone plan savings. You can see the full list here
You can also earn rewards with Uber Pro. Uber Pro is a rewards program that recognizes outstanding drivers, to help you reach your goals—on and off the road.
Which is better?
If you want to know which one offers a better atmosphere and driving experience, it is Uber.
But if your concern is to earn more, Lyft is better.
To cut a long story short, driving for Lyft gets you more money. As resulted from the survey conducted to find Lyft vs Uber pay, it is clear that the average hourly pay of Lyft driver is more than Uber's driver pay.
Other ways to earn with your car
Don't want to drive around people around now that you know the true payouts? Or just want another way to earn with your car?
Do you get an idle car sitting in your driveway, do you still own the minivan from when your children were kids?
It's time you start turning that car into an income stream by renting it on Getaround.
With the Getaround app, you can safely rent out your car to people in your community and neighborhood.
Getaround insures your car for each trip up to $1 million, offers 24/7 roadside assistance, and screens all drivers for a safe driving record.
That's more assurance that you get when your teenager gets behind the wheel…
Here's how it works:
Sign up with by clicking here.
Set your own rates and availability.
You'll get a notification when someone books your car.
Your car will be equipped with a Getaround Connect™, so renters will be able to locate, unlock and lock your car from their mobile phone during the trip period. No need to meet in person to exchange keys.
Like most side gigs that require your car like Uber and Lyft, some car owners worry about the costs for things like gas and wear and tear on the vehicle.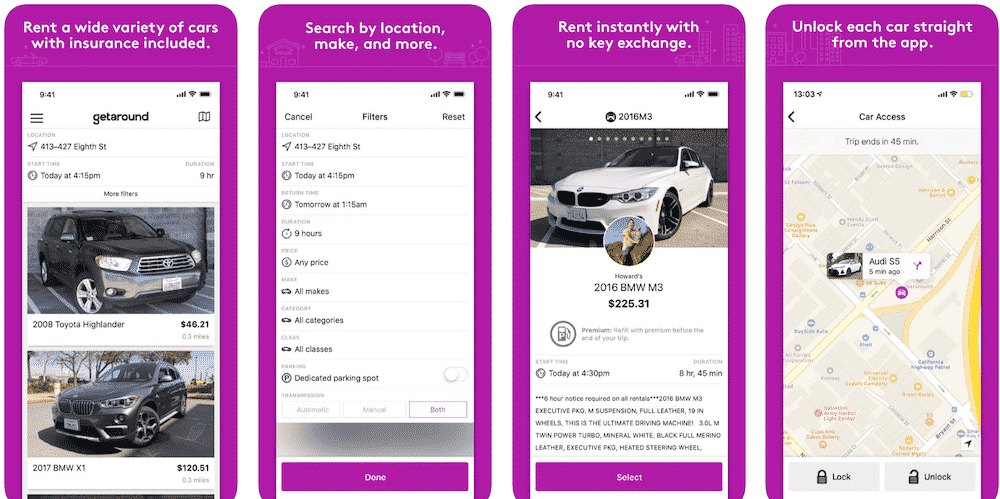 With Getaround, renters are responsible for refilling the fuel used on the trip.
As well as you schedule the times when your vehicle is available with their online calendar tool, and you'll always know where your car is while it's rented
We also reached out to Getaround to see what they are doing to address car owners' concerns, and the CEO Sam Zaid said, "Fortunately, customer feedback is one of the best ways we can learn and grow. We take feedback seriously and prioritize product updates based on our conversations with owners and renters."
Related: Turo vs Getaround – Which is Best to Rent Out Your Car?
Uber vs. Lyft summary
If you're free nights and weekends, you can earn extra cash driving your fellow citizens around.
You can earn money by driving with both of these ridesharing apps – if you have a car, it's a perfect way to make a good amount of extra cash whenever it's convenient for you.
A lot of people do this full time, so you can imagine that's it definitely possible to do this on the side and make extra money and be able to save it.
Once you're a driver you can choose to turn the app on or off and drive whenever you have some time to spare. They also have a feature that allows you to select your destination, so if you are leaving work (or any other long commute), you could pick up a ride that was going in the same direction. You can do this 2-4 times a week on your commute and can easily earn some good income.
While Uber seems to be more globally known, if you're in the United States you probably will earn more with Lyft.
Bottome line: If your concern is to earn more, Lyft is better.