Uber Ride Pass Review: What is Uber Ride Pass and why should you care? We'll tell you how much it costs, is it legit, and is it worth it?
Uber is the ever-expanding on-demand transport service that has revolutionized the taxi industry around the world. The business model of Uber is a great success and they recently launched a new service called Uber Ride Pass to help riders save money.
According to CNET, you can save up to 15%, but that number could vary, and it isn't clear if you'll mostly hover in the 10% savings range or closer to 15%. That's uncomfortably vague for our liking, especially since Ride Pass costs $24.99 per month.
Ride Pass is a new way for riders to receive price protection on rides on qualified coverage areas of their city, for one low monthly fee. In this Uber Ride Pass review, we'll learn if Uber Ride Pass is worth it?
What is Uber Ride Pass?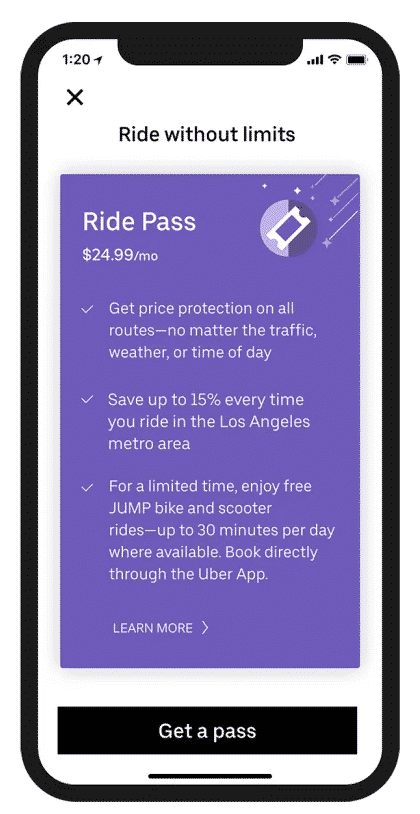 Wondering what Uber Ride Pass is? Uber Ride Pass is a new way for riders to receive price protection on rides on qualified coverage areas of their city, for one low monthly fee ($24.99/mo).
Ride Pass is designed to take the guesswork out of riding so you can confidently plan your day with Uber without any unwelcome surprises.
Ride Pass is a monthly subscription. Unless otherwise stated, each pass is good for a month and will renew automatically. You can cancel anytime.
Ride Pass gives you consistently, lower prices no matter the traffic, weather, or time of day. Ride Pass is available in select cities for a monthly fee of just $24.99.
How Much Does Uber Ride Pass Cost?
Ride Pass, is a new way for riders to lock in consistently low prices on any ride you take, anywhere in a city, anytime of day for a small monthly fee that starts at just $24.99.
Daily commute or night on the town, traffic or open roads.
A pass offers benefits, such as discounts on eligible trips, for a one-time activation fee, passes are still tested and are only available for a few months per month, while passes are temporary offers.
Prices at ride-share services rise or fall depending on demand.
For example, a ride into work early, ahead of the pack, is typically cheaper than a ride home at day's end during peak commute time when "surge pricing" kicks in.
Steps for Buying Ride Pass
Ride Pass is available in select cities across the US. If you live in a city where it's available, you'll see Ride Pass in the menu of your Uber app. The pass renews automatically every month, and you can cancel anytime.
Uber plans to expand Ride Pass into more cities throughout 2022. Keep an eye out for Ride Pass in your Uber app.
Is Uber Ride Pass Legit?
This new Route Pass option is ideal for people who often travel between two locations. Whether you go home from the office or go to the gym at least 3 times a week.
It is a great option if you commute during peak hours or if you live in an area where prices often rise because Route Pass charges you a standard rate.
I know friends who work near AT&T Park, and I can only imagine what surge pricing looks like after a giant game!
How to Use Uber Ride Pass?
Uber Ride Pass is currently available in a limited number of cities across America. Right now they are testing Uber Ride pass in select cities:
Austin
Denver
Los Angeles
Miami
Orlando
Ride Pass protects every UberX and UberPool trip in your city's eligible area. After purchase, you can see map details by tapping Ride Pass in your Uber app menu.
Note: you can see this option only if Uber has invited you to use this offer. You also need to check if you are paying the one-time activation fee (the amount varies depending on your market, assuming Ride Pass is available). This is not the most straightforward process, but it is a bit understandable as it is an experimental program.
Is Uber Ride Pass Worth It?
With Ride Pass — You can get price protection, no matter the traffic of time of day. In certain cities, you can save up to 15% every time you ride and enjoy free JUMP bike and scooter rides (depending on the city).
Leaving the car at home shouldn't take a leap of faith.
Whether it's a daily commute or a night on the town, you can remain confident to reliably plan your day with Ride Pass.
Ride Pass is another step Uber is taking to make them your go-to app whenever you need to get from A to B.
This is another way for them to compete and take dominance over the ride-sharing industry in the US.
Is Uber Ride Pass worth it? You should take advantage Uber Ride Pass ($24.99/mo) if you use Uber often and it's available in your city.
I would recommend Ride Pass to the riders that take Ubers daily or even a few times weekly, but not to someone who occasionally takes an Uber on a rare night out.

ANGELO DAMIANOU, UBER DRIVER
Interested in Becoming an Uber Driver?
Did you want to be on the other end of the stick and make money as an Uber driver?
If you're free nights and weekends, you can earn extra cash driving your fellow citizens around.
You can earn money by driving with Uber – if you have a car, it's a perfect way to get paid to drive and make extra cash whenever it's convenient for you.
A lot of people do this full time, so you can imagine that's it definitely possible to do this as a lucrative gig job and make extra money and be your own boss.
If you have a car but don't want to drive people around, your other option is delivery app jobs like Uber Eats.
Click here to learn more about becoming an Uber Eats Delivery Partner.
Is Uber Ride Pass available in your city? Have you taken advantage of it yet? Let us know in the comments below and what you thought about our Uber Ride Pass review.
Up next:
Uber vs. Lyft: A Side-By-Side Comparison for 2021
Income Boosters for Gig Workers The income booster section provides recommendations for financial products that offer sign-up bonuses.

Survey Junkie: Earn up to $3 per survey with one of the highest-paying survey sites on the web. Join Survey Junkie Now
Blackout Bingo: Earning money by playing games on your phone sounds like a dream. But this app really pays you for playing bingo with cash rewards. Download Blackout Bingo for free.
Fundrise: Get a $10 bonus for starting to invest in real estate. It gets deposited into your Fundrise account, which you can open in less than 5 minutes through this link.
Albert: Want to get spotted cash for free? Albert will spot you $150 when you join. There's no catch, just receive 3 qualifying deposits & use your new card. This bank account is legit and only takes two minutes to join Albert.