Uber is an example of a great gig economy company that is now worth $48 billion. The company went public last year and it is the number one ride-sharing service in the world. But that's not all they do.
Interested in driving for Uber? In this article, we will go over how to become an Uber driver partner and everything you should know before signing up.
Uber Car Requirements
Want to get started? Read below to learn more about the requirements needed to drive with Uber and how the Uber driver partner signup process works.
Does your vehicle qualify to drive with Uber? Most four-door cars do, but requirements vary by vehicle option. Here are the basics:
Vehicles must be 10 years or newer
4-door vehicle
Good condition with no cosmetic damage
No commercial branding
Pass a vehicle inspection
Registration
Uber accepts both official and temporary registration documents. The vehicle does not need to be registered in your name to qualify.
Insurance
All partners must maintain their own insurance policy in accordance with state and local laws. In addition, Uber maintains automobile liability insurance on behalf of all U.S. partners.
Earn about $154 per day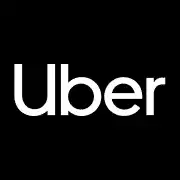 Uber
Earn up to $1034 per week including tips
Receive payments up to 5 times per day
Earn more during surge pricing periods
You get to keep 100% of all rider tips
Start Earning
When Your Vehicle Isn't Eligible
If your vehicle isn't eligible to drive for Uber you can look into on-demand car rentals for rideshare driver.
A popular company that allows you to rent their cars is Hyrecar.com and you can start driving for only $100. They are a car rental service for Uber drivers and by using them you can avoid having to buy a new car just to drive for Uber.
Rent a car for Uber Drivers with Hyrecar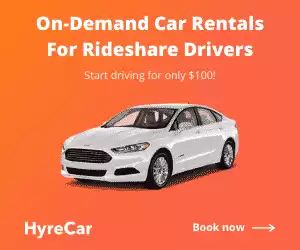 HyreCar
Earn up to $1200 per month from your car
Flexible rental periods that are up to you
List your car for rent within 10 minutes
$125 bonus for an electric vehicle
Start Earning
Uber Driver Minimum Requirements
In order to drive for Uber, you must meet certain minimum requirements that shouldn't be difficult to overcome.
Smartphone
Eligible 4-door vehicle
Valid driver's license
Be at least 21 years old
At least 1 year of licensed driving experience (3 if you are under 23)
Vehicle registration and insurance
In-state license plates
Have a Social Security number
Pass an online screening
If you don't pass any one of the minimum requirements listed above you won't be accepted as an Uber driver. Be sure to get everything in order before applying to work as an Uber driver.
Uber Driver Online Screening
When applying to work for Uber you'll be given an online screening. This screening essentially will look into your criminal record and driving history.
The cleaner your record the better the chances of passing the online screening. Even if you have one or two prior incidences with the law, you should still try and apply. If you wanted to check your driving record before applying you can do so here.
This online screening that is done by Checkr is paid for by Uber. So don't worry about having to shell out any money to get your background checks completed.
You don't have to worry about a credit history check or a drug test when applying to become an Uber driver.
Uber Driver Benefits
Early retirement is the dream for many! Who wouldn't want less stress and more time for family and traveling sooner than later? However, it can sometimes seem like retirement is a million years away when you're punching the time clock every day.
If you're struggling to save enough money to sustain you in the years to come, driving with Uber may be a great opportunity for you!
Becoming an Uber driver-partner enables you to choose to work your full-time job while earning extra money on the side through driving to put towards your retirement.
With no set hours, you are free to drive with Uber before work, after work, or anytime that suits your schedule.
A lot of people do this full time, so you can imagine that's it definitely possible to do this on the side and make extra money and be your own boss.
If you have a car but don't want to drive people around, your other option is delivering food with Uber Eats.
Click here to learn more about becoming an Uber Eats Delivery Partner.
Setting Goals
A key factor in retiring early is planning ahead. Who says you have to wait until you're 65 to retire if you're smart with your money now?
Start by setting a weekly savings goal for yourself and then track how much extra money you are earning by driving with Uber. Also, you can see an Uber vs Lyft review to see which ridesharing company pays more.
Re-evaluate to see if you are hitting your goal and adjust how many hours you drive if you need to increase your earnings. Then, put your earnings aside for the future. With each dollar saved, you are one step closer to an early retirement!
Driving with Uber During Retirement
When the time does come for you to retire from your full-time job, you may still find yourself looking for some extra cash (especially if you'd like to spend your retirement traveling the world or spoiling your grandkids!).
If you continue to drive with Uber a few times a week, you can keep the cash coming in for those extra expenses.
Plus, if you find yourself getting bored during the day, Uber can be a great way to get out of the house and interact with others. And with no set hours, you can drive whenever is convenient for you!
Ready to Drive with Uber?
If you're free nights and weekends, you can earn extra cash driving your fellow citizens around. You can earn money by driving with Uber – if you have a car, it's a perfect way to make a good amount of extra cash whenever it's convenient for you. You can apply here.
Earn about $154 per day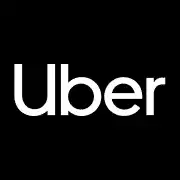 Uber
Earn up to $1034 per week including tips
Receive payments up to 5 times per day
Earn more during surge pricing periods
You get to keep 100% of all rider tips
Start Earning
Related: