One thing that we can all agree on is that life is crazy busy. Wouldn't it be nice if you can just download an app, pick out your groceries, and get it delivered right to your door the same day?
I've got great news for you, it's possible.
Only a quarter of consumers have tried an online grocery service in the past year, according to a new survey of more than 8,000 U.S. grocery shoppers completed by consulting group Bain & Co. in collaboration with Google.
If you aren't using grocery delivery services like Amazon Fresh or Instacart, Google Express, or Shipt then you may be missing out on the convenience these services bring.
In this article, we will review the best food delivery services that get groceries right to your door.
Our Top Picks for Food Delivery Services
1. AmazonFresh: Best Overall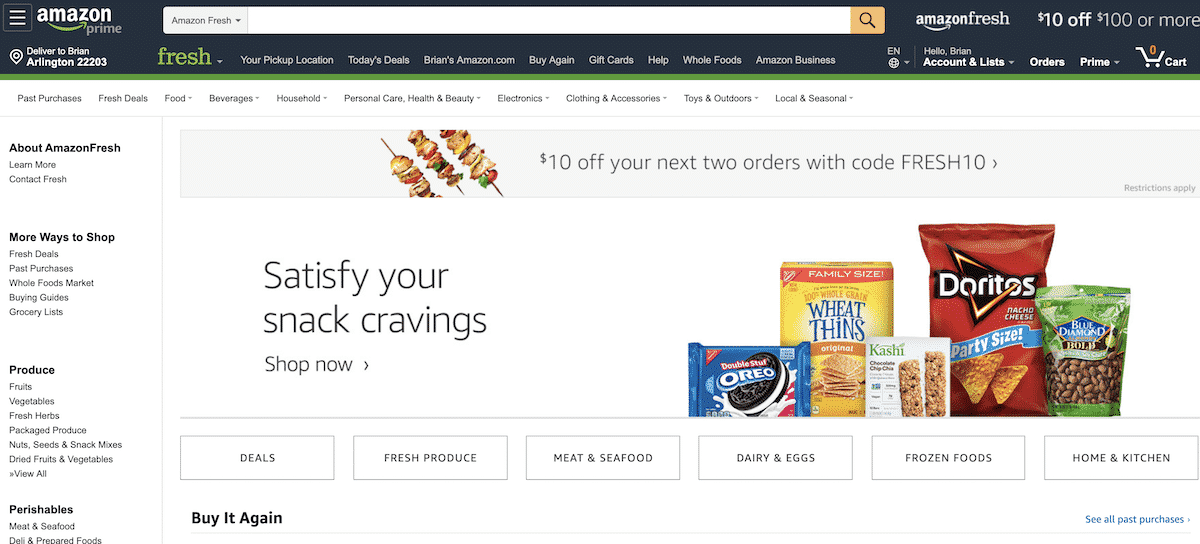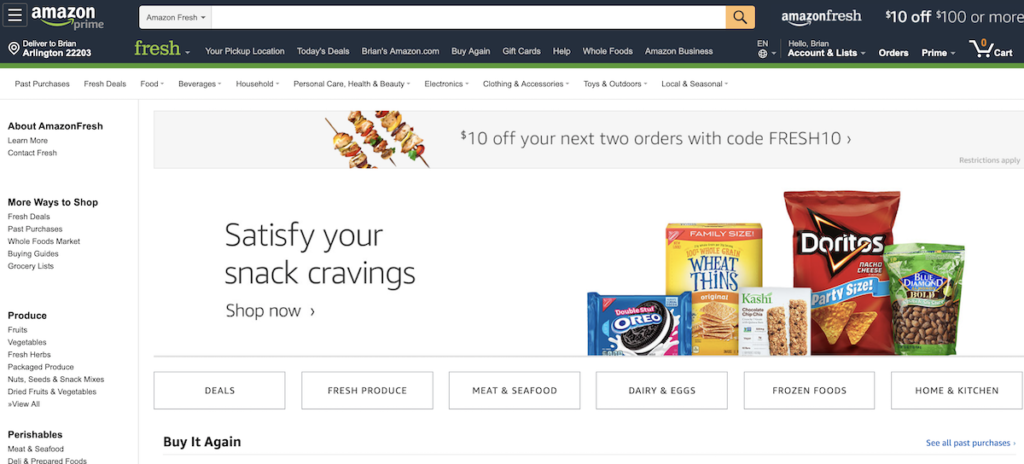 Bottom line: If you are one of the 100 million people who have access to Amazon Prime benefits then you should be using AmazonFresh. The selection includes fresh produce, home essentials, and toys, among other must-have products.
AmazonFresh costs
Prime members in select cities can add AmazonFresh to their Prime membership for free.
As a member, you can get unlimited free deliveries if your order exceeds $35.
Orders under $35 will charge a delivery fee.
AmazonFresh pickup orders are always free even if the order is less than $35.
AmazonFresh pros
AmazonFresh offers a fast (same day or next day) way to get groceries deliveries right to your doorstep.
Even if you live in an apartment complex, AmazonFresh drivers can enter your apartment complex and drop off your order straight to your door.
Most reviews state that almost all orders are completed on time, without any errors.
AmazonFresh 'Fresh Deals' offer plenty of ways to save money.
AmazonFresh cons
AmazonFresh is only available in select cities. Click here and enter your city to see if it is available to you.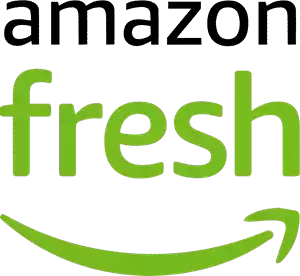 Amazon Fresh
You need to have a Prime membership ($12.99/mo) to have Amazon Fresh access
Convenience: You can place your order from any device, track its progress online and get your groceries without leaving your home.
Same-Day Delivery: Amazon Fresh offers same-day and advanced scheduling for delivery. If you want same-day delivery, make sure that you order early. Otherwise, the time slot you want could be full, and you'll have to wait.
Organic Options: Because Amazon owns Whole Foods, the organic selection was pretty big. Organics included produce and packaged foods of all kinds.
Buy Now
2. Instacart: A Comprehensive Selection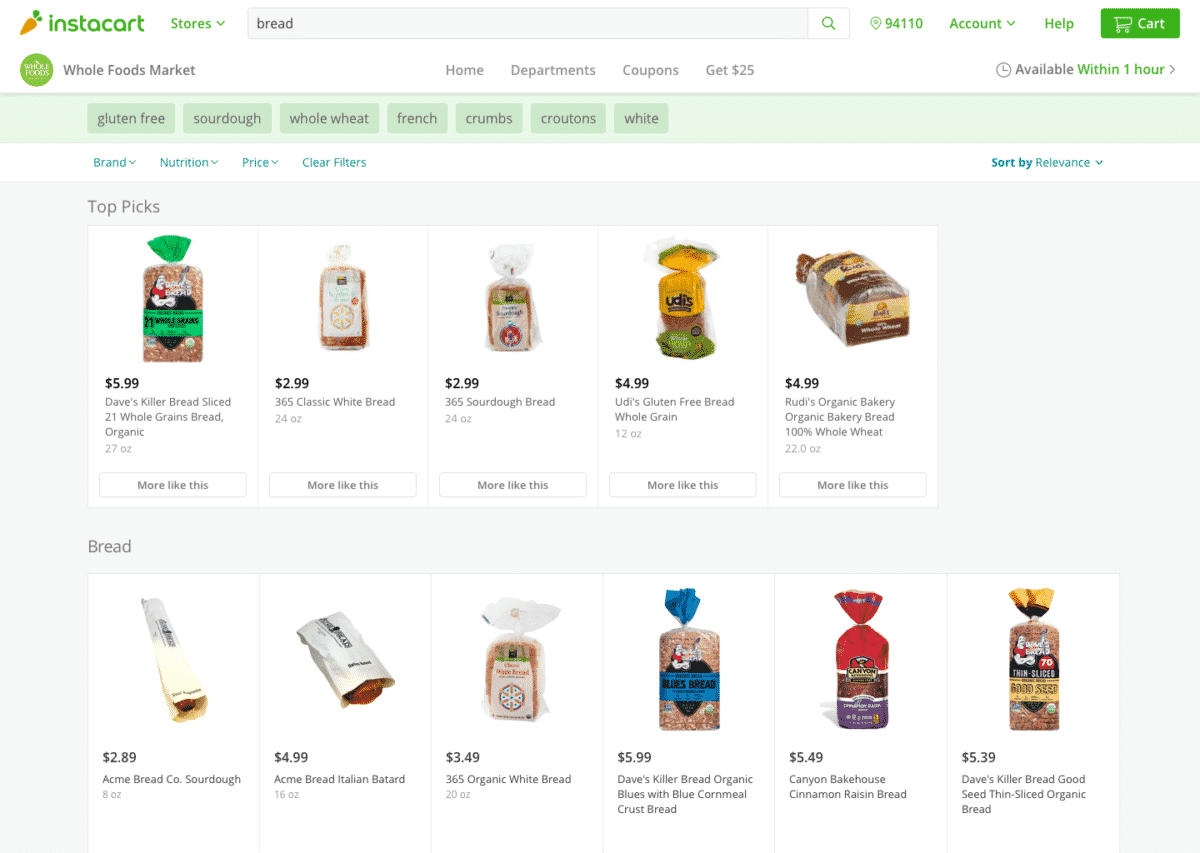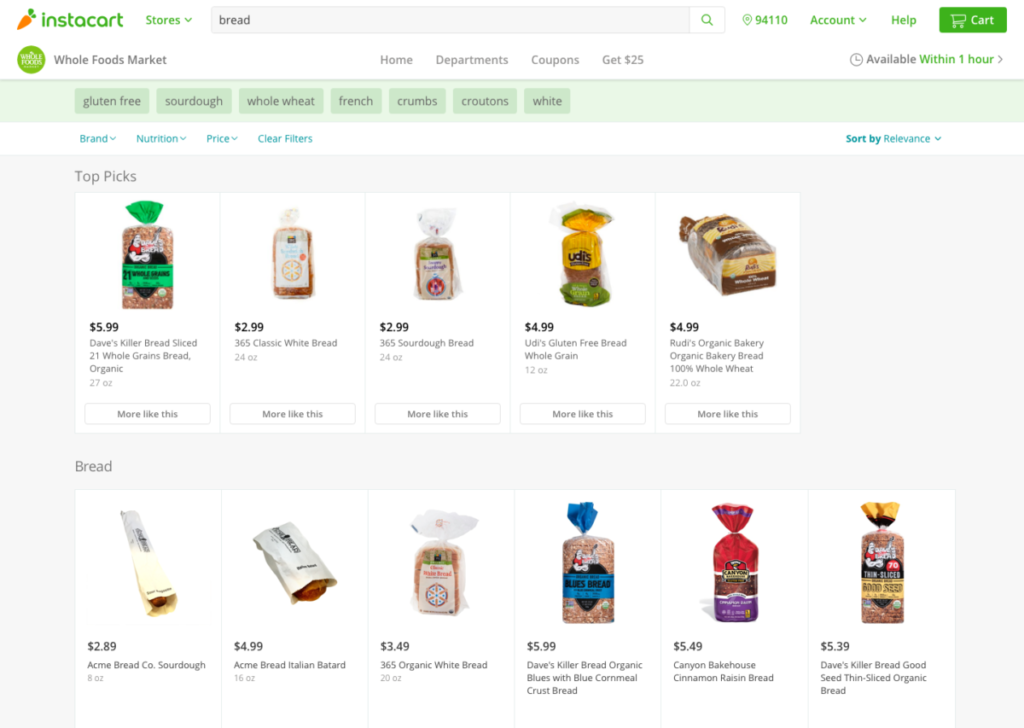 Bottom line: Founded in 2012, Instacart is an American technology company valued at nearly $8 billion that operates as a same-day grocery delivery and pick-up service in the U.S. and Canada. You can have your groceries delivered in as little as one hour.
Instacart costs
All orders have a minimum of $10 with no delivery fee if the order exceeds $35.
Instacart has an optional membership called Instacart+ ($99 per year / $10 per month), with unlimited free deliveries on orders exceeding $35.
Orders placed without an Instacart+ membership incur a service fee of 5 percent of the order total with the minimum delivery fee starting at $3.99.
Instacart pros
One of the fastest grocery delivery services on the list and you can have your groceries delivered in as little as an hour, or you can pick them up at your local store.
Using their service saves you time, gas, and not having to pick out your own fruit.
Shop from anywhere using your computer, iPhone, iPad or Android device
Instacart cons
Many reviews state that the pricing may be higher than in-store retail costs.
Many different fees to watch out for so the costs of using Instacart can quickly add up.
3. Google Shopping: No Membership Costs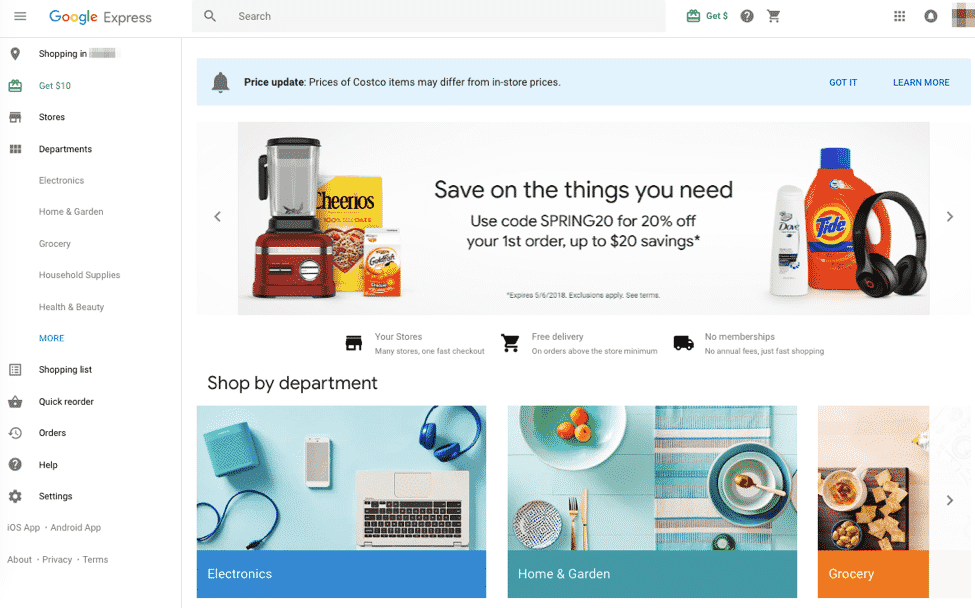 Bottom line: Google Shopping, formerly Google Express, is a shopping service from Google available in most parts of the United States. It does not require any membership fees and no perishable items can be purchased. Can't replace your grocery store visit but is a great free alternative for snack foods, and other pantry items.
Google Shopping cost
Google Shopping has no membership fees.
Delivery is free if your order exceeds the store minimum which is usually $25-$35.
Google Shopping pros
No membership fees required, one of the cheapest food delivery services.
With over 90 percent of zip codes serviced in the US, even small towns can likely use the service.
Faster shipping times when ordering from major stores like Target, Walmart, or Costco.
You can order many different items, not just groceries from major retailers.
Google Shopping cons
Does not offer perishable foods, orders are limited to snack foods, pantry items, ingredients and the like.
Does not offer same-day shipping and won't replace your grocery store visit due to the lack of perishable items.
4. Shipt: Customization and control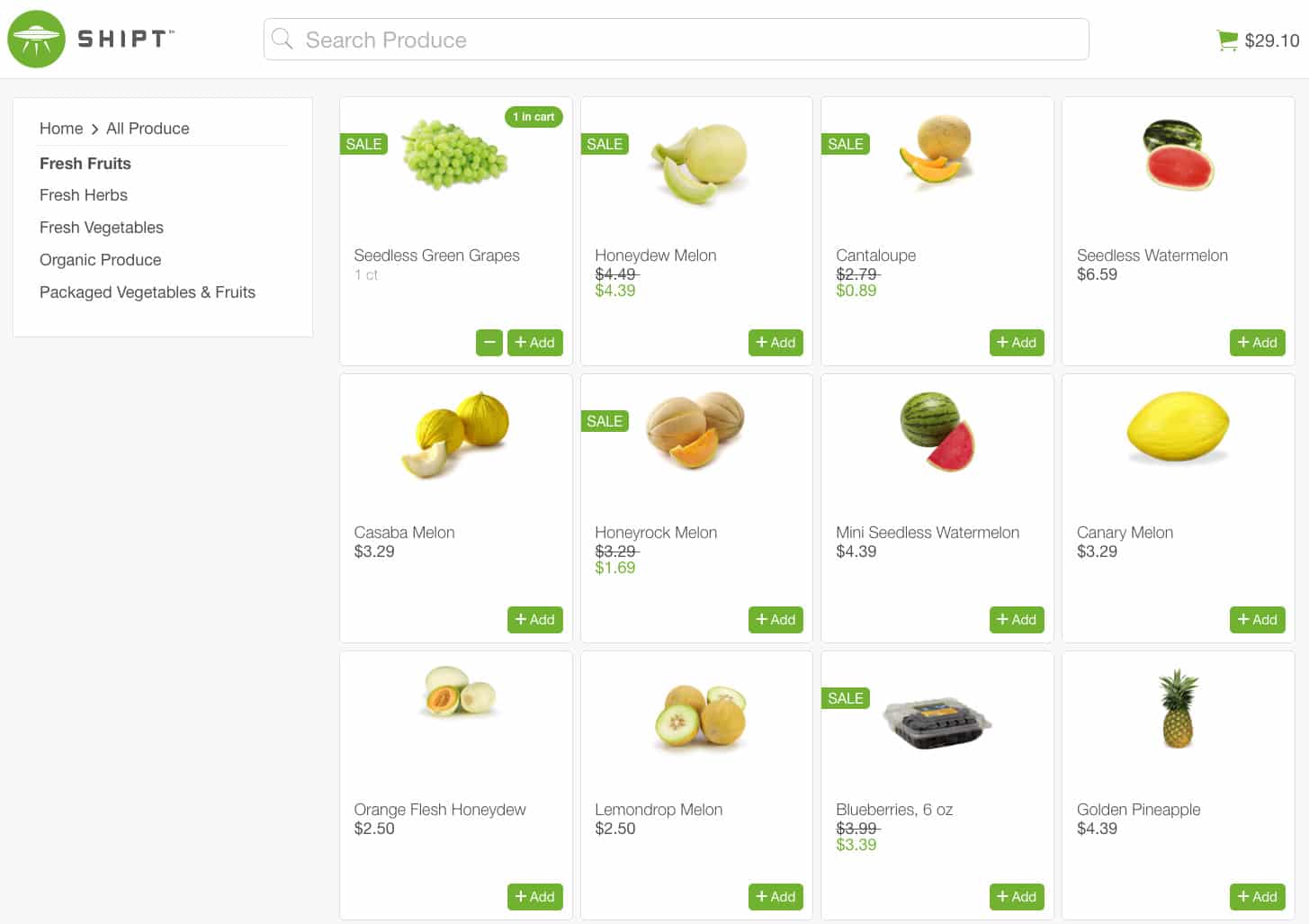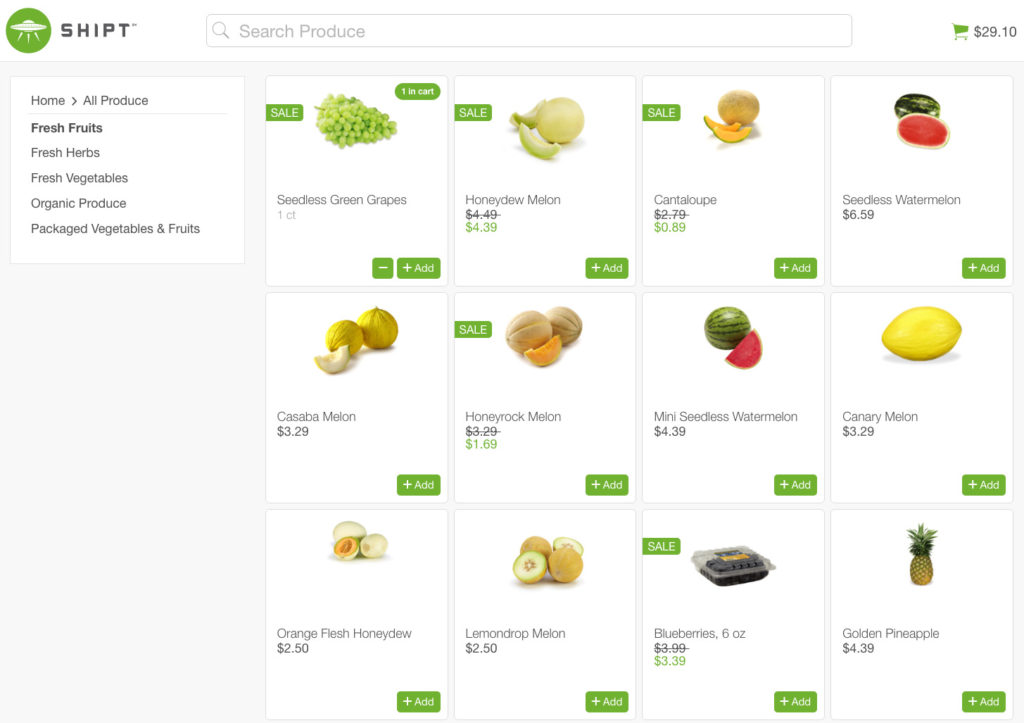 Bottom line: Shipt is an American delivery service owned by Target Corporation. It is headquartered in Birmingham, Alabama. In December 2017 it was announced that Target Corporation was acquiring Shipt for $550 million and that it would operate as an independent subsidiary following the acquisition. It is best for those shoppers who love Target.
Shipt costs
Shipt offers a monthly membership for $10.99 or a $99 yearly membership. However, they offer a 7-day free trial to try out the service.
$7 delivery fee for orders under $35 with a Shipt membership.
$10 per order with a one-time delivery with no order minimum and membership required.
Shipt pros
Delivery times are super fast as quick as one hour from the time you order.
You can order groceries from your favorite grocery stores like Kroger, Harris Teeter, H-E-B, and Meijer.
Shipt has shoppers in 250+ markets and 5000 cities.
Shipt cons
A drawback of using Shipt is encountering unavailable items that require communication between your shopper to find a suitable substitution.
Another issue is items in the app may be priced higher than quoted within the app. You have to pay the difference.
If you wanted to cancel your free trial or your subscription, you must directly contact customer support as there is no option to do it in the main settings.
We found that Shipt is very slow to respond to inquiries over its email and live chat support service. Often times going 3 to 4 business days without a response to our email inquiries.
5. Walmart Grocery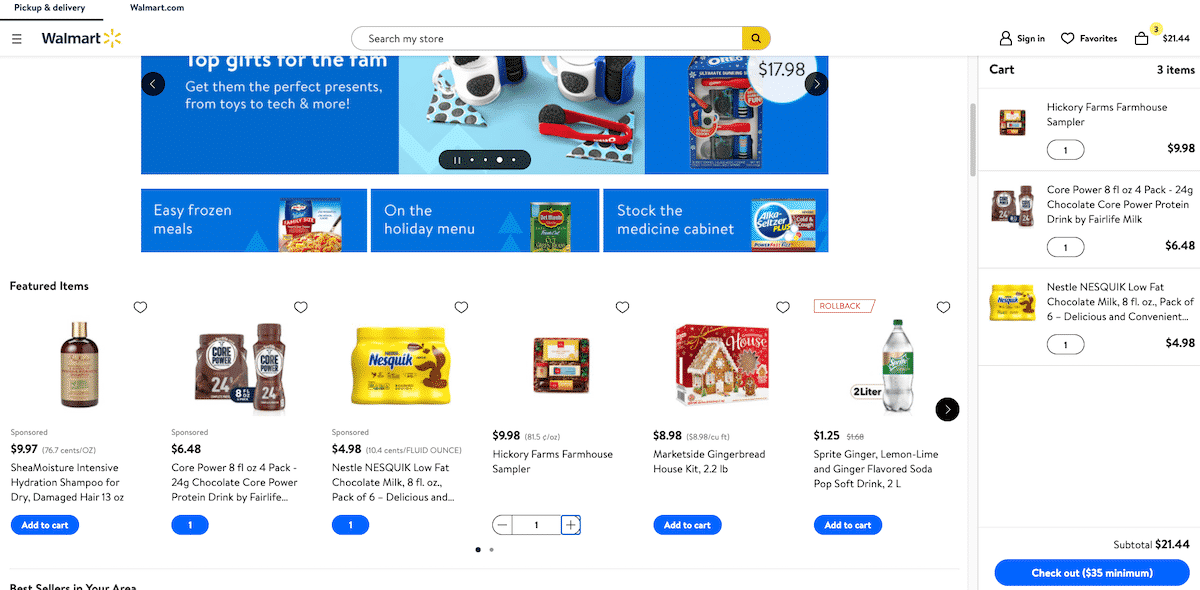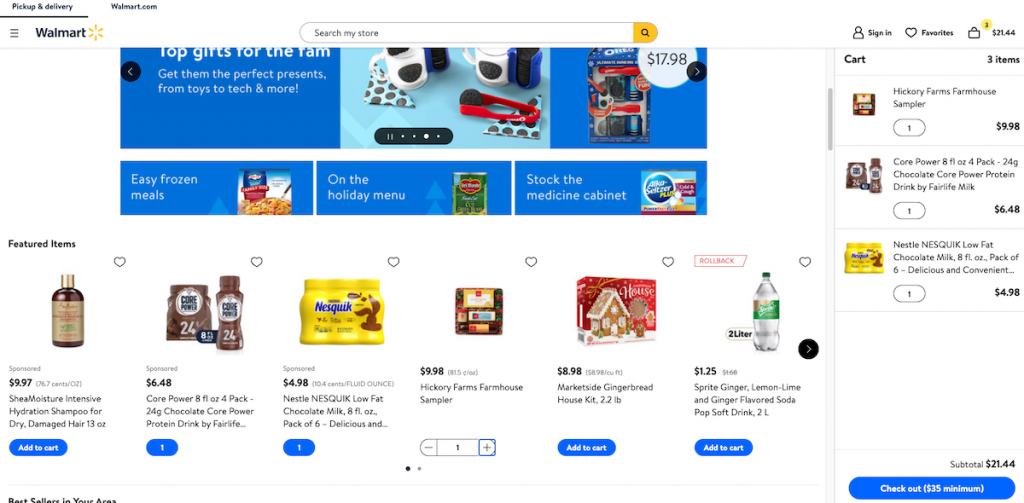 Bottom line: Shop Walmart's selection online anytime, anywhere. You can use the Walmart Grocery App and start shopping now. Choose a convenient pickup or delivery. You can get free unlimited delivery, member prices on fuel and more with Walmart+ ($12.95/month).
Walmart Grocery cost
Walmart Grocery does not require membership.
The shipping fee is $7.95 to $9.95 but free with Walmart+ ($12.95/month).
Walmart offers a 15-day free trial for its Walmart+ membership so you can try it out to see if it's a good fit.
Walmart offers some of the lowest prices compared to the other grocery delivery services in this list.
Walmart Grocery pros
You can get groceries delivered on the same day to one week in advance
You can buy groceries, non-perishables, and other Walmart products (this is a big plus)
Walmart Grocery cons
There is no getting around the delivery fee unless you have Walmart+.
Other Food and Grocery Delivery Services Worth Checking Out
These were our top picks for the best grocery delivery services. However, there are more companies out there that will pick your groceries for you and deliver them to your home.
Here are a couple of other worth checking out:
Peapod
Safeway
WeGoShop
FreshDirect
Costco Same Day
Thrive Market
In case you wanted to get your groceries sent right to your doorstep, choose one of our suggested grocery delivery services and enjoy!
Grocery Delivery Services FAQs
What are the best grocery delivery services?
Some popular grocery delivery services include Amazon Fresh, Shipt, Instacart, and Walmart Grocery.
Which service has the widest selection of products?
Amazon Fresh generally has the widest selection of products, including a large variety of grocery items and household essentials.
Which service offers the fastest delivery?
Delivery times can vary depending on your location and availability of delivery slots, but most services offer same-day or next-day delivery.
Which service is the most convenient?
All of the above-mentioned services are designed to be convenient, but it depends on individual needs, preferences and availability in the area.
Do these services accept returns?
Most services accept returns for items that are defective or damaged. However, they have different policies for returning other items, so it is best to check their website for more information.
Want more grocery delivery reviews? Check out the following review articles: