Want To Earn Easy Money?
Survey Junkie: Earn up to $3 per survey with one of the highest-paying survey sites on the web. Join Survey Junkie Now
Mistplay: Earning money by playing games on your phone sounds like a dream. But this app really pays you for playing new games with cash rewards. Download Mistplay for Free (Android only).
Unifimoney: This mobile banking app lets you do everything for free and takes no fees — ever. Better yet, if you join through this link you can get up to $5,000 in your new account.
One thing that we can all agree on is that life is crazy busy. Wouldn't it be nice if you can just download an app, pick out your groceries, and get it delivered right to your door the same day?
I've got great news for you, it's possible.
Only a quarter of consumers have tried an online grocery service in the past year, according to a new survey of more than 8,000 U.S. grocery shoppers completed by consulting group Bain & Co. in collaboration with Google. 
If you aren't using grocery delivery services like Shipt or Instacart, then you may be missing out on the convenience these services bring.
In this article, we will review two grocery delivery titans: Shipt vs Instacart.
What is Instacart?
Bottom line: Founded in 2012, Instacart is an American technology company valued at nearly $8 billion that operates as a same-day grocery delivery and pick-up service in the U.S. and Canada. You can have your groceries delivered in as little as one hour.
Instacart costs
All orders have a minimum of $10 with no delivery fee if the order exceeds $35.
Instacart has an optional membership called Instacart Express ($99 per year / $10 per month), with unlimited free deliveries on orders exceeding $35.
Orders placed without an Instacart Express membership incur a service fee of 5 percent of the order total with the minimum service fee being $4.
Instacart pros
One of the fastest grocery delivery services on the list and you can have your groceries delivered in as little as an hour, or you can pick them up at your local store.
Using their service saves you time, gas, and not having to pick out your own fruit.
Shop from anywhere using your computer, iPhone, iPad or Android device
Instacart cons
Many reviews state that the pricing may be higher than in-store retail costs.
Many different fees to watch out for so the costs of using Instacart can quickly add up.
Instacart uses a percentage-based service fee in place of list price markups, so the price can seem lower before you get to the checkout and see the fees get applied. Shipt does not use service fees. They instead use list item markups, which make the items seem higher priced initially.
What is Shipt?
Bottom line: Shipt is an American delivery service owned by Target Corporation. It is headquartered in Birmingham, Alabama. In December 2017 it was announced that Target Corporation was acquiring Shipt for $550 million and that it would operate as an independent subsidiary following the acquisition. It is best for those shoppers who love Target.
Shipt costs
Shipt offers a monthly membership for $14 or a $99 yearly membership. However, they offer a 7-day free trial to try out the service.
$7 delivery fee for orders under $35
Shipt pros
Delivery times are super fast as quick as one hour from the time you order.
You can order groceries from your favorite grocery stores like Kroger, Harris Teeter, H-E-B, and Meijer.
Shipt has shoppers in 250+ markets and 5000 cities.
Shipt cons
A drawback with using Shipt is encountering unavailable items which require communication between your shopper to find a suitable substitution. Compared to the ease of substitutions with Instacart, this is a huge drawback.
Another issue is items in the app may be priced higher than quoted within the app. You have to pay the difference.
To cancel your membership, you have to contact them via e-mail, phone, or live chat. There is no automatic cancellation option in your account settings. If you opt for the 7-day free trial and wanted to cancel before getting charged, these extra steps required can be tiresome.
Shipt vs Instacart: Availability
Your choice in the Shipt vs Instacart battle can easily be decided if one of them doesn't service your zip code.
Shipt services in over 260 cities according to their cities page.
Instacart is available in 210 cities in North America, 50 fewer cities than Shipt.
Winner for Availability: Shipt is now in over 260 cities and counting, (vs Instacarts 210 cities), Shipt works with vetted shoppers who are able to set their own schedules and are constantly aiming to improve member experiences through a newly developed rating system. By partnering with retailers in each city, shoppers are able to move efficiently through stores. Shipt has more availability than Instacart in 2021.
Shipt vs Instacart: Grocery Stores
Now, who wants to use a grocery delivery service that doesn't partner up with your favorite retailers like Costco, Kroger, or Target?
Shipt works with stores like Costco, ABC Fine Wine & Spirits, Kroger, Meijer, Whole Foods, H-E-B, Safeway, and Target.
Instacart takes the cake by partnering up with so many more stores such as Walmart, Aldi, Kroger, H-E-B, CVS, Publix, Food Lion, Costco, Sams Club, Petco and more.
You can see more retail partnerships in the graphic below.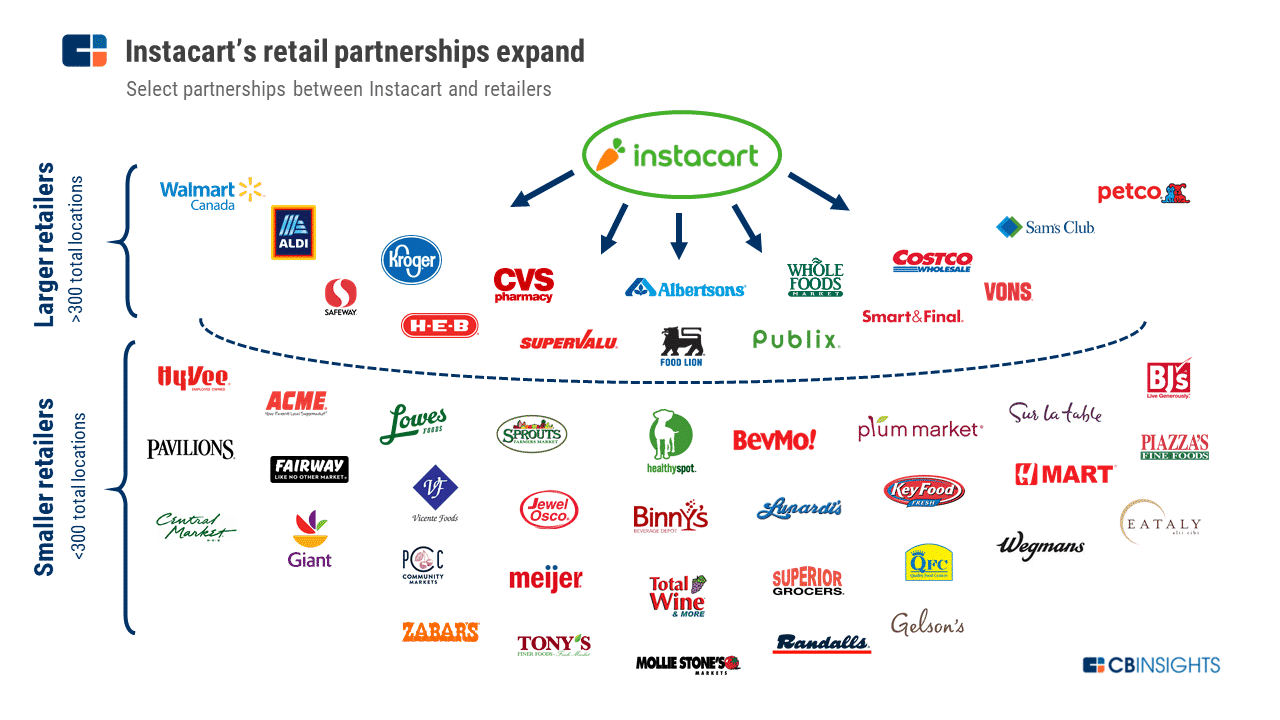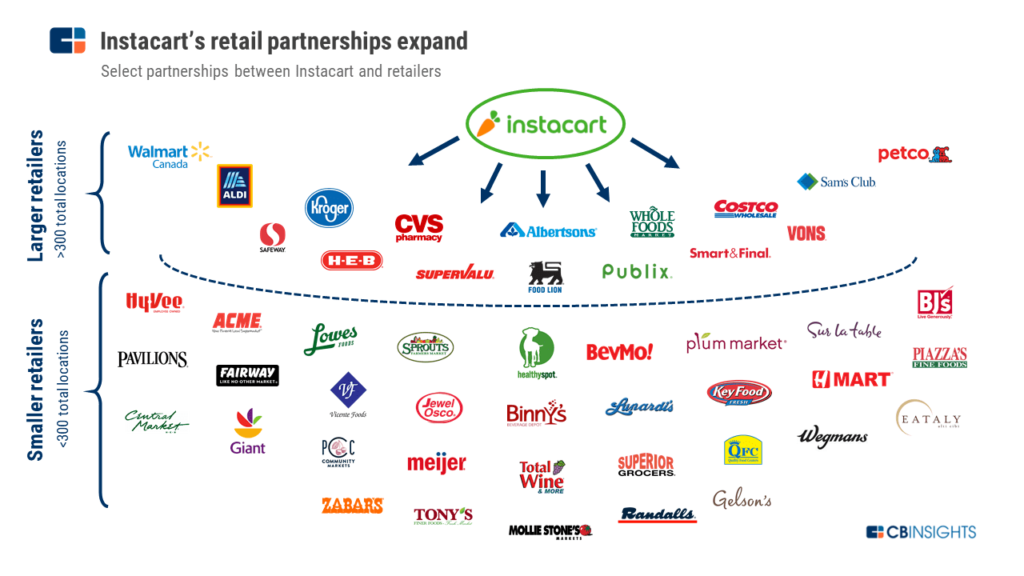 Winner for Grocery Stores: Instacart partners with the most popular national and regional retailers such as Albertsons, ALDI, Costco, CVS, Kroger, Loblaw, Publix, Sam's Club, Sprouts, and Wegmans, among others. The Instacart marketplace offers more than 300 retailers and trusted local grocers that customers love and partners with more stores than Shipt.
Shipt vs Instacart: Deals
Buying groceries can get expensive so you want a grocery delivery service has offers money-saving deals.
Both of Shipt and Instacart offer occasional promotional codes to use to save money on your order, which you can receive via email or through their social media pages.
In terms of membership and delivery fees, Instacart has the upper hand. As you can get same-day delivery or next-day delivery without any extra charges. Instacart has more membership options and an optional Express membership. Instacart wins in terms of membership options and fees.
Winner for Deals: You can save more by using Instacart referral codes, over Shipt's lack of promotional offers in comparison.
Shipt vs Instacart: Customer Service
You will find that you use any food delivery service sometimes an item will be out of stock or you will need to reach customer service to file a remedy an issue.
Having responsive and helpful customer service is always important.
Shipt offers all the same customer service options like major companies such as a help line (1-205-502-2500), email support ([email protected]), in-app support, and live chat on their support page.
Instacart also has key lines of support with its help line (1-888-246-7822), email support ([email protected]) and in-app support.
We found that Shipt is very slow to respond to inquiries over its email and live chat support service. Often times going 3 to 4 business days without a response to our email inquiries, so Instacart is the clear winner here.
Winner for Deals: Instacart has the upper edge over Shipt's slower response times over email and live chat support service.
Which is Better?
Instacart vs Shipt: Having used both grocery delivery services, Instacart is our winner. Instacart partners with more stores, has better deals, and has the upper edge on customer service if you need to remedy any issues. Instacart also does not require you to buy a membership before you order.
By now you should know how Instacart works and Shipt as well. We should have a clear-cut winner but if Instacart isn't available in your city then Shipt is also a great option or you can check other grocery delivery options.
While both of these companies get groceries delivered to your door, Instacart has a slight edge as the pricing and fees are better, and you don't have to buy a membership to use it.
Want to try out Instacart for yourself and be the judge? If you haven't already signed up for Instacart, you can get started with a promotion for new users so you can get your first delivery free:
Description
Company Logo

Instacart Referral Code
DEAL: Free Delivery On Your First Order


Get free delivery on your first order, get your groceries delivered to your door with the no-contact option to keep yourself and your family safe! Instacart will offer you absolutely free delivery for new customers on your first order.

GET DEAL

How about you? Have you used either company? Who is your winner in the Shipt vs Instacart showdown?
Related reviews: