Need a tipping guide to figure out how much to tip Shipt Delivery Drivers? Or do they even get tipped?
The on-demand gig economy makes life easier — you can get food delivery and takeout delivered in under an hour.
Shipt makes this possible and they conveniently offer coupons for big savings. What's not to love?
Even tipping is made more convenient… no more fumbling around in your wallet for cash while the delivery driver is awkwardly staring at you.
But wait, do you even tip people on Shipt?
Let's find out.
Shipt Customer Promotion: Get free delivery on your first order by claiming here (must complete the sign up).
What Do Shipt Shoppers Do?
Shipt Shoppers make extra cash delivering lots of groceries to people like you and me.
They get grocery orders and go shopping at local grocery stores and deliver those items to customers' homes.
Much like other delivery apps jobs, they work flexible hours and all the orders come through the Shipt app or website. The difference is that Shipt offers a monthly membership for $14 or a $99 yearly membership. However, they offer a 7-day free trial to try out the service.
Now, who wants to use a grocery delivery service that doesn't partner up with your favorite retailers like Costco, Kroger, or Target? Shipt takes the cake by working with stores like Costco, ABC Fine Wine & Spirits, Kroger, Meijer, Whole Foods, H-E-B, Safeway, and Target.
Delivery times are super fast as quick as one hour from the time you order. Shipt has shoppers in 250+ markets and 5,000 cities.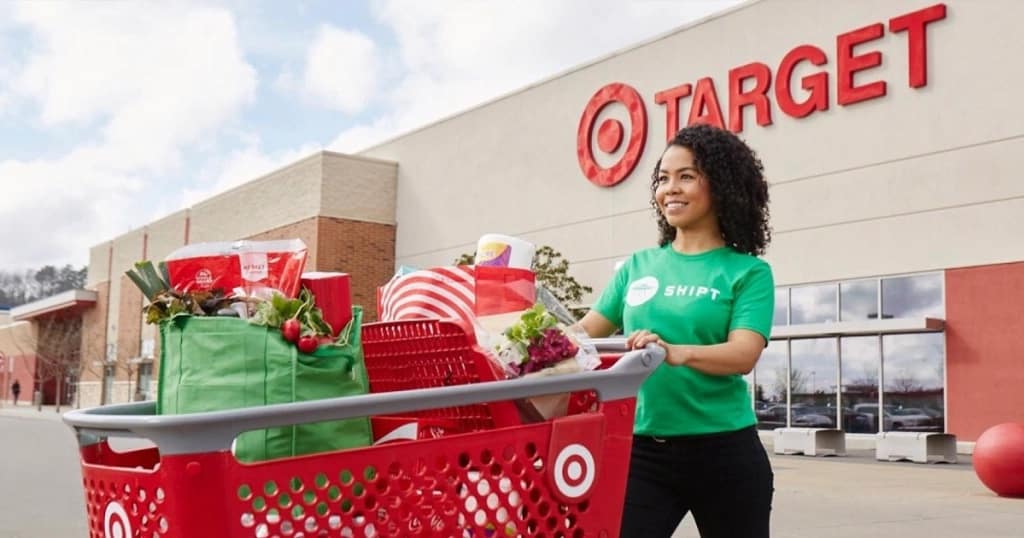 Do You Tip People on Shipt?
According to the Shipt help center, tips are not required but are greatly appreciated. If you choose to tip, you can add a tip when placing your order by choosing a preselected or custom amount. You may also tip in cash or within the app after you receive your delivery.
When placing your order, you have the option of selecting a specific amount to tip your Shipt Shopper.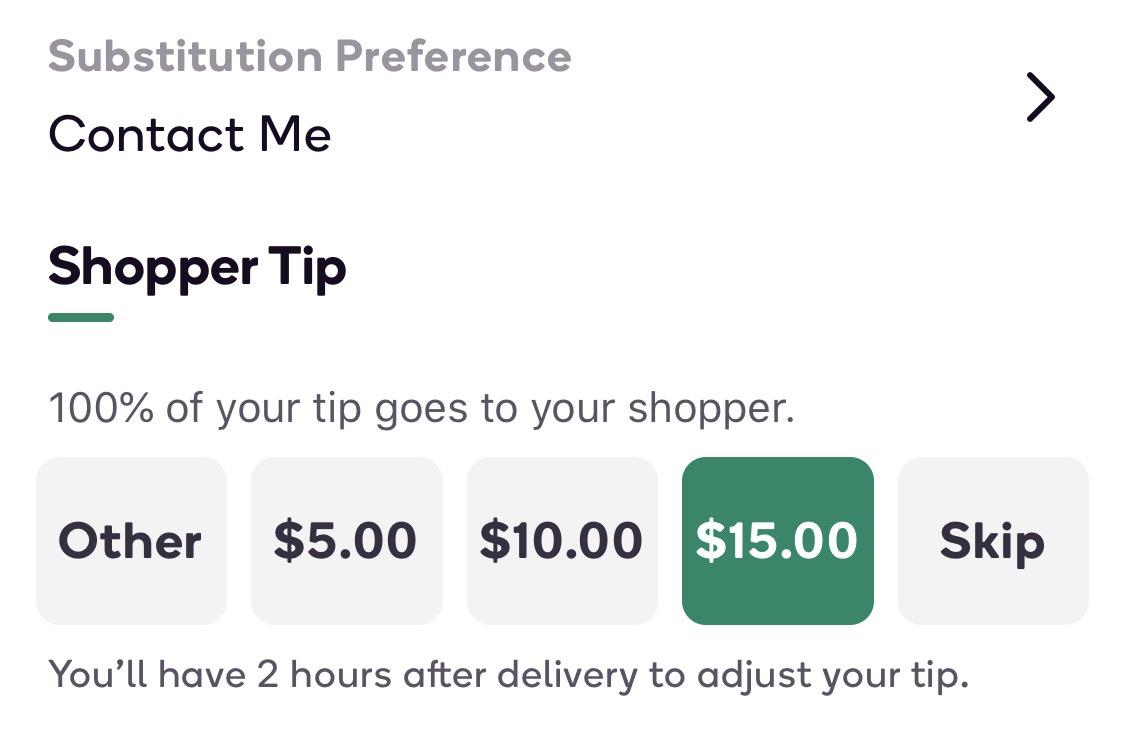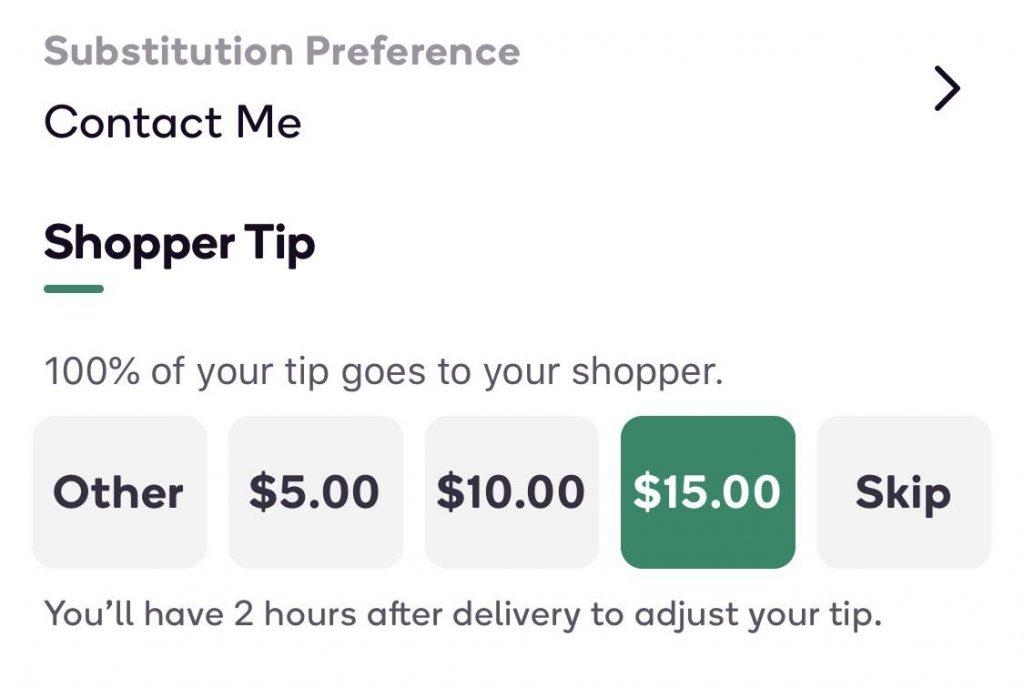 Can Shipt Shoppers See the Tip?
Your shopper won't know that you tipped early or how much until 2 hours after they deliver. You'll then receive an email confirming your finalized tip charge.
If you would like to tip your shopper once the delivery is completed, you can do so via the completed order review screen in the app.
If you would like to adjust a tip you have already left, you can contact Support directly and they can make the adjustment.
How Much are Shipt Shoppers Paid?
According to user-reported data on Glassdoor.com, Shoppers, make around $13 an hour on average, including tips.


At present, there is no "hourly guarantee" like on-demand ridesharing apps Uber or Lyft and other delivery services offer.
Other delivery driver jobs like Shipt include Postmates, DoorDash and Instacart:
Earn around $500 per week
Our pick for best gig app
What is Shipt Tipping Etiquette?
Well, we would have to learn from the grocery delivery drivers themselves, right?
We asked a real Shipt Shopper how much you're supposed to tip on Shipt. So before you leave nothing, learn the truth about Shipt tipping.
According to a real Shipt Shopper, he says:
"On average I see tips around 20% for orders of around $50 and then it drops as the orders get bigger. Once the orders reach about $200 almost all of them tip 10%."

– thylocene06 on Reddit, Shipt Shoppter
Customers and deliverers agree that a tip should be around $4 for a typical order, according to a recent study from U.S. Foods, a foodservice distributor, which asked customers and food deliverers how they feel about using apps like Shipt, Caviar, Instacart, Grubhub and Uber Eats, with an emphasis on tipping.
The Bottom Line
While tipping isn't technically required — if you received good service then you should definitely pay it forward. Shipt Shoppers are paid much less than restaurant servers so tips are greatly appreciated by them.
So how much should you tip on Shipt?
How much should you tip on Shipt? Tipping 10% to 20% is a good start and is a great standard for service. If you choose to tip, you can add a tip when placing your order by choosing a preselected or custom amount. You may also tip in cash or within the app after you receive your delivery.