This is your guide to learning what is Instacart and how does it work? We will finally settle your answers to figuring delivery fees and how much do Instacart shoppers make.
One thing that we can all agree on is that life is crazy busy. Wouldn't it be nice if you can just download an app, pick out your groceries, and get it delivered right to your door the same day?
---
Want free money?
Aspiration: Want to get spotted a $150 for free? Simply sign up for Aspiration, and the free banking app will give you cash for free, you just relax while it gives you $150 just for opening a new debit card. There's no catch. This bank account is legit and only takes two minutes to sign up for an account.
---
I've got great news for you, it's possible.
Only a quarter of consumers have tried an online grocery service in the past year, according to a new survey of more than 8,000 U.S. grocery shoppers completed by consulting group Bain & Co. in collaboration with Google.
If you aren't using grocery delivery services like Instacart, then you may be missing out on the convenience these services bring.
In this article, we will review what is Instacart, and how does Instacart work?
What is Instacart?
Bottom line: Founded in 2012, Instacart is an American technology company valued at nearly $8 billion that operates as a same-day grocery delivery and pick-up service in the U.S. and Canada. You can have your groceries delivered in as little as one hour.
Instacart costs
All orders have a minimum of $10 with no delivery fee if the order exceeds $35.
Instacart has an optional membership called Instacart Express ($99 per year / $10 per month), with unlimited free deliveries on orders exceeding $35.
Orders placed without an Instacart Express membership incur a service fee of 5 percent of the order total with the minimum service fee being $4.
Instacart pros
One of the fastest grocery delivery services on the list and you can have your groceries delivered in as little as an hour, or you can pick them up at your local store.
Using their service saves you time, gas, and not having to pick out your own fruit.
Shop from anywhere using your computer, iPhone, iPad or Android device
Instacart cons
Many reviews state that the pricing may be higher than in-store retail costs.
Many different fees to watch out for so the costs of using Instacart can quickly add up.
Instacart uses a percentage-based service fee in place of list price markups, so the price can seem lower before you get to the checkout and see the fees get applied. Shipt does not use service fees. They instead use list item markups, which make the items seem higher priced initially.
How Does Instacart Work?
Wondering how does Instacart work?
Instacart lets you shop for your favorite products from over 350 retailers in the U.S. and Canada. Then Instacart Shoppers will pick up and deliver your items to your home. It all starts with you downloading the Instacart app and creating your grocery list.
Let's dive more into about all of the most important features of a grocery delivering app like Instacart.
Instacart Grocery Stores
Now, who wants to use a grocery delivery service that doesn't partner up with your favorite retailers like Costco, Kroger, or Target?
Instacart takes the cake by partnering up with so many more stores such as Walmart, Aldi, Kroger, H-E-B, CVS, Publix, Food Lion, Costco, Sams Club, Petco and more.
You can see more retail partnerships in the graphic below.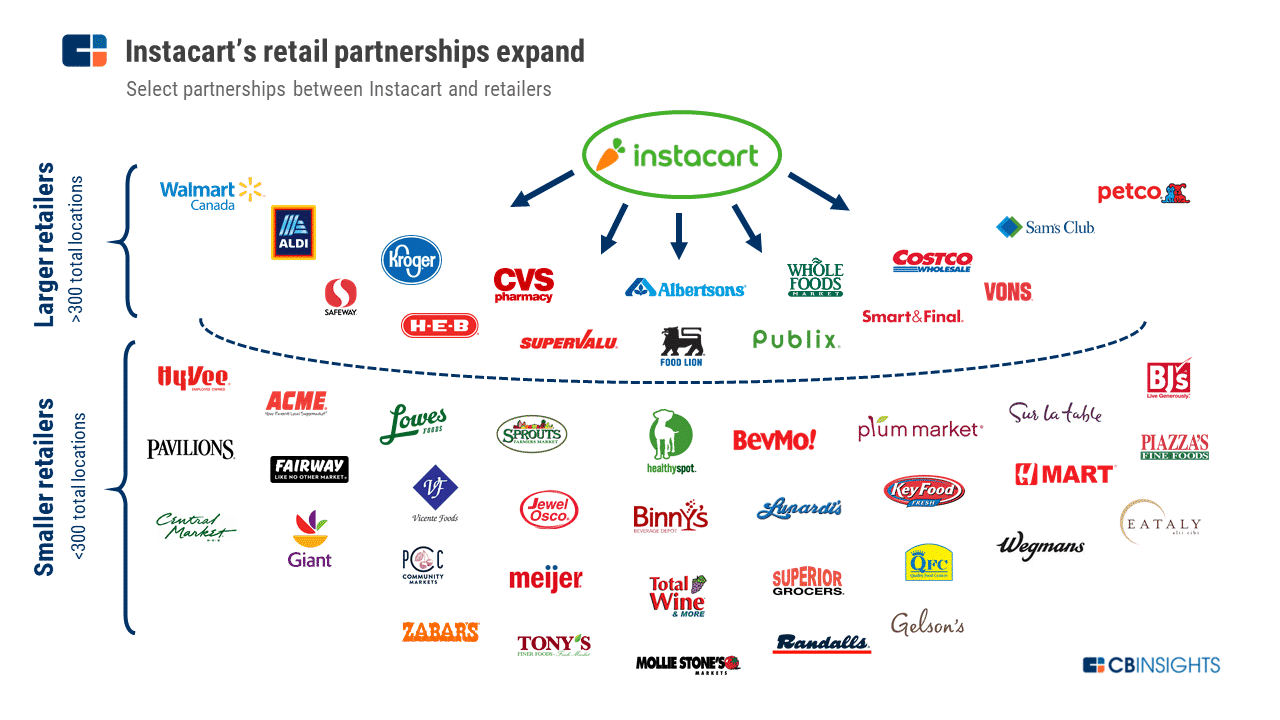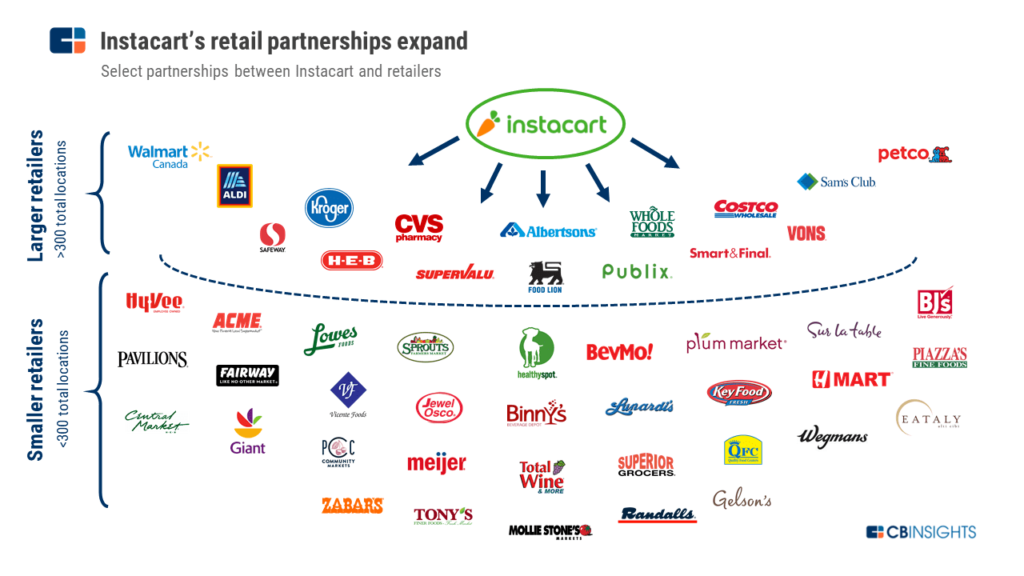 Instacart Deals
Buying groceries can get expensive so you want a grocery delivery service has offers money-saving deals.
Instacart offers occasional promotional codes to use to save money on your order, which you can receive via email or through their social media pages.
In terms of membership and delivery fees, Instacart has the upper hand. As you can get same-day delivery or next-day delivery without any extra charges. Instacart has more membership options and an optional Express membership. Instacart wins in terms of membership options and fees.
Instacart Customer Service
You will find that you use any food delivery service sometimes an item will be out of stock or you will need to reach customer service to file a remedy an issue.
Having responsive and helpful customer service is always important.
Instacart has key lines of support with its help line (1-888-246-7822), email support ([email protected]) and in-app support.
Instacart Referral Programs
Instacart has some enticing referral programs in place. First, here are two Instacart referral codes as of May 2020:
Instacart Customer Promotion: Get Free Delivery on Your First Order, Claim Now.
Instacart Shopper Bonus: Sign up to be an Instacart Shopper and start making money today. Sign Up Now.
Instacart vs other Grocery Delivery Services: Which is Best?
There are a lot of different grocery delivery services available to consumers. To help you decide which one is best in your area, here are some reviews for you to check out:
Instacart Tipping Etiquette: How Much Am I Supposed to Tip?
Need a tipping guide to figure out how much to tip Instacart delivery drivers? Or do they even get tipped?
The on-demand gig economy makes life easier — you can get groceries delivered in under an hour.
Instacart makes this possible and they conveniently offer coupons for big savings. What's not to love?
Even tipping is made more convenient… no more fumbling around in your wallet for cash while the delivery driver is awkwardly staring at you.
But wait, do you even tip people on Instacart?
Let's find out.
What do Instacart Shoppers Do?
Instacart is one of the best delivery app jobs to make extra cash delivering groceries to people like you and me.
They get grocery orders and go shopping at local grocery stores and deliver those items to customers' homes.
They work flexible hours and all the orders come through the Instacart shopping app.
Do You Tip People on Instacart?
According to the Instacart help center, Instacart shoppers appreciate tips as a way of recognizing excellent service and 100% of your tip goes directly to the shopper delivering your order.
By default, a 5% tip is suggested at checkout, with a minimum suggestion of $2 per individual store delivery.
Can Instacart Shoppers See the Tip?
No. So if you wanted to tip cash or want to tip after delivery, when a shopper receives your order, your order would seem like a low payout and they don't know you intend to tip later.
And shoppers currently cannot see any notes before accepting your order. Once they choose to accept the order, they will see any notes left and if you left a tip.
How Much are Instacart Drivers Paid?
According to user-reported data on Glassdoor.com, full-service Instacart shoppers, make between $7 and $20 per hour, with $11 per hour being the average.
At present, there is no "hourly guarantee" like on-demand ridesharing and other delivery services offer.
What is Instacart Tipping Etiquette?
Well, we would have to learn from the shoppers themselves, right?
We asked a real Instacart Shopper how much you're supposed to tip on Instacart. So before you leave nothing, learn the truth about Instacart tipping.
According to Alex McDaniel, an Instacart Shopper/Driver, he says:
I've been a shopper and driver in Florida since summer 2016. I wanted to clear things up — we are not paid hourly, we receive no help from Instacart for gas or tolls or parking. About half of our income comes from tips.

– Alex McDaniel, Instacart Shopper since 2016
So is Tipping Required on Instacart?
While tipping isn't technically required — if you received good service then you should definitely pay it forward. Instacart shoppers are paid like restaurant servers so tips are greatly appreciated by them.
So how much should you tip on Instacart?
15% to 20% is the norm, so if you paid $20 for your groceries, you should at least, leave the Instacart shopper a tip of $3.
Now that we have Instacart tipping covered, did you know that you can make money referring people to use Instacart?
Let's learn more.
What Are Instacart Shopper Referral Codes?
Instacart is the go-to service for quick and effective grocery delivery. Customers select groceries from our various retailers, we then send out a personal shopper who will do the shopping and deliver to the customer when they are finished.
But if you could make money by referring Instacart personal shoppers?
That's the premise of Instacart shopper referral codes. They are different than promotional codes or referral codes that give you money off your order or offer free delivery.
By using driver referral codes, both you and your referral can receive compensation for completing a certain number of deliveries (they refer to them as batches) over a short time period like a month
This sounds lucrative, right? But you and your friend will only get paid if they hit the threshold of deliveries required or batches.
How much do you stand to make with driver referrals?
How Much Can You Make with Instacart Referral Codes?
You can make anywhere from $400 to $750 depending on your zone.
To invite shoppers, you must simply share your referral code with them. The bonus you get paid out will vary from $400-$750 for them completely anywhere from 30 to 50 batches in 30 days. Amounts vary zone.
That's a good amount of referral money that Instacart is doling out.
How to Get Instacart Driver Referral Codes
First, you must have signed up to drive to get access to your referral code. Haven't signed up to be a shopper yet? Sign up here!
To invite your friends to deliver for Instacart:
Click the top left icon on your home screen
Tap "Make $400″
Follow the prompts
How to Apply a Shopper Referral Code
If you have a shopper referral code, it's important to apply that code at the very beginning of the signup process.
You can begin by following this link to the sign up page, there you will see the screenshot below. Enter your shopper referral code where it says "Referral Code (optional)".
Ready to Make Money with Instacart?
Instacart is a great side hustle for men or women to make some extra cash on the side. You can explore other ways to earn by referring other drivers and earning lucrative bonuses up to $750 if you wanted to sweeten the deal.
How Much Does Instacart Pay?
Did you know that Instacart plans to hire 300,000 more workers as demand surges for grocery deliveries?
Instacart will hire hundreds of thousands of more workers in the new few weeks so you may be wondering how much does Instacart pay and if you should sign up to become an Instacart Shopper in 2020.
In this article you will learn three things.
How much money do Instacart shoppers make?
Can you make good money with Instacart?
Does Instacart pay daily?
Let's learn exactly how much money Instacart Shoppers get paid to shop.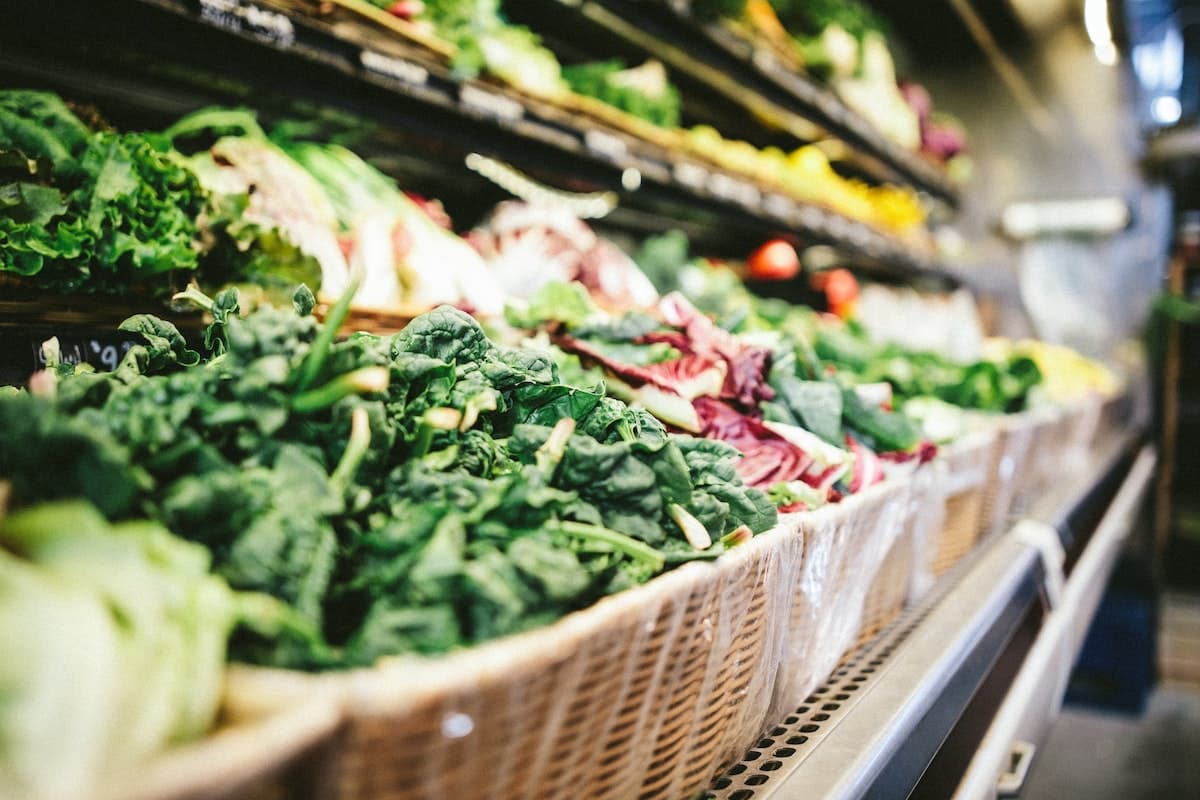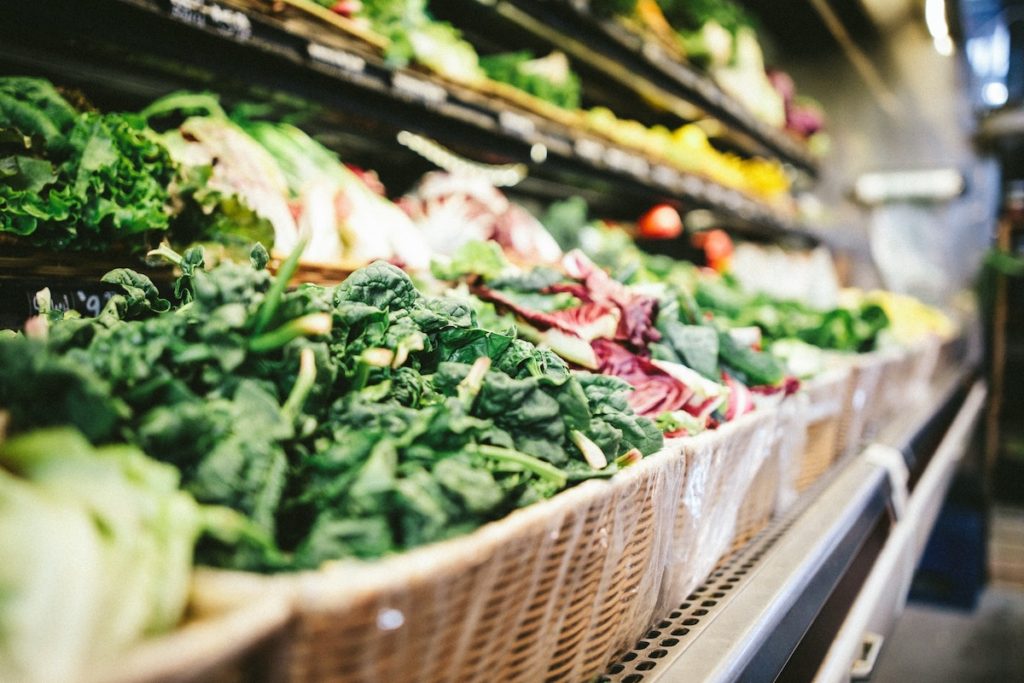 How Much Money do Instacart Shoppers Make?
What is the best way to learn how much Instacart Shoppers make?
Well, it is to go directly to the source by asking the shoppers themselves.
So I headed over the Instacart Shopper subreddit and learned that they make on average, between $10-$17 per hour. In many parts of the country, this is above minimum wage.
While it may not seem like a lot — delivering with Instacart is one of our top-rated gig economy jobs and earnings can add up since the job is so flexible.
Can You Make Good Money with Instacart?
While your earnings will fluctuate depending on the order and area you are working in — it really depends on how busy your area is and how much money in tips you are able to get.
For example, if you live in a nicer area of your town then your tips can skyrocket. Here is an Instacart Shopper who received a $183 tip on Easter Sunday which was merely a 15% tip (standard).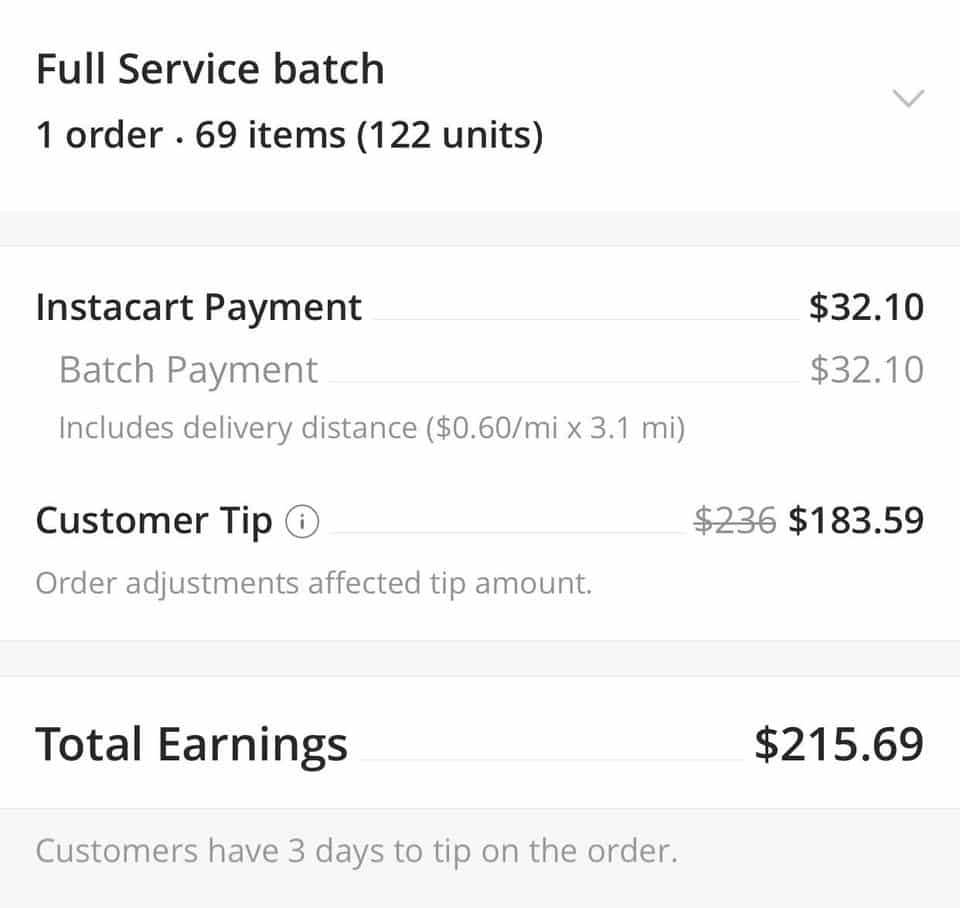 While you may not working in a nice part of town, you are still likely to get paid at least 10% and 20% which is standard Instacart tipping etiquette. So if your order is $200, expect a tip of $20 to $30. While some people who use the app may not be big tippers — it all evens out in the end.
So can you make good money with Instacart? The short answer is yes. However, you'll get a 1099 form from the IRS if you earn over $600 with Instacart so your earnings will be taxed.
Do you Get Paid Daily with Instacart?
If you are wondering about how fast you can earn as an Instacart shopper then you're probably wondering how fast you can get paid. As an Instacart Shopper, you can get paid the same day via direct deposit without tips by paying 50 cents. Or you can get paid every Wednesday through direct deposit without paying any fees.
Instacart Shopper FAQs
A lot of shoppers may have some questions about the grocery delivery service. Here are the most common questions people have before signing up to become an Instacart Shopper.
Can you bring someone with you during Instacart deliveries?
According to the Instacart Shopper account access guidelines, you cannot bring your kids or anyone else with you while you are delivering as an Instacart Shopper.
Can you deliver for Instacart if you have a DUI?
As long as you have an active drivers license and can drive a car, you should be all set. A DUI will not prohibit you from becoming an Instacart Shopper.
Does Instacart pay you if there are no orders?
One thing to keep in mind is that you are only paid if you shop and deliver an order. You won't get paid if there aren't any orders.
How can you track mileage for taxes when driving for Instacart?
According to Investopedia, here is how to log mileage for taxes.
Record your odometer at the start of tax year
Maintain driving log (If Needed)
Maintain a record of receipts
Record odometer at end of the tax year
Record your mileage on your tax return
Retain your documentation
The IRS says your mileage log should include your mileage, dates of your delivery trips, and the business purpose (delivering for Instacart).
When can I start shopping for Instacart?
Depending on your state as soon as you are 18-21 years old you can sign up to become an Instacart Shopper.
How can I get my Instacart referral bonus?
You can make anywhere from $400 to $750 depending on your zone.
To invite shoppers, you must simply share your referral code with them. The bonus you get paid out will vary from $400-$750 for them completely anywhere from 30 to 50 batches in 30 days. Amounts vary zone.
That's a good amount of referral money that Instacart is doling out. You can learn more about Instacart referral codes in our article here.
Summary
Instacart operates in 5,500 cities in North America and they certainly need more workers. Currently, they are seeing the most customer demand in California, New York, Texas, Florida, Illinois, Pennsylvania, Virginia, New Jersey, Georgia, and Ohio. If you are living in one of these states then expect to make on the higher end of Instacart's pay scale ($10-$17 per hour).
Instacart Shopper Bonus: Sign up to be an Instacart Shopper and start making money today. Sign Up Now.