With the pandemic somewhat over and inflation at an all-time high, you're probably wondering what you can do to boost your income. Enter: the side hustle.
Picking up a side gig is a terrific way to supplement your income, but it can be tough to know where to start. While the gig economy offers a ton of options and promises high returns, this isn't always the case.
Some side-hustles demand too much time to be profitable, and others have drawbacks that outweigh the benefits. The last thing you want is to end up overworked and underpaid.
At this point, you might be questioning if getting a side hustle is worthwhile. The good news is that it is.
One service that's worth mentioning is Instacart. It's a quick way to earn extra cash by delivering groceries. To save you time, I've compiled everything you need to know about Instacart into an easy-to-read format covering essential facets of working as a shopper.
Let's get into it.
What is Instacart?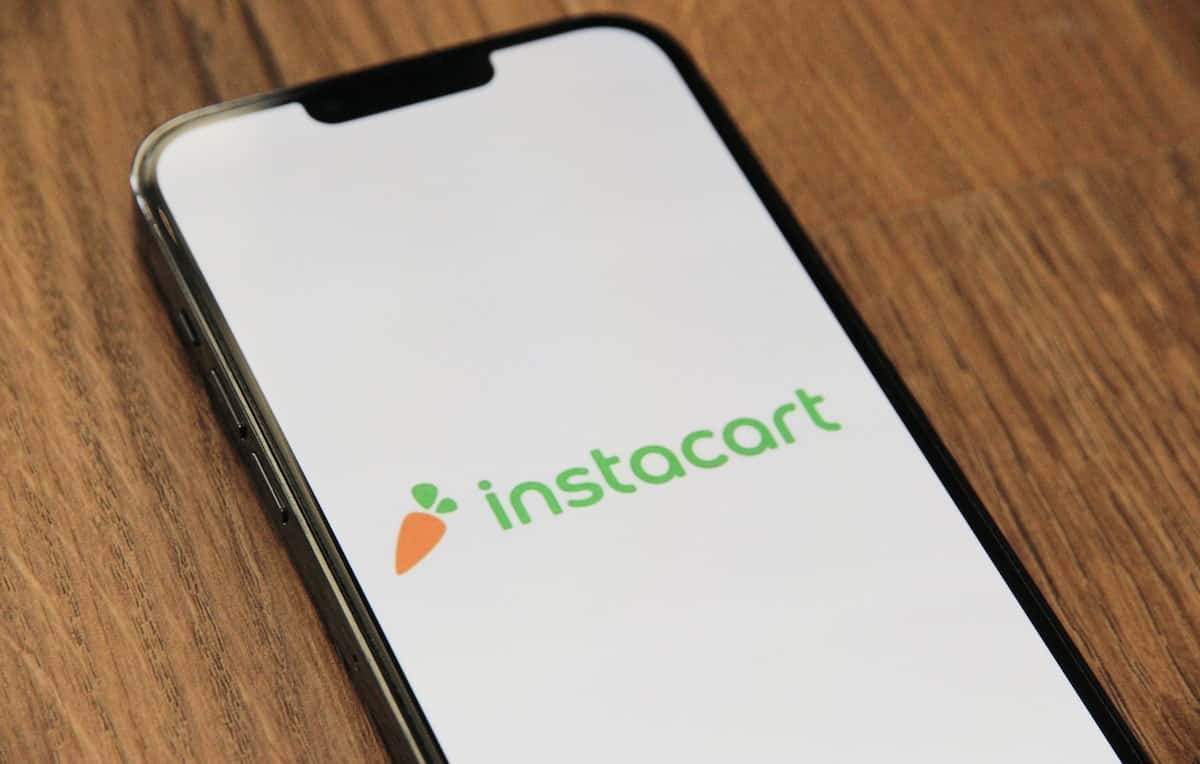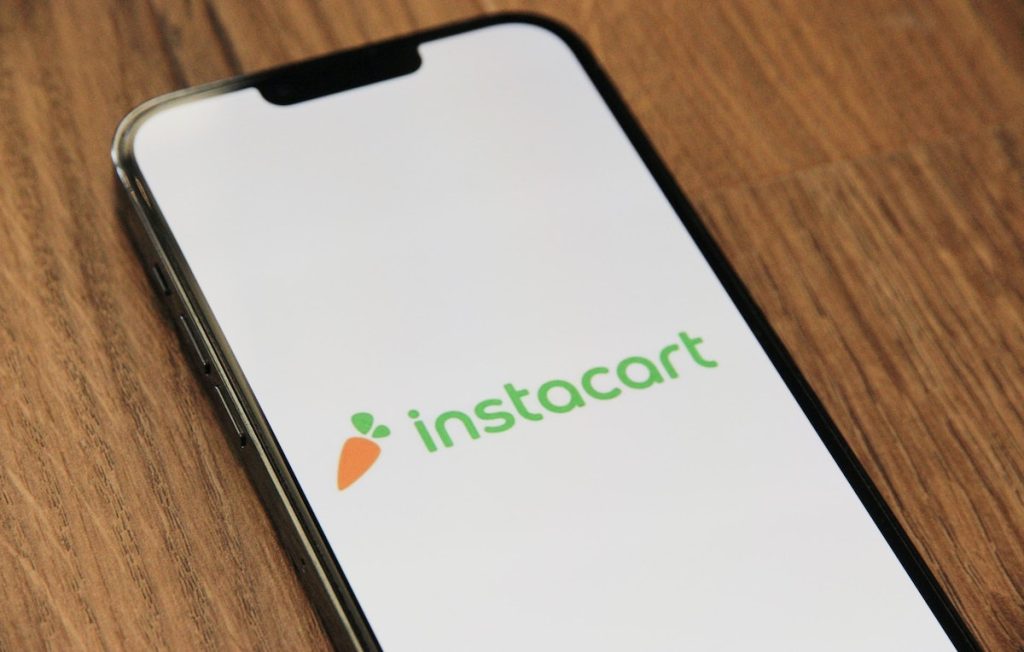 If you haven't heard of Instacart, it's a company that facilitates grocery delivery and curbside pick-up services. Although it increased in popularity during the pandemic, you'd be surprised to learn that Instacart has been around since 2012. It was developed in San Francisco but now partners with more than 500 retailers and grocers throughout the U.S. and Canada.
For a potential Instacart shopper, this means there's a high chance that the app is available in your area. Depending on what city you live in, you'll generate a decent earning — but more on that later.
Why Drive for Instacart?
The need for on-demand groceries skyrocketed when the COVID-19 pandemic hit in 2020. Within a month of the pandemic, the company added 300,000 drivers to keep up with the increased need for its services.
According to its CEO, Fidji Simo, Instacart saw "five years of growth packed into one year." And although the demand for delivery has waned in 2022, Instacart still reports a higher need for its services than it experienced pre-pandemic.
What does this mean for its shoppers? For one, it means you'll have consistent work — especially if you pick your delivery hours strategically. During the week, it's best to work between 4-8 p.m. when people are getting home, making dinner plans, and have a few hours to do some online shopping. Over the weekend, you have more liberty to choose your hours.
One advantage of shopping during peak hours is being able to pick up batches. Batches are when different customers request items at the same store. If you accept one, you'll be able to kill two birds with one stone and earn more per hour.
Earn around $500 per week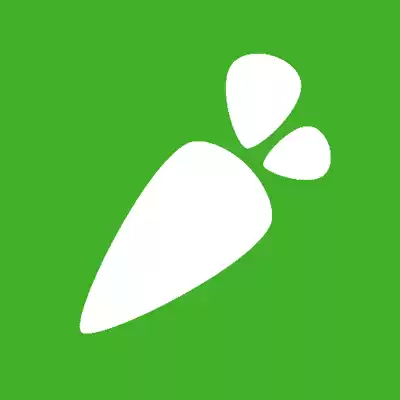 How Does Instacart Work?
In a nutshell, Instacart lets users shop for household items through its website or the Instacart app on IOS or Android. Each customer is assigned a 'personal shopper' whose job is to fulfill their order. This is where you come in.
An Instacart shopper is responsible for preparing or completing orders. Depending on which type of shopper you sign up as, you'll either be required to go to the store, pick out the requested products, and carry out the delivery or only be responsible for packing the order at the store.
Two Different Shopper Roles with Instacart
Instacart provides two types of shopper roles: full-service and in-store shopper. They have different contractual agreements and responsibilities. Keep reading to learn the difference.
Full-service shopper
As a full-service shopper, it's your role to fulfill orders you've accepted. A fully completed order means that you've: gone to the selected store, picked out the products, paid for them through your Instacart debit card, and delivered the products to the recipient. Essentially this is a 'shop and deliver' role as an independent contractor.
Instacart pays shoppers every week, and for full-service shoppers, the pay is dependent on how many orders they complete and the demand in their location. Additionally, since you can work whenever you like, it's mostly based on how many hours you're able to put in. You can also make money referring new drivers by sharing an Instacart referral code.
According to Glassdoor, full-service shoppers make an average of $15 per hour, not including tips. Every order has a base pay of $7 – $10 and includes a payment and tip estimate, so you can gauge how much you'll make with the delivery.
You can make upwards of $1,000 a week if you work 25+ hours, but really, it can go higher or lower depending on your availability and service delivery.
To sign up as a full-service shopper, you'll need to meet these requirements:
You must be at least 18 years old to apply.
Work authorization in the United States or Canada
A smartphone running Android 5.0 or above and iOS 9 or higher is required.
A fully operational and registered car
Vehicle insurance, in compliance with local legislation
Can lift more than 30 pounds.
Instacart's food safety rules should be followed.
In-Store Shopper
In-store shoppers are hired as Instacart employees. Their role is to prepare orders for curbside pickup by customers or full-service shoppers. They communicate with customers on their order, suggest alternatives if a product has run out, and include any additional items requested.
According to Glassdoor, in-store shoppers make an average of $14 per hour. Considering they can work a maximum of 29 hours per week, they can make up to $406 per week.
To sign up as an in-store shopper, you'll need to meet these requirements:
You must be at least 18 years old to apply.
Work authorization in the United States or Canada
A smartphone running Android 5.0 or above and iOS 9 or higher is required.
Can lift more than 30 pounds.
Instacart's food safety rules should be followed.
What Is It Like To Work For Instacart – A Day On The Job
1. Receive and accept orders 
The first step once you're approved to work for Instacart is to open the app and view available "batches," which is a grouping of 1-3 customer orders. Each batch has information like products ordered, store you'll shop at, delivery distance, and estimated earnings, including tips.
You're free to choose whether you'll accept a batch or pass on it. Once you select a suitable batch, head over to the store and select "start shopping" within the app. This lets the customer know you're shopping for their products.
If one of the products isn't available, it's best to communicate with the customer to let them know you're at the store and can help them find an alternative. This increases your chances of success as a shopper.
2. Go shopping for items
Once you're at the store, start shopping like you normally would. The app has a list of the products requested by the customer, which works as a shopping list. It also indicates which aisle you can find a product, which can help you ease through the process.
Once you find what products you're looking for, you can mark them in the app as being found. Additionally, you're able to scan barcodes or manually enter a product name to indicate you've added them to your shopping cart.
Being an Instacart shopper comes with an unspoken prerequisite — quick thinking.
Sometimes you'll find that the product you're looking for isn't available. In this case, you can do one of three things:
Check for an alternative: Normally, customers can leave notes in the app on other options they'd prefer if a specific product isn't available. Check the app first to see if the customer made any note on a substitution.
Be resourceful: The customer may not have anticipated a product being out of stock and thus not listed an alternative. In this case, find a suitable option and add it to the cart.
When in doubt, ask: You might not always be sure if the alternative you pick is worth it; therefore, ask the customer first through the app if you're in doubt.
3. Checkout
Once you're done shopping, head to the check-out area. Every Instacart shopper receives an Instacart payment card, which is a prepaid debit card used to pay for products at checkout.
Cash is preloaded into the card automatically with every batch you take on. In case your card doesn't reflect the right amount for an order, contact Instacart shopper support through the app for a top-up.
Keep in mind that you can only use the card to pay for Instacart orders and not personal expenses like gas or meals.
4. Finish your deliveries and receive payment
Once you leave the store, it's time to load up and get going. Be sure to carefully place the items in your car to avoid crushing delicate products. You can go the extra mile by getting an insulated delivery bag to keep hot foods hot and cold foods cold. It's a great way to show the customer you value them, and it helps with getting more tips!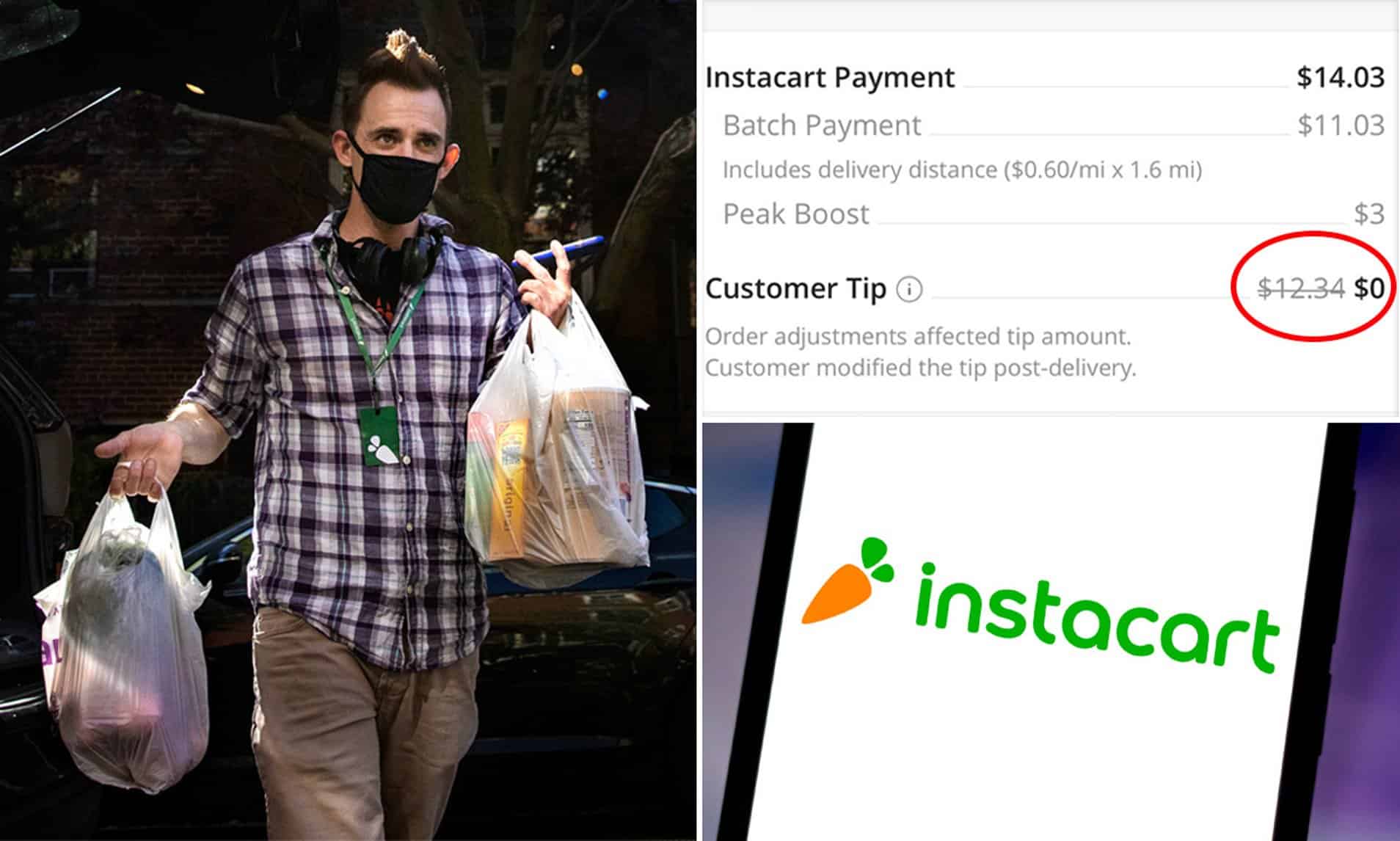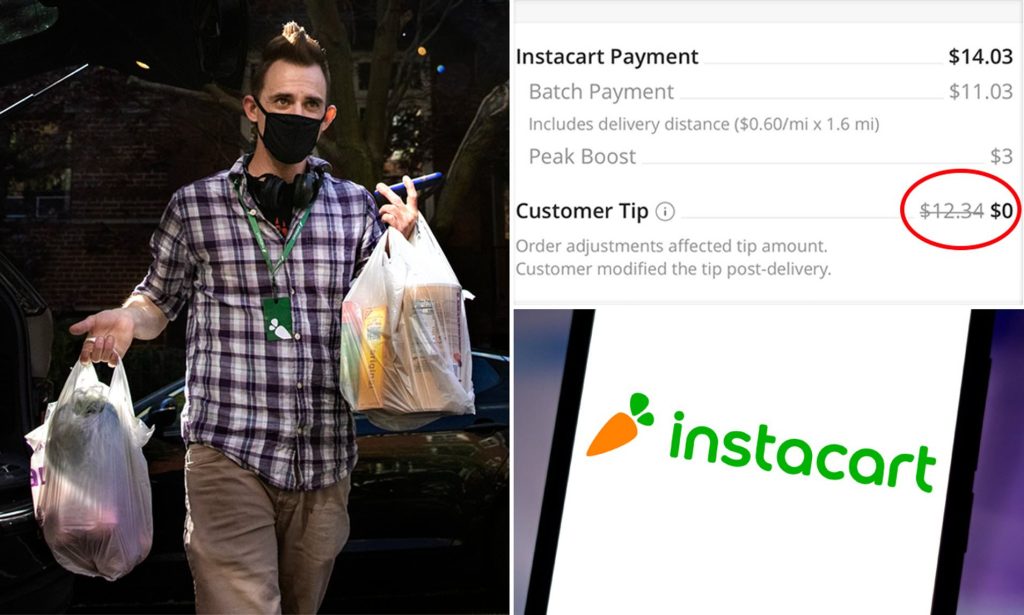 The next step is to drive to the delivery destination. Let the customer know you're on the way and use the app to navigate to the drop-off point. Customers may leave drop-off instructions for you to follow. Once you arrive, finalize the delivery and take a picture of the order at the doorstep.
Mark the batch as "complete" within the app and wait for or accept new batches! Payment comes in half an hour to an hour later once you've completed a batch — including tips!
Note that Instacart has a rating system where customers can rate your service, and it's not to be taken lightly. Shoppers with high ratings get to see batches before shoppers with lower ratings. This gives them the freedom to pick and choose higher-paying batches before everyone else.
Pros and Cons of Instacart
Before signing up as an Instacart shopper, you should weigh the pros and cons.
Full-service shopper
Pros
Freedom to choose your work hours
Great way to supplement your income
Cons
You must handle your own tax obligations
Cover your own expenses, i.e., fuel, vehicle repairs, and maintenance
In-store shopper
Pros
Guaranteed a minimum wage as an employee
Freedom to choose your work hours
Cons
No health insurance benefits
You can only work a maximum of 29 hours
Instacart vs. Other Gig Economy Jobs (Which Pays the Most?)
Compared to other gig economy jobs, you might be wondering, 'Do Instacart Shoppers make good money?' To answer your question, we'll look at Instacart's biggest competitors and how they compare.
Like Instacart, Shipt is a delivery service provider that occupies the grocery and household goods market. It was launched in 2014, a few years before Instacart was created. While they share similarities, they also do things differently.
To kick it off, to be a Shipt Shopper, you need to have reliable access to a car. While full-service shoppers for Instacart are required to have vehicles as well, in-store shoppers aren't. Instacart is also available in more cities. 
On the other hand, Shipt lets its shoppers choose where to shop. This goes beyond giving them the option to decline an order that's too far away.
Shipt also allows shoppers to select specific areas they'd prefer to receive orders. This means you can choose stores or neighborhoods close to you. It also means you'll spend less time finding directions and commuting. Overall, it makes the process more efficient.
As far as payment goes, Shipt offers its shoppers anywhere between $16-22 per hour, excluding tips. They also both offer perks to their shoppers. Shipt uses Benefitfocus and offers reduced car insurance and prescription plans. Instacart offers store discounts and other benefits through Perkspot.
Amazon Fresh is a little different than Instacart and Shipt. For one, it was born out of a pre-existing platform. It's also unique because it has physical grocery stores and warehouses. This increases the number of work options available to you.
Next, Amazon Fresh doesn't require its drivers to shop for groceries. Instead, you pick up pre-packed groceries from delivery stations and take them to customers. This way, you're able to save time and complete more deliveries per hour.
Amazon Fresh also pays more than Instacart, with most drivers earning between $18-25 per hour. It also lets you choose blocks of time you want to work. During your shift, you will receive consistent orders and will be able to see your estimated earnings for the block.
Lastly, Amazon Fresh isn't available in all areas. It operates in select cities, including: Washington D.C., Baltimore, Chicago, Boston, New York, and Atlanta. If you want to work full-time or part-time for Amazon Fresh, look for jobs available in your area on the Amazon Jobs website. If you want to make deliveries with your car, register under Amazon Flex.
Is Instacart Worth it After Taxes?
When it comes down to it, driving for Instacart can be plenty worth it, even after taxes. All you need is to understand how to file your taxes as an independent contractor and the deductions you can make to minimize your tax bill.
It can be a headache trying to understand the steps you need to take, but dont worry, this guide will help you get through it so you can avoid penalties.
Tax obligations for in-store shoppers Vs. full-service shoppers
In-store shoppers are classified as employees. Therefore, Instacart is responsible for withholding their taxes and sending them a W-2 come tax time. So, that's about all the heavy lifting they'll get to do.
Full-service shoppers, however, are classified as independent contractors, and they have a lot more work to put in come tax time. For starters, Instacart will not withhold their taxes for them. You'll have to file and pay them yourself. Additionally, you'll have to deal with self-employment tax.
How much taxes do full-service shoppers have to pay?
Self-employment tax, also known as FICA tax, is how gig workers contribute to Social Security and Medicare. W-2 employees also have to pay FICA taxes, the equivalent of 7.65%, but their employer matches their payment.
Since you're classified as self-employed as an Instacart driver, you're responsible for paying the employer and employee's share of the taxes. This amounts to 15.3%.
Additionally, you'll have to pay state income taxes.
To account for this, it's advisable to save 25 to 30% of every payment you receive to make tax payments easier when the time comes.
The good news is that you're eligible for tax deductions, which we'll cover below.
What deductions are you eligible for as a full-service shopper?
One of the beauties of self-employment is tax write-offs. These are all the expenses you accrued for your business that you can deduct from your tax payments.
Some of these include:
Delivery gear, i.e., insulated bag
Gas
Phone bill
Parking fees
Vehicle maintenance and repairs
Vehicle accessories, i.e., dashcam, charger, and phone mount
Vehicle insurance, inspection, and roadside assistance
Tax forms needed for full-service shoppers
You'll need to fill out a few tax forms as an Instacart driver.
Let's take a look at them below.
1099-NEC
The 1099-NEC form reports earnings earned outside of a typical job. Form 1099-NEC from Instacart details the amount you made on the app.
Since you're an independent contractor, Instacart is obligated to send you this form before January 31st if you made at least $600 in the previous year.
The IRS also receives a copy of this form and can see how much you've made.
Schedule C
As a contractor, you'll need to fill out a Schedule C to record your profits and losses. You'll need to use your 1099-NEC to fill out your Schedule C to record your earnings and tax write-offs.
Schedule SE
Schedule SE is used to calculate the tax owed on self-employment net earnings.
Form 1040
All U.S. taxpayers use Form 1040 to file their yearly income tax returns. Hence, once you've filled out your Schedule C and Schedule SE, you'll attach them to Form 1040.
When should a full-service shopper pay their taxes?
It's generally advisable to pay your self-employment taxes each quarter if you expect to owe at least $1,000 in taxes (after deductions).
Here's a breakdown of each payment date:
15th of April
15th of June
15th of September
15th of January
Conclusion
Instacart is one of the best delivery job apps you can use. It lets you choose your own hours and helps you supplement your income. Even though it can be challenging covering your own expenses and filing taxes, driving for Instacart can be worth it with a bit of know-how and a can-do attitude.
Earn around $500 per week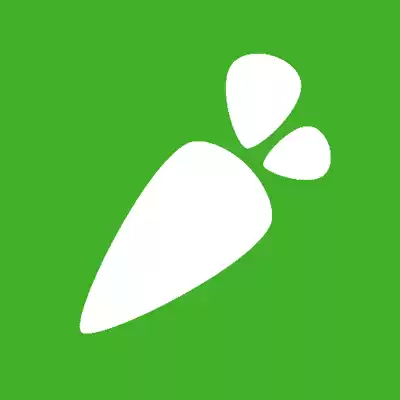 Sources
https://www.reddit.com/r/InstacartShoppers/comments/r80ort/does_anyone_else_have_this_new_layout_for/
https://www.reddit.com/r/InstacartShoppers/comments/ugcs7u/was_a_long_ass_week_but_im_pleased/
https://www.reddit.com/r/InstacartShoppers/comments/tqjvai/out_of_all_my_items_richard_shopped_my_ice_cream/
https://www.reddit.com/r/InstacartShoppers/comments/scu5vf/new_checkout_screen/
https://www.reddit.com/r/InstacartShoppers/comments/u21vcb/i_was_giving_up_on_instacart_this_morning_after/