If you want to make extra money each week, becoming an Instacart Shopper could be a great way to do it.
Instacart allows you to set your own schedule, so you can work as much or as little as you want.
You could make money by shopping for and delivering groceries to people in your community who use the Instacart app.
Many people are interested in making some extra money by becoming an Instacart Shopper, but how much can you actually make with Instacart?
Today, we will answer that question and:
How much can you make with Instacart?
Can you make good money with Instacart?
Does Instacart pay daily?
Becasue Instacart will hire continue to hire hundreds of thousands of more workers in the new few weeks, which can leave someone wondering how much does Instacart pay and if you should sign up to become an Instacart Shopper?
Earn around $500 per week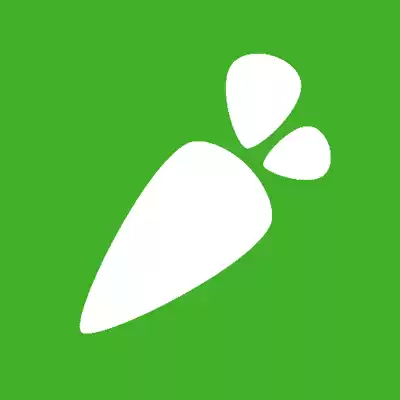 Let's learn exactly how much money Instacart Shoppers get paid to shop.
How Much Can You Make with Instacart?
Instacart Shoppers can from $100 a week to $500 a week and sometimes, even more, depending on how many hours they work and the number of batches they get.
While average Instacart Shopper pay varies depending on the market, it is possible to earn $1,000 or more per week in a busy market.
Bottom-Line: There is a lot of information online about how much you can make with Instacart. We will need to break it down.
What Instacart Says How Much You Can Make
According to Instacart's website, they don't give you much information about how much you can make exactly.
Even on the official signup page, they left this out on the common questions tab as well.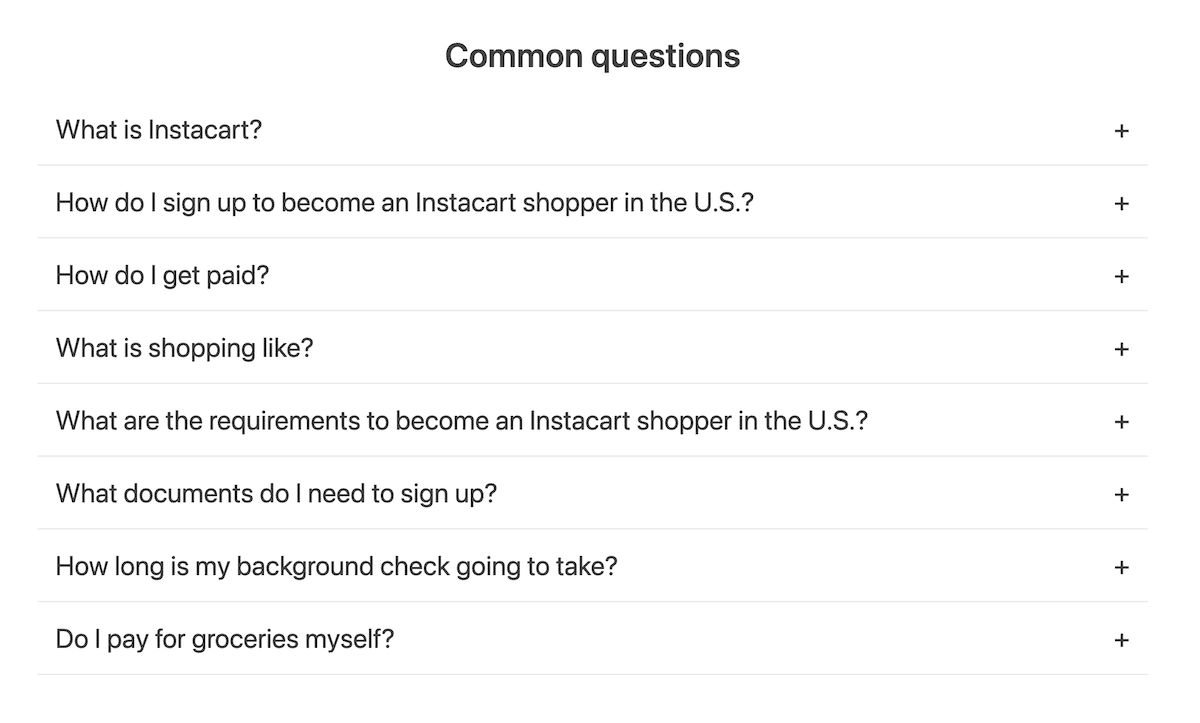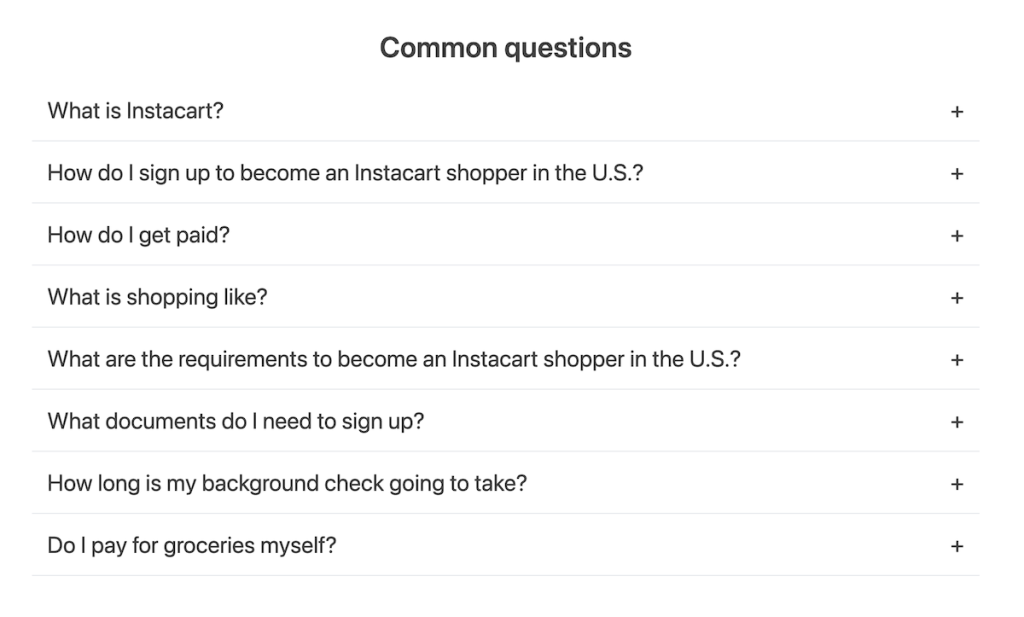 They do have some information on how your earnings are calculated, which includes:
The size of the order
The distance you have to travel to deliver the order
The time it takes you to complete the order
Base pay, which varies in different markets
"Heavy fee" for heavier items
In most markets, shoppers may also be eligible for Instacart tips and bonuses, which can further increase your earnings.
However, it's important to note that earnings will vary depending on the market you're in, the number of orders you're able to complete, and the time of day or week that you work.
For example, shoppers in New York City may earn more than those in a smaller town because there are simply more orders to be completed.
Similarly, shoppers who work during busy times, such as weekends or evenings, may also earn more due to the increased demand.
While it's difficult to say exactly how much you can earn as an Instacart Shopper, it is clear that there is potential to make a decent income – especially if you're willing to work hard and complete a lot of orders.
But we still need to get a number to figure out how much exactly real workers are making right now. So we'll move on to see what salary review websites are showing.
What Glassdoor Says How Much You Can Make
Looking at Glassdoor: the median estimated pay for a Personal Shopper at Instacart is $26 per hour, which is the estimate model gathered from salaries collected from its 5.6K users (as shown below).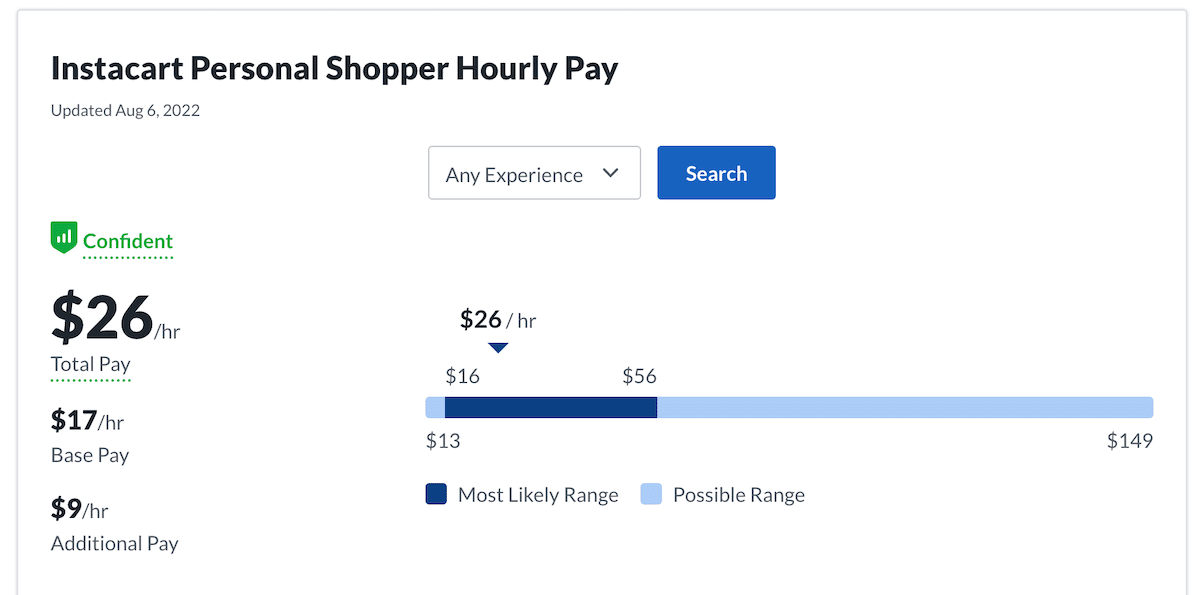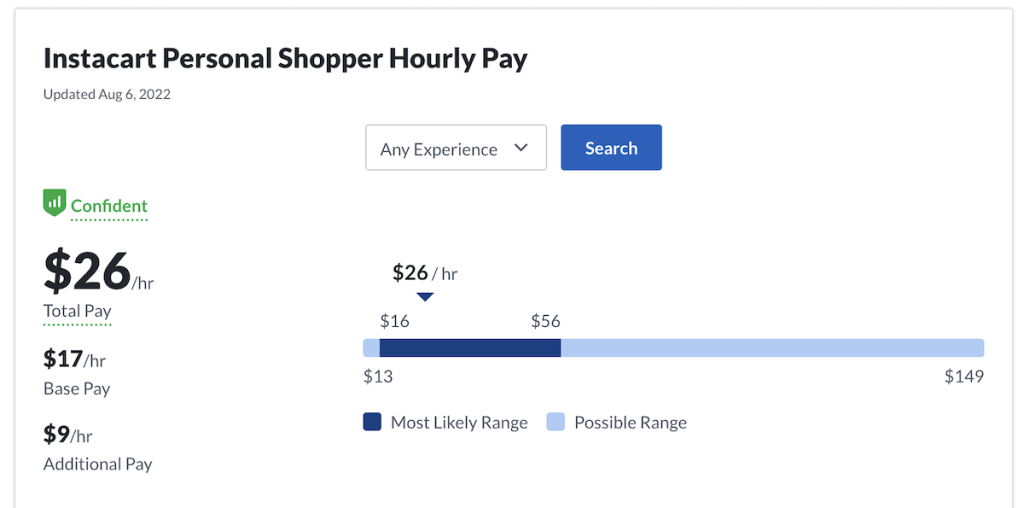 This number represents the median, which is the midpoint of the ranges based on salaries collected from its users. The estimated base pay is $17 per hour. The estimated additional pay is $9 per hour. Additional pay could include cash bonuses, commissions, and tips.
This $26 per hour seems a little high, considering that the average hourly wage for a grocery store worker is $11.09, according to the Bureau of Labor Statistics.
However, when factoring in tips and other forms of compensation, such as commissions and bonuses, Instacart's base pay of $17 an hour seems more in line with industry norms.
So how much could you make per week with Instacart?
If you worked 40 hours a week at $17 an hour (not including bonuses/tips) then you can make $680 a week.
That sounds pretty good to me. But I want to do more research so I usually always check user reviews from Reddit.
What Reddit Says How Much You Can Make
When doing some research on how much people were making it was pretty vague because we don't know many days they worked or how many batches they picked up.
We need to know how much they are making per hour!
A thread on Reddit about how much users are making per hour was helpful.
The user SushiJuice says the pay strongly varies depending on how savvy you are.
He said it really depends on the types of batches you pick up to see which orders are good or not.
So if you are extremely picky and use Instacart hacks, you can make $30 per hour.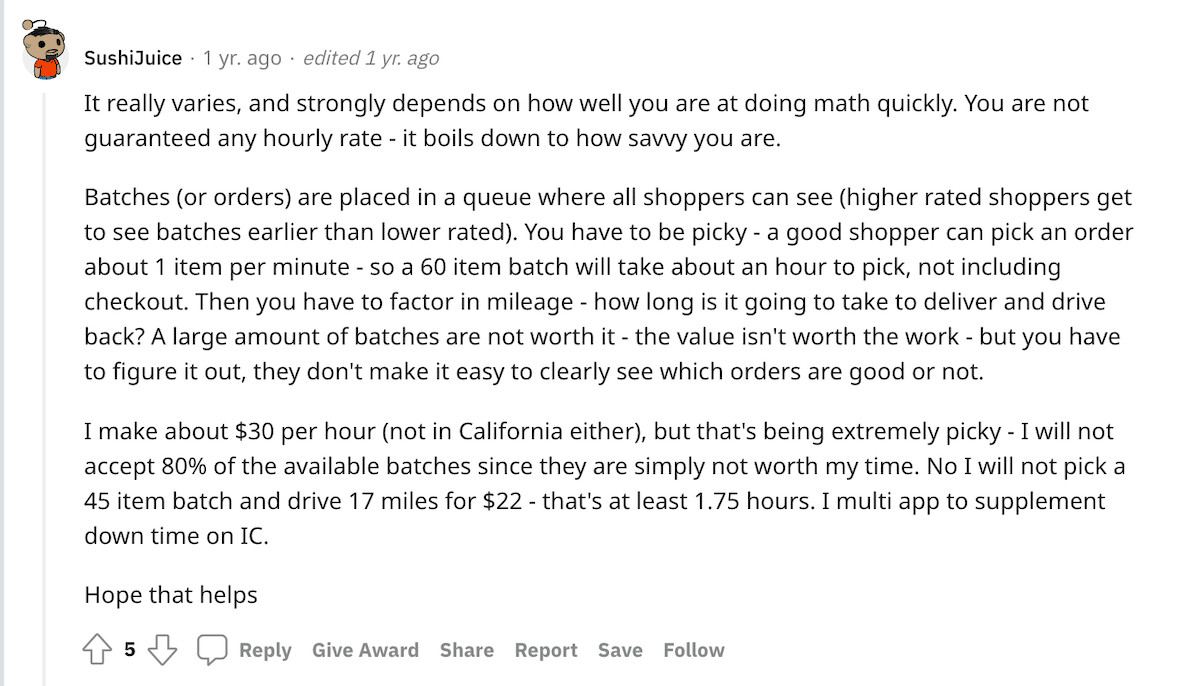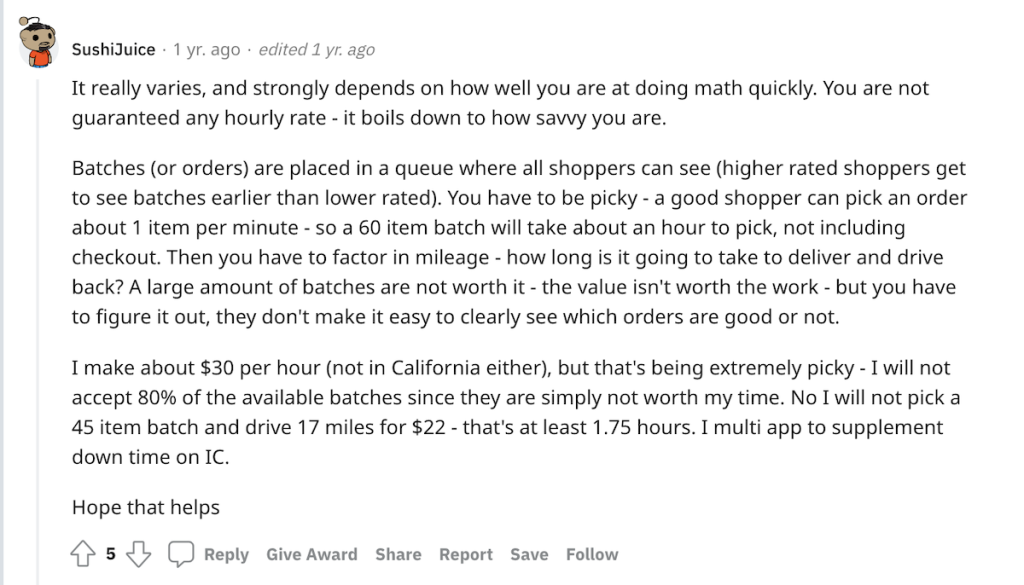 What do I think of all of this?
If you're looking to make some extra money, there's a good chance that an Instacart Shopper will earn $20 or more per hour in several areas.
So, if you get enough orders, you may clear $1,000 each week without difficulty.
But as a beginner to Instacart average, you can likely earn $300 to $500 per week.
Earn around $500 per week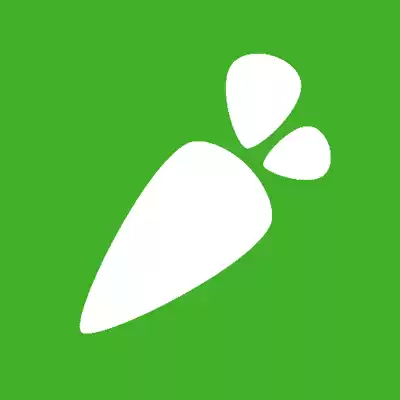 Can You Make Good Money with Instacart?
While your earnings will fluctuate depending on the order and area you are working in — it really depends on how busy your area is and how much money in tips you are able to get.
For example, if you live in a nicer area of your town then your tips can skyrocket and Instacart is worth it.
Here is an Instacart Shopper who received a $183 tip on Easter Sunday which was merely a 15% tip (standard).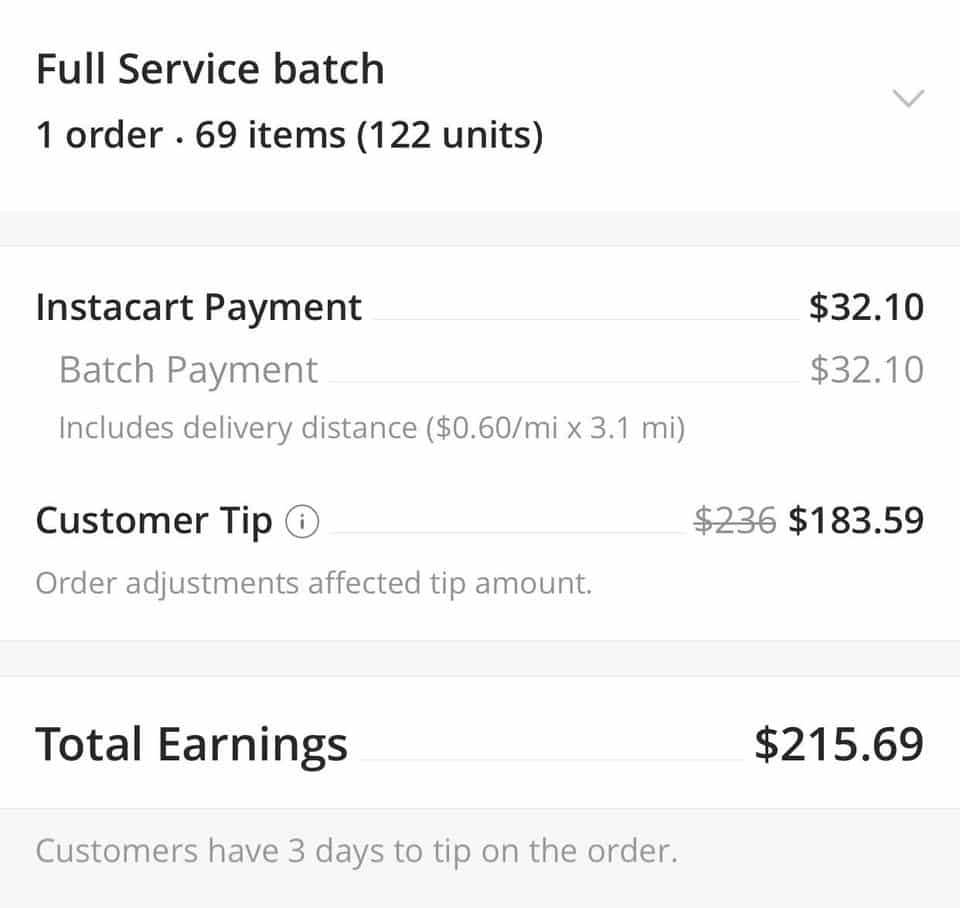 While you may not work in a nice part of town, you are still likely to get paid at least 10% and 20% which is standard Instacart tipping etiquette.
So if your order is $200, expect a tip of $20 to $30. While some people who use the app may not be big tippers — it all evens out in the end.
So can you make good money with Instacart? The short answer is yes. However, you'll get a 1099 form from the IRS if you earn over $600 with Instacart so your earnings will be taxed.
⚠️ You can learn more about taxes in our resources for gig workers which covers the topic.
Do you Get Paid Daily with Instacart?
If you are wondering about how fast you can earn as an Instacart shopper then you're probably wondering how fast you can get paid.
As an Instacart Shopper, you can get paid the same day via direct deposit without tips by paying 50 cents.
Or you can get paid every Wednesday through direct deposit without paying any fees.
Bottom Line: If you are wondering what time Instacart direct deposits: Instacart pays shoppers weekly on Wednesday via direct deposit for the previous Monday through Sunday week. What this means is that you'll work Monday through Sunday. You'll get paid the following Wednesday morning.
Best Jobs like Instacart Shopper?
While Instacart is a great grocery delivery app job to earn side income, other delivery apps work similarly.
There are many app jobs like Instacart, while its competitors may have unique offerings that allow you to deliver more than just groceries, for example.
You can work for one food delivery service or select several other delivery jobs to increase your income. Keep in mind that most food delivery services pay you weekly, and often via direct deposit so you get access to your earnings quickly.
Additionally, many food app services allow you to deliver via car, bike, scooter, or motorcycle which allows for greater flexibility on how you want to deliver food.
Want to know what other delivery jobs to consider?
Below are the five best food delivery jobs like Instacart to make money on the side:
Making extra money is possible with the top on-demand food delivery jobs like Instacart.
These gigs offer ample flexibility, high paying earnings, and minimal specialized skills.
What are you waiting for? Get started with the best apps like Instacart to make money delivering food.
Earn around $500 per week
Our pick for best gig app
Instacart Shopper FAQs
A lot of shoppers may have some questions about the grocery delivery service. Here are the most common questions people have before signing up to become an Instacart Shopper.
Can you bring someone with you during Instacart deliveries? According to the Instacart Shopper account access guidelines, you cannot bring your kids or anyone else with you while you are delivering as an Instacart Shopper.
Can you deliver for Instacart if you have a DUI? As long as you have an active drivers license and can drive a car, you should be all set. A DUI will not prohibit you from becoming an Instacart Shopper.
Does Instacart pay you if there are no orders? One thing to keep in mind is that you are only paid if you shop and deliver an order. You won't get paid if there aren't any orders.
How can you track mileage for taxes when driving for Instacart? According to Investopedia, here is how to log mileage for taxes.
Record your odometer at the start of tax year
Maintain driving log (If Needed)
Maintain a record of receipts
Record odometer at end of the tax year
Record your mileage on your tax return
Retain your documentation
The IRS says your mileage log should include your mileage, dates of your delivery trips, and the business purpose (delivering for Instacart).
When can I start shopping for Instacart? Depending on your state as soon as you are 18-21 years old you can sign up to become an Instacart Shopper.
How can I get my Instacart referral bonus? You can make anywhere from $400 to $750 depending on your zone. To invite shoppers, you must simply share your referral code with them. The bonus you get paid out will vary from $400-$750 for them completely anywhere from 30 to 50 batches in 30 days. Amounts vary zone. That's a good amount of referral money that Instacart is doling out. You can learn more about Instacart referral codes in our article here.
How Much Does Instacart Pay Summary
Instacart operates in 5,500 cities in North America and they certainly need more workers. Currently, they are seeing the most customer demand in California, New York, Texas, Florida, Illinois, Pennsylvania, Virginia, New Jersey, Georgia, and Ohio. If you are living in one of these states then expect to make on the higher end of Instacart's pay scale ($15-$30 per hour).
What is the best way to learn how much Instacart Shoppers make? Well, to chalk it up it is to go directly to the source by asking the shoppers themselves.
So I headed over to the Instacart Shopper subreddit and learned that they make on average, between $10-$30 per hour. In many parts of the country, this is above the minimum wage.
While it may not seem like a lot — delivering with Instacart is one of our top-rated gig economy jobs and earnings can add up since the job is so flexible.
How much does Instacart pay?
How much does Instacart pay daily? $15 to $30 an hour
Tip percentage: 100%
Delivery volume: Excellent
Instacart will pay you $15 to $30 an hour to pick up and deliver food from customers who opt to order groceries from home.
You can deliver groceries from shops like Whole Foods, Trader Joes, CVS, Costco, Fairway, and more.
Grocery shopping can now be fun if you're getting paid. You can learn more here on the Instacart sign up page.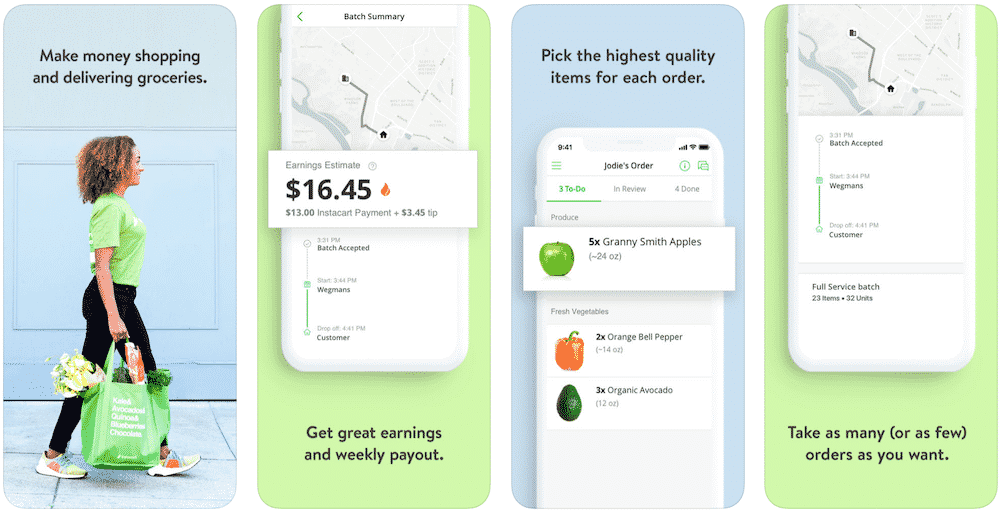 Earn around $500 per week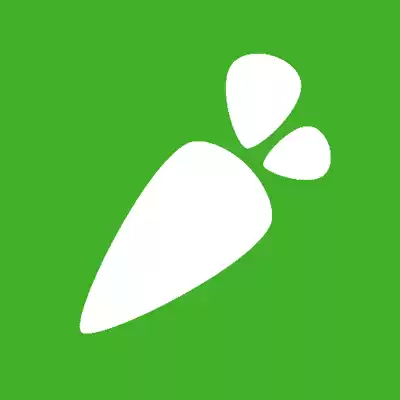 Download Instacart Shopper App: iOS | Android | Desktop
Want to learn more about Instacart? Check out our guide on how does Instacart work next.