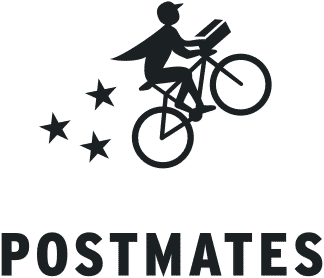 Wondering what it's like to work as a delivery driver at Postmates?
Postmates is the largest, most reliable on-demand delivery and pickup platform.
Delivering for Postmates is easy and convenient for people looking for a side hustle. Deliveries can be done on your time and deposits are made weekly or on-demand when needed.
But is delivering for Postmates worth your time?
Click here to sign up to drive for Postmates or continue to read our Postmates review below to find out.
What is Postmates?
Postmates is a delivery service used to deliver goods at your doorstep.
In fact, Postmates has made more than 35 million deliveries to customers, generating more than $1.2 billion in revenue through the Postmates platform and saving customers more than 11 million hours in time.
Most people consider it just a food delivery app, but it acts as much more because Postmates is used to deliver a range of items such as food, groceries and personal items.
More importantly, you can use Postmates to make money in a small town or big crowded towns by delivering people things to them — earning $19 an hour on average.
Just know that Postmates won't serve as your magic pill to becoming rich immediately but it will prove to be a great side gig with consistent efforts.
For example, if you are a student and want to earn extra money to pay your student loans, you can opt to deliver with Postmates because it is an excellent source of secondary income.
Mostly anyone can manage delivering with Postmates in their spare time. Let's get more into this Postmates review, shall we?
Postmates Review
If you are looking for some part-time income, then Postmates can be a lucrative option for you. The important thing about this service is that you don't have to talk or argue with passengers because you do not have to pick up any person unlike ridesharing jobs like Uber.
Even if you have a busy schedule you can work whenever you want as the hours are flexible. Postmates does not restrict people to own a car for making deliveries. You can work as a Postmates driver using a motorbike or scooter as well.
Here is one person's experience of driving for Postmates:
How Does Postmates Work?
The procedure is straightforward. As a Postmates driver, you have to register yourself with the company. The customer who has the same app will choose the desired thing to be delivered at his doorstep. He will choose the pickup and drop-off location. When he enters the info, you (Postmates driver) will be notified about from where to pick up and destination. When you accept the delivery, the details will be sent to Postmates such as from where you have to pick up things.
Then, you're all set to go and the items will be ready and packed. After arriving there, you (Postmates driver) will pay the amount through prepaid debit card and start your journey to the destination. After reaching, you will ask for a fee according to distance and difficulty of the task from the buyers. If your attitude and the customer is good, there is a chance that you will get a tip also. This is where drivers can make extra money!
How to Start Working as a Postmate Driver?
If you are interested in starting working as a Postmates Delivery Driver then you can visit here and fill an online form that asks to fill the following details.
From which city you work
Your driving license.
Working Phone number
Your full name
The email address for mailing
Your vehicle type, number, and model.
Bank details
Recent photo
Postmates Tips to Make Good Money?
If you are new to Postmates, you may not know how to utilize the time to earn more in a short time. The first thing is to choose the time when the traffic is less on roads otherwise you will be stuck and waste your precious time in delivering goods.
Another thing is to keep an eagle eye on Blitz Bonuses because these time delivery rates are high. Next step is to choose those deliveries which suit you like will takes less time in picking up and do not charge you for a parking ticket. Try to choose the more delivery in the same area as well.
Is Driving for Postmates Worth It?
Just know that you can expect to make on average $19 per hour. Compared to other on-demand food delivery apps, you do sit around more often. But that doesn't mean that you can't get an influx of orders and stay busy throughout the day. One positive aspect of working for Postmates is if you don't get a tip, and didn't drive too far, you get paid more than other non-tipping apps.
Does Postmates Have an Hourly Guarantee?
According to Postmates support center, Postmates guaranteed its delivery workers at least $4 per job and guaranteed earnings for completing a certain number of deliveries within a set period of time where you can earn a guaranteed minimum payout. They also offer crushers for completing a certain number of deliveries within a set time period and you can earn an additional payout bonus.
What is Postmates Pay Structure?
Are you wondering how earnings are calculated?
You'll be paid out for the deliveries you complete according to the formula for your city. To learn more about earnings in your market, check out Postmates market pages here.

The earnings for each delivery include:
An amount for each completed pick-up
An amount for each completed drop-off
A per-minute-waited rate for the time you spend at the pick-up location
A per-mile rate for the distance between the pick-up and drop-off locations
100% of the tips you earn!
Postmates Driver Referral Code
Want to join the Postmates fleet? According to a recent estimate, one can earn $19 per hour so join Postmates with our Postmates driver referral code here.
Postmates Delivery Referral Code
When you refer a first-time customer through the app, they will immediately receive a delivery fee credit to apply toward their first delivery within 7 days. Upon completion of their first order, you will also receive a delivery fee credit to apply towards your next delivery. To find your code, tap the gear in the top left of the app. You can share your code as many times as you like. If you wanted $100 in delivery fee credit, use code: UQH4P.
If you wanted to drive for Postmates, you can use this driver referral link: https://gigsdoneright.com/postmates
How Much Does Postmates Pay?
The pay is different for all Postmates drivers depending on their service, timing, and rates. For example, the rate per mile, base rate, per minute rates and Blitz Bonuses will continue to change according to the traffic rush and peak hours.
Bottom line: Your working hours, the number of deliveries you complete in a day and location affects your daily PostMates pay. According to an estimate, the average PostMates driver earns $19 an hour.
What are Other Gig Economy Jobs like Postmates?
Here are other options for you to consider:
SIDE GIG
TYPE OF WORK



START EARNING



Food delivery with DoorDash
Drive and deliver with DoorDash and start making money today. Pick your own schedule and use any car or bike. Fast signup, great pay, easy work.



✓

Work anytime


✓

Work from anywhere


✓

Access Fast Pay



START EARNING



Get paid to shop with Instacart
As a shopper, you'll pick and deliver the items that customers want and get paid for it.



✓

Make up to $25 per hour including tips


✓

There's no set hours with Instacart


✓

Just open the app and shop whenever it works for you



START EARNING



Drive with Uber
Sign up to drive with Uber when you want and earn anytime, anywhere.



✓

Work anytime


✓

Work from anywhere


✓

Signing up is easy
The Bottom Line
Lives are becoming busy with each passing day with the advancement in technologies. People find it convenient to stay at home after spending an entire day at their, watching Netflix or just relaxing. So many people are now resorting to ordering food through food delivery apps like Postmates.
You can profit off this by becoming a Postmates delivery driver.
"Postmates is worth nearly $2 billion," Working Washington organizers wrote on their blog. Expect to make at least $10 which is in line with other on-demand food delivery companies like DoorDash and Uber Eats. If you wanted to learn more about becoming a PostMates delivery driver you can sign up for more information here.