When it comes to making money in the gig economy, food delivery app jobs seem to be one of the most popular options people turn to. DoorDash and Uber Eats are two of the most used food delivery services in the United States at the moment. With restaurants adjusting to the constraints of the on-going pandemic, the demand for delivery services (and drivers) has increased.
Not only has it grown, but according to research done by Rewards Network, a financial services company, a whopping 31% of restaurants said they intend to continue investing in delivery services.
This is a good opportunity to take advantage of and make some extra money. If you're considering signing up for a food delivery app, you might be wondering which one will provide you with the most benefits.
The main difference between DoorDash and Uber Eats is: Uber Eats is simple and user-friendly. DoorDash can be as well but has more flexible features such as scheduling and fewer delivery vehicle restrictions.
Let's take a look at the pros and cons of DoorDash and Uber Eats to help you make a more informed decision in your delivery journey.
DoorDash vs Uber Eats: Which is the Best Company for Drivers?
About DoorDash
DoorDash is a food delivery service that allows you to deliver food via car or bike. Delivering with DoorDash, you get flexibility and financial stability. Dash for a living or for a goal, all on your schedule and on your own terms. Sick of clocking in? Become your own boss and make your own schedule with DoorDash. Anyone can start earning now, it pays. If you are interested you can take a look at the application page for DoorDash.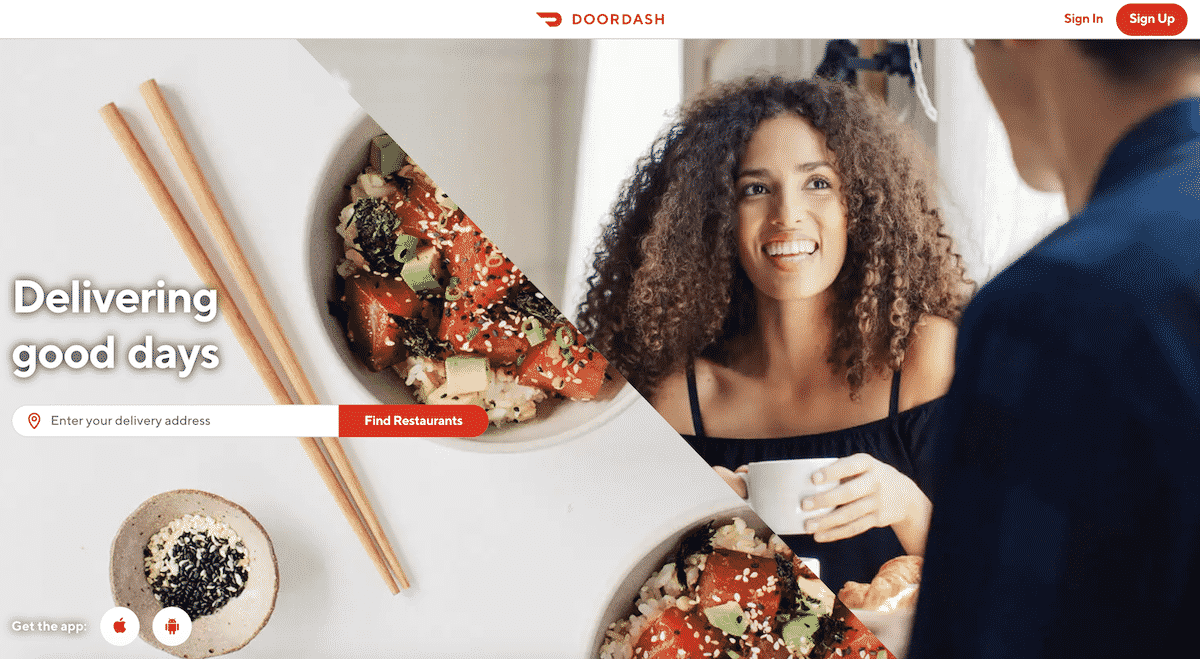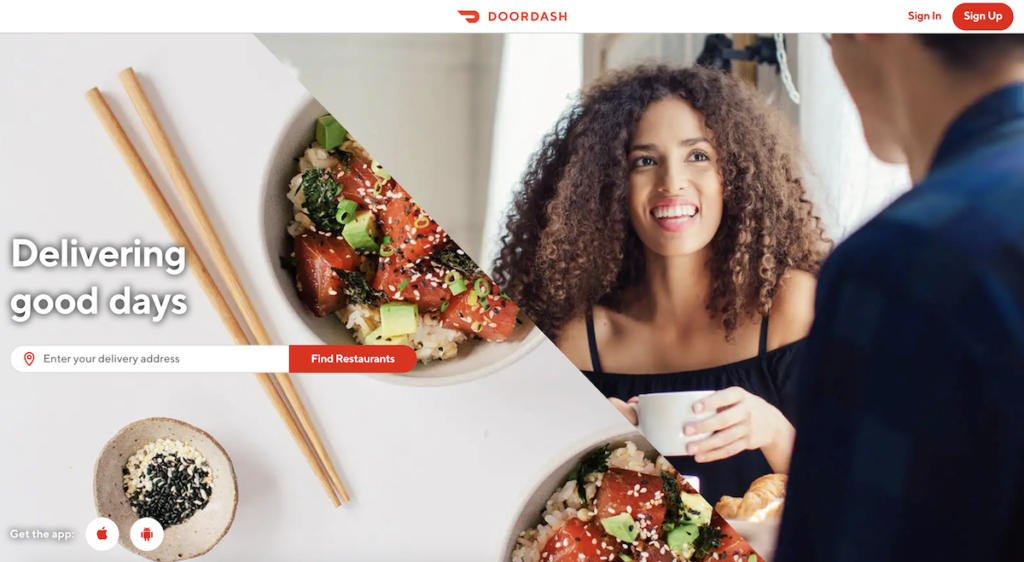 But how can you make money with it? When customers sign up for DoorDash, they get access to a list of restaurants in their area in which they can place an order. While checking out, they are charged with a delivery fee and have the option to leave a tip.
As a driver, or "Dasher," you will receive orders from the app and have the liberty to accept or decline. Some Dashers are prone to rejecting low-cost orders because they won't be worth the payout. But more on that later. Once you accept an order, the in-app GPS will lead you to the restaurant where you pick up the order. Once you receive the order, you deliver it to the customer.
A word of advice: keep an eye on your acceptance and customer ratings. The acceptance rating is a measurement of how many jobs you accept in contrast to the number of jobs DoorDash offers you. If you decline too many trips, DoorDash will give you a low-acceptance rating. Additionally, customers can choose to rate their Dashers on a scale of one to five stars. Quick deliveries and good customer service often mean you'll have a higher rating. Keep in mind that failure to complete a delivery can lower your score, and DoorDash has the right to ban you from the app.
Related: DoorDash Hacks to Earn More Money
What is Uber Eats
Uber Eats aims to expand the opportunities for diners to get immediate access and order the food they crave, from a variety of restaurants, at their fingertips. You can earn lucrative receive commissions as a new Uber Eats Delivery Partner. My niece does it and made over $100 in a day with just 4 hours put in, (tips help). If you're interested in learning more, you can learn more about becoming an Uber Eats driver here.
Uber Eats works in a similar manner to DoorDash. When a customer places an order, the app pushes it to your account for you to either accept or decline. However, you aren't able to see the location you'll deliver to, or how much you'll get paid for the trip, unless you accept it.
The Uber Eats rating system is quite simple. At the end of a delivery, the customer either rates you with a thumbs up or a thumbs down. Your overall score is the average of your last 100 ratings and will be displayed on a scale of stars. For example, if 90 out of 100 customers gave you a thumbs up, your overall rating would be 90% and will probably be displayed as 4-stars.
Interestingly enough, restaurant staff can also give you a rating. To maximize on the rating system, do your best to be courteous and respectful to restaurant staff and customers, pick up and drop off the order quickly, and communicate any concerns you have ahead of time. For example, you can message the customer in-app to confirm their order or let them know you'll be late.
How Much Drivers Make with Doordash vs Uber Eats
The pay is one of the most important aspects of the job. After all, you want to make sure that what you're earning from making deliveries will be enough to meet your personal needs. Although finding out how much you'll get paid can be confusing, we've simplified it for you.
DoorDash Pay Calculation
The amount of money you get paid as a Dasher is reliant on three things: the base pay, promotions, and tips. Your base pay is the fixed amount that you're assured of receiving per order. The amount you receive from promotions and tips, however, varies.

So, how much is the base pay?
DoorDash advertises that you will earn at least $2 per order. The base pay depends on the distance, desirability, and duration of the order. In other words, the less desirable and more time consuming an order is, the more money you're going to be paid.
As we mentioned earlier, some Dashers are known to decline orders that are too far out of their way because the base pay will not be enough to cover their gas. Be strategic with the orders you accept so that your payout will yield a profit.
Promotions and tips are bonuses that are added onto your base pay. For example, you can earn a promotion when you complete a certain number of orders within a set number of days.
You can earn between $13-$15 per hour working for DoorDash.
Related: How Much Can You Make with DoorDash in a Week?
Uber Eats Pay Calculation
Much like DoorDash, the Uber Eats payment model is informed by three entities. These are the pick-up fee, drop-off fee, and distance fee. Additionally, you get paid extra when you receive tips and promotions.
The pick-up fee is a fixed amount you get for picking up the order at the restaurant. If multiple orders are picked up at the same restaurant, that will factor into the pick-up fee, and you will receive a higher payout. The drop-off fee is also a fixed rate you receive for delivering an order to each drop-off location.
The distance fee is calculated by the number of miles or kilometers you have to travel in order to complete the order. It doesn't include the distance traveled to the pick-up location. Instead, it only imburses you for the distance traveled between the pick-up and drop-off points. In other words, you only get paid for the distance you traveled between the restaurant and the drop-off location.
During the spring of 2020, Uber Eats revised its payment model but has yet to outline its new system fully. Under the previous system, Uber took a 25% cut from each order.
There are also discrepancies in payment depending on your method of transportation. However, you can earn up to $15 per hour working for Uber Eats. With promotions and tips, you can earn more.

Winner: DoorDash

Overall, you can make around the same overall pay ($12-15/hour) for both DoorDash and Uber Eats, according to numerous driver reviews. However, DoorDash offers promotion for it drivers that allow you to earn more and a more 'clear' earning structure.
How does DoorDash compare to Grubhub? Learn more at Grubhub vs Doordash.
Where You Can Drive for Doordash vs Uber Eats
By now you might have an idea of which delivery service you'd prefer driving for. If you want to know whether either of these apps is available in your city, keep reading for more information.
DoorDash Availability
According to the DoorDash website, the app is available in the U.S., Canada, and Australia. It's operational in over 4,000 American cities; 80 Canadian cities; and in Melbourne, Brisbane, and Sydney.
Uber Eats Availability
Uber Eats is available in over 6,000 cities across 6 continents. In the U.S., you can find it in an array of cities – from big ones like Los Angeles to smaller ones like Southaven, Mississippi. The Uber Eats website is constantly updating and adding more cities to the list of available locations. Check its website to see if the service is available in your city or state.


Winner: Uber Eats

Overall, you can make around the same overall pay ($12-15/hour) for both DoorDash and Uber Eats, according to numerous driver reviews. However, DoorDash offers promotion for it drivers that allow you to earn more and a more 'clear' earning structure.
How does Uber Eats compare to Grubhub? Learn more at Grubhub vs Uber Eats.
Which is Better?
Both of these apps offer similar services, but let's take a closer look at the pros and cons of working for each of them.
DoorDash Pros & Cons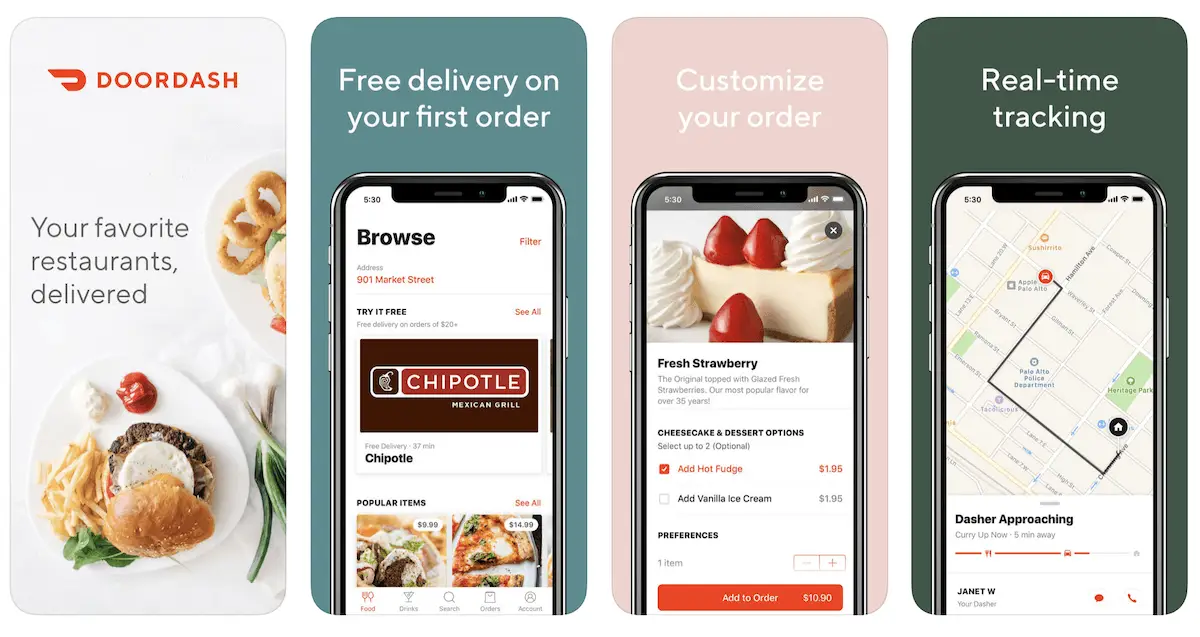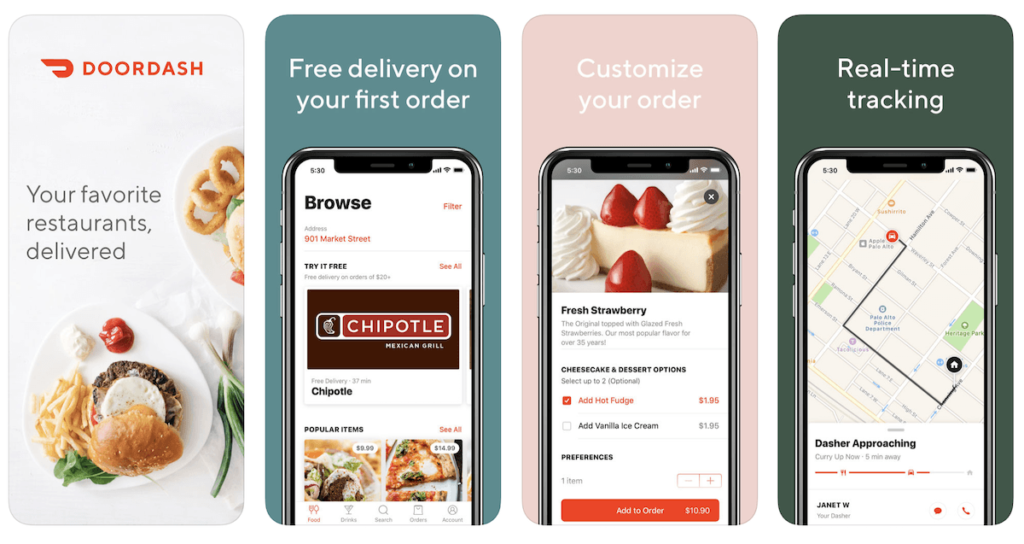 DoorDash Driver Pros
Tips are included in the app's payment calculations
You get a referral bonus when new drivers sign up with your code
You get a free hot bag that will keep your deliveries warm and possibly earn you good ratings
DoorDash Driver Cons
Pay-out is once a week
The app may only be busy during lunch and dinner
Uber Eats Pros & Cons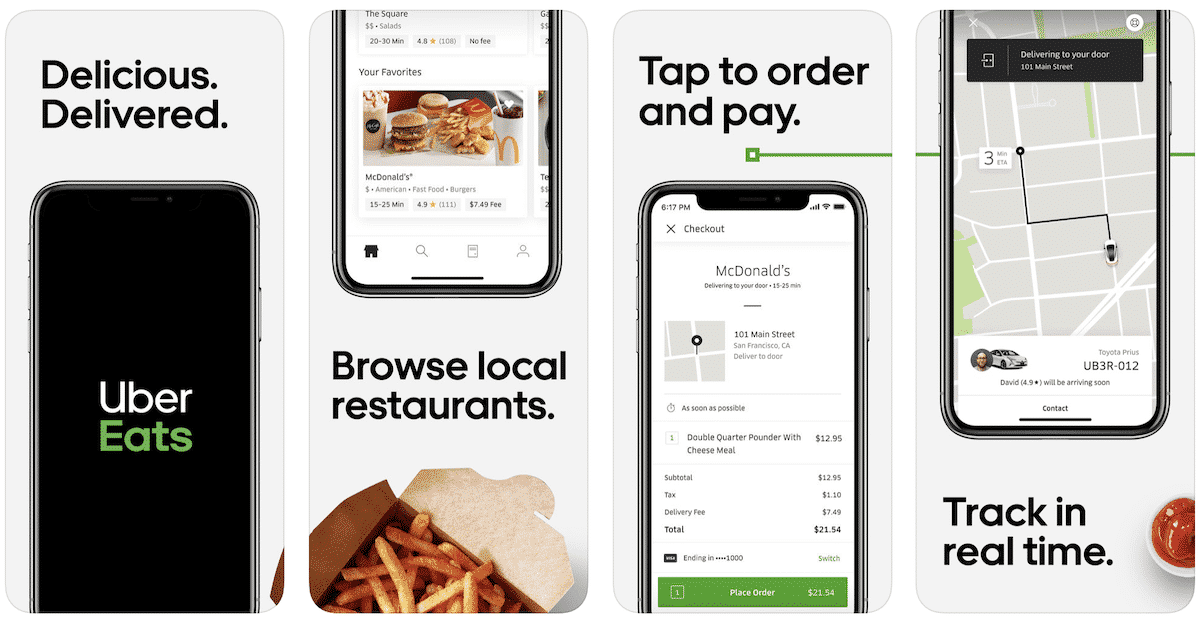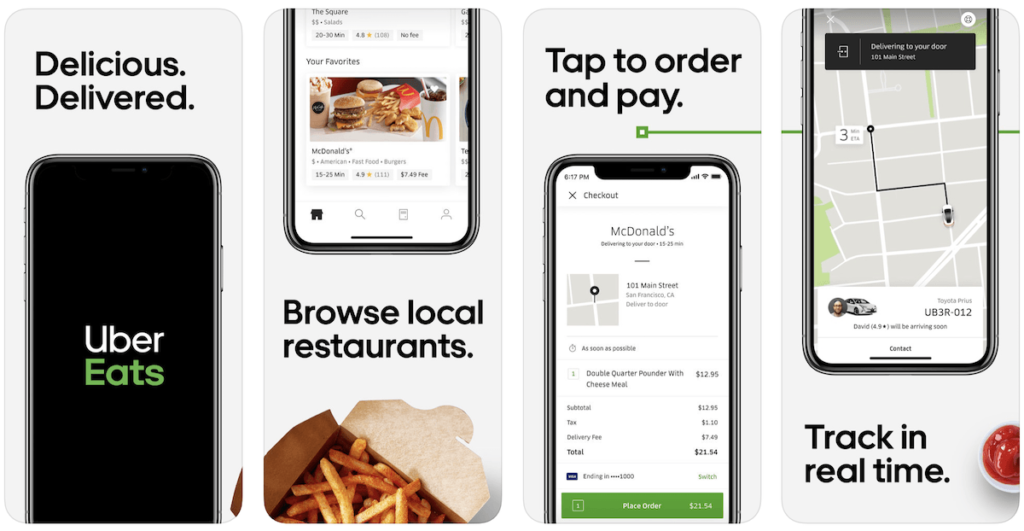 Uber Eats Driver Pros
The app's Boost feature shows you the best place and time to deliver
You can pick up two different orders from one restaurant at the same time
You don't need a vehicle to sign up
Uber Eats Driver Cons
You can get timed-out of the app for declining orders
Drivers rarely receive tips
What do they both offer?
Flexible work hours
Drivers keep 100% of customer tips
Drivers are paid higher rates during peak hours
You can choose which orders to accept or decline
Where do they both fall short?
Inconsistent income
High mileage on your car
Service charges and cost of gas may outweigh the delivery cost
Signing up for DoorDash and Uber Eats
Do you want to sign-up for one of these apps as a driver? Follow the easy steps below to get started.
Sign up for DoorDash
Go through a background check (and a motor vehicle check if you're using a motorized vehicle)
Schedule an orientation or request Activation Kit
Activate your Dasher Red Card
Set up your direct deposit
Sign up for Uber Eats
If you're new to the Uber platform:
Consent to a screening and upload the required documents and a photo
Once you're notified that you are active, you can begin to receive delivery requests
If you're already on the Uber platform:
Open the Driver app and navigate to Account, then select Vehicles
Once you review and accept the delivery terms, you can begin receiving delivery requests
You can turn delivery requests on and off as you wish
DoorDash vs. Uber Eats: Which is the Best for Drivers?
In the past few years, the demand for home deliveries has increased significantly. For customers, food delivery apps are a convenient way to get what they want without leaving their house or office. In the age of coronavirus, when most people are reluctant to dine out, the use of these services have skyrocketed. Restaurants have also increasingly registered on Uber Eats and DoorDash, creating a need for more drivers.
When you sign up for Uber Eats or DoorDash as a driver, you have the freedom to work in your spare time or even during your lunch break. You'll be able to determine when, where, and how much you work – making it an excellent stream of income for people who are always traveling.
After all, Uber Eats is available in 45 countries, and DoorDash is available in thousands of cities across three countries. People whose schedules are keeping them from working full time will also benefit from signing up for one of these apps.
What's more, promotions and tips let you earn a few more bucks per delivery. Sometimes, the tip you're given will be more than your base pay. As a bonus, you'll probably discover a few new local restaurants while you're at it.
While DoorDash and Uber Eats are incredibly similar, there are a few differences that can probably be chalked up to your personal preference. You can throw in Postmates in there as well, which I recommend you consider as it pays slightly higher (check out our Postmates review to see how much more).
Now that you have all this information, it will probably be easier to decide which app you like better. That being said, what are your thoughts? Which app offers delivery drivers the most benefits – DoorDash or Uber Eats?
Our Picks for Best Food Delivery Apps for 2022
SIDE GIG
TYPE OF WORK



START EARNING



Food delivery with DoorDash
Drive and deliver with DoorDash and start making money today. Pick your own schedule and use any car or bike. Fast signup, great pay, easy work.



✓

Work anytime


✓

Work from anywhere


✓

Access Fast Pay



START EARNING



Get paid to shop with Instacart
As a shopper, you'll pick and deliver the items that customers want and get paid for it.



✓

Make up to $25 per hour including tips


✓

There's no set hours with Instacart


✓

Just open the app and shop whenever it works for you



START EARNING



Drive with Uber
Sign up to drive with Uber when you want and earn anytime, anywhere.



✓

Work anytime


✓

Work from anywhere


✓

Signing up is easy