Upwork and many other freelancing platforms offer entrepreneurs the chance to connect with clients and earn money to support or even substitute a full-time job. Succeeding on Upwork, however, can be harder than it looks, especially if you're new to it all.
Did you know there are over 70 million freelancers in the United States? If that isn't a sign of the times, I don't know what is. 
With more people freelancing to make ends meet and get ahead, platforms like Upwork continue to increase in size and potential. Finding the right jobs for your experience level, however, can be difficult.
Our list of the best Upwork jobs for beginners is a great place to start if you're lost. Getting ahead with Upwork is simple, as long as you know how to play the game and where you can fit in.
Are you ready to find out more about Upwork jobs for beginners? Let's get started!
12 Best Upwork Jobs for Beginners
Sometimes figuring out how to make money without a job means taking on freelance work. If you want to know how to make money online without paying anything, Upwork is a great place to start.

Upwork
Upwork is a marketplace for freelancers in fields like writing, graphic design and web development. The site helps professionals find projects, communicate with clients and get paid.
If you're a new freelancer, or working in a new field, you can rack up valuable experience without always having to pitch clients cold.
Start Earning on Upwork
1. Task-Based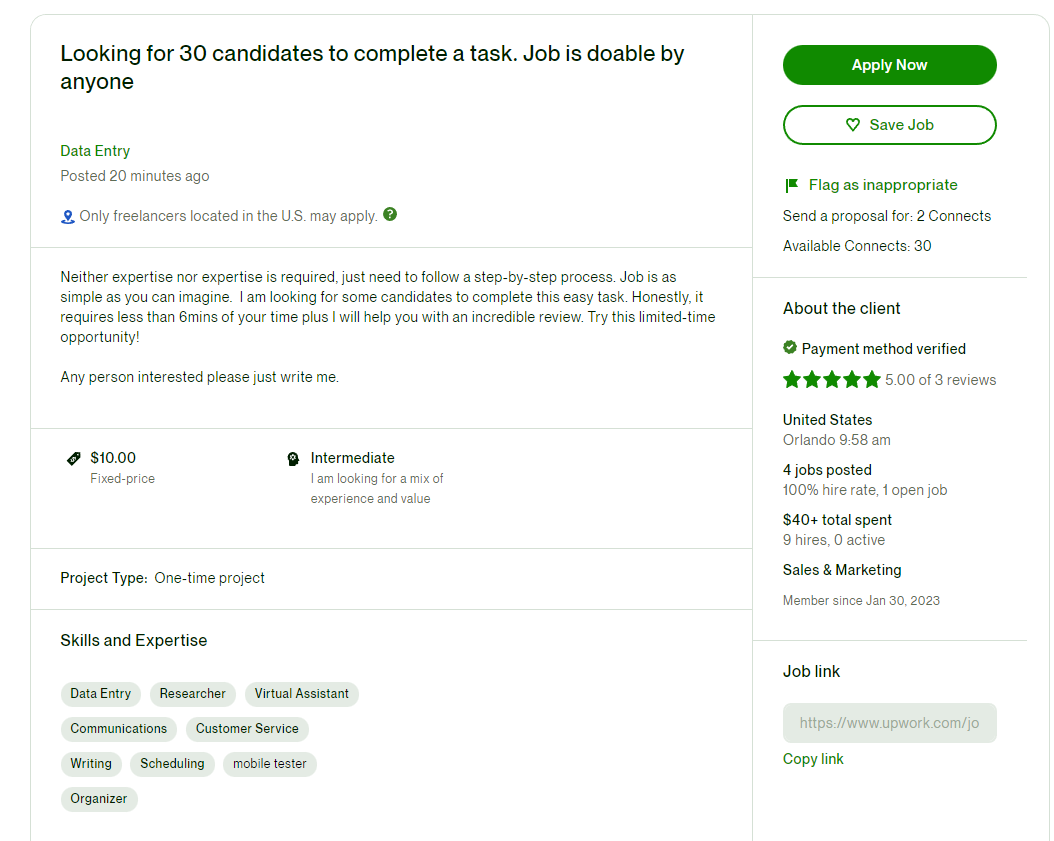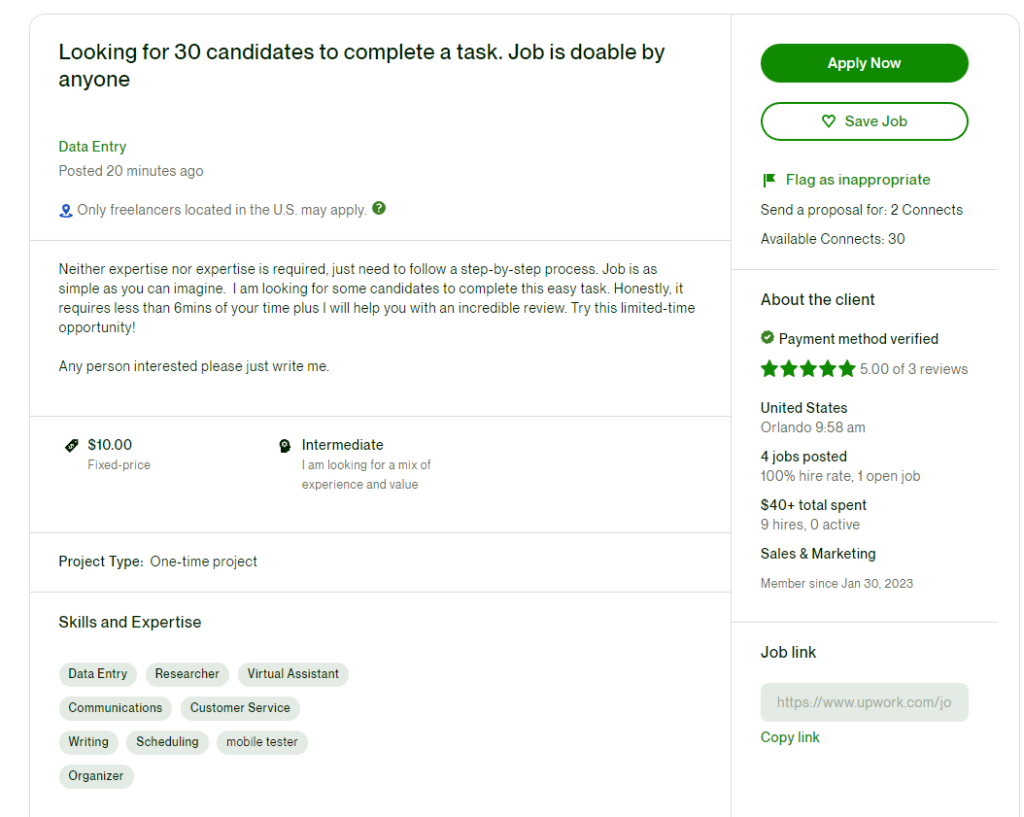 In the gig economy, it's not hard to find task-based jobs you can do to earn money. In fact, it's the premise that makes apps like TaskRabbit so popular. 
Upwork features several task-based jobs that are perfect for beginners. These jobs center around a task that the client just doesn't have the time, energy, or desire to complete.
For example, you can earn $10 from the listing above, which requires you to complete a task that takes less than six minutes. While the wording is a bit vague, there's always an opportunity to inquire further about the details in your proposal.
Many of these task-specific jobs on Upwork are lower-paying and can be labor-intensive. However, much of the work you'll be doing is basic and doesn't require any unique skills.
The type of work you'll be doing for each task depends on what the client wants. You could be doing administrative work, entering data, or even just working through a specific task that will tell your client whatever it is they need to know.
Because these types of jobs cater to anyone who has a profile on Upwork, competition can be fierce. Bidding quickly on these types of task-based jobs can help you potentially stand out to get hired.
2. Location-Specific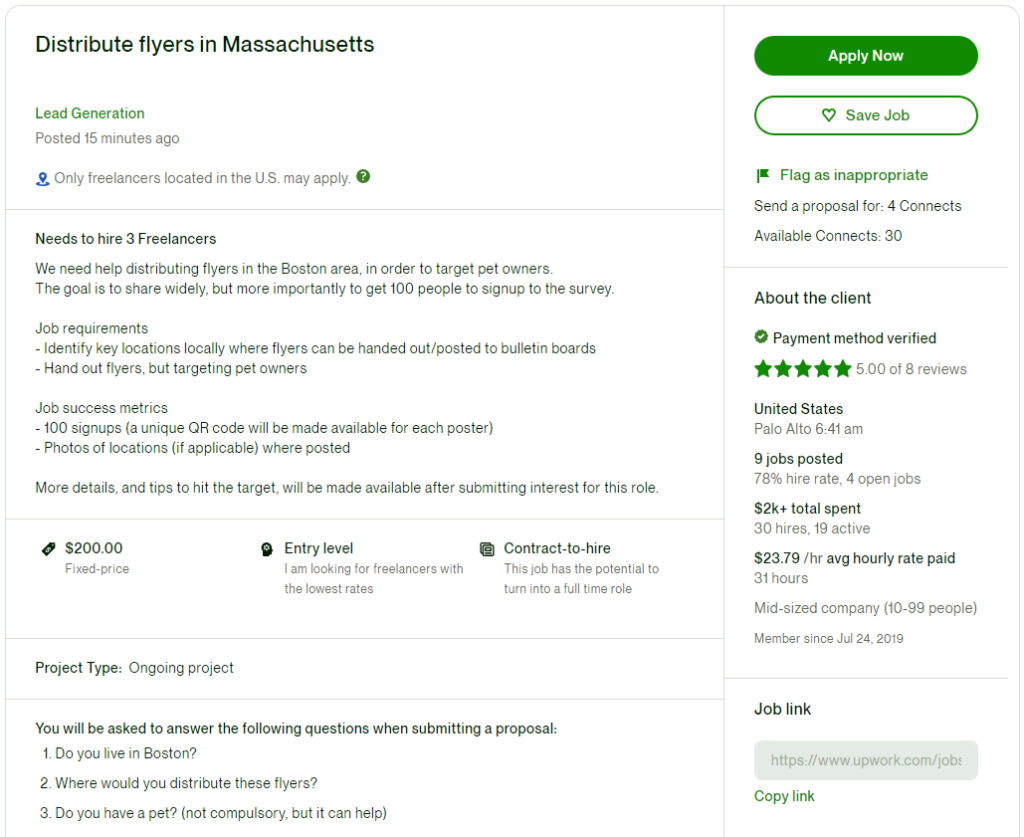 Though Upwork employs a large remote community, many clients are looking for local freelancers to complete in-person work. This type of work requires that you be in the right place at the right time to get hired.
For example, if you live in Boston, Massachusetts, and want to help distribute flyers, you can apply for the job above. You'll be paid $200 if you get 100 people to sign up and share photos of locations where you posted your flyers.
Other jobs may require that you have specific local knowledge. You may also be asked to visit a particular establishment, interview local business owners, or take location-specific photos.
If you're able to complete a job where you take photographs, you may be able to sell those photos you didn't submit. Selling photos online is another type of freelance work you can get into to earn more money.
3. Transcriptionist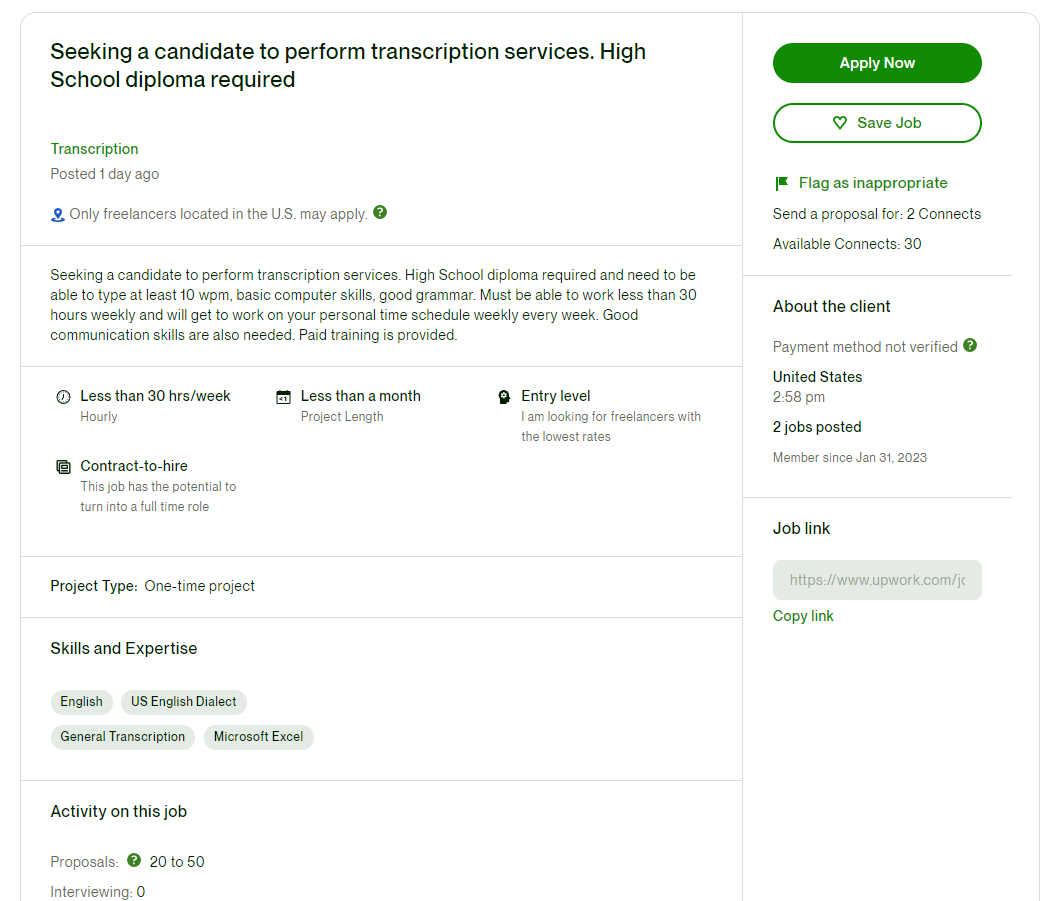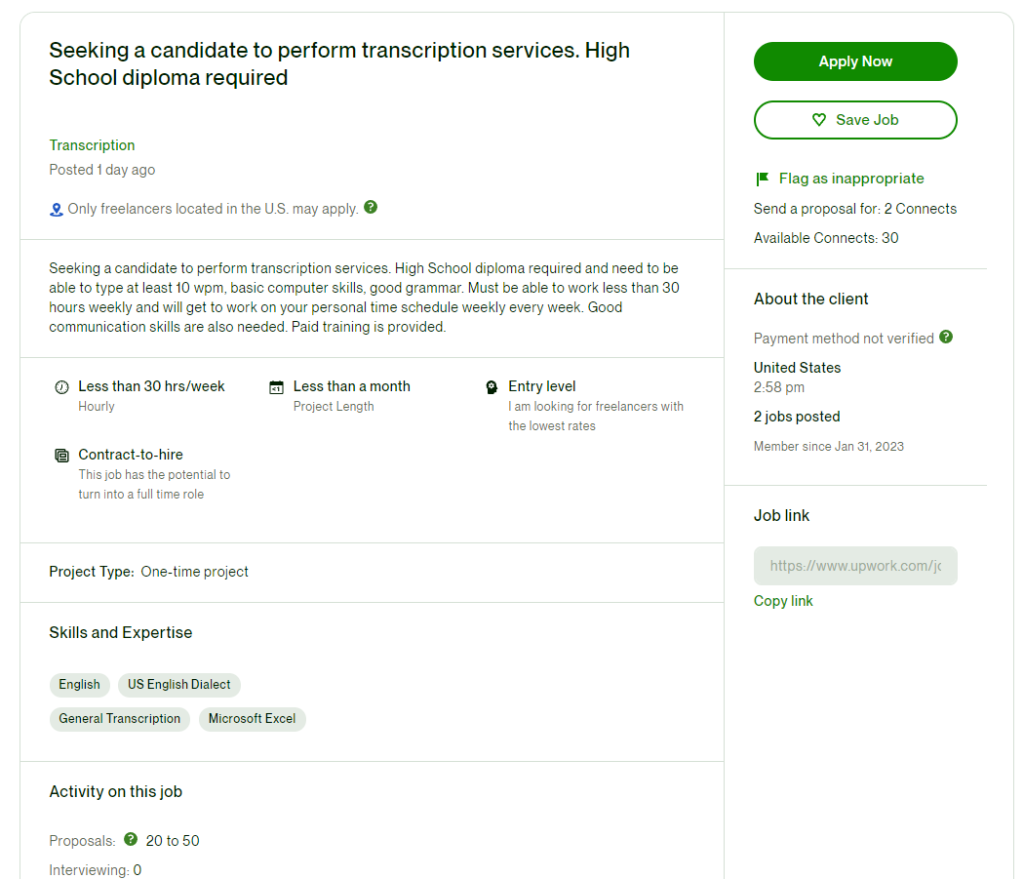 Some of the best transcription jobs can be found on Upwork. Clients expect transcriptionists to take audio files and transcribe them with time stamps and speaker tags.
It's important to note that transcription jobs are paid on an audio-hour rate, rather than a strict hourly rate. This means that you're paid for the length of the audio, not how long it takes you to transcribe the audio itself.
As such, transcription jobs tend to pay a lower rate. They may also require a transcription pedal and software to properly format the completed transcription document.
Depending on how fast you type and how accurate you are with your keystrokes, you can earn quite a bit completing transcription work. If you find a client that regularly produces audio content for you to transcribe, you can use that steady work to build up a portfolio and find more transcription jobs on Upwork.
4. Language-Based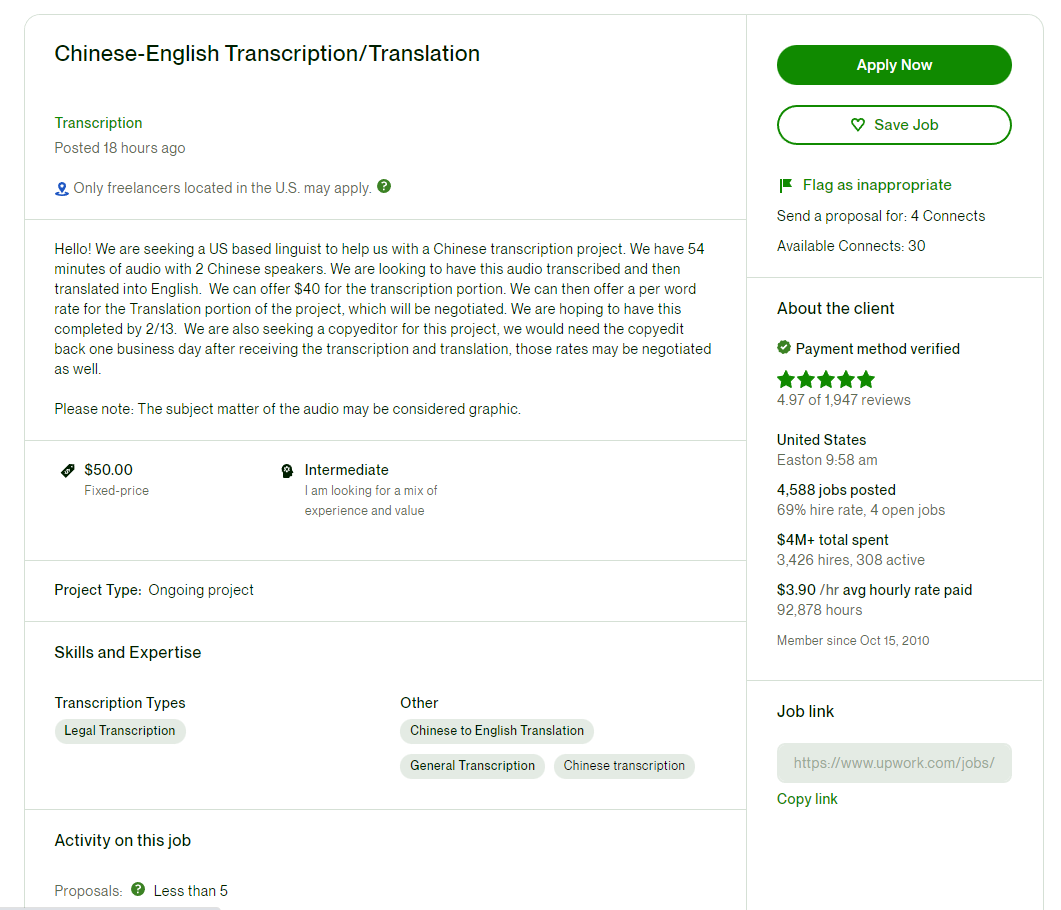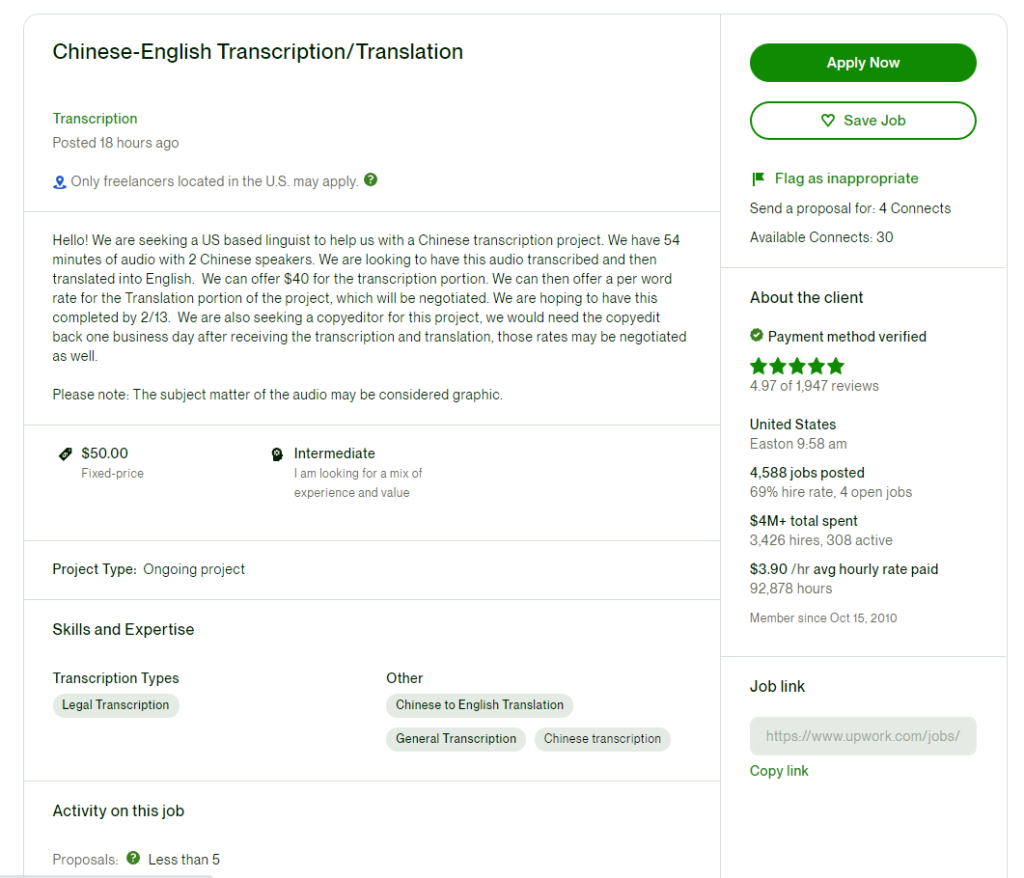 As you can see from the job posting above, language-based work is another easy Upwork job for beginners. You will need to be able to read, write, and speak a language to apply to these types of jobs, though some don't require all three forms to be successful.
English is by far the most popular language on Upwork, but there are plenty of language-based jobs that beginners can take advantage of. Besides requiring a language element, many of these jobs vary in the scope of work requested.
For example, you may be asked to voice over in another language, rewrite a specific text, or even translate an English piece to fit that language. Though native speakers are the most sought after, a command of the language can often be enough to qualify you for these language-based jobs.
When you create your Upwork profile, be sure to include which languages you're familiar with and whether or not you can read, write, or speak them. This can help you stand out as a beginner to earn more language-based jobs on Upwork.
5. Voice Talent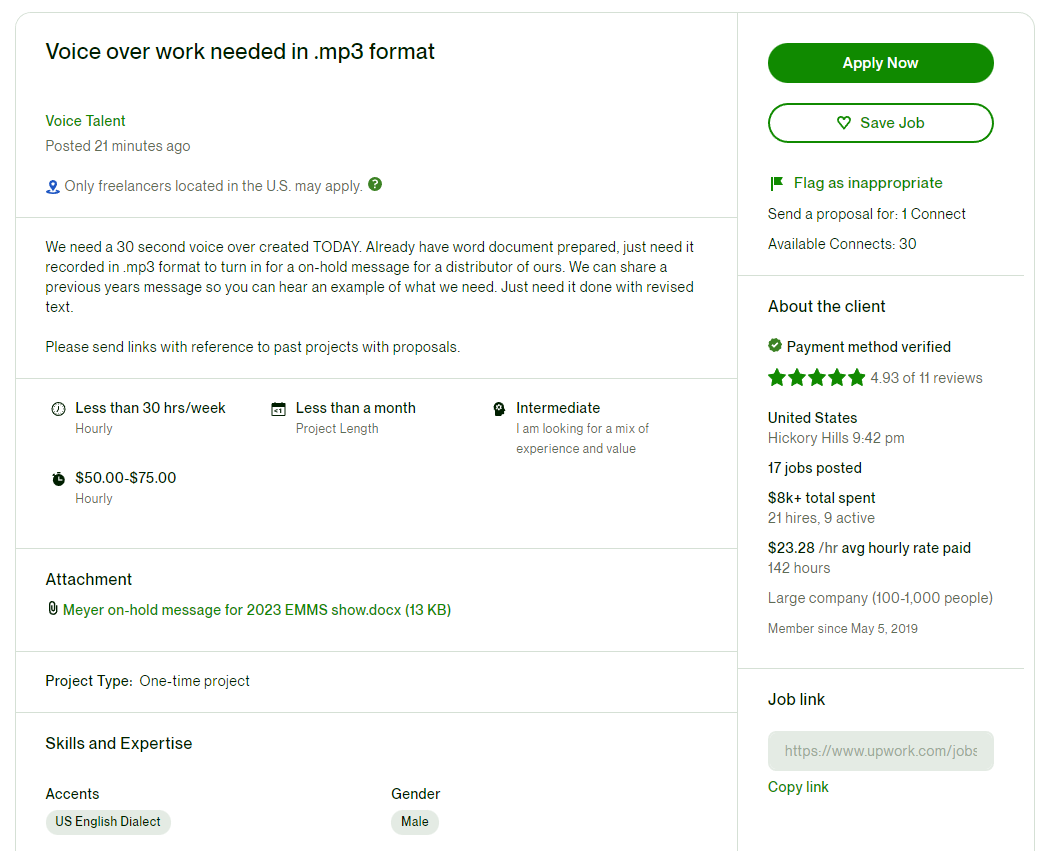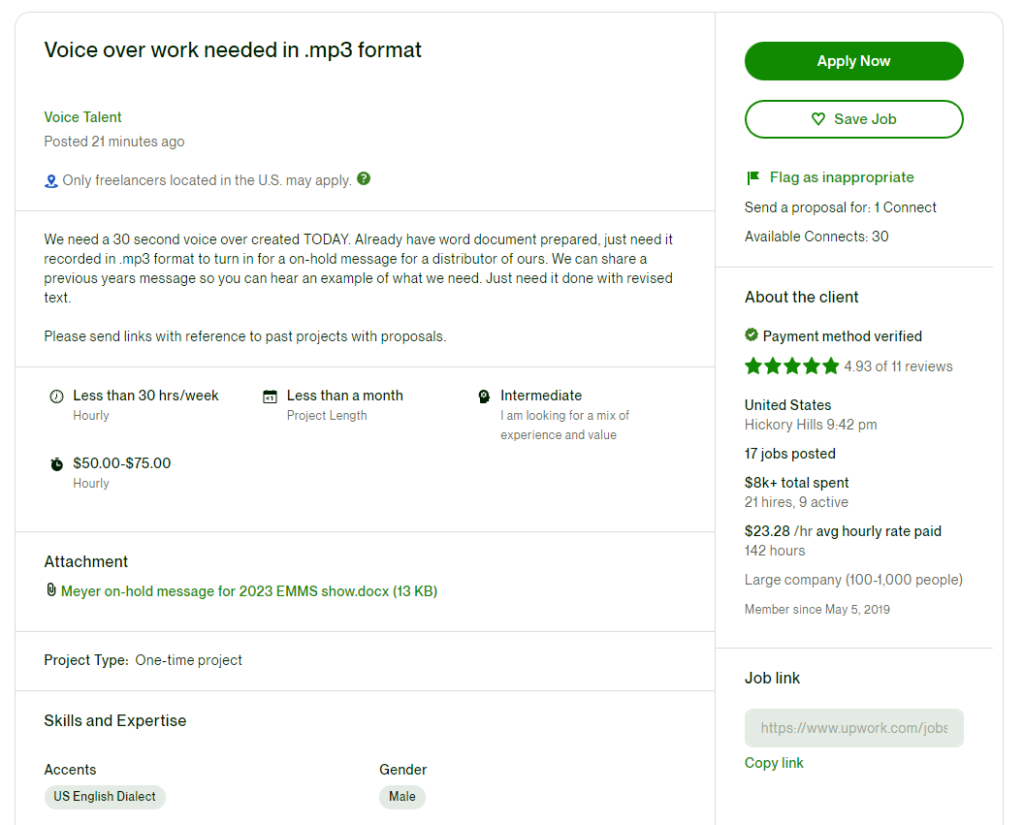 If you like to get paid to listen to music, you might not have considered switching roles to be the voice talent other people hear. However, if you search for voice talent work on Upwork, you can potentially start a portfolio of voice work to propel you forward.
Many voice talent jobs on Upwork require you to record your voice and submit it for money. You could simply be reading a text aloud, you could be acting out a specific scenario, or you might even get paid to read a specific text to your audience.
Voice talent jobs on Upwork aren't the highest paying you'll find, but they can be a great way to establish a portfolio in this area. Plus, many other websites will pay you specifically for voice talent, so it's a job with a future.
The best part is that, as long as you fulfill the requirements of the audio you spoke aloud, you don't have to be a professional voice actor. You can speak as you normally would and get paid for it.
6. Content Writer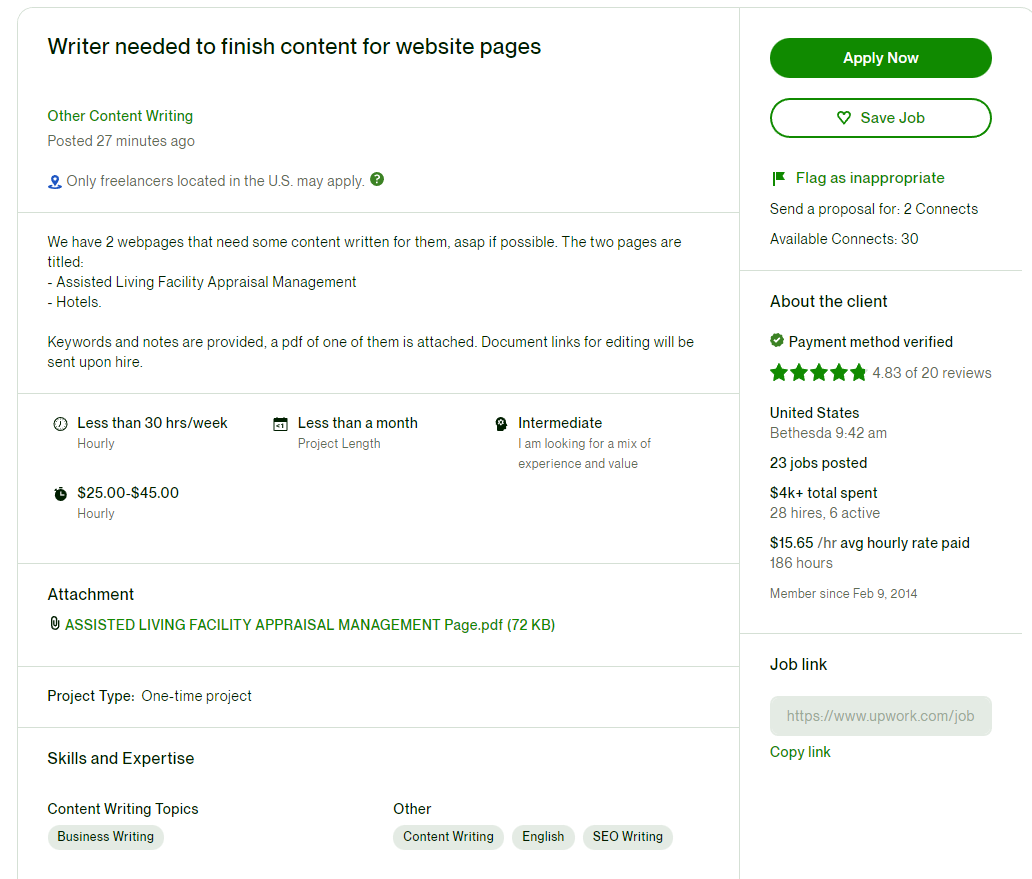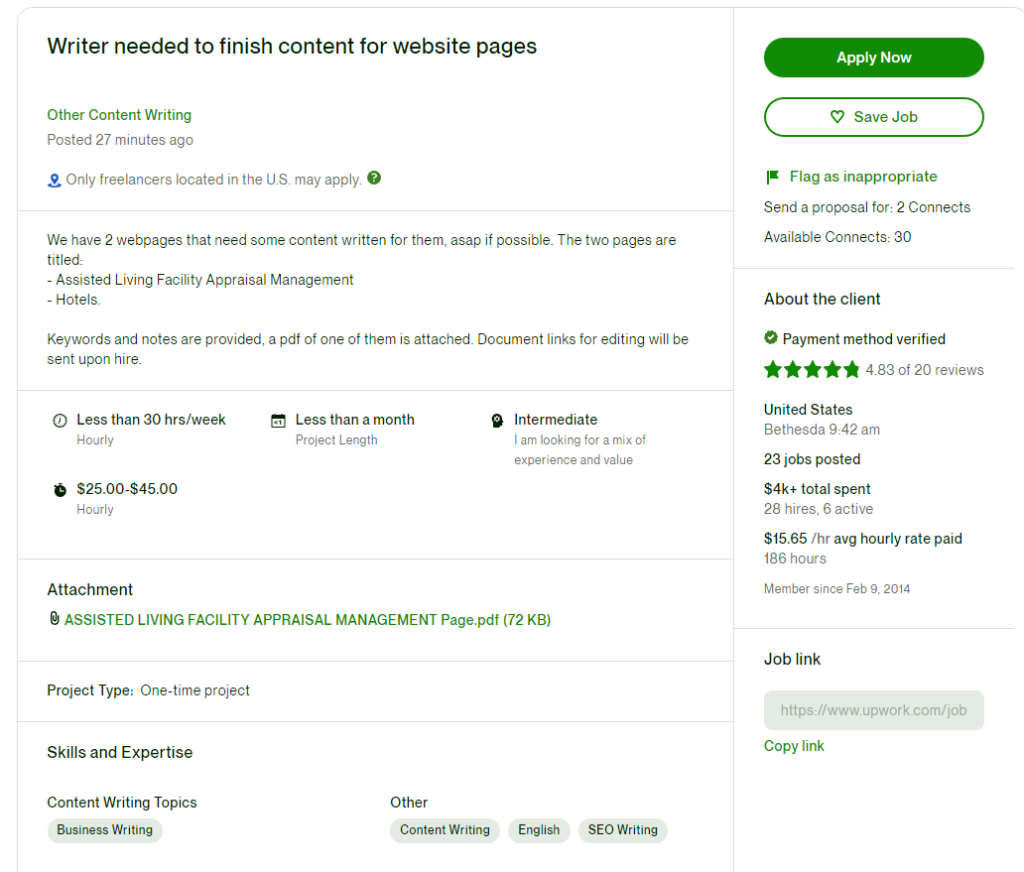 In the age of passive income websites that entrepreneurs use to earn money as they diversify their income, creating content can be a lucrative business. With Upwork, you can get paid to write various website content, from "About Us" pages to regular blog posts.
Many of the clients who want content writing done for their websites establish a rubric for how the content is to be structured, how to incorporate SEO tactics, and how long each piece should be. However, that's not the only type of content writing work available on Upwork.
You can earn money freelancing by writing ebooks and even ghostwriting entire novels. However, if you don't have an extensive writing background or haven't published your own novel, we recommend avoiding novel-length jobs and sticking to something like the post above.
When it comes to content writing, jobs can either be one-time or long-term. As in the example above, the client probably doesn't need these two pages written every week.
A combination of one-time jobs and those that extend further into the future can help you build a portfolio as a writer. You'll soon find that while some of the details may change, it's all about bringing information to your readers in a unique and impactful way.
You may even find that you gain enough experience to create your own website and complete the lifecycle. Rather than writing content for others, you can hire content writers for your website so you can focus on other endeavors.
7. Data Entry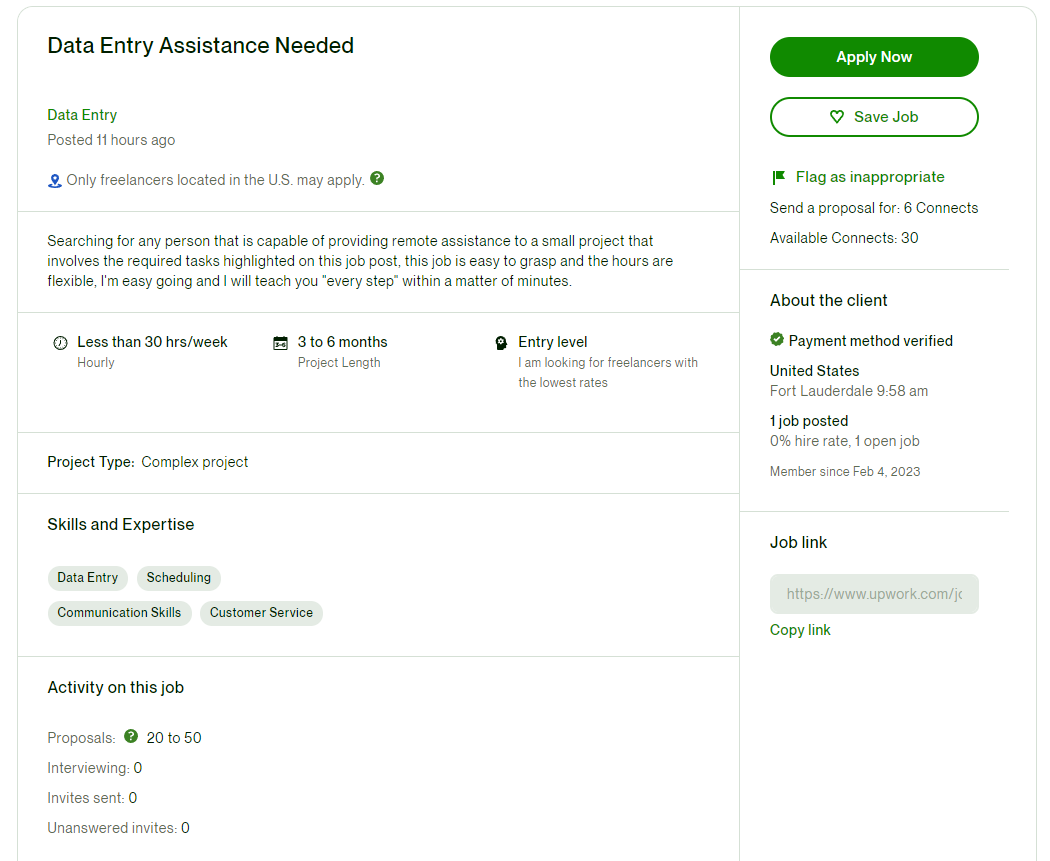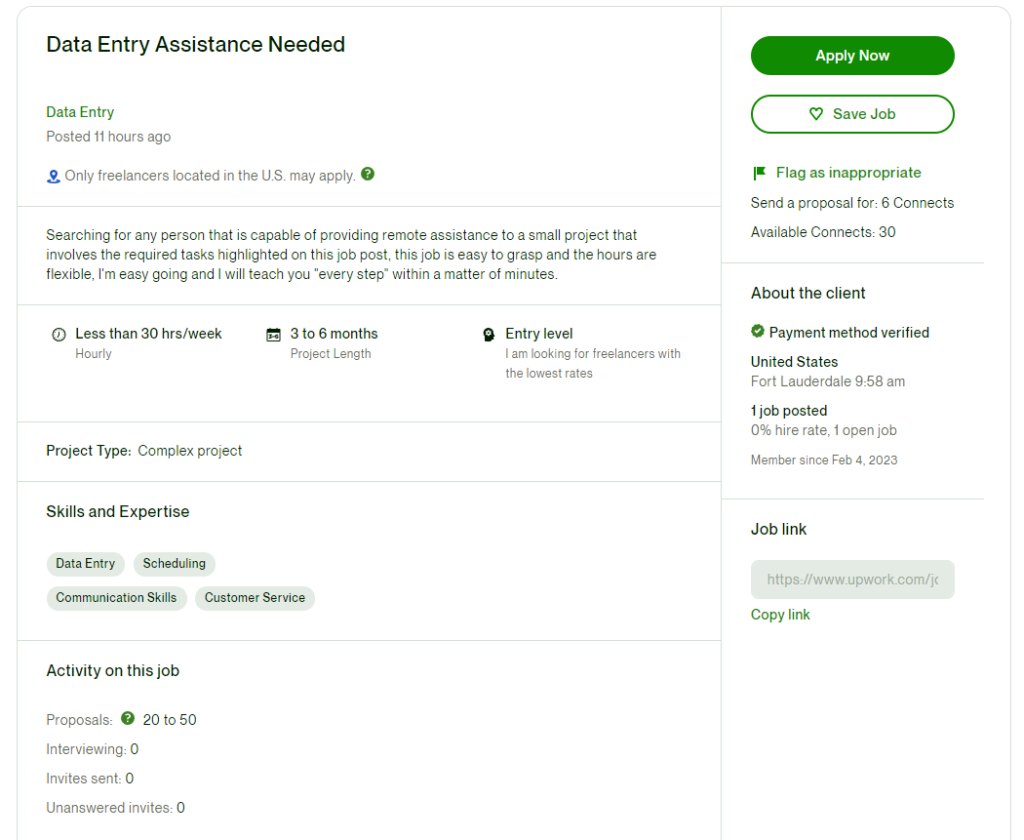 Data entry is one of the most tedious types of grunt work, but it can pay well if you're a beginner freelancer on Upwork. Most data entry jobs don't require a lengthy skill set and you can complete these types of jobs in your free time as you prefer.
Some people might be bored by the work you do as a data entry clerk, but oftentimes it can be therapeutic to focus on a simple task. Plus, with Upwork, you can get paid for your work as you chill in your home environment.
As you work various data entry jobs, you'll find that some niches are more lucrative than others. Follow these trends to expand your skill set and see what other types of work are out there.
In considering each data entry job, be sure you know the scope of work, specifically in quantity if it applies. Whether you're working on Word documents, Excel files, or some other type of software, knowing what you're signing up for can help you avoid a sticky situation.
8. Testing/Review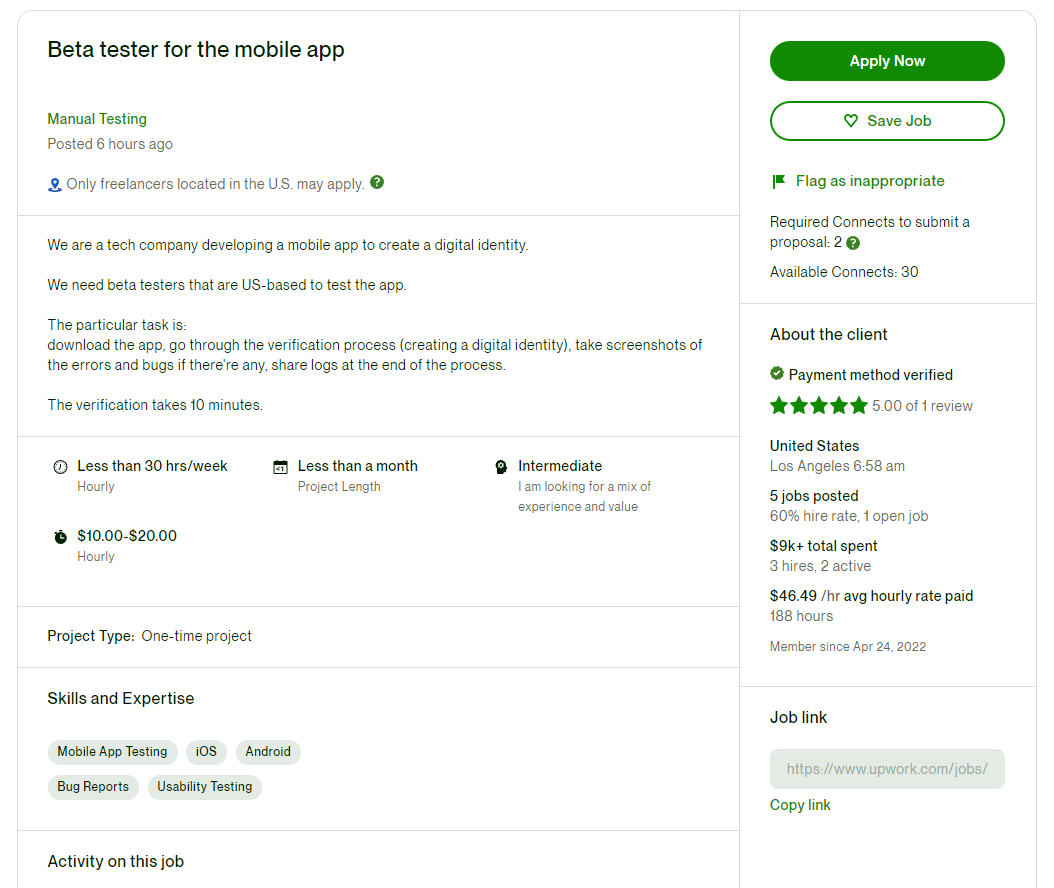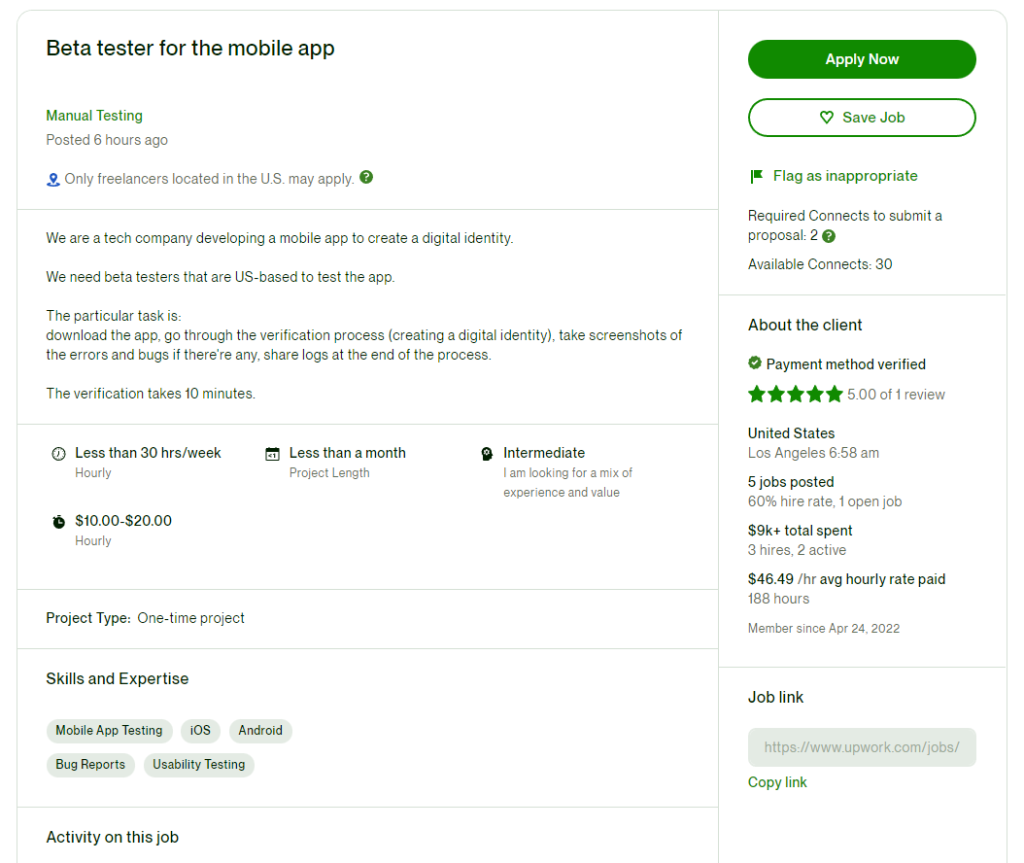 You probably already know that some of the highest-paying survey sites will reward you for sharing your opinion. However, even the best survey apps don't pay you enough to satisfy full-time income requirements.
That's where testing and review jobs on Upwork come in. These jobs are similar to task-based jobs in that you're typically asked to test an app or program and share your feedback.
You might even consider this type of work to deal with quality assurance, as companies want to know about bugs in their websites or apps before the general public has a chance to experience their product. Think of it as working to share with developers your experience to create a better experience for future users.
9. Virtual Assistant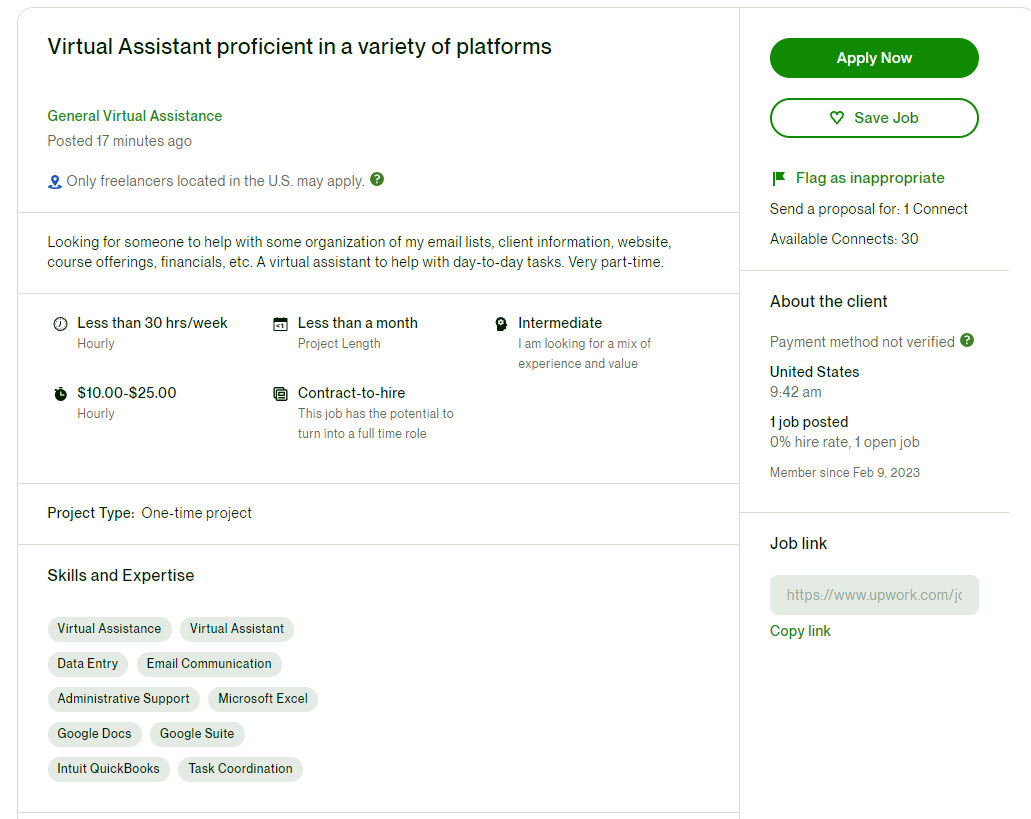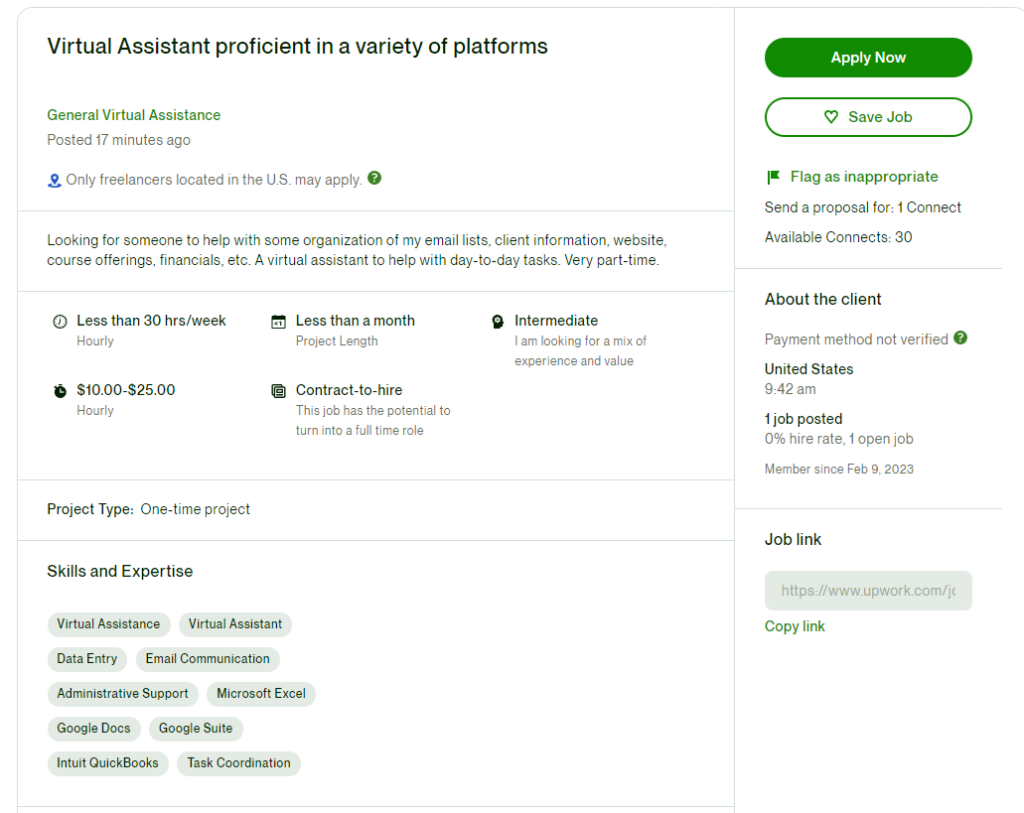 If you're looking to make money fast to the tune of $500, virtual assistant jobs can help you achieve that goal. Much more than a virtual friend, a virtual assistant is like a personal assistant that works remotely and keeps a business running.
Typical virtual assistant tasks include scheduling appointments and travel arrangements, communicating with clients, posting on and managing social media accounts, and even answering phones. Each virtual assistant job may also require you to complete various unique tasks based on the business and its owner.
Virtual assistant work is something you can do on Upwork from home. You don't have to visit an office each day or even interact with others in some cases.
If you're someone who likes to work behind the curtain, virtual assistant jobs on Upwork could be your cup of tea. You don't need any prior work experience to qualify and yet there are many opportunities for virtual assistants, even beyond Upwork.
10. Editor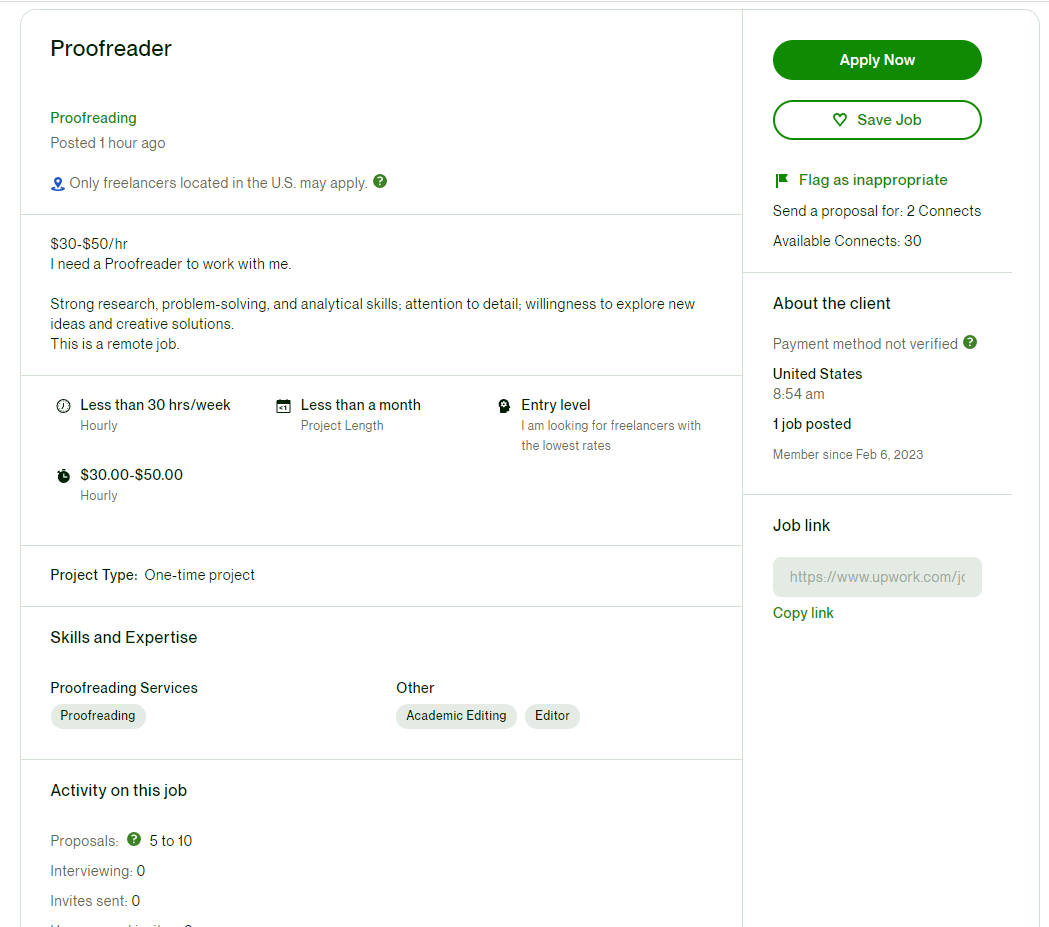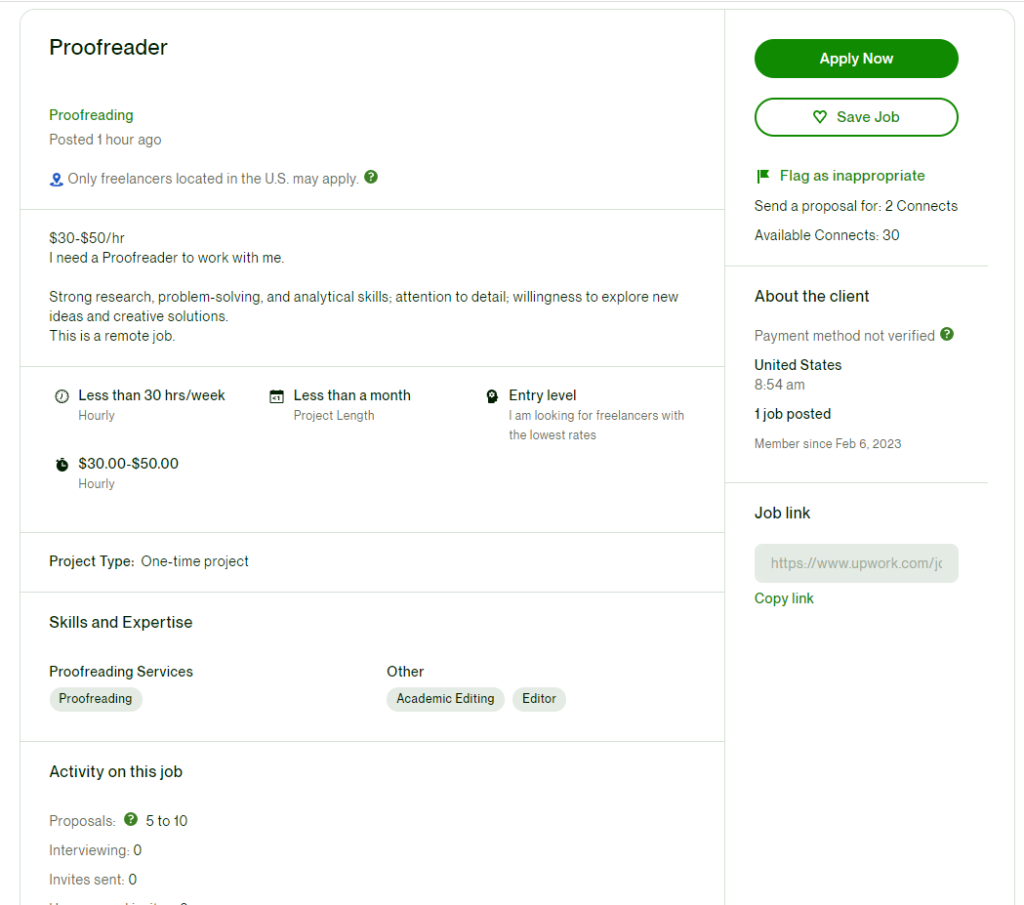 Are you good with grammar and know a mistake when you see one? If so, proofreading and editing jobs (like the one above) are yours for the taking on Upwork.
Succeeding as a freelance editor on Upwork means you'll be tackling all kinds of written content, from business documents and ebooks to manuscripts of all kinds. You may even oversee a team of content writers and edit their pieces before publishing them to the client's website.
While love for grammar is perhaps the only definable prerequisite for this type of work, familiarity with the various styles can help you land jobs as well. Knowledge of the Chicago Manual of Style, AP Style, and others can help you stand out from the competition on Upwork.
11. PowerPoint Expert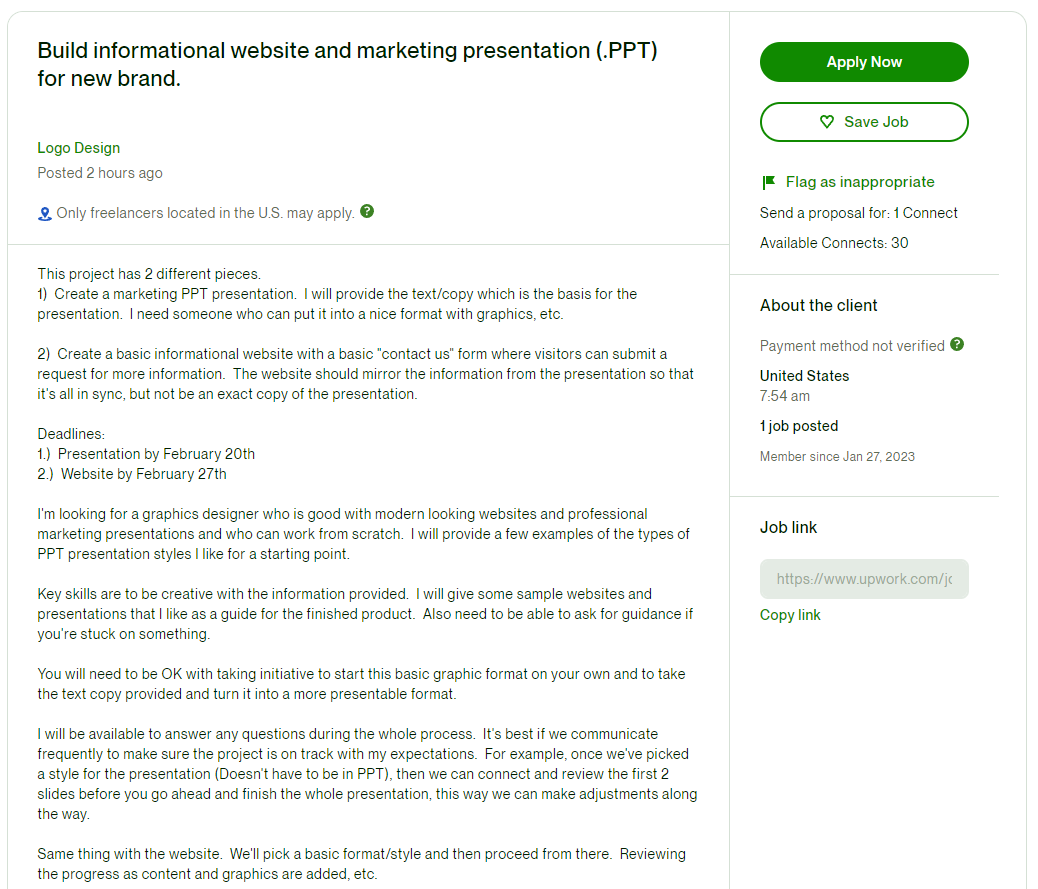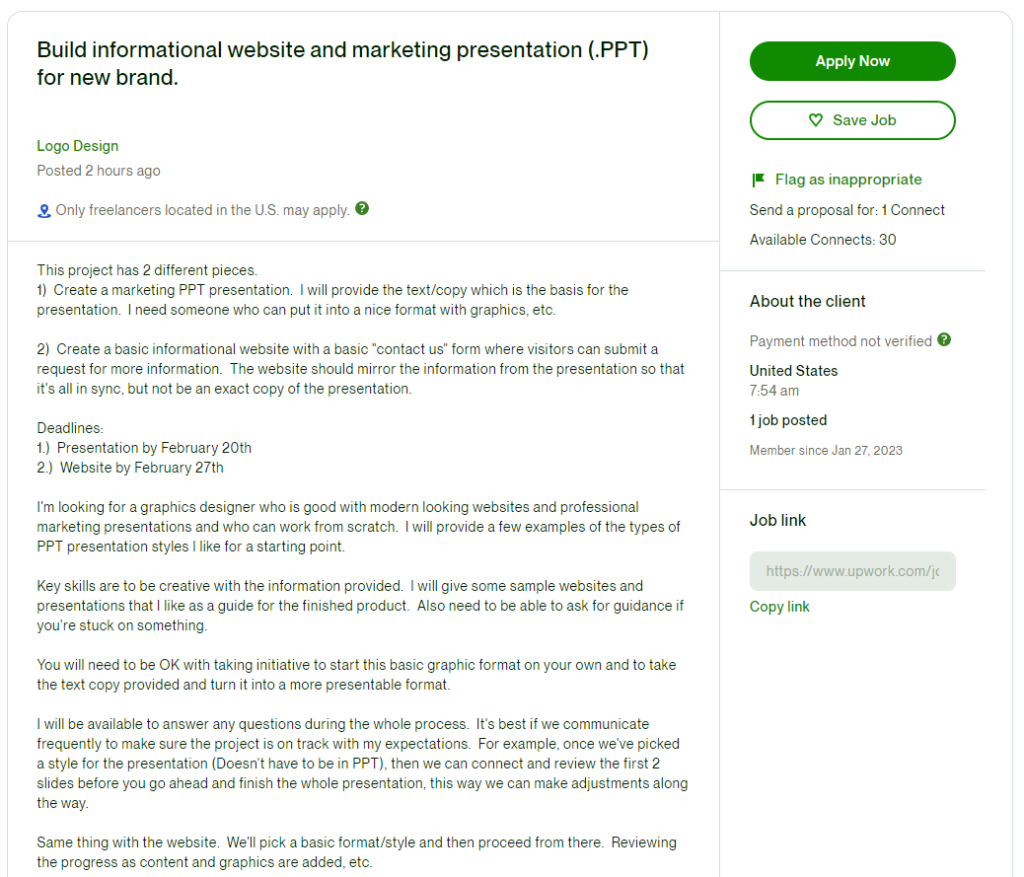 Creating a PowerPoint presentation as a kid might have been a chore, but now you can get paid for it on Upwork. Clients like the one in the listing above will even pay you for creating a website in addition to a PowerPoint presentation.
However, creating websites isn't required if you want to succeed on Upwork as a PowerPoint expert. All you have to do is deliver the wow factor when it comes to visual effects.
Many of the clients you'll be working with in creating and editing PowerPoints are either students or working professionals. Though some might consider this work to be grunt work, you really do need a good sense of PowerPoint to succeed.
Knowing PowerPoint can help you land other types of jobs, such as a virtual assistant. If you add graphic design to your profile, you can land similar positions to help you develop your skills and reputation.
12. Customer Service Agent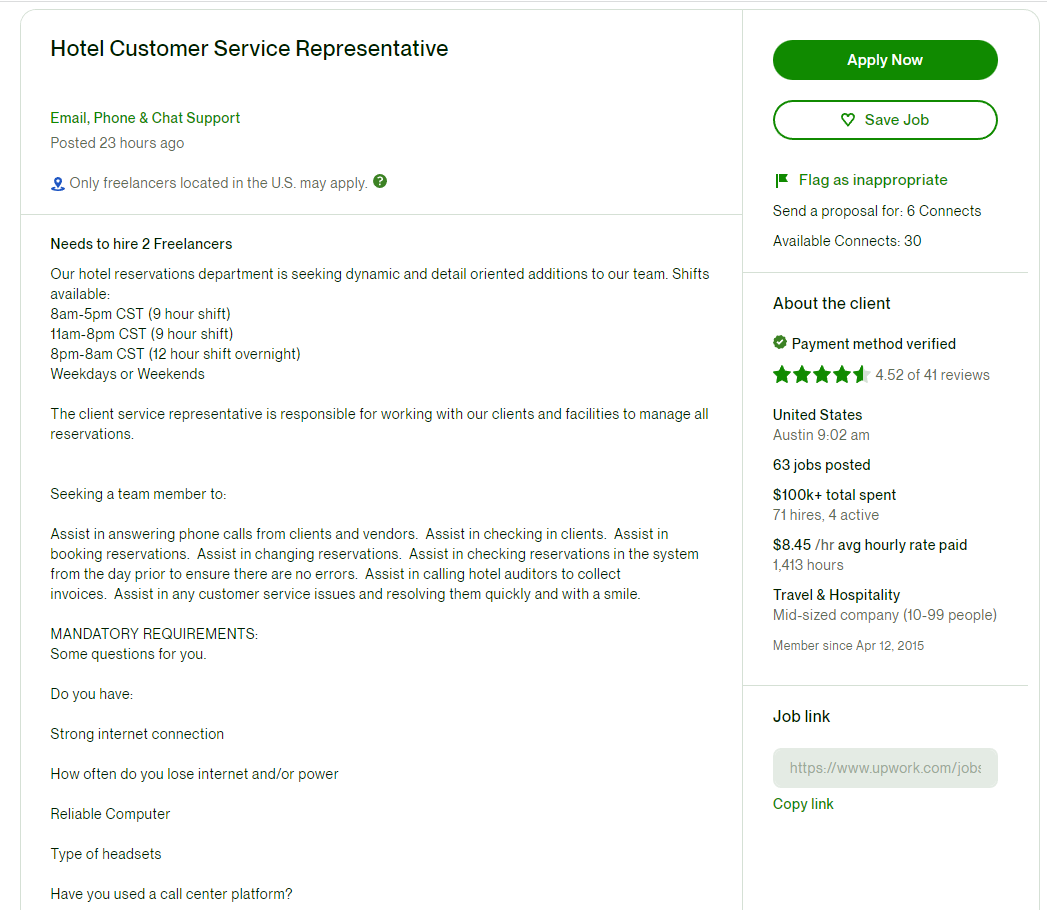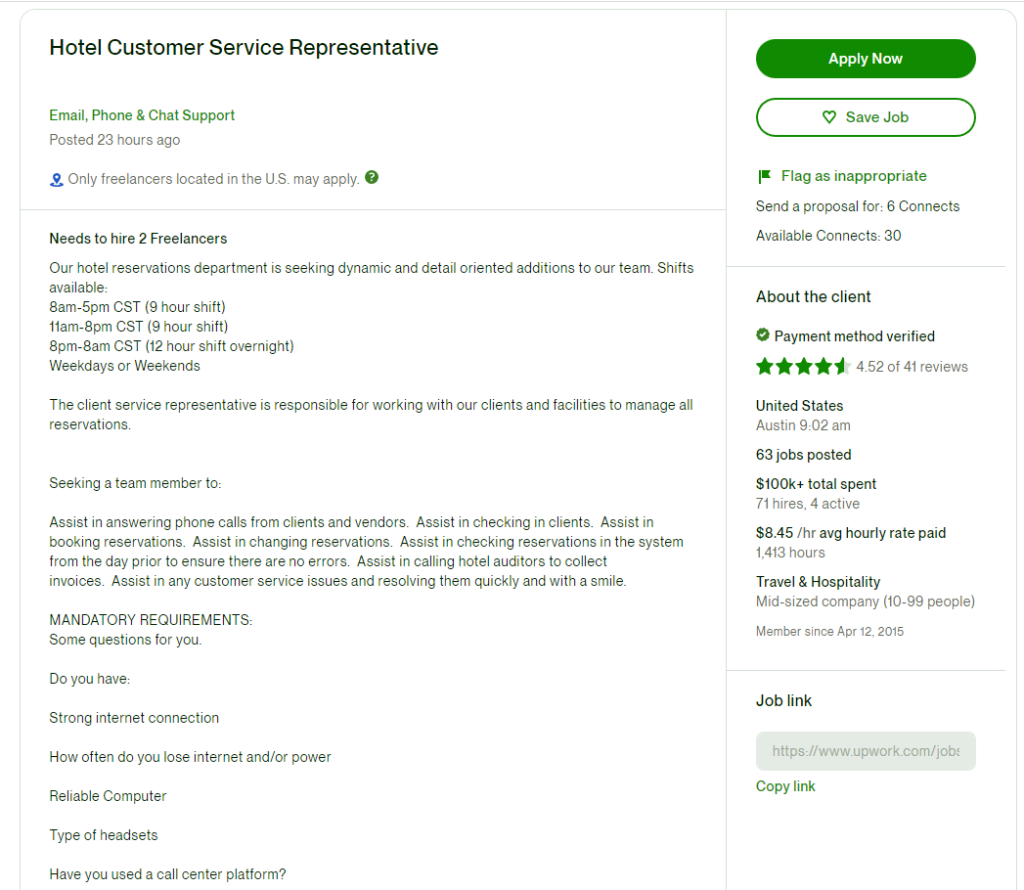 Last but not least on our list is a customer service agent. Though representing a brand over the phone may not be your ideal job at the end of the day, it's a way to stay at home and work through Upwork to earn an income.
All customer service jobs do not require you to speak on the phone. In some cases, you may be able to connect with customers through email or chat.
Customer service jobs don't often require experience, though you should at least be able to tolerate working with the public. Most customer service jobs are paid by the hour, so you can easily earn up to $15 just by talking with people all day.
How to Succeed on Upwork as a Beginner
As you look through jobs on Upwork, keep the following tips in mind:
Spend some time tailoring your searches. Use keywords such as "beginner" or "new to Upwork" or select "Entry Level" under the "Experience Level" filter.
Only apply for jobs with clients who have verified their payment method. This ensures there is a valid payment method on file to pay you should you enter into a contract with that client.
Apply for jobs in less than 24 hours after they've been posted. The sooner you can apply, the better.
Build out your profile and update it after every completed job. Once you feel confident in your skills, consider increasing your hourly rate.
Use your Upwork Connects wisely. Applying for jobs with less than 50 proposals can help you beat the odds.
Take the Upwork Readiness Test to earn 40 additional free Connects as well as enter the Upwork Rising Talent program. This program puts you ahead of your competitors in the eyes of the client and can help you land more beginner jobs.
Side hustles and work-from-home jobs can help us tackle life on our terms. See how you can achieve a better work-life balance with Upwork by taking on these beginner-friendly jobs.  
FAQs
What is the easiest work to get on Upwork?
Grunt work is one of the easiest types of work to land on Upwork. Grunt work includes completing tasks, entering data, or answering the phones. 
Who can join Upwork?
Almost anyone can join Upwork, as long as you abide by the rules and offer a service that isn't saturated on the platform. Visit Upwork's website to learn more about who is eligible to apply for an Upwork profile. 
Can you find work on Upwork with no experience? 
Yes, you can find work on Upwork with no experience. In fact, all of the jobs we've listed above don't require experience but allow you to earn money by working as a freelancer. 
How much does Upwork charge?
Upwork charges 10-20% fees on all earnings, in addition to charging for extra Connects. The more money you earn with a client, the less you'll end up paying in Upwork fees. 
Beginners on Upwork Can Succeed
Entering the freelancing workforce can be scary, especially if it's something you've never done before. However, Upwork makes it easy to not only gain experience as a freelancer but also find many different types of jobs you can do to get started. 
We hope this article has helped you to see what types of jobs you can do on Upwork as a beginner. Of the dozen types of jobs above, there's surely something you can take a stab at to see if you can supplement or even substitute your full-time income.
Upwork and freelancing in general are gaining popularity as the new way to earn a living and set your work standards. How will you use Upwork to achieve your career and financial goals? 

Upwork
Upwork is a marketplace for freelancers in fields like writing, graphic design and web development. The site helps professionals find projects, communicate with clients and get paid.
If you're a new freelancer, or working in a new field, you can rack up valuable experience without always having to pitch clients cold.
Start Earning on Upwork