We're attached to our mobile devices. According to a recent study, the average person spends nearly 5 hours a day on their phone.
Did you know that that phone that you use every day can actually put some cash in your pockets?
Life happens. Sometimes you need some extra cash to pay a bill or you're trying to save up for something you want. You don't want to fall behind on bills and are wondering how to make money today. Sure, another few dollars earned today wouldn't hurt.
We've all been there, but what do you usually do when that happens? Most people search google for something like, "how to make money right now?"
Look no further; this is an exhaustive list of things that anyone can do, today, in order to make money with apps that really pay.
If you're in serious debt, then this list might not be best suited for you – but in case you need $100 fast or even $500 fast in one day, it's possible if you're ambitious.
The Best Apps to Make Money Fast
This list of best apps to make money is broken down into the following categories:
I reviewed dozens of apps that claim to get you money, but only listed the legitimate money making apps.
Let's get started.
Money Making Survey Apps
1. Survey Junkie – $1.25 Bonus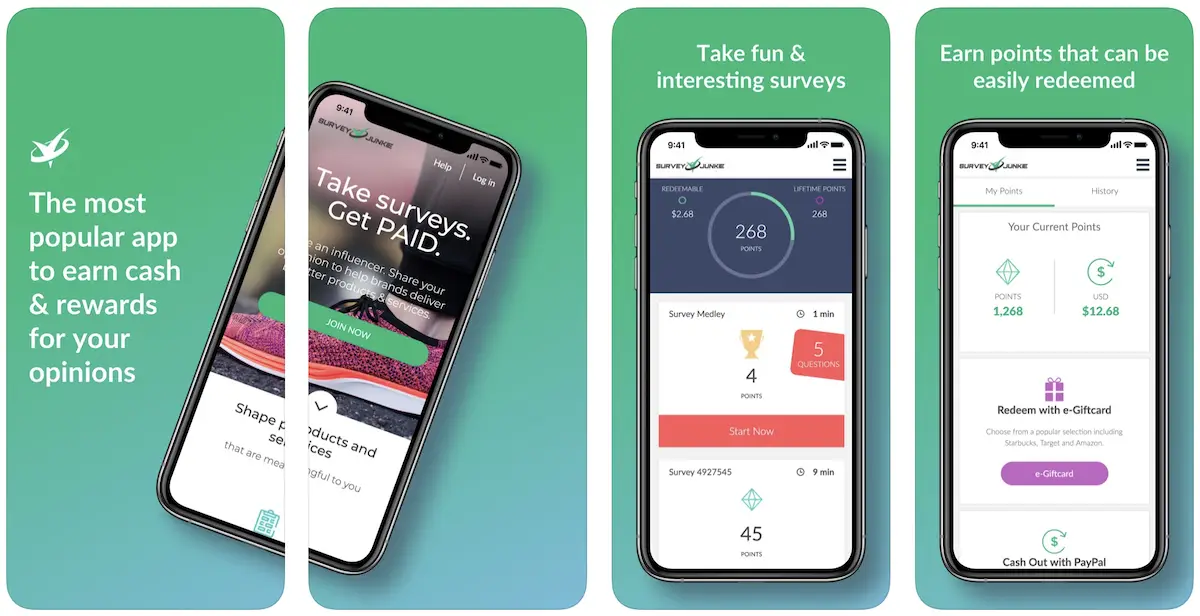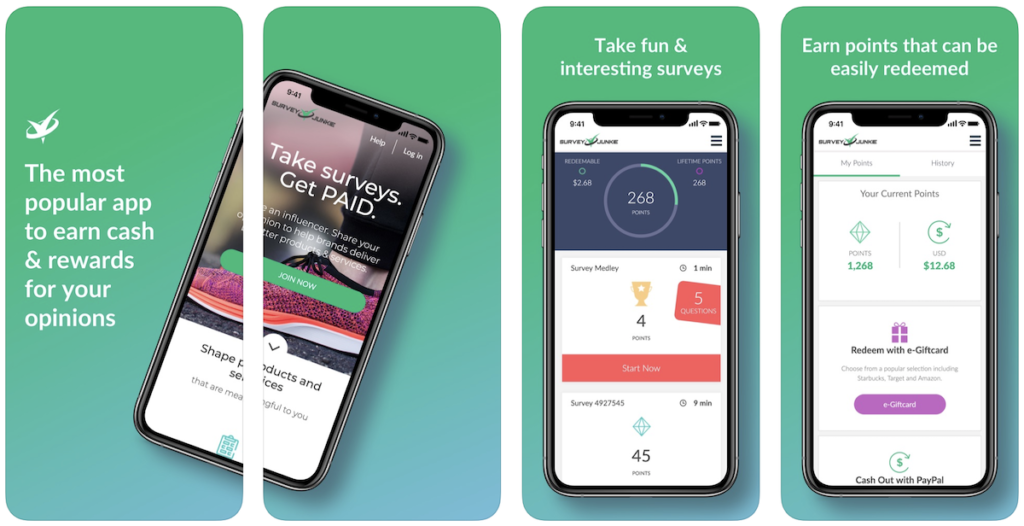 Taking online surveys to make extra money is a no-brainer!
You definitely won't get rich with surveys alone, but you won't waste much time, and you can make some money the easy way. Here is my favorite (and highest paying) survey site:
Survey Junkie: This is a free survey app for your phone that pays you to take online surveys, participate in focus groups, and try new products. And, I really mean free all around – free to join and they don't charge anything to be a member (they will actually pay you in cash via PayPal).
You can get a free registration bonus for free when you join through this link.
Survey Junkie pays between up to $50 per survey, and many of them take less than 5 minutes to complete. It is one of the highest paying survey sites that actually works.
2. Swagbucks – $10 Bonus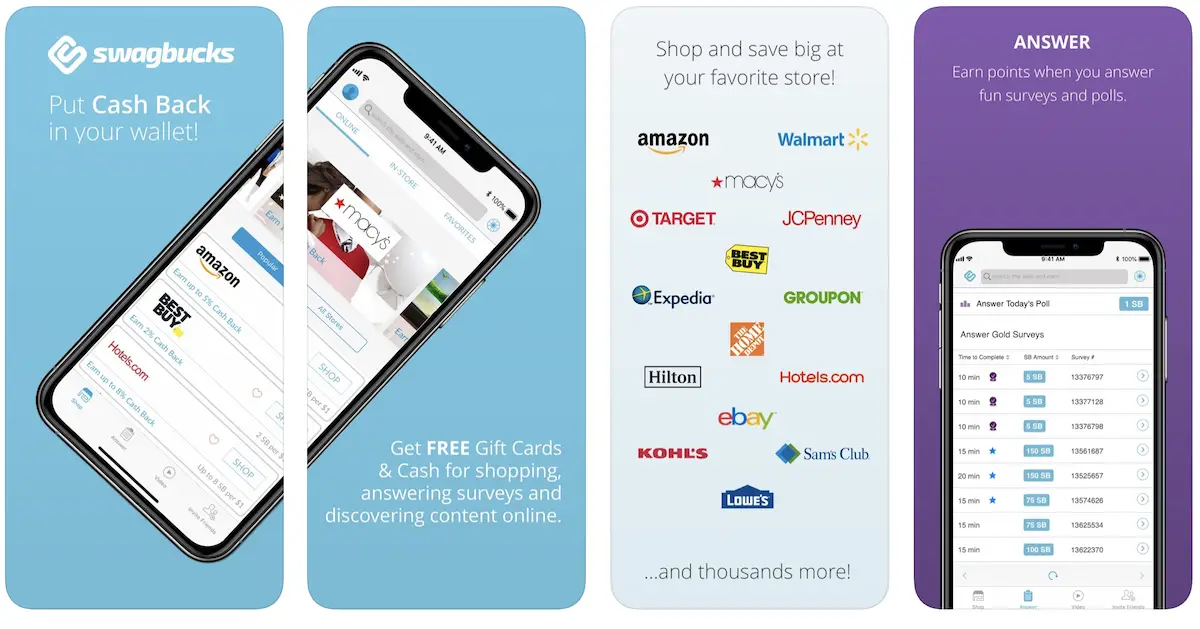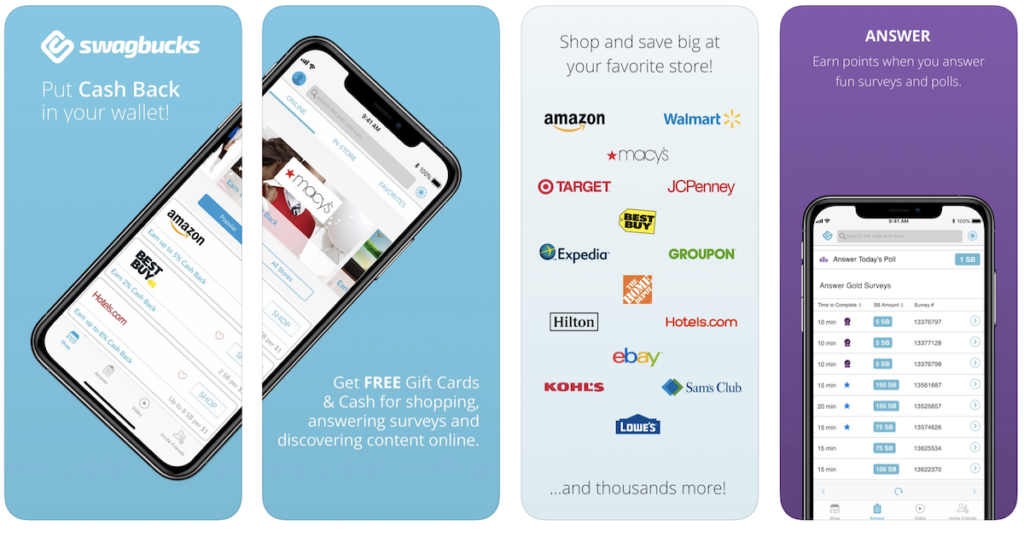 Swagbucks is hands down the best money making app to make some extra money in your free time.
As a new member, you can earn up to $35 per survey!
They are known for giving out fun, top-paying surveys. And you can also get paid to play games and watch TV!
It's similar to Survey Junkie, but there are also a few other ways you can earn money as a member (including a $10 bonus just for signing up).
Other ways you can make money with Swagbucks outside of surveys:
✔️ Cash back program for online shopping (Includes $10 bonus).
✔️ Get paid for searching the web (Includes $10 bonus)
✔️ Watching videos (Includes $10 bonus)
Swagbucks is conveniently offering a $10 bonus just for signing up through this link, so act fast.
3. InboxDollars Surveys – $5 Bonus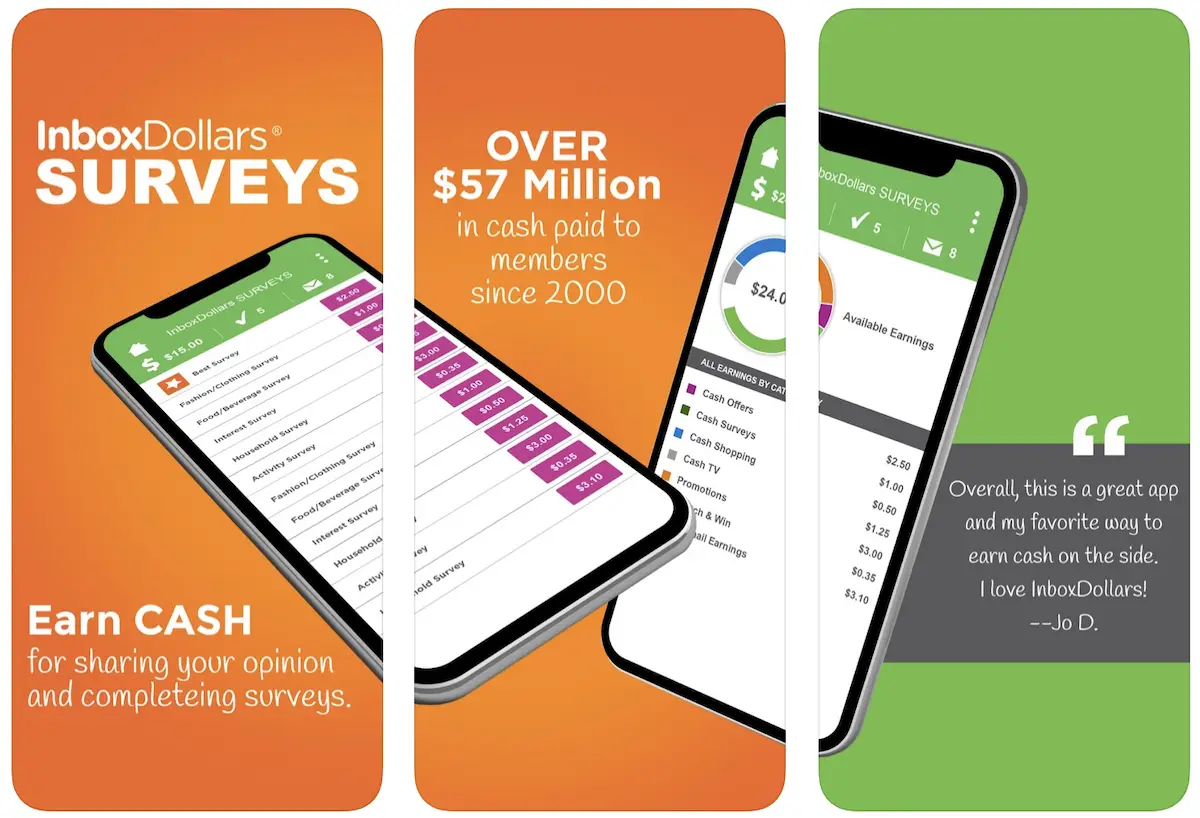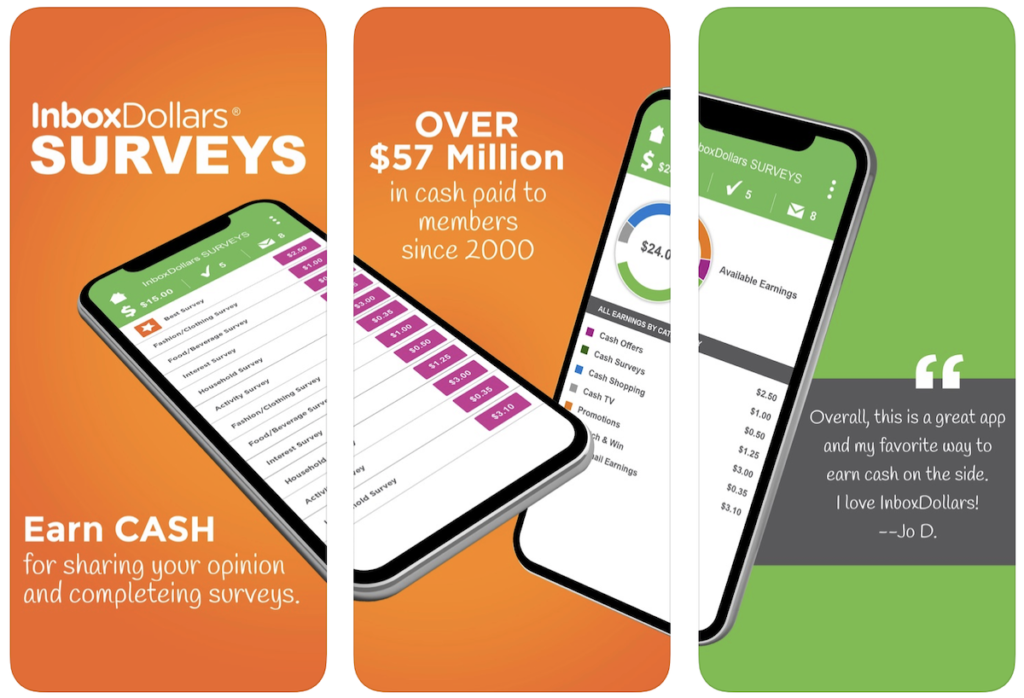 The next thing you can do is sign up for InboxDollars which pays you, in cash, to watch fun videos and take surveys and they'll also give you a $5 free bonus just to give it a try.
By spending just 5-10 minutes per day on this (either on your lunch break or during TV commercial breaks) you can earn and save an extra $50/month.
More people should be using this money making app.
4. MyPoints – $10 Bonus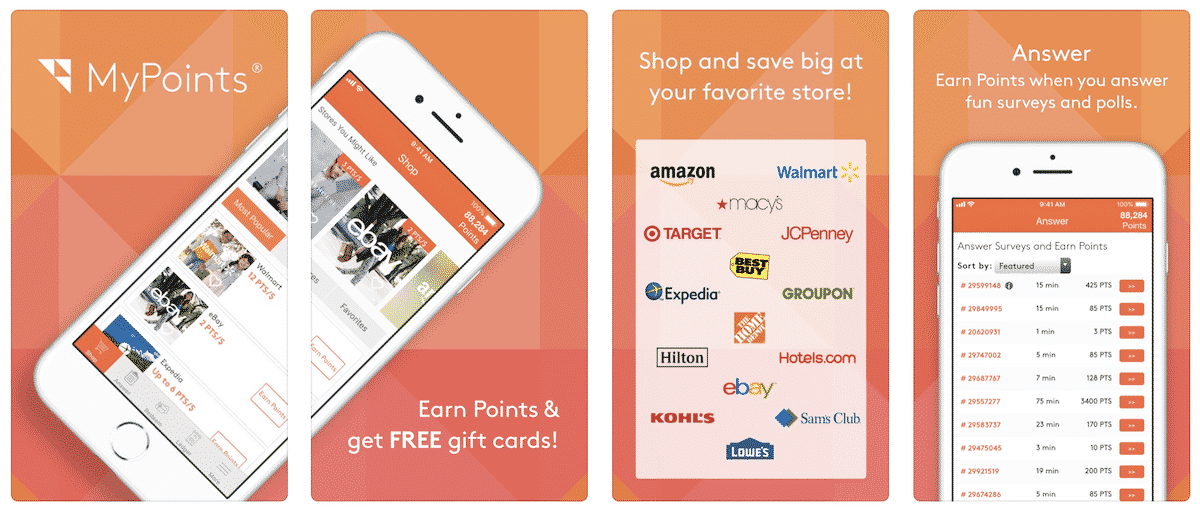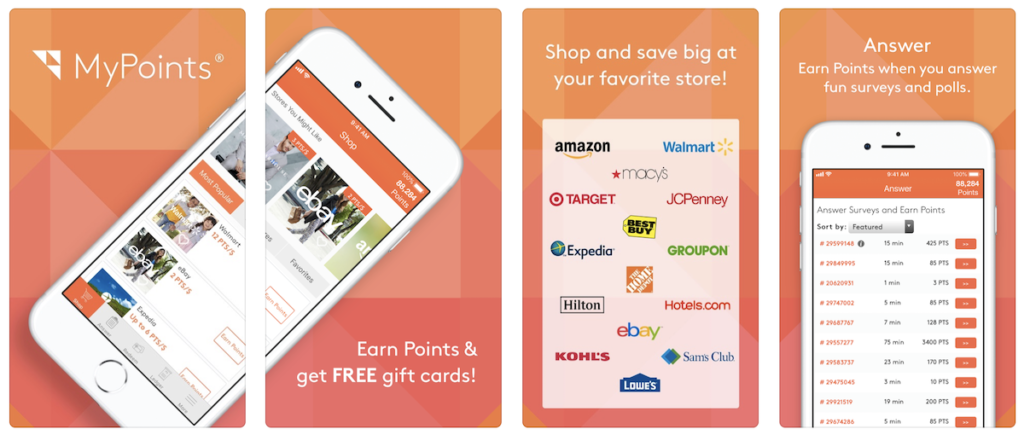 Have you heard of MyPoints? It's a cash back site that pays you to shop online. I love it because it lets you earn cash for the shopping you would do anyway.
They are even offering a $10 Amazon gift card after making your first purchase at any retailer for new users.
You just need to sign up using your name and email address and then download the mobile app to get started. Once you have the app installed, you can start earning points and get free gift cards.
5. Branded Surveys – $1 Bonus
Branded Surveys asks for information about you so that they can match you with fitting surveys. At up to $10 a pop for some surveys and a free $1 just for signing up, it pays to check in daily to see which ones are available to you.
Cashouts are through PayPal.
Plus, you will get money just for signing up and they pay you straight cash. You don't have to convert your points into cash, you can see your earnings on the dashboard.
Cash Back and Receipt Scanning Apps
6. Capital One Shopping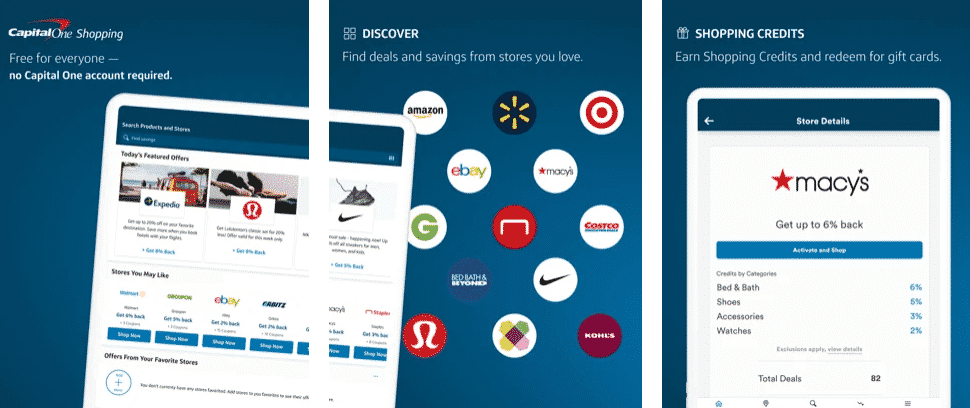 Capital One Shopping helps you save money on your purchases and is used by more than 1 million people.
It has recently become my favorite savings app and browser extension that lets me compare prices among so many shops before I pull the trigger on something.
It's really helped me so save much money, I had to include it on this list.
If you shop online through Capital One Shopping, you'll also earn free gift cards and get money back on purchases made at popular stores.
It is so easy to install the browser extension and start cashing in on your earnings.
7. Rakuten – $10 Bonus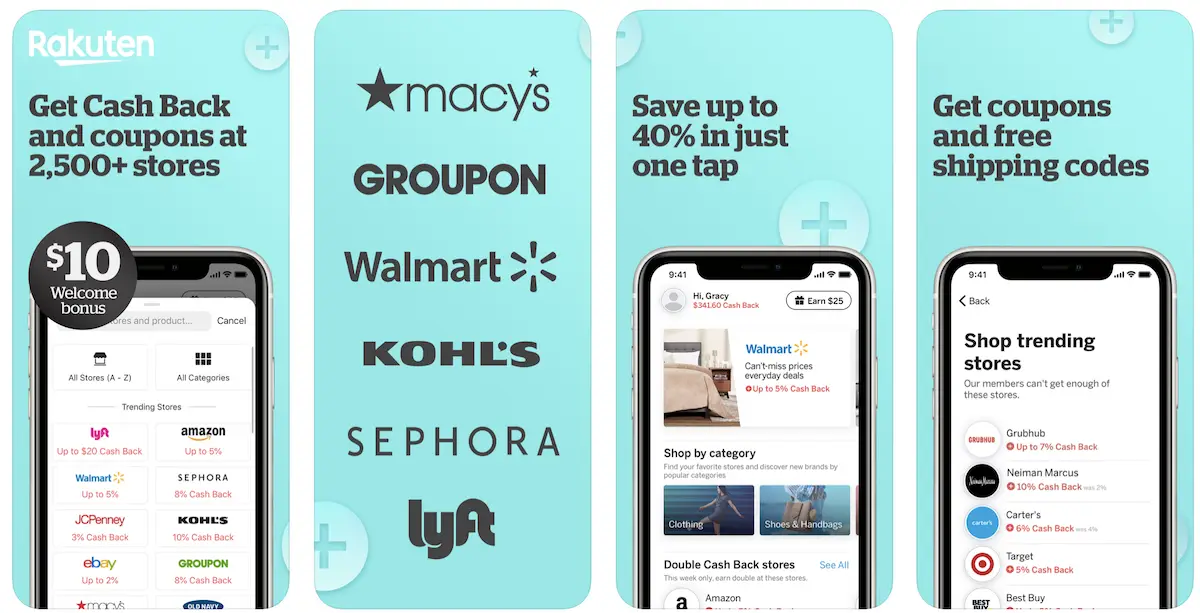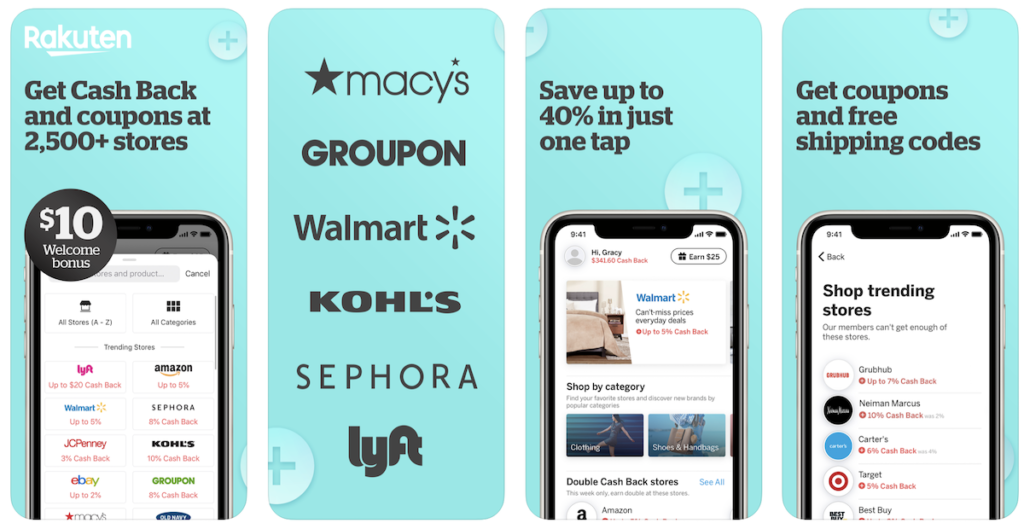 You'd be silly not to get cash-back for items you would have bought anyway. You can do this by shopping online with Rakuten.
Rakuten is another effortless way to make money when you shop online and right now they are offering a $10 sign up bonus through this link.
Every time you shop online, simply start at Rakuten and then get cash back deposited into your PayPal account afterward.
Hello, free money! Join now for free here.
8. Ibotta – $20 Bonus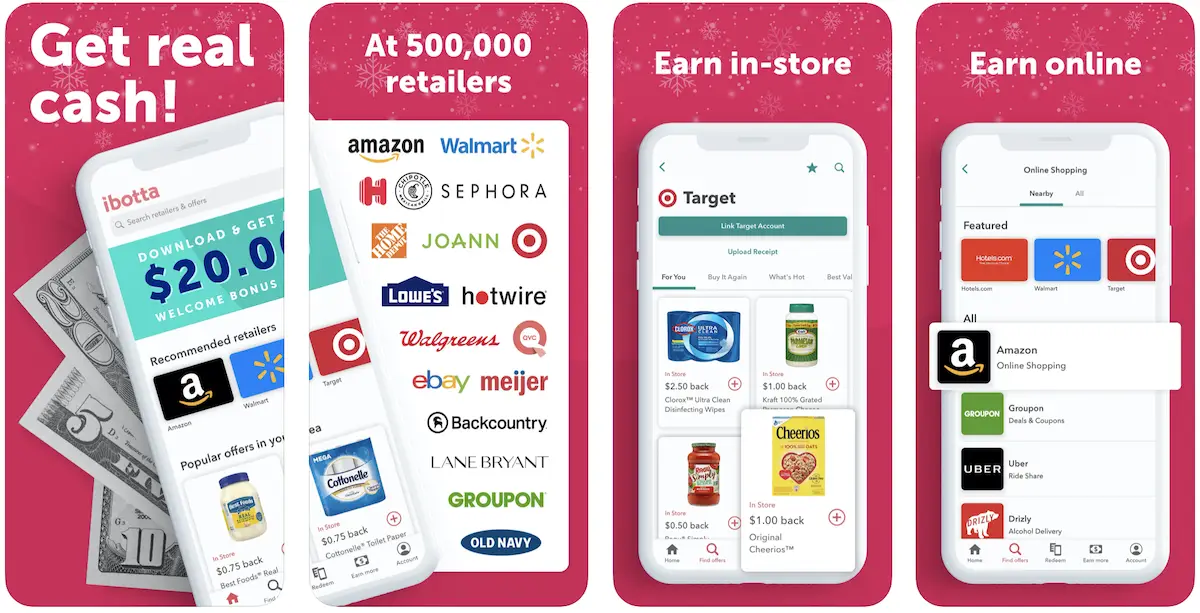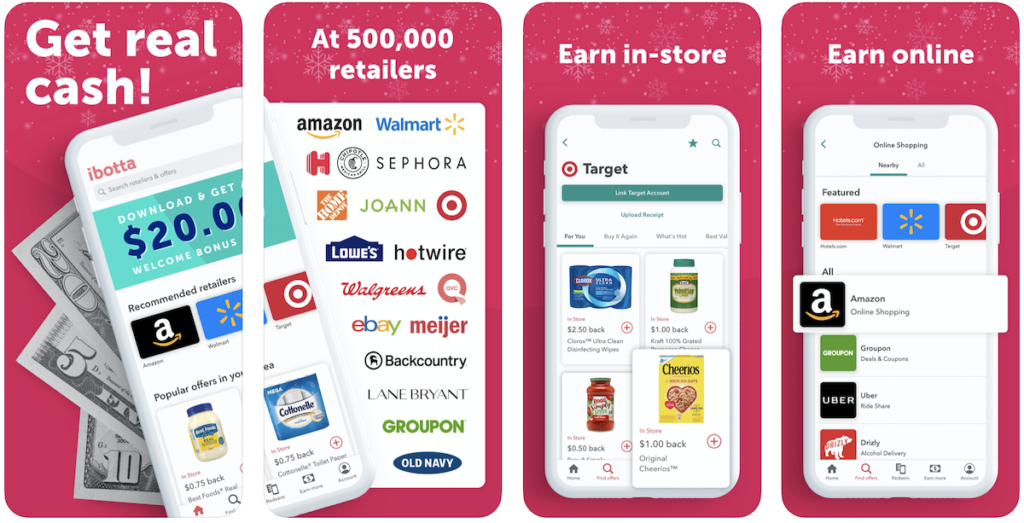 The next app you should know about is Ibotta that gives you real cash back on every purchase, online or in-store.
You can earn cash back every time you shop for essentials, groceries and more.
Simply check the app before you shop to seamlessly earn cash back on thousands of leading brands and retailers.
No coupon, rebate, or promo codes are necessary, so you can shop for the things you need without the hassle.
Join Ibotta today and get a $20 welcome bonus.
9. Dosh – $5 Bonus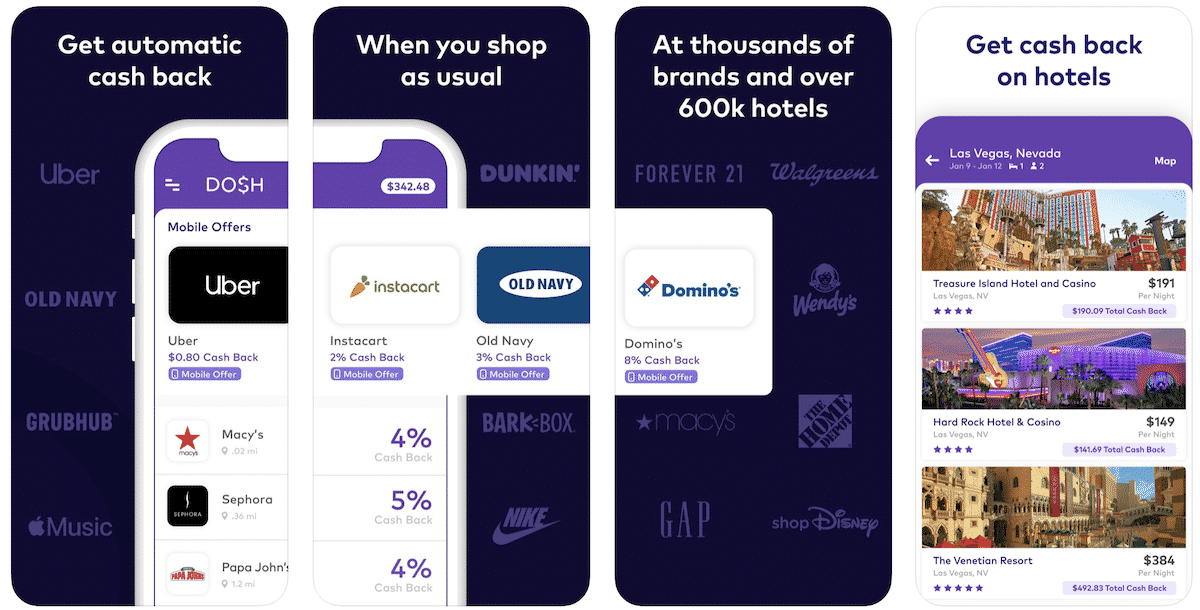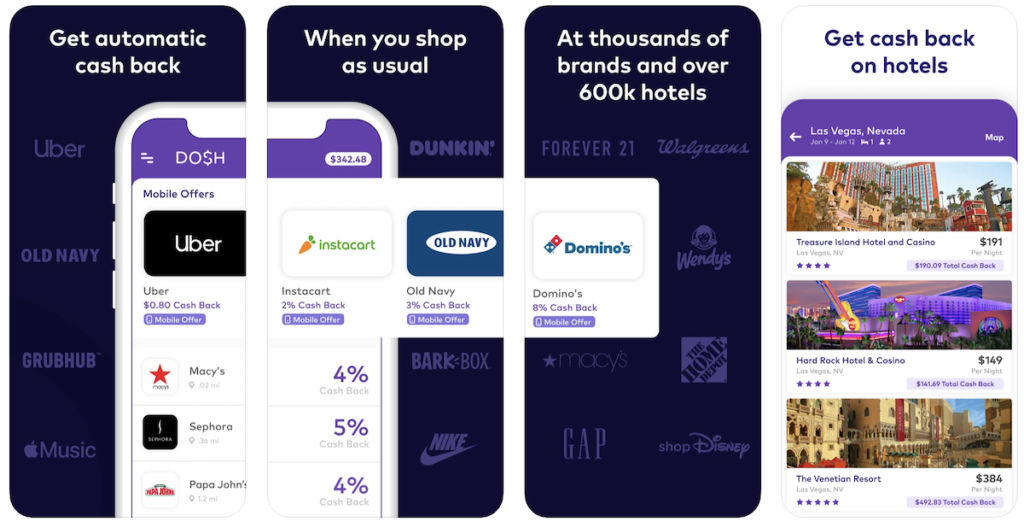 Looking for easy to use money making app to claim $5 now? The Dosh app is the free money making app that finds you money for shopping, dining out, and booking hotels and travel activities with more than 100,000 merchants and brands nationwide.
This company not only allows you to get cash back on everyday purchases, but no receipt scanning required!
Click here to get started with Dosh and get a $5 signup bonus.
10. Shopkick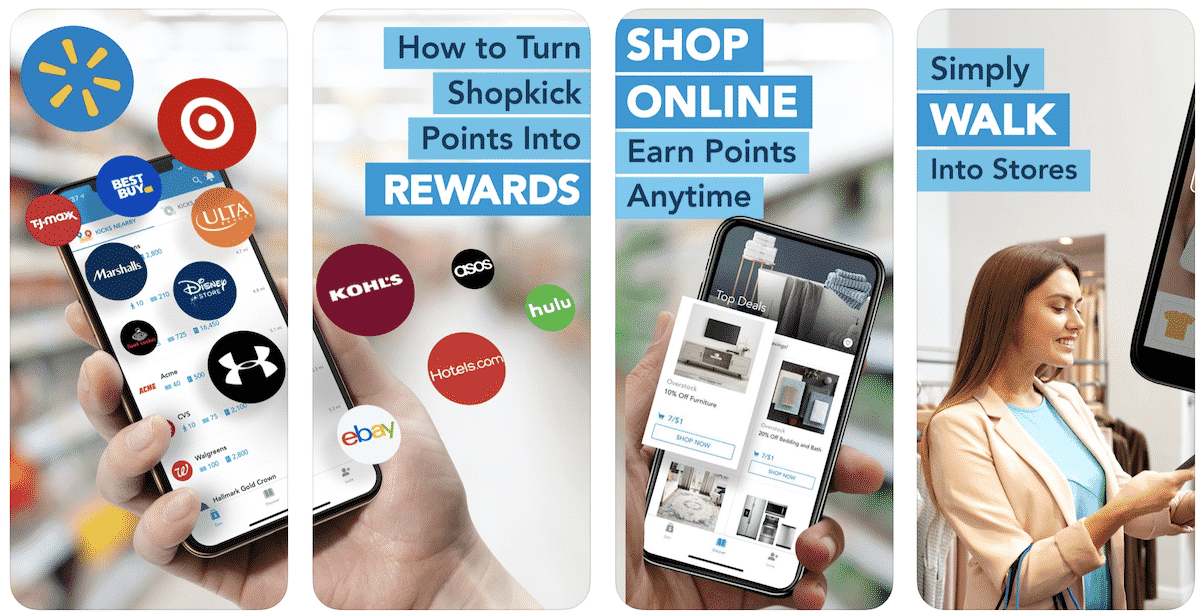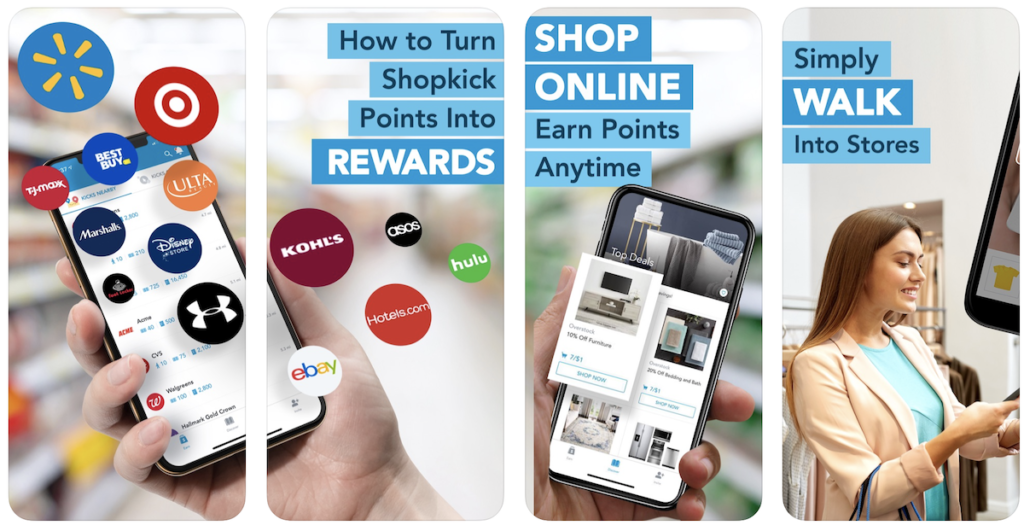 Apps like Shopkick let you earn points for shopping, period. You can get points for just walking in the door of some stores (including Walmart, Target, TJMaxx and more), for completing various offers or buying popular products.
You can also earn rewards for referring friends or family! It's a great money making app to have your own and it's totally free. There a quite a few ways to earn and you click here to download for free.
Passive Income Money Making Apps
These apps offer you passive income opportunities so you can literally make money while you sleep.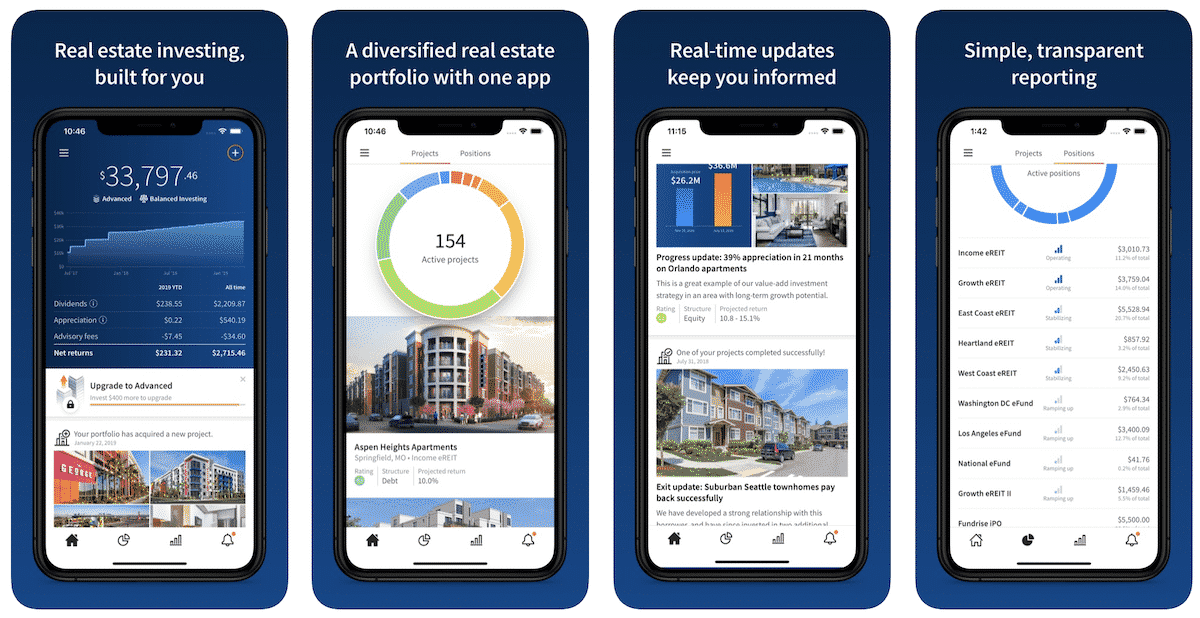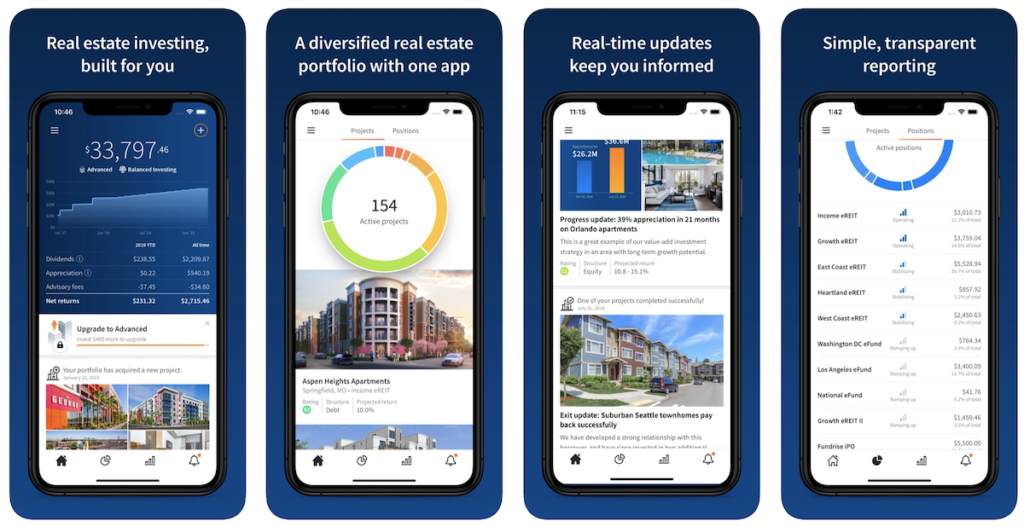 Want quick money? Fundrise gives you a $10 bonus upon account approval. Testing this offer, I received $10 worth of shares instantly through this link after opening account and investing as little as $10.
With Fundrise, it is the first real estate investing app to create a simple, low-cost way for anyone to invest in real estate for solid returns.
There is a reason why they currently have 5/5 stars on TrustPilot, you can really make money with Fundrise.
If you're interested, I recommend you sign up for more information from Fundrise by clicking here.
Expect a high annual return of up to 12.4%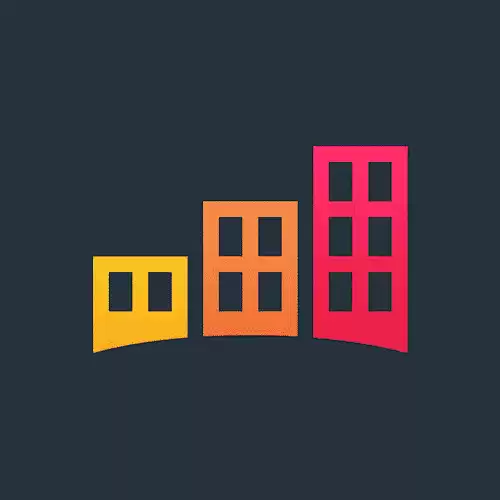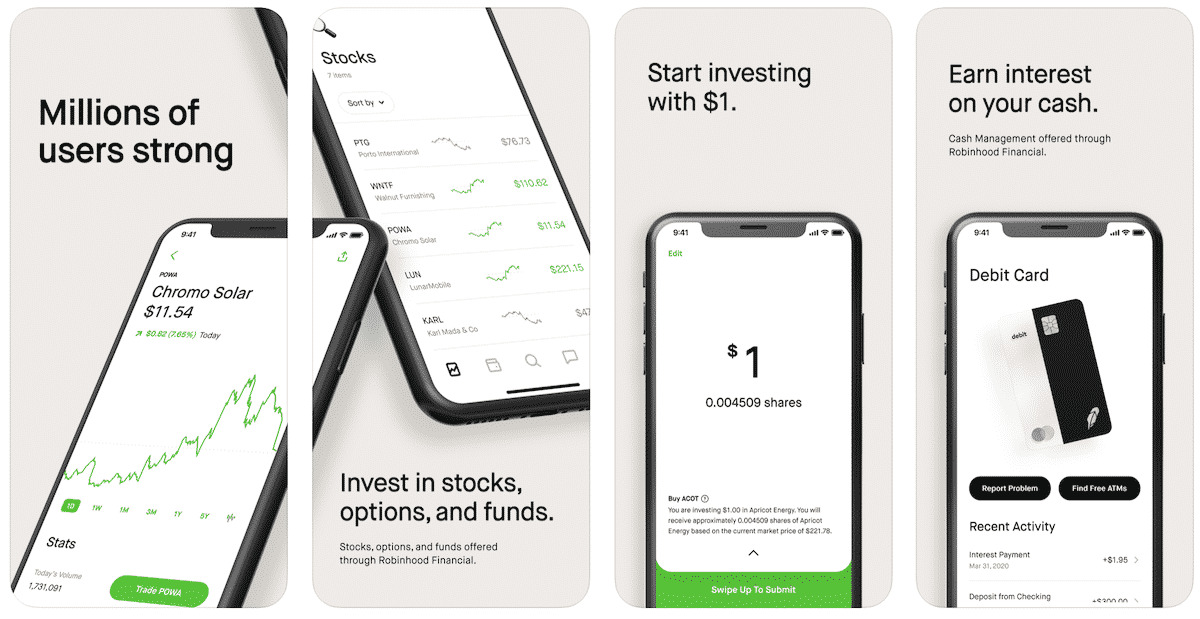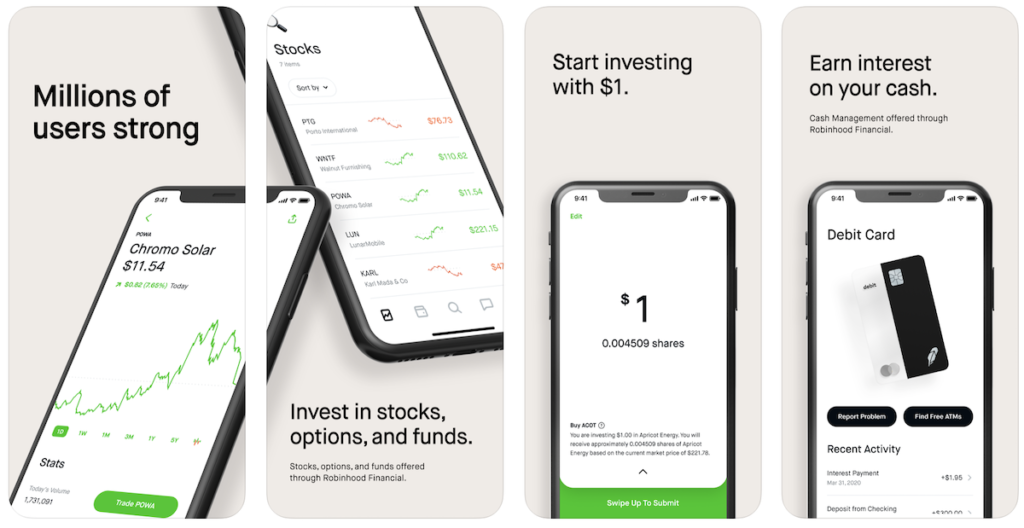 If you fancy investigating investment opportunities, there are some apps that will give you a free bonus to start micro-investing.
Apps like Acorns and Stash Invest, give you a $5 welcome bonus.
Or you can actually get a free share of Apple, Microsoft, or Facebook from Robinhood — just for signing up.
You don't even have to add any money to your account, just sign up and you'll receive the free share of stock in your account within days.
You can claim your free stock here (must complete sign up)
Robinhood is a free investing app for your phone. I really mean free all around – free to join and they don't charge any fees to buy or sell stock. You can get a share of stock like Apple, Ford, or Sprint for free when you join through this link.
13. Acorns – $10 Bonus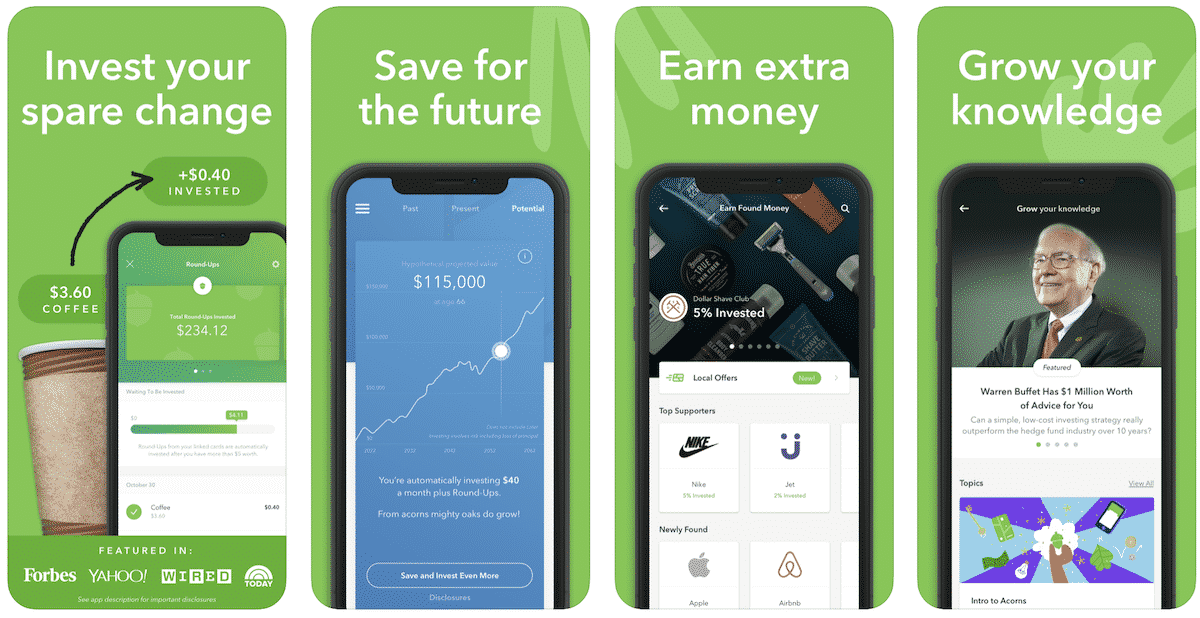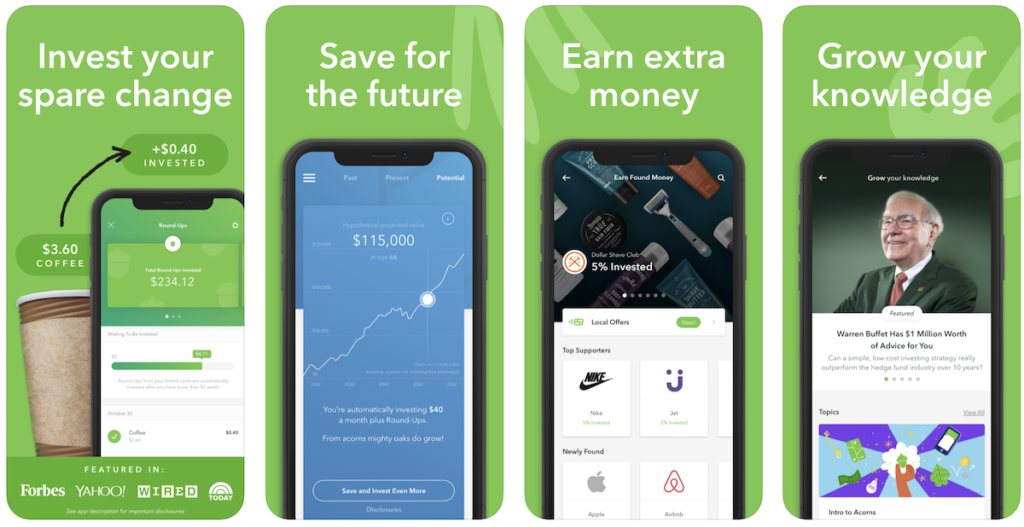 Get all-digital, all-in-one investment, retirement, and checking accounts with Acorns!
Sign up in under 5 minutes and join over 7 million people to take control of your money.
Once you connect the app to a debit or credit card, it rounds up your purchases to the nearest dollar and funnels your digital change into an investment account.
Sign up to try it risk-free with a $10 sign up bonus.
14. Nielsen – $50 per Year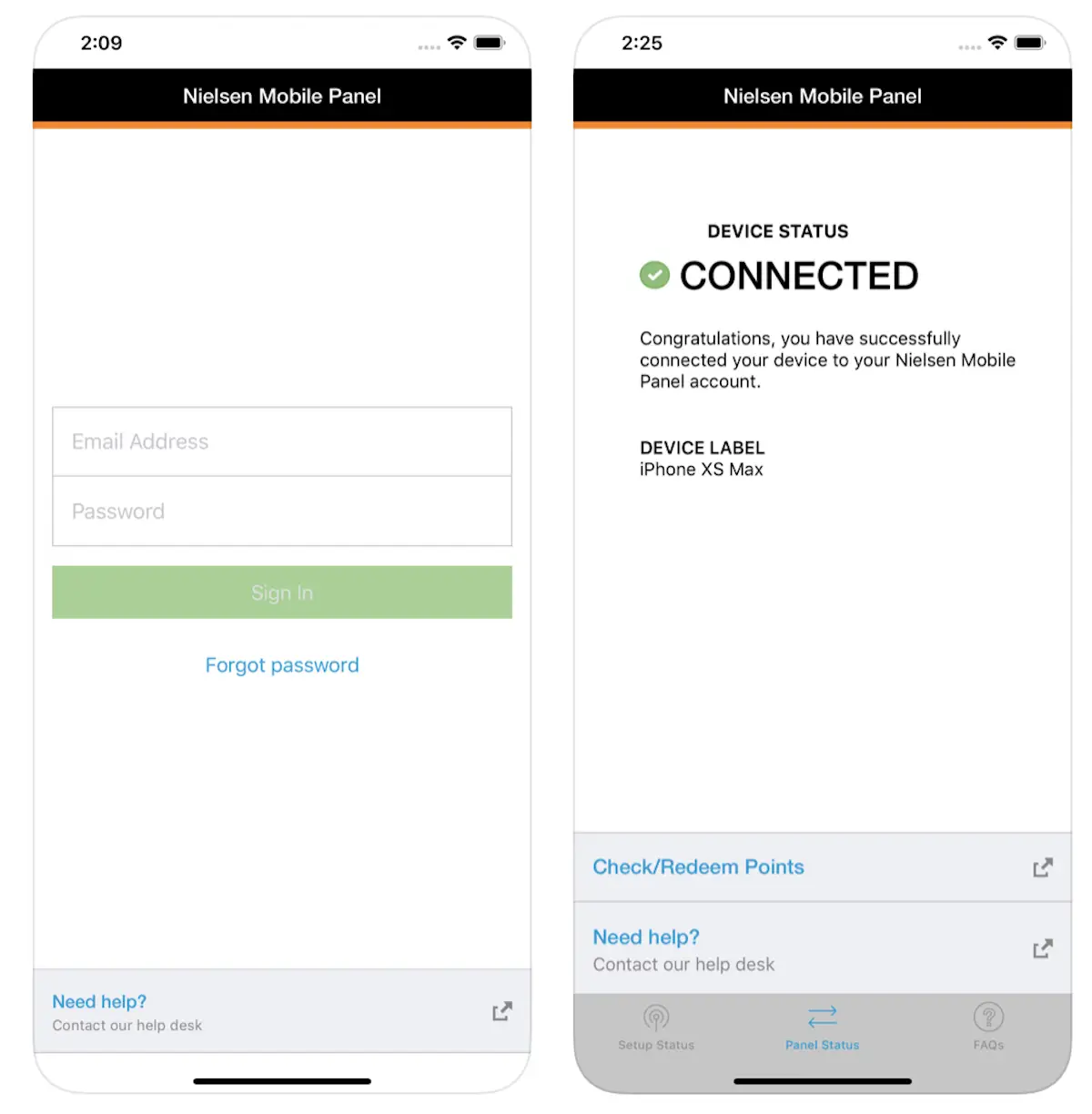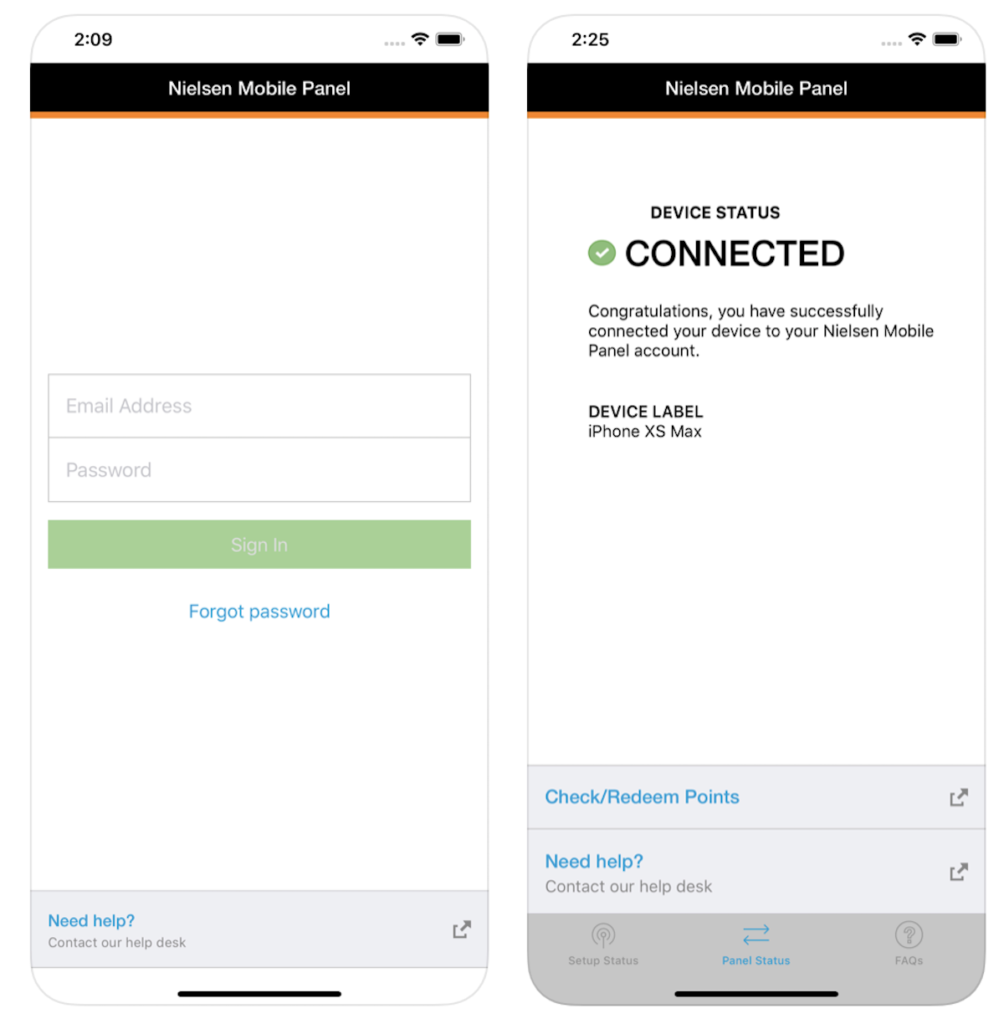 By using the internet as you do every day, Nielsen invites you to make a difference – and you can make money too.
I downloaded this app and make around $50-100 passively… it's a legit money making app.
You don't really have to do anything other than initially registering your computer or phone.
This company will pay you $50 a year to keep their app on your favorite internet browsing device and they also give away $10,000 each month. So you can possibly make more than $50. Sign up through here for a registration bonus.
Money Making Apps That Pay You for Simple Tasks
These are some of my favorite side hustles that help you earn money for doing simple tasks. If you are able to download an app and put in the work, you'll make some extra money.
15. Lucktastic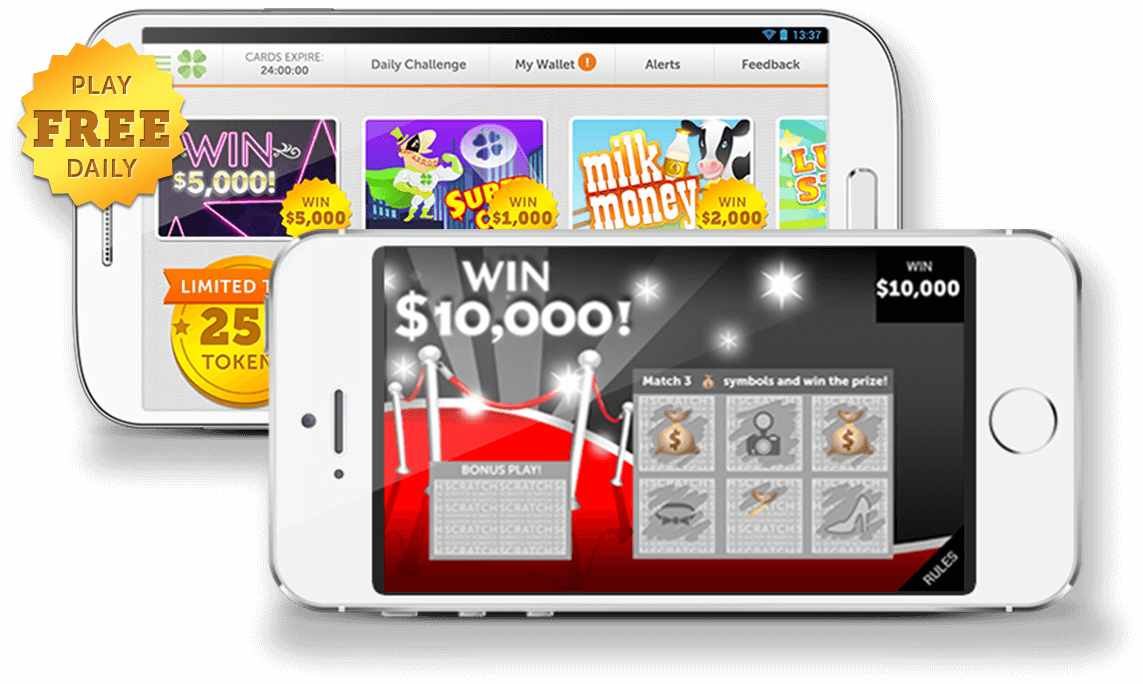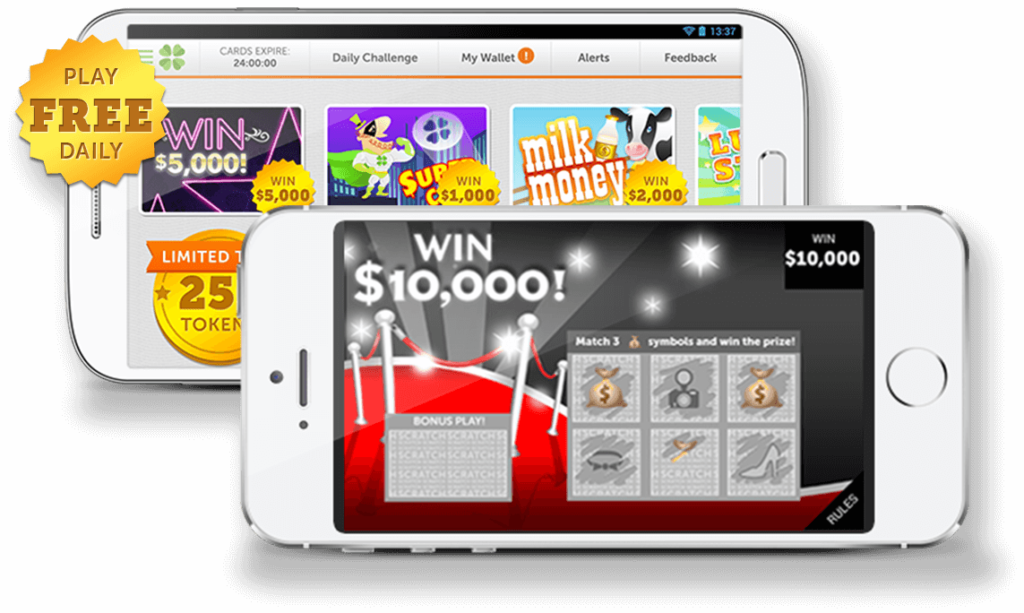 If you love the feeling of buying lotto tickets or scratch-offs and dreaming about the money ? you stand to win — then you would seriously enjoy playing apps like Lucktastic.
This free app offers the same daily scratch-off cards that you find at your local convenience store — but here you can play for free and win real money.
I was hesitant at first but this gaming app has over 327,695+ positive reviews in the Google Play store.
You can win money up to $10,000 in card cash prizes and there are daily $500 Amazon gift card giveaways. The threshold for payout is only $2 and you can get daily opportunities to win big when you download the Lucktastic app for free.
Want to try it out? Download Lucktastic for free (Android only) to play scratch-offs and win cash on your phone.
16. Mistplay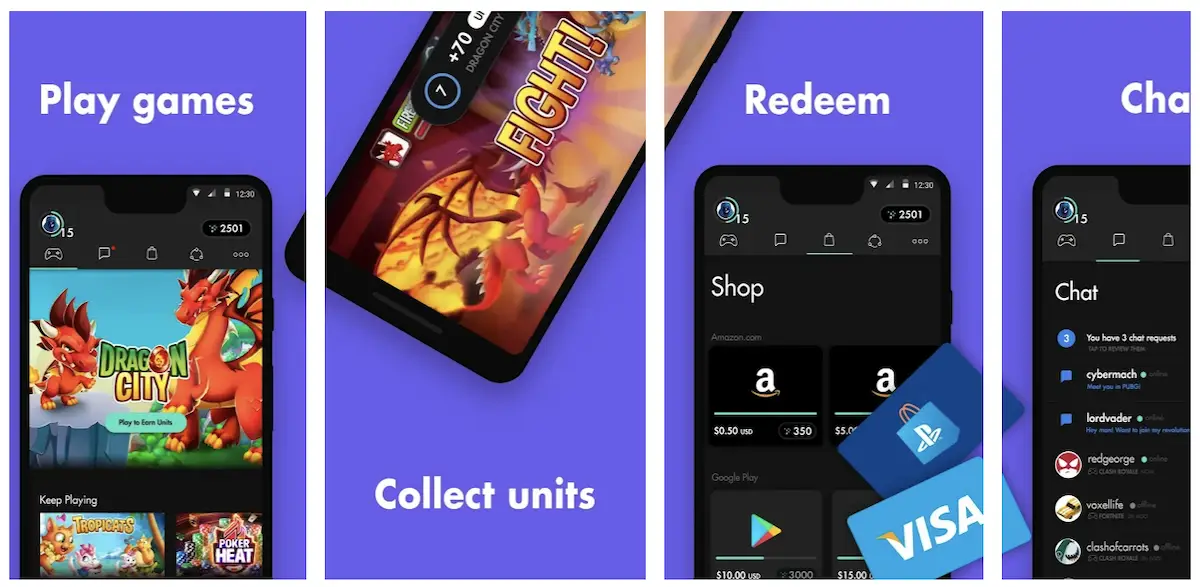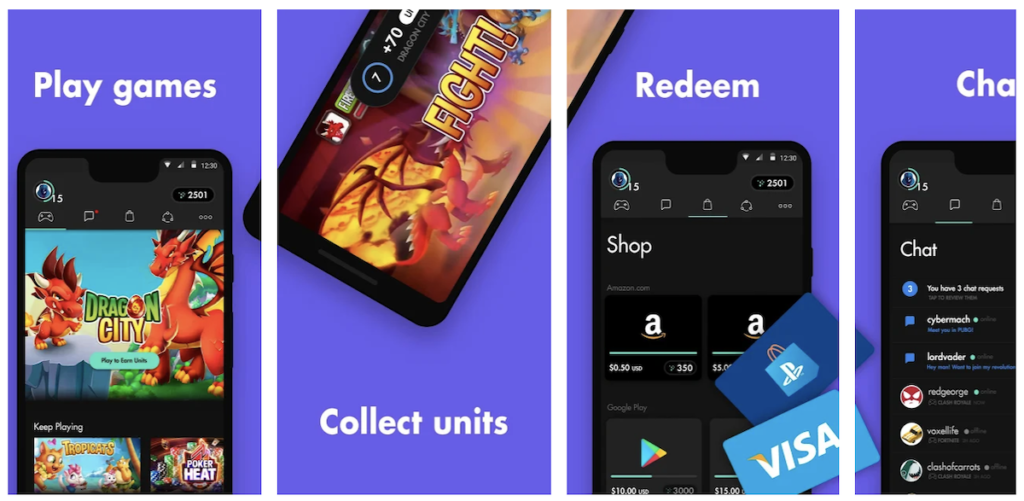 Instead of wasting time playing games and not being productive, now you can get paid to do it – win-win!
Getting paid to play games on your phone sounds like a dream, but this new app really pays you to play games.
It's a legit app with 41,124+ positive reviews in the Google Play Store.
Sound like fun? You can download it from the Google Play Store here, and start playing free games for cash rewards.
17. DoorDash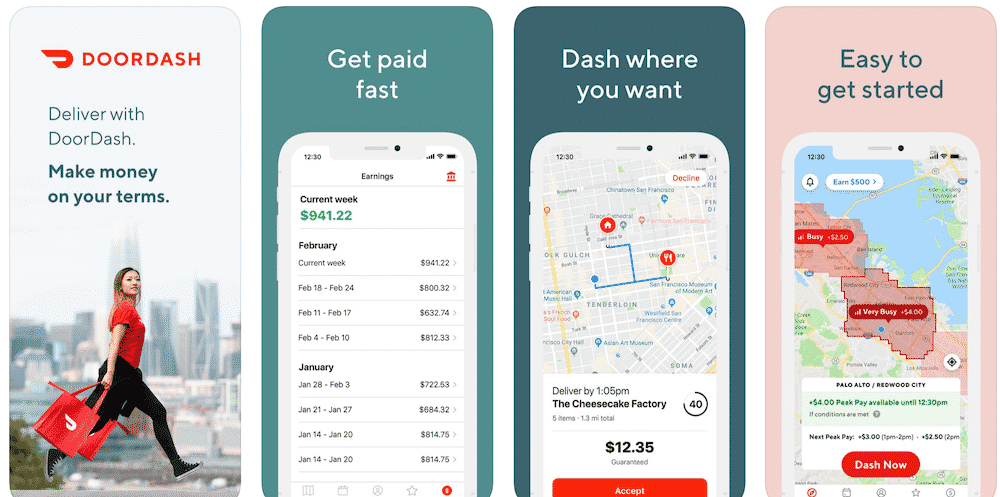 DoorDash is a food delivery app that is looking for people who want to start delivering food to earn extra money and work on their own schedule.
To qualify, you must:
✔️ You must be 18 years or older
✔️ Have access to a car or bicycle
✔️ Own an iPhone or Android smartphone
✔️ Driver's license with at least two years of driving experience
You choose the hours you work and get paid cash per order (once you have access to fast pay). Rates will vary by location.
Once you sign up to become a dasher, DoorDash will reach out about an orientation. Complete the orientation, and you're on your way towards getting paid for every completed delivery PLUS 100% of tips received .
This is such an easy way to make money by delivering on your free time while making extra cash and funding your personal goals.
Bonus: By signing up to become a DoorDash Driver you can get your first check this week by clicking here. I bet you're lovin' this article so far!
Flexible hours & great pay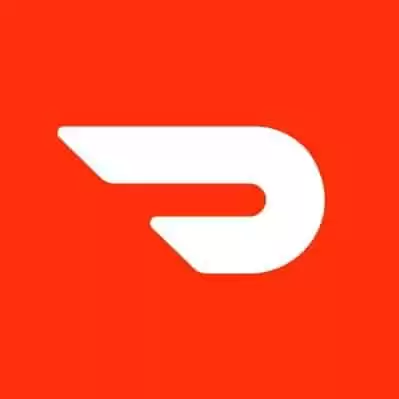 DoorDash Dasher
Flexible schedule
Keep 100% of customer tips
Choose which orders to accept
Peak Pay and hotspots make it easy to maximize your earnings
Become a Dasher
18. Instacart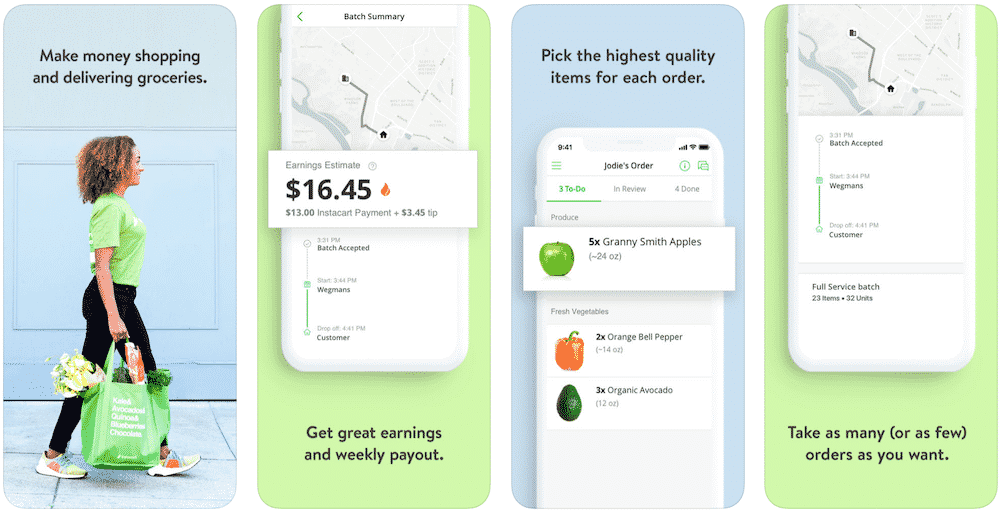 Instacart delivers groceries from local stores in two hours from stores like Whole Foods Market, Target, Costco and Petco. Why should you care? Because this is a lucrative opportunity for you to make that $200 fast.
If you wanted to become an Instacart personal grocery shopper, you'll earn an average of $15 per hour!
Here's how it works:
Sign up as a personal grocery shopper and start to receive grocery orders through an app on your smartphone and then shop and deliver groceries to the customer's door.
✔️ Start earning quickly, and get paid weekly
✔️ Select hours based on your schedule
✔️ Shop and deliver the customer's order
✔️ Get to know the city by delivering to new and familiar areas
Click here if you are interested in learning more.
Earn around $500 per week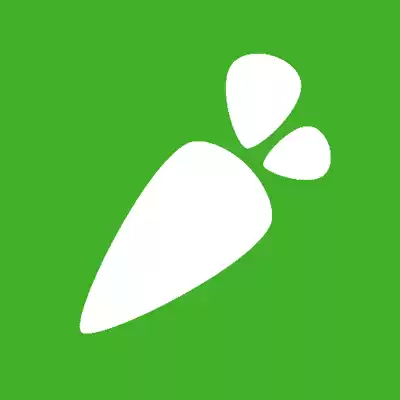 19. Postmates
It pretty easy to become a delivery driver for Postmates. It's free to sign up and fast to get started. There are no fees or time commitments, so you take home 100% of what you earn every time you complete a delivery.
As a driver, you'll get paid to deliver things like take out, groceries and even alcohol.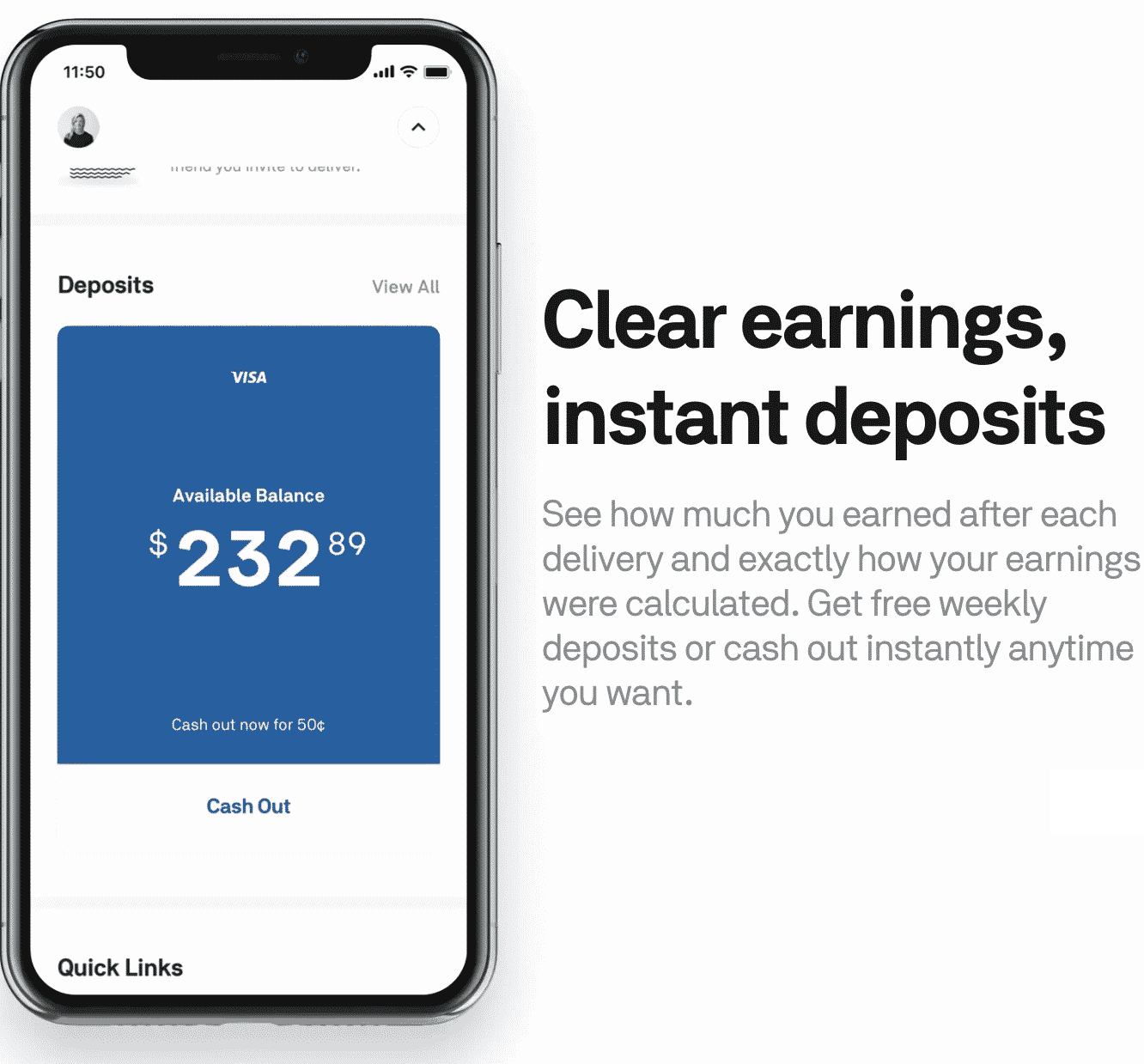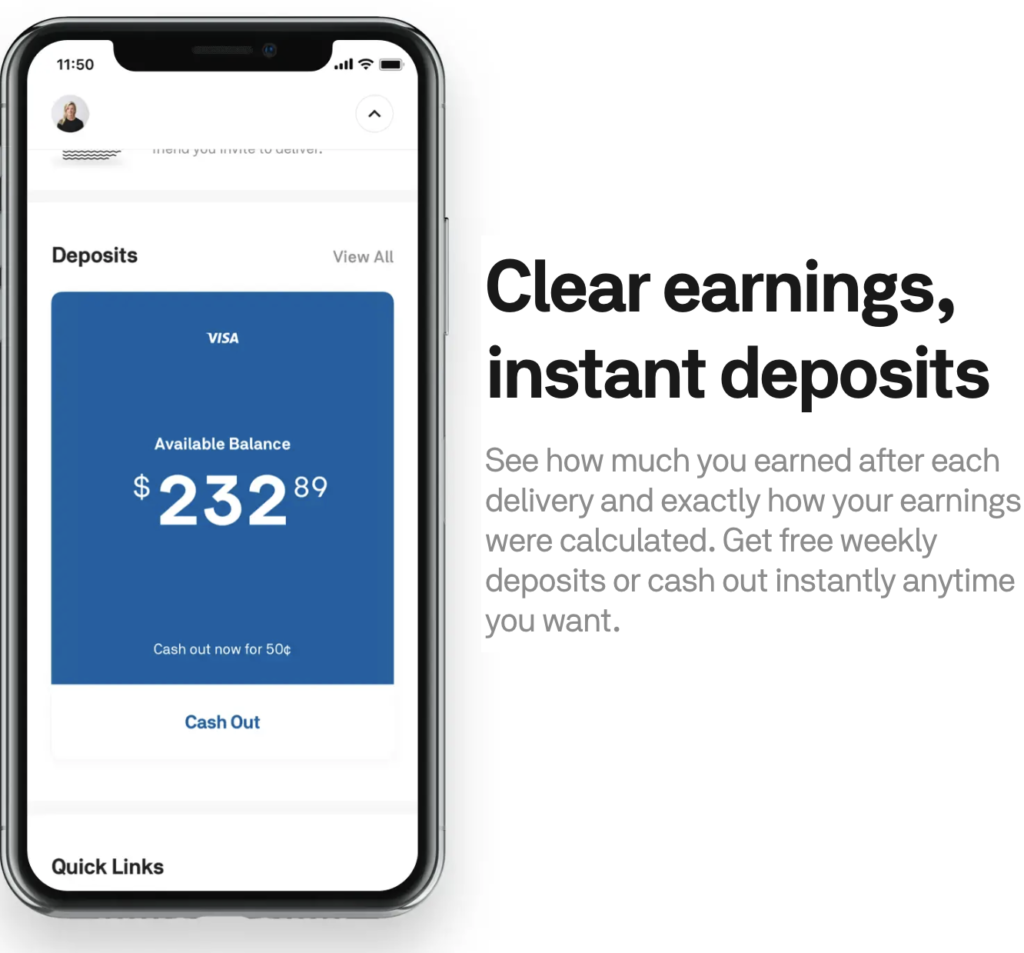 Here's how to get started:
✔️ Create your account – Enter your name, email, phone number and provide a profile photo and proof of identity.
✔️ Receive welcome kit – Once Postmates verifies you are who you say you are, they will send you a delivery welcome bag in the mail.
✔️ Download the app, go online – Open up the app and start accepting delivery offers and get paid whenever it's convenient for you!
Many reviews online state that you can make up to $25 per hour. You can also see how much you earned after each delivery and exactly how your earnings were calculated. Get free weekly deposits or cash out instantly anytime you want.
If you're interested, you can learn more here.
Earn up to $25 per hour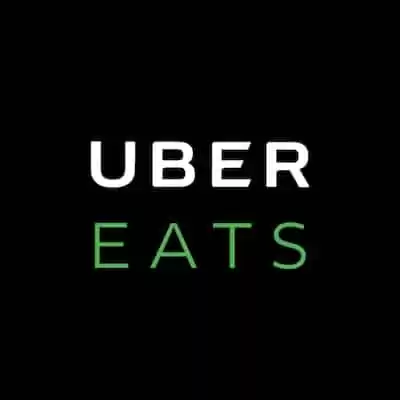 Postmates (Owned by Uber Eats)
Signing up is a straightforward process and is done entirely online

Earn about $20-25 per hour before incentives and bonuses

Set your own schedule and drive whenever you want
Sign Up
There Will Always Be Apps to Make Money Fast
There you have it. If you've finished the list, you've just made at least $100 (DEFINITELY MORE) with these best apps to make money fast.
Feel free to take the weekend off.
If you want to try the best survey sites on the interwebs, then both Swagbucks and Survey Junkie should be your bread and butter. These companies are legit and do pay out in cash via Paypal.
Tip: if you're looking for other ways to make some fast cash, there are a lot of research panels that offer cash for your time. You can see this list of the best survey apps to see some of my favorites.
For you: Have you found any other legit and best apps to make money fast how you make extra money? Comment below!