If you've got some extra time to spare, why not try out one of these money-making apps?
That's right: There are legitimate money apps that can net you some extra funds for whatever, whenever you want.
Let's get started.
The Top Money Making Apps That Pay for 2020
Want free money?
Aspiration: Want to get spotted a $100 for free? Simply sign up for Aspiration, and the free banking app will give you cash for free, you just relax while it gives you $100 just for opening a new debit card. There's no catch, just use your card to make at least $1,000 in cumulative transactions within 60 days of opening an account. This bank account is legit and only takes two minutes to sign up for an account.
Here are the top apps (I did my research) that pay you real cash. Whether it's a free gift card to your favorite retailer or free money — companies are willing to pay.
Here are common questions people ask about apps that pay you through PayPal.
Jump ahead
Next, we'll go into more detail about which apps pay the most. This list of best apps that pay real money is broken down into the following categories:
First, I'll share the six apps (& highest paying) you should have in your arsenal if you really wanted to make money from your mobile phone:
1. Nielsen App
Platforms: mobile, desktop | Price: free
Nielsen Mobile and Desktop Consumer Panel Official Site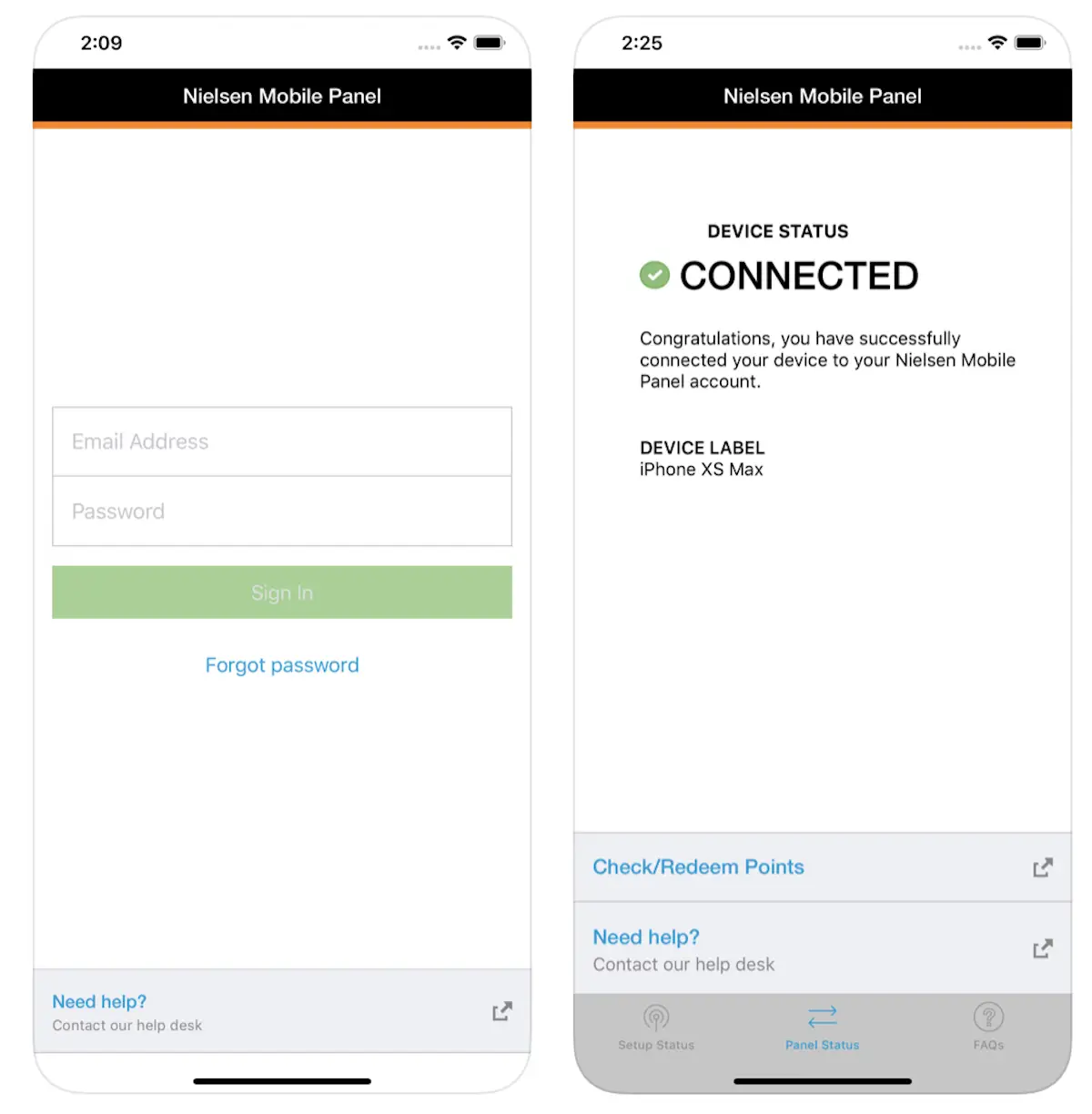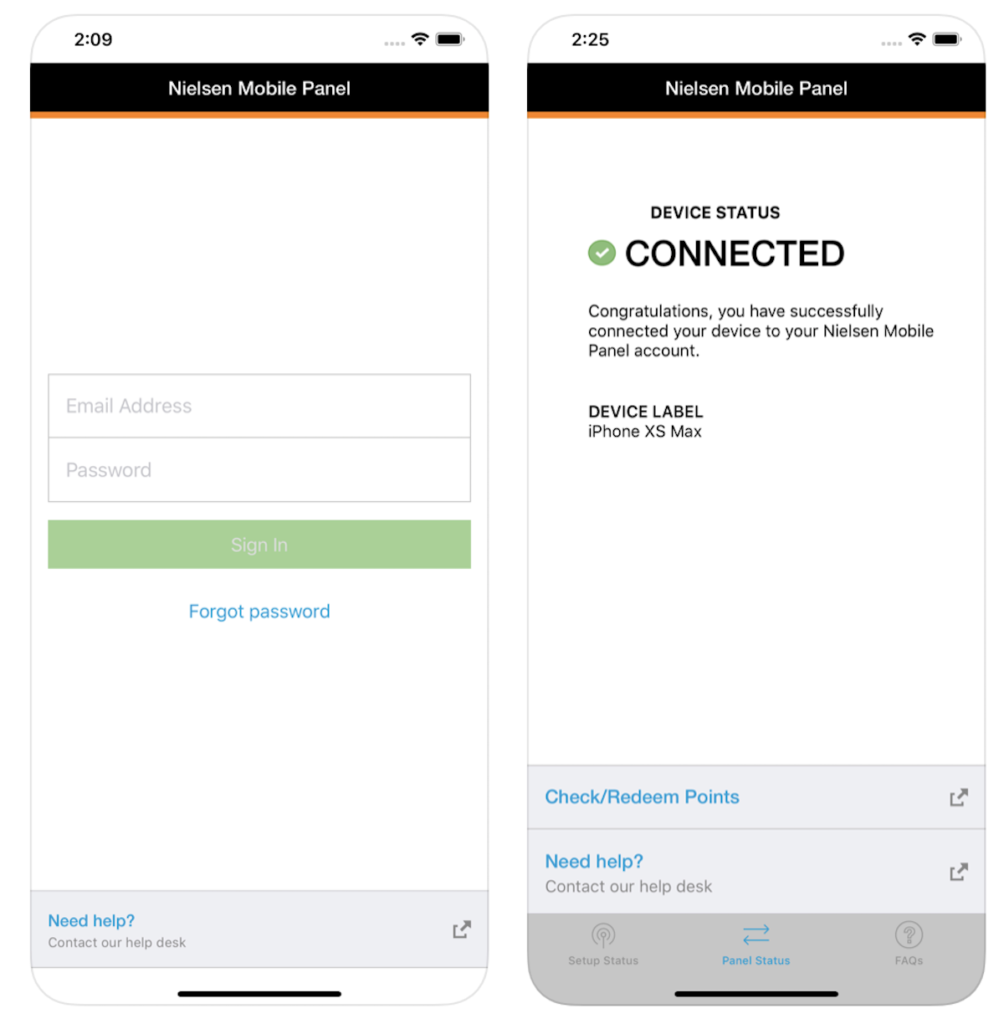 Nielsen offers an app and desktop service that allows you to register and earn rewards just for browsing the Internet. It is listed #1 on our list because it is an app that pays you to simply install it (that's it). Yes, it's a legitimate opportunity, but you should be mindful of what that means.
Once you've installed the application, the company will be collecting information about your usage habits, activities and the websites you visit. You don't have to do anything else, and the service works automatically in the background.
If that's worth it to you, you can earn $50 to $100 passively throughout a year's time by downloading Nielsen.
2. Vindale Research Surveys
Platforms: mobile, web, desktop | Price: free
Vindale Research Surveys Official Site
Vindale's app is straightforward. When you first log in, it will ask personal questions, so it can build an accurate profile of your preferences. You'll then begin receiving exclusive surveys, which can pay anywhere from a few cents up to $75. You'll even earn $2 right away just for signing up.
If you check in daily and complete the surveys they offer, you'll have earned a nice chunk of cash before you know it with Vindale.
3. InboxDollars
Platforms: desktop, iOS and Android | Price: free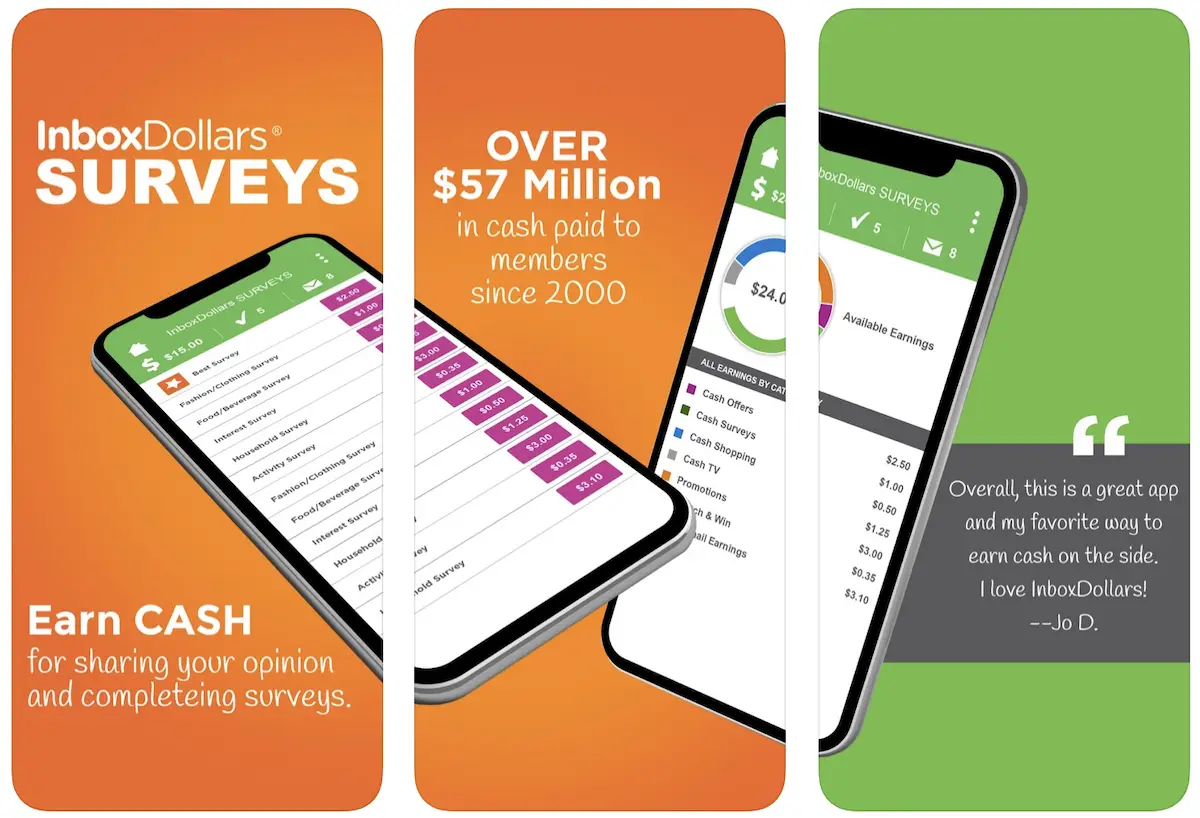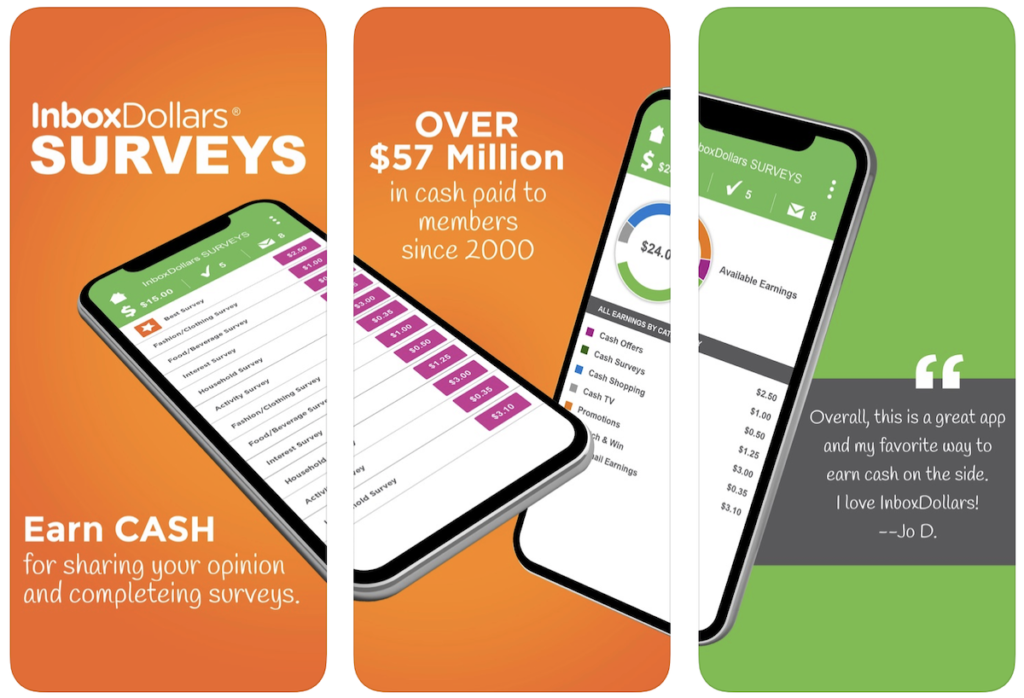 Do you ever spend a few minutes on your lunch break or at home watching videos online? This app or service is right up your alley. It's available on mobile and desktop and requires you to watch "fun" videos and then take surveys about them.
If you invest just five to 10 minutes per day, you can earn up to $50 extra per month. That's not bad, especially if you stick with it, because you can continue to earn more. You'll get a $5 bonus just for signing up, which is quick and free.
4. Ibotta
Platforms: iOS and Android | Price: free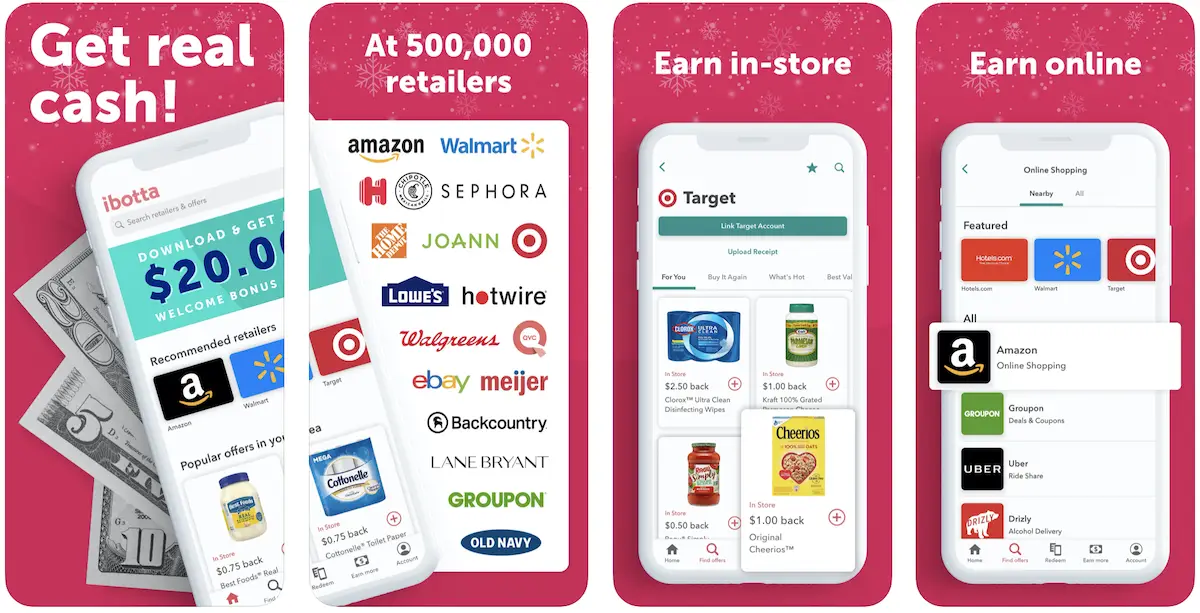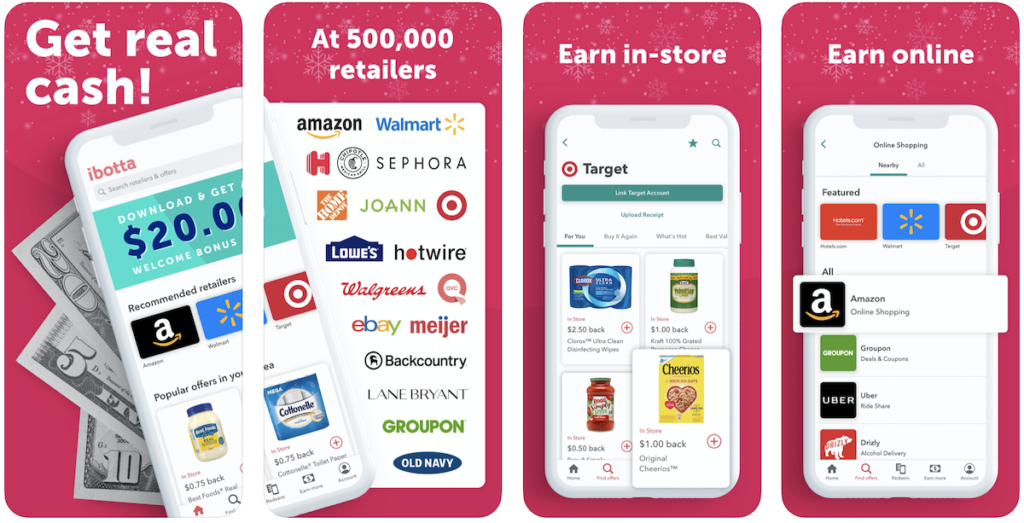 Ibotta is a mobile app — available for both iOS and Android — that helps you save money by scanning your grocery receipts. It also works with other apps and services on your device, such as Uber. For example, every time you use Uber and order a ride, you can earn $1 back through Ibotta. You can then transfer the funds to your authorized PayPal account for personal use.
You won't make hundreds of dollars overnight, but you certainly can earn that much eventually, if you continue to use the Ibotta app regularly. It's great for building up emergency funds!
5. Survey Junkie
Platform: mobile, web, desktop | Price: free
Survey Junkie Official Website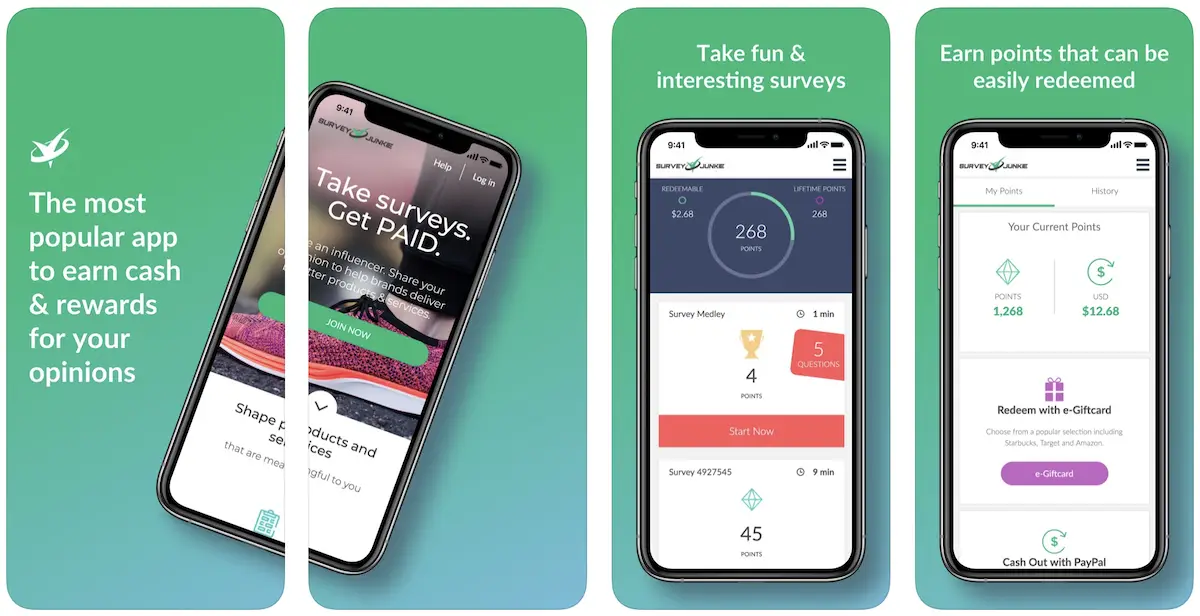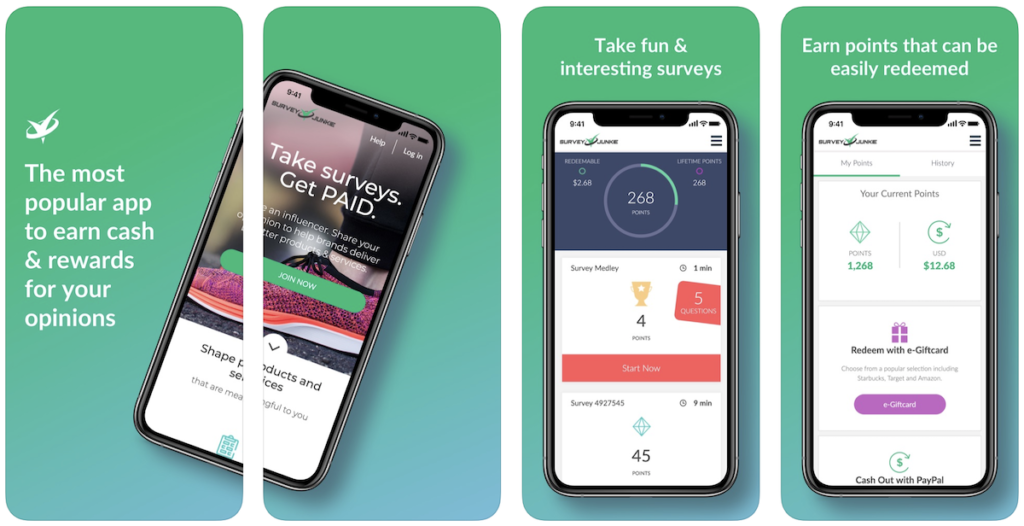 Survey Junkie is similar to services like InboxDollars in that it pays you to share your opinions. This company, however, offers unique paid opportunities to participate in focus groups and try new products. After a quick registration — you can start checking out what paid online survey are in your dashboard. You'll soon realize why it is one of the highest paying apps in 2020.
Signup is quick and painless, and you'll get a registration bonus just for creating an account. If you remain active, you could easily earn up to $100 a month taking surveys a couple of times a week with Survey Junkie.
6. Google Opinion Rewards
Platforms: iOS and Android | Price: free
It makes sense Google — creator of the world's largest search engine — would want to know more about its customers and users. Google Opinion Rewards allows them to send occasional surveys right to your phone, which will earn you a few cents each time. You can eventually use the accumulated funds to buy mobile apps — via Google Play — or transfer the money to PayPal.
It's a great way to earn a few extra dollars or two, especially if you routinely buy mobile apps.
7. Swagbucks
Platforms: iOS, Android and desktop | Price: free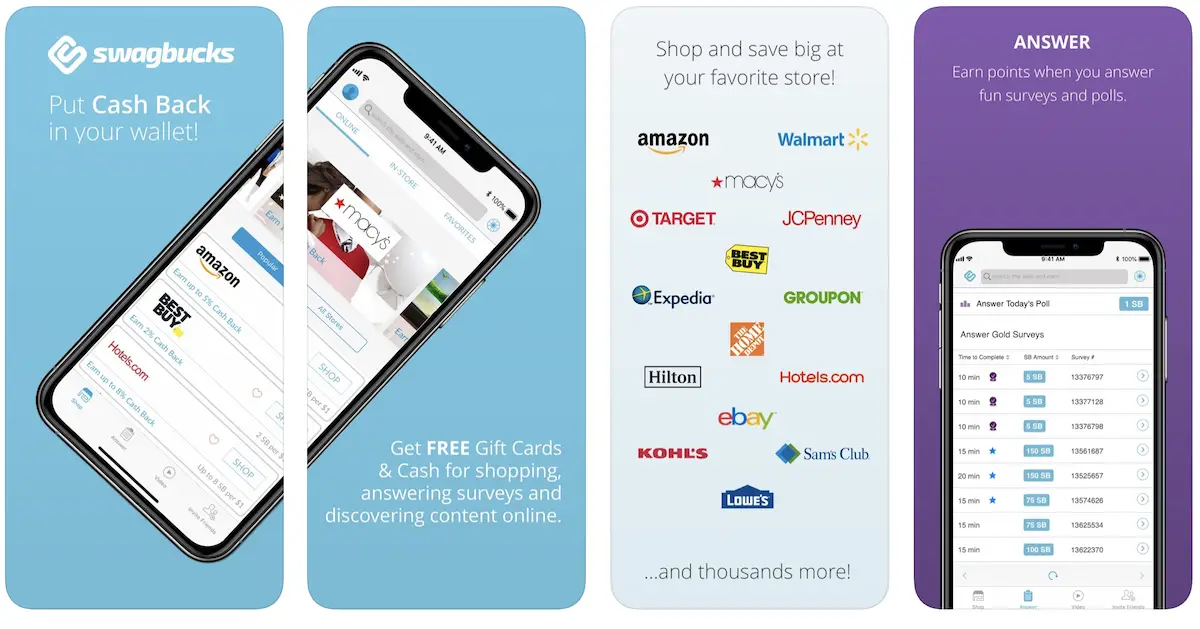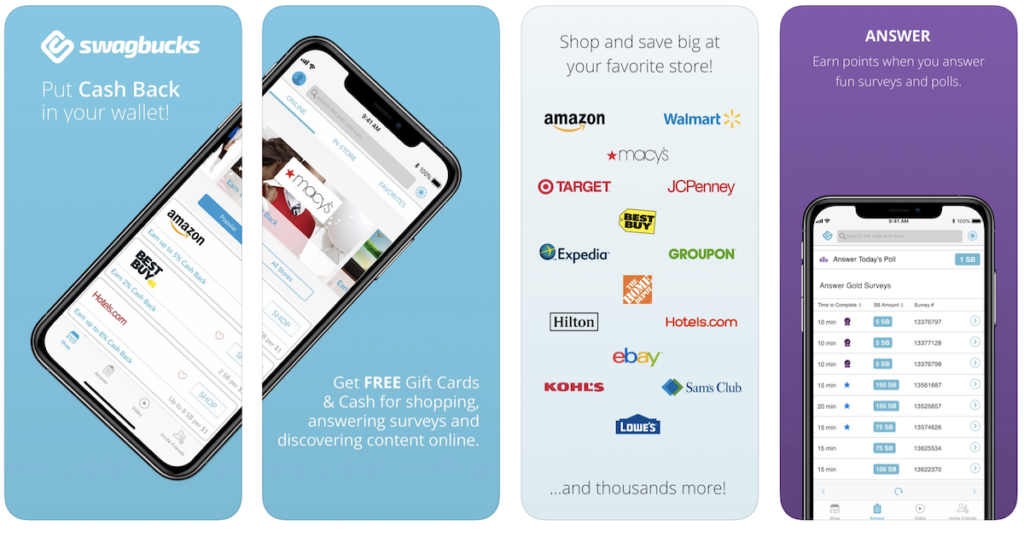 ---
Want to get paid to play games on your phone?
Mistplay (Android)

 - If you have an android device, you can download this app and start getting cash rewards for playing new games.

Solitaire Cube (iOS)

 - Earning money by playing games on your phone sounds like a dream. But this app really pays you for playing solitaire with cash rewards.
Lucktastic (Android) - This free app offers the same daily scratch-off cards that you find at your local convenience store — but here you can play for free and win real money.
---
Earn a special currency called Swagbucks for completing offers, answering surveys and logging online activity. You can redeem the currency for gift cards or cash rewards once you've accumulated enough. This is one of the best apps that pays you through PayPal and they offer a $10 sign up bonus.
Money Making Survey Apps
While you'll find the most lucrative apps listed above, there are plenty of other opportunities available with money making survey apps and the best survey sites. Here are some alternatives:
8. Panda Research — Platforms: desktop and mobile web | Price: free
Complete surveys for market research and earn money. They have paid its members over $2 Million to date!
9. MindsPay — Platforms: desktop and mobile web | Price: free
MindsPay is a smorgasbord of earning opportunities, including premium offers, video, and ad views, surveys and more. It also offers one of the most lucrative opportunities for referrals and friend invites — get paid through PayPal on the 1st and 15th of every month.
10. Survey Voices — Platforms: desktop and mobile web | Price: free
As kind of an aggregator for online surveys and market researchers, Survey Voices will offer you a variety of polls and questionnaires to complete for money. This is another app that pays you through PayPal
11. VIP Voice — Platforms: desktop and mobile web | Price: free
Earn money for taking online paid surveys. For each survey you complete, you will earn VIP points. With the tiered rewards program, the more surveys you take the more points you earn. Plus, you will automatically be entered into a $1,000 Registration Sweepstakes!
12. Pinecone Research — Platforms: desktop and mobile web | Price: free
Earn gift cards and money for completing "daily online activities" through the service. You can generally earn $3 per survey taken on Pinecone Research.
13. Toluna Influencers — Platforms: desktop and mobile web | Price: free
Answer surveys and polls for money.
14. Branded Surveys — Platforms: desktop and mobile web | Price: free
This online survey site has a 4.4/5 rating on TrustPilot and is available for those who live in the US, UK, and Canada. This is a great rewards site that pays you real money to start taking surveys and has been around since 2012. You must be over 16+ years old to sign up and can get pay via direct deposit, PayPal cash, gift cards, or prepaid Visa gift cards.
15. MySoapBox — Platforms: desktop and mobile web | Price: free
This site lets you earn money for a variety of things, from trying out new apps to taking surveys and online polls.
16.PanelPlace — Platforms: iOS, Android and desktop | Price: free
Take a variety of user surveys, polls and questionnaires and earn cash.
17. Opinion Outpost — Platforms: desktop and mobile web | Price: free
Earn money for participating in surveys and user polls via the app.
Cash Back and Receipt Scanning Apps
There are plenty of other opportunities available with cash back/receipt scanning or rebate apps to make real money. Here are some of the best apps for you to check out:
18. Rakuten Cash Back — Platforms: iOS, Android and desktop | Price: free
Earn cash back for items you're going to buy anyway. It mostly works for online shopping and allows you to earn money you can transfer directly to a linked PayPal account. Theoretically, it can be one of the highest paying apps depending on how much you shop.
19. Paribus — Platforms: iOS, Android and desktop | Price: free
Get refunds for items you've recently purchased that reduced in price or value. This is one of the best apps to make money fast.
Paribus compensates us when you sign up for Paribus using the links provided.
20. Shopkick — Platforms: iOS and Android | Price: free
Earn points for shopping, period. You can get points for just walking in the door of some stores, for completing various offers or buying popular products. You can also earn rewards for referrals.
Passive Income Money Making Apps
There are plenty of other opportunities available with passive income apps that pay. Here are some ways for you to make passive income with these apps:
21. Acorns — Platforms: iOS, Android and desktop | Price: $1 Per Month
Acorns make it easy to invest your spare change from everyday purchases. They use that money to invest in the stock market for you. But think of it this way, if you invest just $5/Day that'll net you $2k/Year! You can transfer money at any time and invest for only $1/Month. Plus if you refer a friend you'll get $5 that you can withdraw at any time.
22. Digit — Platforms: iOS, Android and desktop | Price: Free for 30 Days
Save money, pay off debt, and achieve your financial goals without thinking about it with Digit. You should be happy to join the finance revolution that's saved users $1 Billion. Digit is the smart money sidekick that keeps you financially healthy. Every day, Digit analyzes your spending and moves the perfect amount of money from your bank account to your Digit account. Plus you can join for free for 30 days just to test see if you like it
23. Slidejoy — Platforms: Android only | Price: free
Earn money by placing ads on your Android mobile device or tablet. To maximize earnings, opt to display ads and promotions every time you check your device. Truly a passive income app.
Best Money Making Apps for Selling Stuff
Another way to make money with apps? Sell your junk — these selling apps that can help you get money for your unwanted items:
24. Decluttr — Platforms: iOS, Android and desktop | Price: free
Do you want to get paid for your old DVDs, CDs, video games, or other electronics that you have lying around? Decluttr will pay you cash for them! You can try listing your junk on eBay or Craiglist, but this can prove to be quite the hassle. You can easily sell it on Decluttr for cash. This is the easiest way to sell it quickly. This app is designed well and is very convenient if you are looking to sell stuff easily. Using your phone camera as a barcode scanner, you get instant value appraisals for your old stuff. Your payments are securely processed on the app eliminating any risks with shady buyers, and both the buyer and the seller get free shipping.
25. Letgo — Platforms: iOS, Android and desktop | Price: free
Letgo is also a great app if you are looking to sell old stuff easily. All transactions happen on the app, and listings are populated by zip code, which makes it easier especially for rural buyers and sellers.
26. OfferUp — Platforms: iOS, Android and desktop | Price: free
OfferUp is an app which is great for repeat sellers. It rewards repeat sellers if they provide great customer experiences and if they get good feedback from the buyer. This app lets you check out product listings, chat with the seller, and make them counter offers as well.
27. VarageSale — Platforms: iOS, Android and desktop | Price: free
VarageSale app has a cool name which plays on "Garage Sale" with the V standing for verification. VarageSale verifies the identity of both the seller and the buyer using Facebook to make sure that they are real people. This app also makes it very easy for you to post your listing to your social media page, increasing its visibility.
28. Gazelle — Platforms: iOS, Android and desktop | Price: free
If you are like me, you probably have an old smartphone lying around in your house, made obsolete by the software upgrades – It could be an old iPhone or an Android. If you want to get rid of these phones, Gazelle is a great place to sell them. You get cash in return for your old smartphone, which is great. If you'd like to get an extra 3% bonus on your trade-in, use my Gazelle 3% bonus link by clicking here.
29. Chairish — Platforms: iOS, Android and desktop | Price: free
Chairish app is good if you are looking to sell used furniture and home decor items. Chairish verifies all offers on your items, and then sends them over to you. You can get great prices for your used items here.
30. Wallapop — Platforms: iOS desktop | Price: free
Wallapop allows you to sell just about anything on this app. It also gives you the option to pay for your listings if you want to prominently feature it and get more visibility.
31. Social Sell — Platforms: iOS | Price: free
Social Sell (iOS only) allows you to sell almost anything on this app as well. Has great chat features and in-app payment options.
32. Tradyo — Platforms: iOS | Price: free
Tradyo app allows you to sell individual items locally in your neighborhood. Items are listed by pin code, and the buyer contacts you via the chat feature in the app.
33. Facebook Marketplace — Platforms: iOS, Android | Price: free
Like these other iPhone apps that pay you money, you can list your items on Facebook. Just take a picture of what you're selling and include a short description. The best part about using Facebook to sell your items is that there are no fees and you're getting straight cash.
Money Apps That Pay You for Simple Tasks
The following are iOS and Android apps that pay you money or rewards like free gift cards for simple tasks:
34. Mobee — Platforms: iOS, Android and Desktop | Price: free
Get paid to be a mystery shopper for local stores and restaurants.
35. AppBounty — Platforms: iOS and Android | Price: free
Earn rewards and gift cards for installing, playing and using mobile apps.
36. Gigwalk — Platforms: iOS and Android | Price: free
This app helps you find gigs or premium opportunities around you, often with brands and companies in the surrounding area.
37. App Karma — Platforms: iOS and Android | Price: free
Earn rewards by trying out new apps and playing mobile games. After completing various offers, you'll earn points you can redeem for cash — via PayPal — or different gift cards.
Why Should You Use Apps That Pay?
When you officially make that leap into adulthood, it comes with a long list of responsibilities — financial ones included. That's life, and we all learn to cope and keep moving forward. But every so often, there's a small hiccup and — be it emotional, physical or otherwise — we run into a wall. Expenses like car repairs force you to spend money you're using for rent. You know you're going to be short, so you're pulling crazy overtime to make up the difference. Or, maybe you have to give up some recreational activities to make way for more responsible ones.
These things happen, and when they do, it's nice to have a little cash handy to lighten the stress load. You could always pawn some of your stuff, true, but no one likes doing that. You could also ask your family for free money, but that's no good, either. And taking out a personal loan or payday loan is an even worse strategy. Why not consider using one of these apps that pay you real money?
There Will Always Be Money Making Apps that Pay You
There you have it. If you've finished the list, you now have a solid idea of which apps pay you real money. One category that we didn't include in this list is apps that pay you to walk, but you can check a great round-up of apps here.
We wish you the best of luck on your journey to making money on your phone!
Just remember, with most of these services, consistency is key, so be diligent about completing your daily check-in and continue to use the service if you want to earn more lucrative amounts of cash or gift cards.
It's always better to use these opportunities as additional cash for smaller purchases, rather than to rely on them for a steady income.
Want free money?
Robinhood is a free investing app for your phone. I really mean free all around – free to join and they don't charge any fees to buy or sell the stock. You can get a share of stock like Apple, Ford, or Sprint for free when you join through this link. The value of the free share may be anywhere between $2.50 and $500 and fluctuates based on market movements. You've got nothing to lose.