Looking for the best bingo apps to win money?
Bingo is popular among older generations and casino-goers. But did you know that it was the Italians in the 1530s that brought us this entertaining pastime?
With over 100 million online bingo players worldwide, it's hard to argue the popularity of this rewarding game. All you have to do is daub squares as they are called and complete horizontal, vertical, diagonal, or all-four-corner patterns to win.
Bingo doesn't require a whole lot of skill, which is probably why it's great for all ages. Plus, you can play whenever you like, as long as you can keep up!
If you want to earn more for the time you spend playing bingo, several apps pay you to daub squares and claim bingo. You can even compete in cash tournaments to win big.
Our review of the best bingo apps that pay real money includes a handful or two that you can download today. Get started on your bingo journey and earn more as you play.
We'll also cover what other games you can play to earn extra cash. With so many opportunities, it comes down to which apps work the best for you and which ones make you the most money.
Are you ready to find out more about the best bingo apps that pay real money? Let's get started!
9 Best Bingo Apps to Win Money
Naming all the apps that pay you real money includes several that aren't as rewarding as playing bingo games. If you want to know how to make money online, keep reading.
Each of the game apps to win real money below offers multiple ways to earn cash prizes and virtual points. You can play free practice rounds in most cases or participate in tournaments for real cash prizes.
The truth of bingo is that you won't win every game. However, you will most likely compete with players of your same skill level in each game.
Rules will vary between apps, but the basic premise is the same. Many apps include superior graphics, in-game boosts, and multiple ways to win big if you daub it right.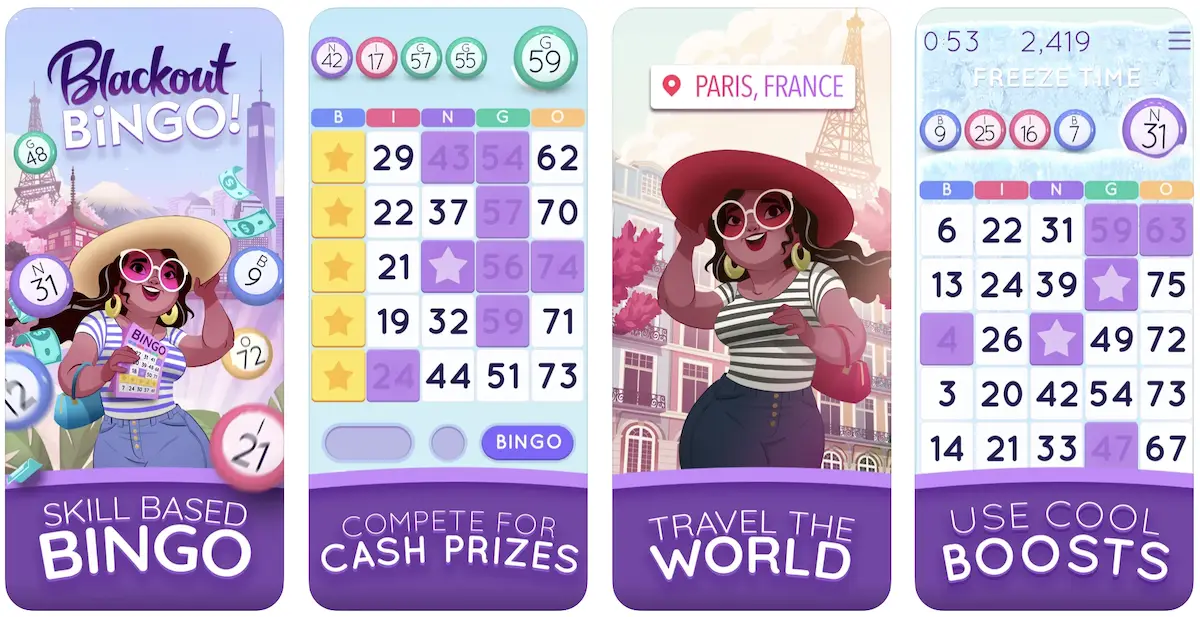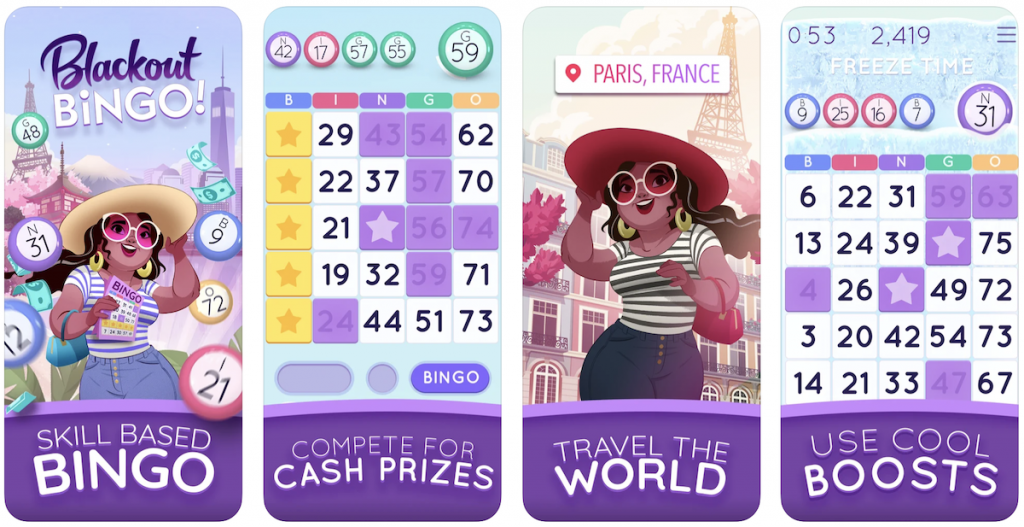 There's no redemption minimum with Blackout Bingo, a bingo app that's part of the Skillz network of games. In addition, you won't have to worry about ads or limits to how many bingo cards you can play at once.
Blackout Bingo is available from the App Store and the Google Play Store and lets you earn points every time you daub squares in the classic patterns. As you tap each number, you'll get power-ups and boosters that move you closer to cash prizes.
You can also try out free practice rounds to test out your strategy. Once you're confident in your abilities, check out the one-on-one and multiplayer cash tournaments available for as little as $0.60 per entry, if there's any entry fee at all.
Like all Skillz games, you can also redeem points for virtual and physical merchandise if you prefer. Check out Blackout Bingo if you want to get paid with this fun and exciting app.
Best for short games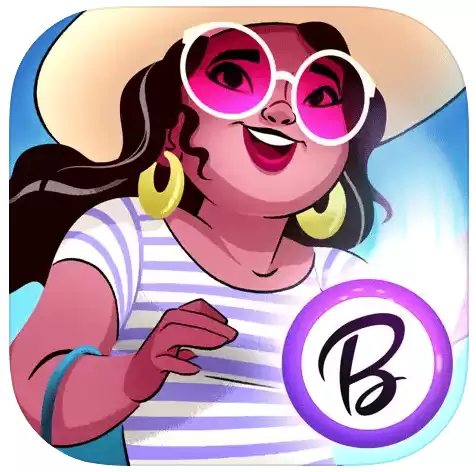 Blackout Bingo
Payout Options: Cash and Prizes
Games only take about 2 minutes to play. Users play for free to practice their skills and collect points which can result in bonus cash to further advance in their games. Players can raise their competition by joining league tournaments where they can earn serious money playing real cash matches.
Download Now (Free)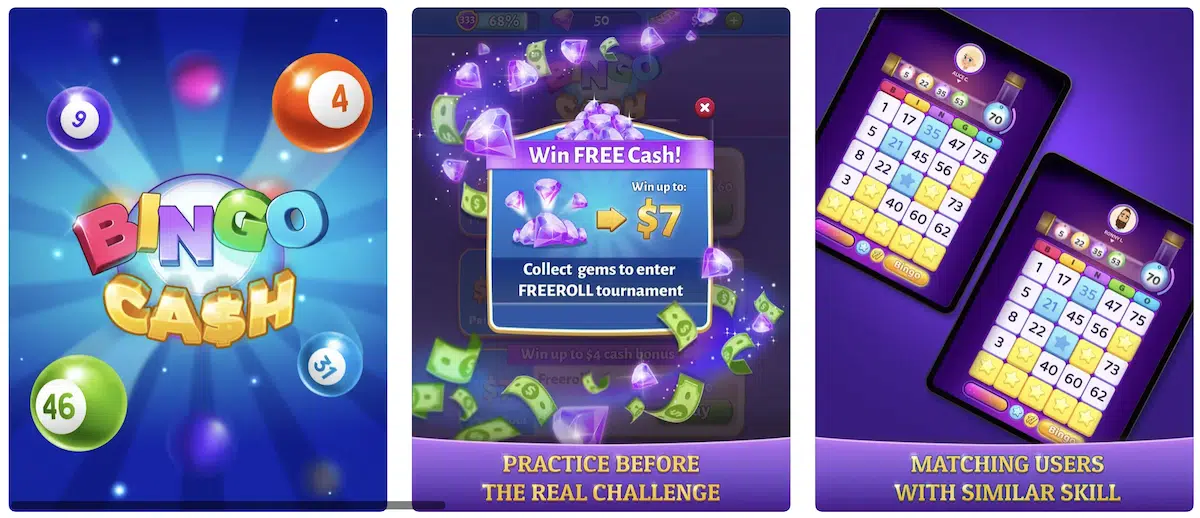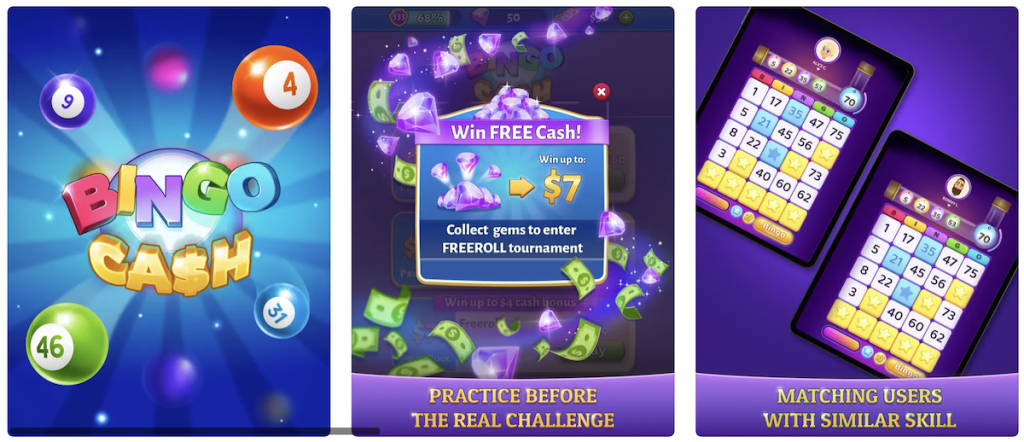 Available for both Android and iPhone users, Bingo Cash (not to be confused with Bingo Clash) is an app from Lucky that's part of the Skillz network. With Bingo Cash, you travel across the globe and visit over 50 cities as you daub squares and collect virtual souvenirs.
Bingo Cash lets you play up to four cards at a time and offers 13 different ways to win cash. Traditional bingo rules apply, including blackout rules.
You'll earn bonus points through speed and jackpots in this ad-free game. Play one-on-one or against many players in cash tournaments with real cash prizes.
You can also play minigames to win with Bingo Cash. Customer service is reportedly responsive and you can redeem your earnings via PayPal.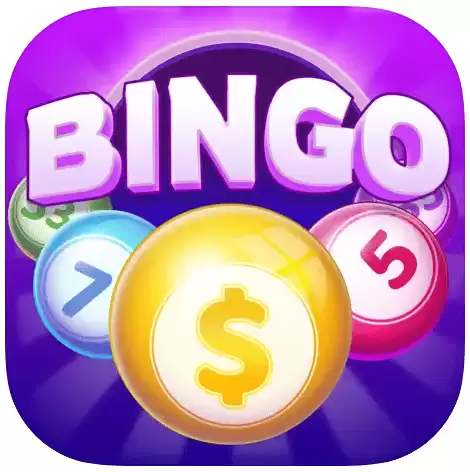 Bingo Cash
Payout Options: Cash and Prizes
Bingo Cash is where a true classic and real cash prizes meet. Jump into a world of brain-teasing fun, and leave with your heart filled with nostalgia and pockets filled with rewards.
Download Now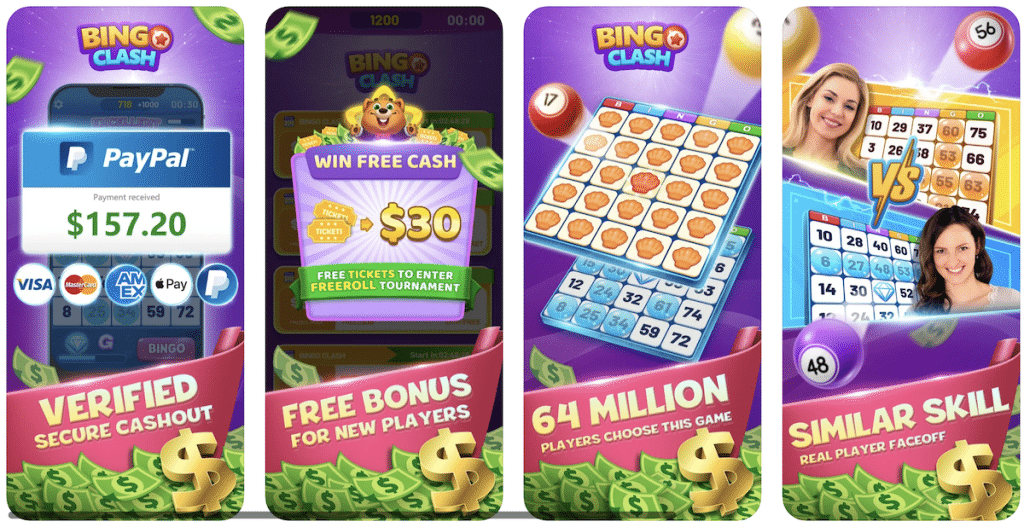 Straight from AviaGames, Bingo Clash pits players head-on against each other in single or multiplayer settings. You can also play an unlimited number of free practice rounds to hone your bingo skills.
Available for both Android and iPhone users, Bingo Clash limits you to a single card. However, you can earn more points in each game with speed and in-game boosts.
Entry fees for cash tournaments start as low as $0.60, though some are free. You can also earn cash from daily bonuses and depositing money from a linked bank account.
You'll need at least $10 in rewards to cash out with PayPal. If you compete in larger tournaments with up to 32 players, you could win a $500 prize pool.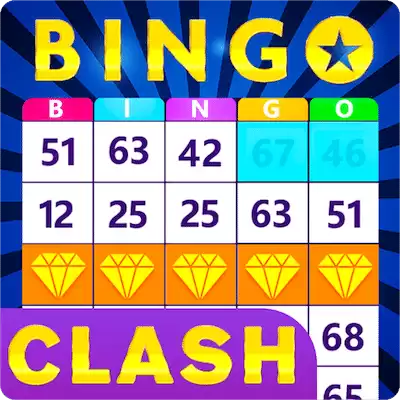 Pro tip: Tired of only bingo games? Here are other game apps to win real money
| | |
| --- | --- |
| Up to $750,000 prize pools in frequent tournaments | |
| | |
| | |
| Payout Options: Cash and Prizes | Payout Options: Cash and Prizes |
| | |
Up to $750,000 prize pools in frequent tournaments
Payout Options: Cash and Prizes
Payout Options: Cash and Prizes
See the full list of game that pay instantly to Cash App or PayPal games that pay real money here.
4. Bingo Crush
Download Bingo Crush from the App Store to your iPhone and you could win real cash to send to your PayPal account or cash out with gift cards to your favorite retailers. Bingo Crush is not available for Android users or on iPads.
Bingo Crush features two-player and multiplayer tournaments that run once per day. This requires you to set aside time in your schedule, but you can also win rewards if you make the monthly leaderboard.
5. Bingo Go
Developed by EgoGames, Bingo Go allows you to compete against worldwide players or locally with friends. This app is also available in English, Spanish, and French on both the Google Play Store and the App Store.
Like many of the other bingo apps on our list, Bingo Go lets you play for free or enter cash tournaments. Weekly and monthly challenges bring even more opportunities to earn rewards.
You can only withdraw your earnings after you've played 40 cash tournaments, which can be a steep threshold for most players. In addition, you'll also need about $22 to cash out (the equivalent of 20 Euros).
6. Bingo Paradise
Part of the Skillz network of games, Bingo Paradise puts the same challenge before several players and rewards the fastest real cash. You can also play free practice rounds and win rewards as well.
Unlike other bingo apps that limit you to a single card, Bingo Paradise lets you play up to three cards at a time. This app incorporates more boosters than other bingo apps to spice up gameplay and increase your winnings.
Redeem your Bingo Paradise points via PayPal with this app that's available for Android and iPhone users.
7. Bingo Tour
Bingo Tour offers 24/7 customer service access, making it a respected and valuable app for those who love to play bingo. You can cash out your earnings with PayPal, Apple Pay, and Visa as well, so it's convenient and fun.
You can only download Bingo Tour on the App Store. Boosters include Daub It, Gimme More, and Earn Double and you can even earn bonus tickets and cash with daily giveaways.
Bingo Tour offers both free and paid tournaments. Download Bingo Tour from AviaGames to get started today.
8. Bingo Travel
Both the Google Play Store and the App Store offer Bingo Travel, a bingo app that pays you as you compete against others to win cash. Plus, you can cash out with PayPal or a linked credit card to treat yourself.
In addition to standard bingo rules, Bingo Travel also lets you customize elements and choose the difficulty setting you want. You can play up to four cards at a time, though matches are limited to two minutes tops.
The more challenging you make the bingo games, the longer it takes to achieve bingo. However, in-game power-ups help you score more points and potentially claim victory.
9. Yatzy Bingo
A cross between Yahtzee and bingo, Yatzy Bingo comes from Monster Planet Corp., a gaming company that pays you in your spare time. This bingo app can be downloaded to both Android and iOS devices.
The game begins when you roll five dice to daub squares on your score sheet. Fill four consecutive squares in a diagonal, horizontal, or vertical pattern to earn rewards.
If you fill all sixteen cells, you can score a Yahtzee and win bonus points. This app does require more strategy than your typical daubing game, but you can still win real cash rewards if you win the most points.
Play free practice rounds to hone your skills or compete head-to-head with international players. Yatzy Bingo allows you to withdraw your points via a linked credit card, paper check, or to PayPal.
Bingo App Availability
You may be wondering why earning real money from some of these apps is not available in all states. Laws in the following states dictate that cash tournaments are similar to gambling and fall under subsequent restrictions:
Arizona
Arkansas
Connecticut
Delaware
Louisiana
Montana
South Dakota
South Carolina
Tennessee
Vermont
Other states not listed here may prohibit certain cash tournaments. Check the fine print before you play, but in most cases, you can still play free games all you like.
Other Games That Pay Real Money
If you want free PayPal money or would like to get paid to read emails, several sites will pay you for your time. In fact, some of the highest-paying survey sites pay you not only to play games but also complete other microtasks.
Here's a list of some of the most popular sites that pay you to play games:
Mistplay: Low cash-out apps like Mistplay make it easy to play several games and still win rewards.
Dominoes Gold: Play this classic dominoes game to earn rewards when you win. Check out our Dominoes Gold review for more information.
Solitaire Cube: Turn the time you already spend laying this classic card game into real cash.
Solitaire Tour: See the world with Solitaire Tour as you stack up cards in either descending or ascending order.
Pool Payday: Sink trick shots or play classic eight-ball to win with this gaming app.
21 Blitz: Have you ever wondered what a cross between Blackjack and solitaire would look like?
Swagbucks: One of the largest survey sites, Swagbucks pays you in several ways, including playing games for real cash rewards.
InboxDollars: Earn a $5 sign-up bonus when you create an account and play games.
Gamehag: Earn money with Gamehag by completing deals and tasks as well as playing games.
Download these game apps to win real money in your spare time. You never know how much you can make until you try it.
FAQs
Can you really play bingo and earn real money?
Yes, you can play bingo and earn real money with some of the best bingo apps out there. Bingo Tour, Blackout Bingo, and Yatzy Bingo are among many of the popular bingo apps you can download to make money as you play this timeless game.
How much can you earn with bingo apps?
Some bingo apps let you earn hundreds of dollars in rewards, depending on which tournaments you participate in and how much you paid for the privilege. In most cases, you'll need to place in the top three to earn real cash for your win.
Which bingo apps pay the most?
Pinpointing bingo apps that pay the most can be difficult, especially given how much each game is based on luck. However, it can be easier to win more on bingo apps that don't require as high of entry fees.
Does playing bingo require any strategy?
Playing bingo doesn't require much strategy as long as you can daub cards as they are called. In most bingo games, it's worth it to daub as fast as you can to use bonuses and power-ups for higher rewards.
Bingo is the Name of the Game
It can be hard to believe that you can actually play bingo and get rewarded for it. However, several apps exist on both the App Store and Google Play store and let you earn real cash for playing a game nearly everyone can enjoy.
Plus, you don't need a lot of skill to succeed at these apps. As long as you have the time to dedicate to each round and a quick eye and an even quicker finger, you can cash out your winnings for real money.
We hope this article has helped introduce you to opportunities to earn cash with bingo. The more you know about how to make money, even in your spare time, the more rewards you can earn as a result.
So, which bingo games are you going to download? Good luck!