A side hustle that I wanted to learn more about is getting paid to test apps.
Some consider getting paid to test apps a great money making opportunity.
After all, all you're really doing is giving your opinions on smartphone applications. Simple enough, right?
The fact is, major websites need people to play with the beta versions of their apps on different devices so they can find bugs and see how it runs on different devices.
Your reviews and feedback let them improve the app and check if people really like the concept.
So it's a win-win scenario, you're helping them out and earning a little extra cash while doing something you enjoy.
So which websites pay you to to test apps?
What websites pay you to test apps?
In most cases, app and game developers don't contact people directly.
Instead, they go to a third party website that organizes its members to road test their product.
So, to get this kind of gig (and officially become what the industry calls "a beta tester") you need to sign up for websites that offer this kind of service.
Some of the websites are free, but others ask for a small subscription fee.
Most people don't mind that they have to pay since they feel they'll be getting their money back when they get paid to test apps.
Some of the major sites are:


This is the best website you can use to get paid to test apps and websites.
You can get paid to visit a website or app at UserTesting.
Get $10 via PayPal for every 20-minute video you complete.
UserTesting pays you to visit websites or apps, complete a set of tasks, and speak your thoughts aloud.
You'll get paid through PayPal within seven days after your test is completed and approved.
This opportunity is open to people in the US, Canada, Asia Pacific, Europe, Latin America, Africa, and the Caribbean.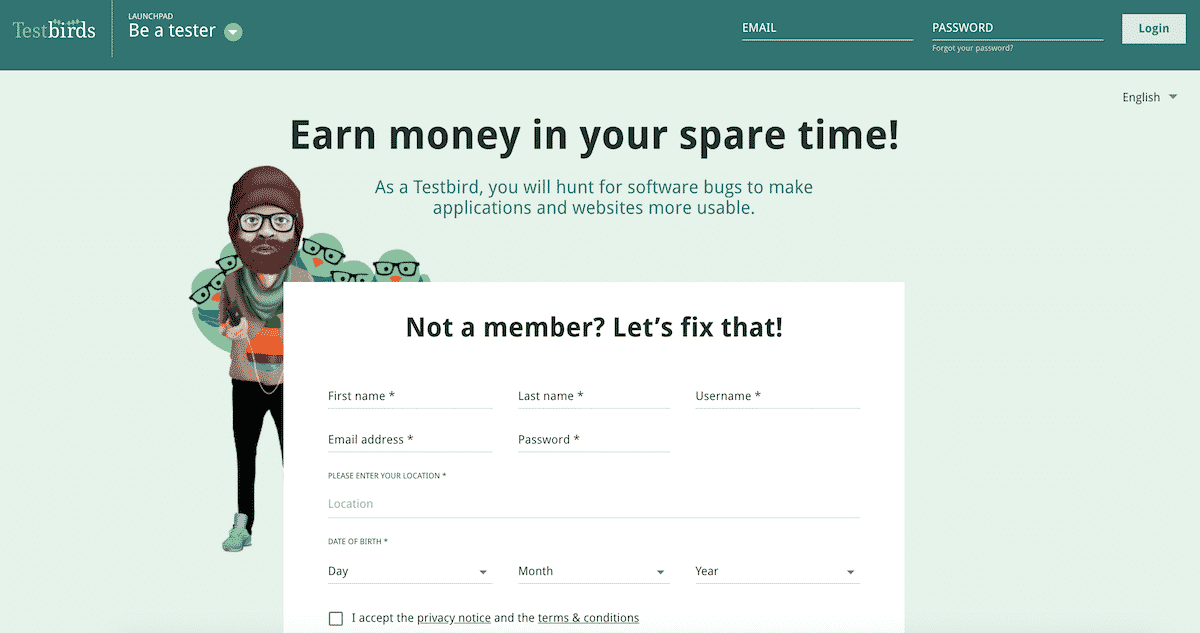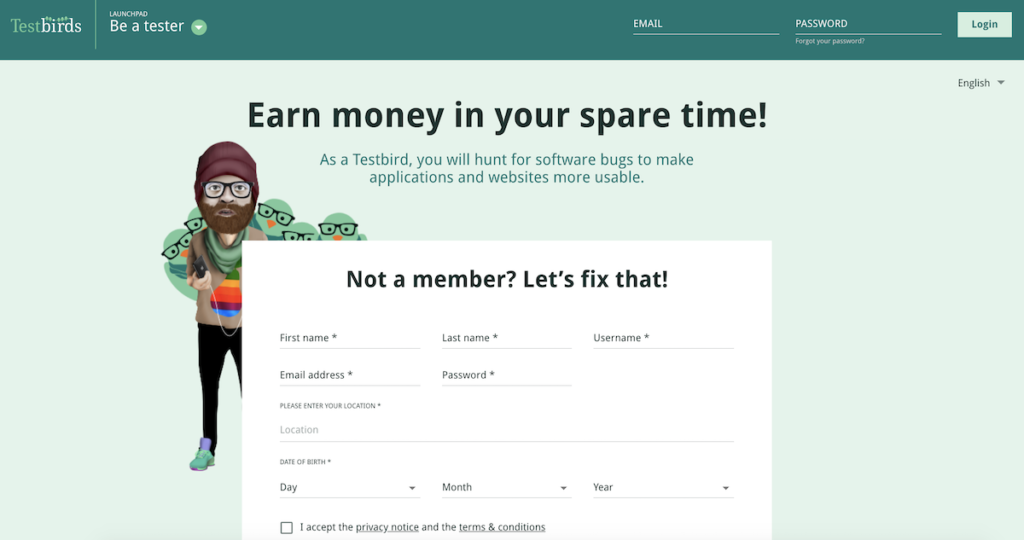 Another site that lets you test applications and websites for money. You can really earn money in your spare time with Testbirds. As a Testbird, you will hunt for software bugs to make apps and websites more usable.
You don't need any prior experience testing apps for money, but you do need a mobile device to do the tests. You can usually get around $20 per test, but it'll depend based on how complex the test is per job. If you do find any bugs, you can also get paid more.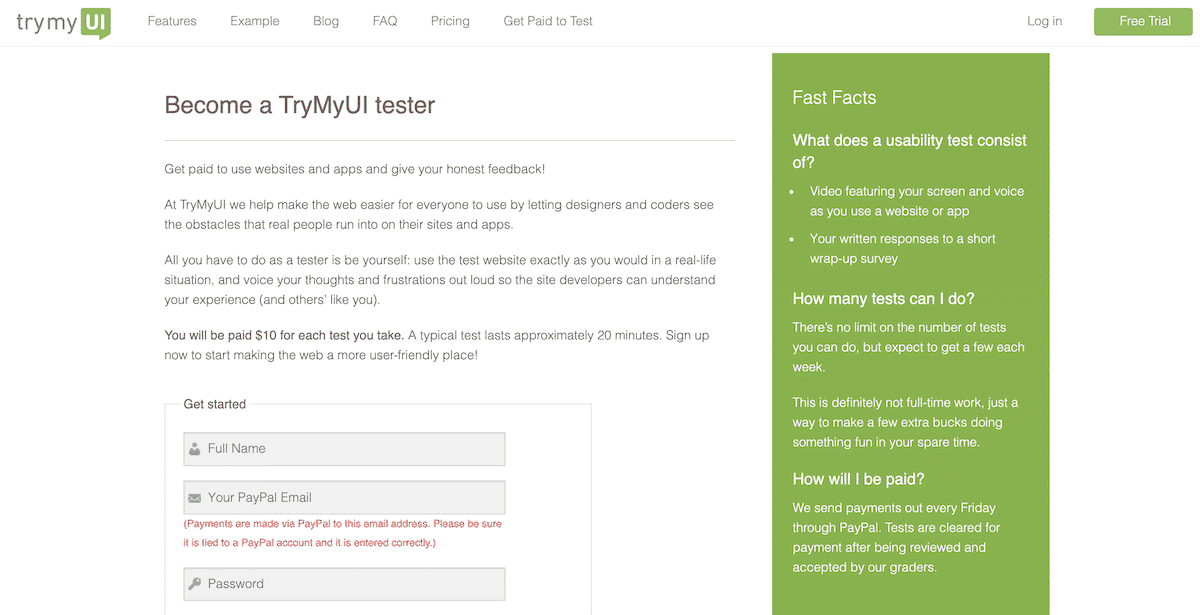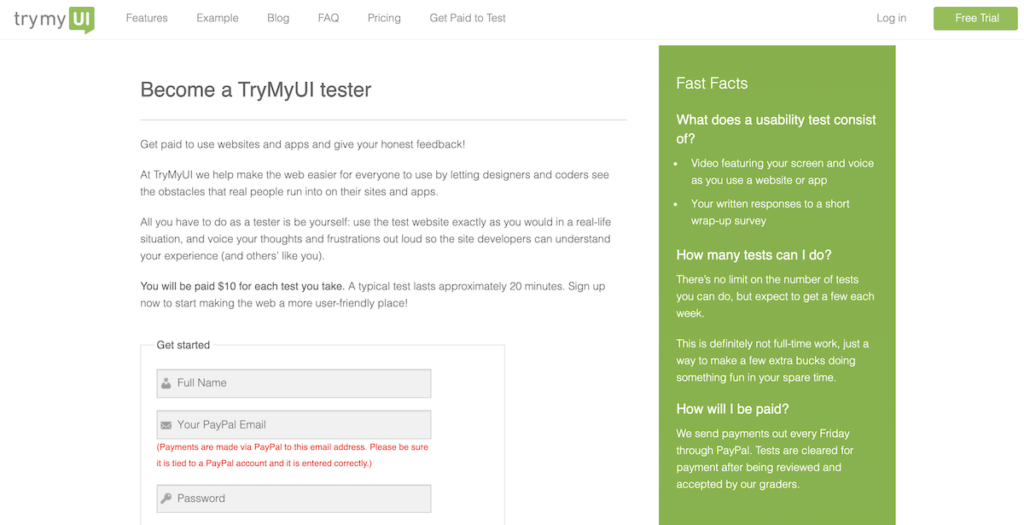 Get paid to use websites and apps and give your honest feedback by becoming a TryMyUI tester.
At TryMyUI they help make the web easier for everyone to use by letting designers and coders see the obstacles that real people run into on their sites and apps.
All you have to do as a tester is be yourself: use the test website exactly as you would in a real-life situation, and voice your thoughts and frustrations out loud so the site developers can understand your experience (and others' like you).
You will be paid $10 for each test you take. A typical test lasts approximately 20 minutes. Sign up now to start making the web a more user-friendly place.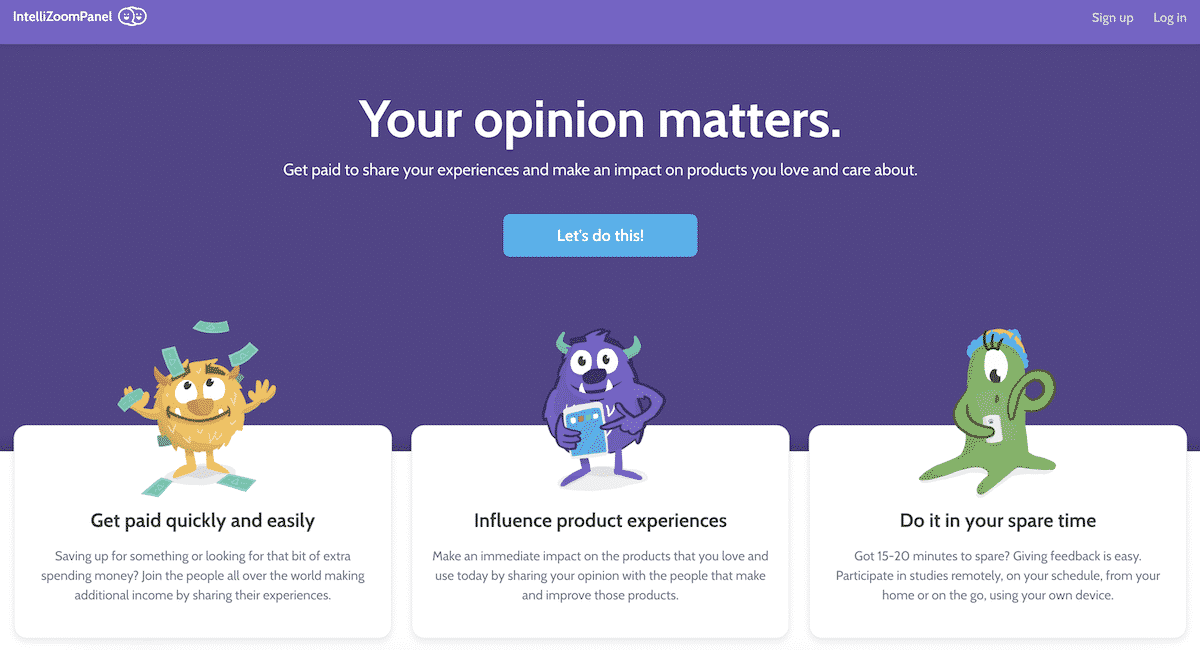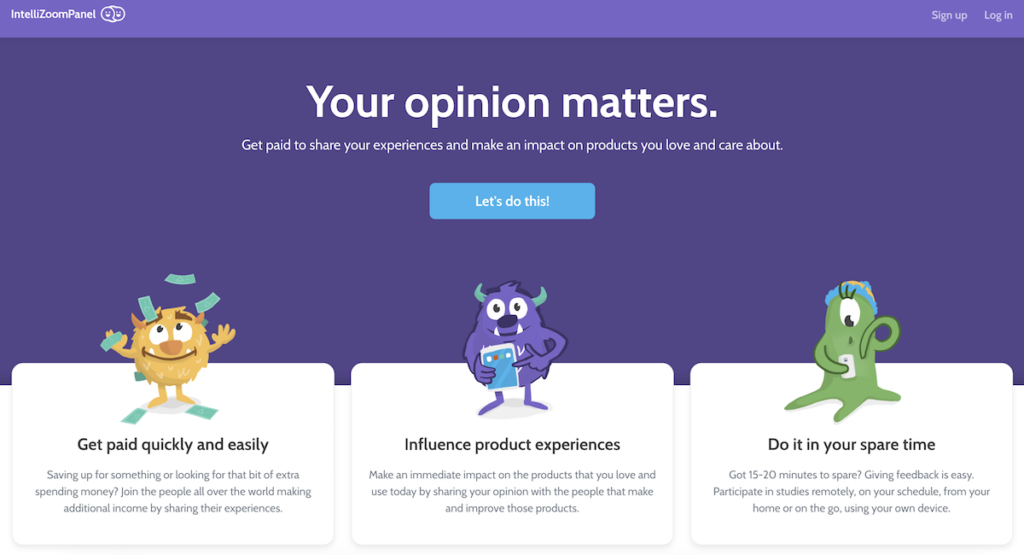 Userzoom is one of the most robust usability testing platforms in the market. Under its IntelliZoom Panel, you can get paid between $5 to $10 to test out apps and websites. You'll need to be over 18 years old and a laptop, mobile device, and a high speed internet connection.
Here you can make an immediate impact on the products that you love and use today by sharing your opinion with the people that make and improve those products.
Giving feedback is easy. Participate in studies remotely, on your schedule, from your home or on the go, using your own device.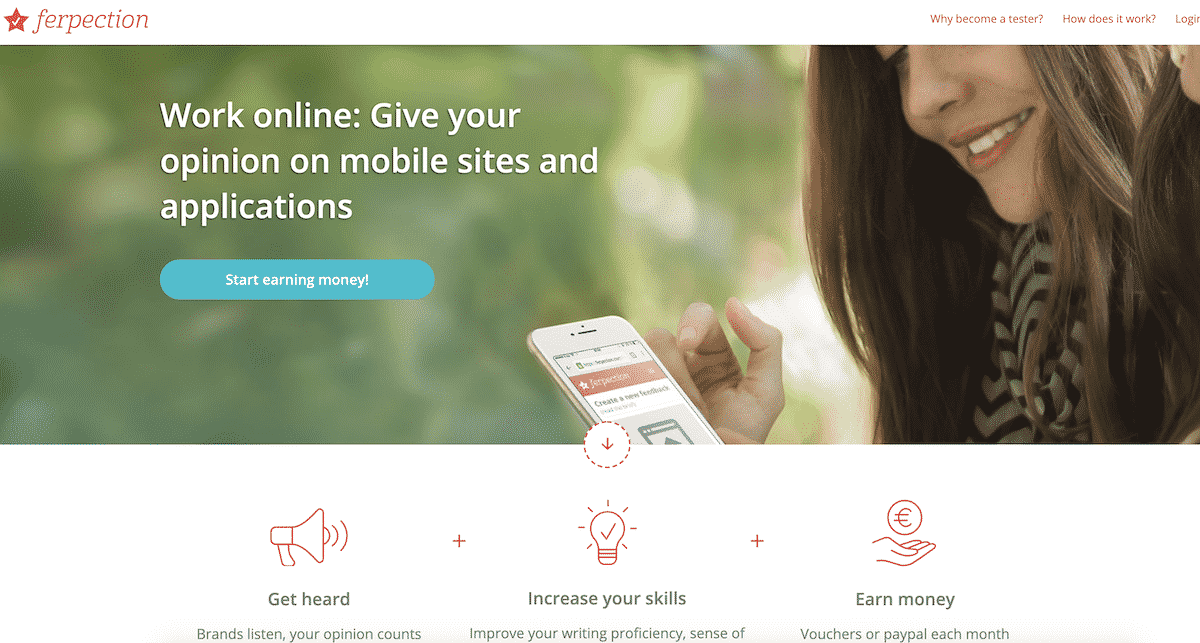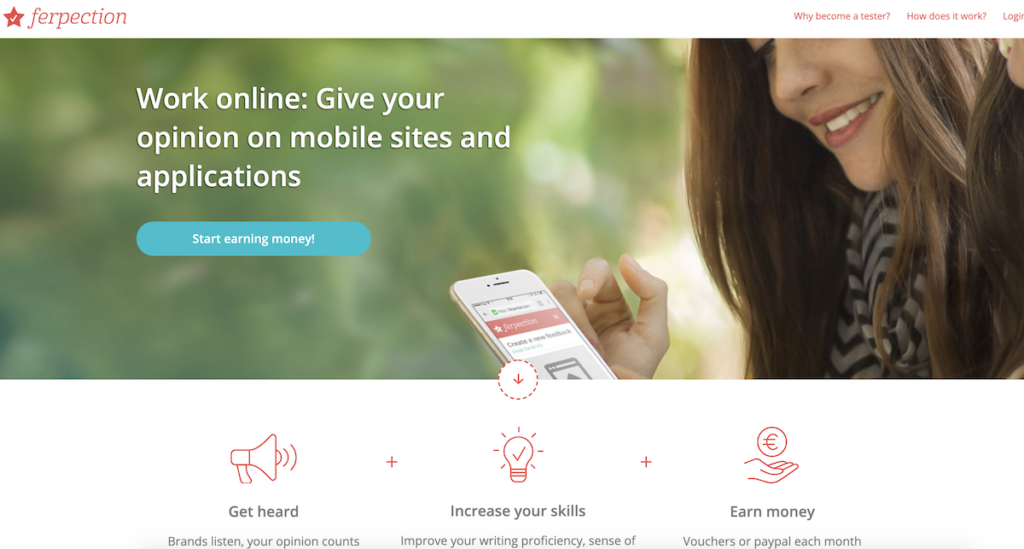 At Ferpection, you can explore sites and applications using your smartphone or tablet. You will send positive and negative feedback, and which your feedback is reviewed by moderators, you're done.
Feedback is considered a screenshot with accompaying clear descrption reporting positive or negative elements. An example would be like, "I would have liked the connection button to be more prominent… I couldn't find it!"
It's simple: register to become a tester, carry out your evaluation mission and as soon as a mission matches your profile, they will send you an email to propose you to participate.
Every month, you receive your payment by Paypal or by gift certificate.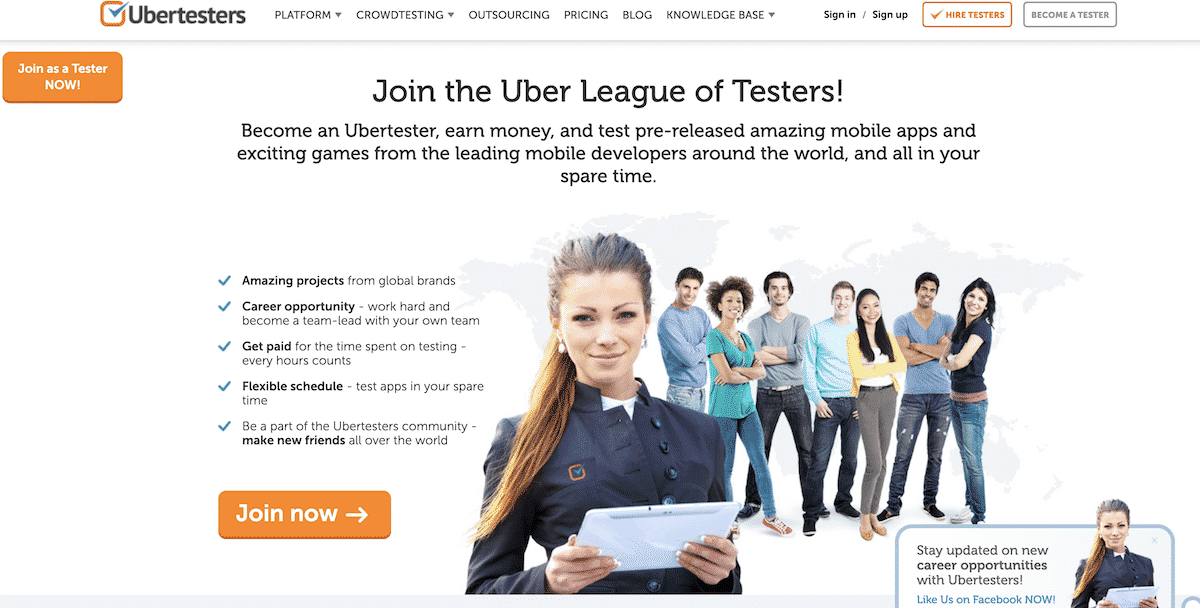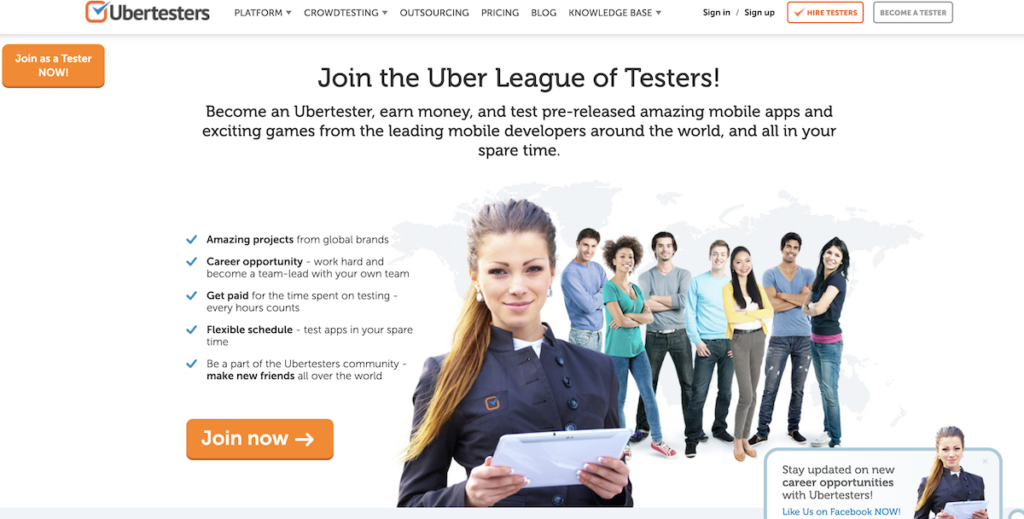 Become an Ubertester, earn money, and test pre-released amazing mobile apps and exciting games from the leading mobile developers around the world, and all in your spare time.
All you need is a smartphone or tablet, some previous experience in QA, and some free time to do the testing.
More sites that'll pay you to test apps
While the six options above should suffice if you want to get paid to test apps and websites — you have other options:
Fast facts on getting paid to test apps
What does a usability test consist of?
Video featuring your screen and voice as you use a website or app
Your written responses to a short wrap-up survey
How many tests can I do?
There's no limit on the number of tests you can do, but expect to get a few each week.
This is definitely not full-time work, just a way to make a few extra bucks doing something fun in your spare time.
How will I be paid?
Most of these sites are jobs that pay weekly so you generally get payments out every Friday through PayPal. Tests are cleared for payment after being reviewed and accepted by each website's graders.
Is all of this legit?
Yes, it is.
Once you're a member of those websites, you can view different projects and select the ones that are offered to you. Realistically, you may have to wait it out to get an assignment.
Since many app developers are targeting a particular demographic market – age, gender, location, they sometimes specify what kind of beta testers they need. You have to match this criteria before you're put into that particular app testing team.
But let's say you're finally selected to review apps on AppCoiner. What do you do next?
You will need to follow the app developer's instructions. While you are encouraged to play with the app and get comfortable with it, you're also being paid to test out specific features.
Be sure to pay attention to what actions trigger certain problems. For example, does the screen freeze when you click on this particular button? Does it take a long time to load when you play it on a tablet instead of your phone? You can't just say, "It's slow." Developers need specific, concrete feedback.
Lastly, don't be afraid to give constructive feedback. If the gameplay is boring or frustrating, do say so, you are paid to test apps not to give fake positive reviews.
How much can you earn testing apps?
The payment depends on many factors:
The website you have signed up for
Developer's budget
The kind of testing you're being asked to do
So there's a big range, maybe around $10 for a small and simple job, and $100 for a complicated RPG from a bigger developer.
So the prices aren't enough for you to get rich quickly, but for many people, it's a fun side hustle to participate in the gaming industry and try a game before it's released.
In a way, the fact that you get paid to test apps feels like a bonus for something you'd love to do anyway.
Other ways to make money with apps
You can always make money simply by downloading apps that really pay you.
You're not going to get rich by downloading mobile apps that pay you, but you can use these to earn a passive income every month. Money making apps can be a simple way to pad your bank account in your free time.
You probably know these apps aren't my favorite way to make extra money, but I make an exception for it when you're just hanging out — e.g. watching T.V., riding the metro, during your break at work, or in the back of an Uber. Might as well click a few buttons and make some money while you're at it.
Here is our list of the best money making apps if you wanted to give them a shot.