It's no secret that Amazon is an e-commerce giant. After all, the site gets 2 billion visitors monthly in the United States alone!
While we all can't be CEO of this absurdly successful company, there is a way to get your own slice of the Amazon pie.
Participating in Amazon's fulfillment-by-Amazon (FBA) program can jumpstart your earnings and put you on track to make your own million dollars.
No, seriously. I'm a Millionaire at 32, just from side hustles.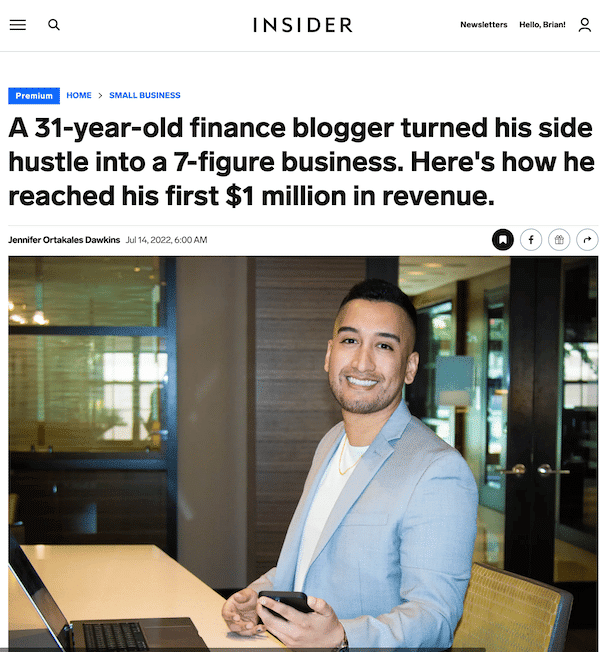 I've honed my experience in flipping items for profit by turning trash into treasure.
Now I'm eager to introduce you to the best Amazon FBA training course I've found.
How do you begin your journey with Amazon FBA?
The exciting news: there are numerous courses designed to guide you in finding and optimizing products for sale on Amazon FBA, ensuring a smiling wallet!
But, the challenge is that there are quite a few courses to choose from.
Although some courses come with a hefty price tag, our top recommendation, the Amazing Selling Machine, is a game-changer and worth every cent of its $3,000 investment.
It's no secret that making an investment in your future with Amazon FBA isn't something you should leave to chance.
That's why our team compiled a list of the best Amazon FBA courses below.
We've included everything you need to know about these courses, from how much they cost and what topics they cover to how they compare to others in the same niche.
Are you ready to learn more about the best Amazon FBA course? You can jump to our top picks here.
Your wallet is waiting. 😉
Why Learn About Amazon FBA
Every day, thousands of entrepreneurs thrive on Amazon's platform. Remember, Amazon FBA is just one golden avenue among the myriad ways to profit on Amazon.
Numerous hustlers earn by writing Amazon reviews, and some even buy unclaimed packages to flip for substantial profits.
These folks know that work-from-home jobs can give you the work-life balance you need, but you can set the bar even higher with your own Amazon business.
🚀 Here are a few perks that come with opening an Amazon FBA business:
Global Reach: By selling on Amazon, your products are accessible to millions of customers worldwide. It's like opening a shop in the busiest mall in every city of the world, all at once!
Hands-off Fulfillment: With FBA, Amazon takes care of storage, packaging, and shipping. This means you can focus on product development, marketing, and scaling your business instead of managing logistics.
Prime Eligibility: FBA products automatically qualify for Amazon Prime, making them more attractive to a vast number of loyal Prime customers who prefer fast and free shipping.
Trusted Customer Service: Amazon handles customer inquiries, returns, and refunds on behalf of FBA sellers, ensuring a smooth customer experience. This trust in Amazon's service can lead to higher conversion rates for your listings.
Streamlined Storage: Forget about renting warehouses or managing stock levels at multiple locations. Amazon's vast network of fulfillment centers takes the headache out of storage.
Multi-Channel Fulfillment: Want to sell outside of Amazon too? No problem! You can use FBA to fulfill orders from your own website or other sales channels.
Buy Box Advantage: Using FBA increases your chances of winning the coveted "Buy Box" on Amazon listings, which can significantly boost sales.
Enhanced Advertising: With FBA, you get access to Amazon's advertising and promotional tools, helping your products gain visibility and traction.
Seasonal Scalability: Whether it's the holiday rush or back-to-school shopping, Amazon's infrastructure is built to handle peak seasons, allowing you to capitalize on increased demand without logistical nightmares.
International Selling Made Easy: Amazon's Global Selling program enables FBA sellers to offer their products in multiple international markets. They assist with customs, duties, and local customer service.
If you're looking for passive income ideas, Amazon FBA is definitely worth looking into. You can quickly start with a few products and work up from there.
Ready to discover the best Amazon FBA course for you? Keep reading.
9 Best Amazon FBA Courses
The best Amazon FBA courses aren't free but can help you boost your income.
Consider these courses an investment in your future because you might earn 5 to 10 times as much with a successful Amazon FBA business.
Let's help you find the best Amazon FBA course for you: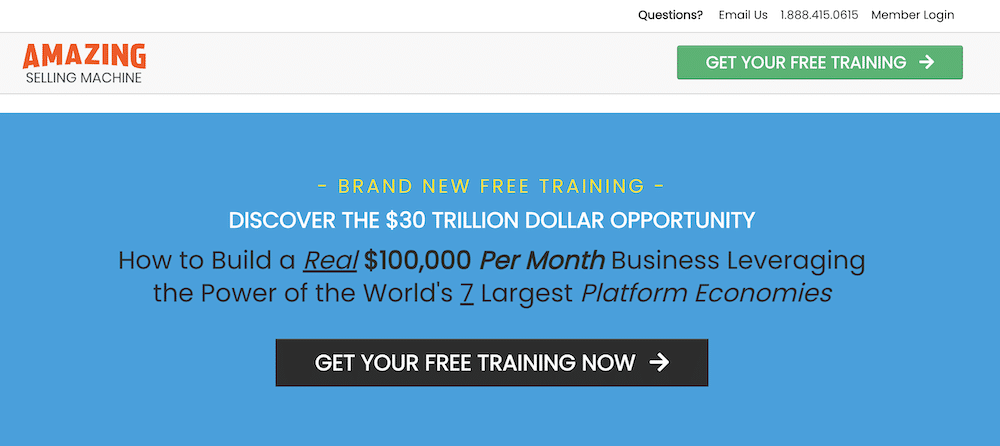 For those of you looking for a proven Amazon FBA course, then you'll likely come across Amazon Selling Machine, which I consider one of the best Amazon FBA courses for selling on Amazon.
If you want the low-down on how to make money with Amazon FBA, the Amazing Selling Machine course offers significant value.
But is it worth it? You can watch the video below to see a great review on the course.
Like most Amazon FBA courses, it comes at a cost. This course costs $2,997, but you can also pay for it in four $750 monthly installments.
Amazing Selling Machine is a full-stack course founded by Matt Clark, who has personally sold over $200 million on Amazon and has helped students sell an estimated $9 billion online.
This means it is a proven Amazon course, but since it comes at a higher cost than other FBA courses in our list, it's more tailored for those more experienced in the game and those interested in Amazon FBA private label selling.
But what are you paying for?
🚀 Learn How to Skyrocket Your Sales with Monthly Strategies:
✨ Transform from $1,000 to $10,000 monthly sales
🔍 Discover winning products
🛍️ Kickstart your Amazon FBA empire
📦 Master inventory orders
🌟 Craft compelling brand assets
🏆 Design profit-driven product listings
🚀 Launch & rank your brand to the top
📈 Optimize ads and watch your sales soar!
Payment for this course earns you lifetime access to course modules.
This feature makes it easy to reference specific sections when you're having trouble and puts less pressure on you to soak up the material quickly (which we liked).
Matt Clark also offers a 30-day money-back guarantee, so you can try the course without making a huge commitment if it doesn't jive. If the course isn't what you want, simply request a refund.
Or, you can try out their brand new free training if you don't want to commit right now.
You can also opt for the Amazing Pro Platinum monthly program, which offers seller support and coaching programs.
You can try this program for $1 for the first 90 days, but you must agree to a $199 monthly fee to continue after that.
Amazon Selling Machine details
Program/Course: Amazing Selling Machine
Product Owner: Matt Clark and Jason Katzenback
Current Pricing: $4,997 (6 monthly payment option available)
30-Day Money Back Guarantee
My Rating: 9/10 (Great Amazon FBA course, just pricey)
Visit ASM here: Amazing Selling Machine

The Last Amazon Course might be your first (and last). At only $1 per week, it's an affordable way to invest in your future.
You can also pay $39 for lifetime access. If you plan on using this course for more than a year, we suggest paying this lump sum to save yourself some money (after all, 52 weeks would be $52 at $1 per week).
The Last Amazon Course is one of the most affordable Amazon FBA courses.
🚀 It also offers much more than you pay for, with topics like:
Getting Started with Amazon Selling: Dive into the world of Amazon with this primer on the basics of e-commerce and kickstarting your Amazon selling journey.
Unearth Winning Products: This section will guide you on the art of spotting the perfect products to feature on Amazon.
Crafting and Refining Product Listings: Master the nuances of creating product listings that not only capture attention but also rank high on Amazon searches.
Strategies for Product Pricing: Harness competitive pricing techniques to enhance your sales and revenue.
Decoding Amazon's Buy Box Algorithm: Understand the intricate algorithm that Amazon uses to pick merchants as the default seller.
This is a relatively long course, so take time to digest the lessons as you work through them.
Each lesson is a step-by-step tutorial, so you can efficiently work through the course at your pace.
The Last Amazon Course details
Program/Course: The Last Amazon Course
Product Owner: Brock Johnson
Current Pricing: $39 for lifetime access
30-Day Money Back Guarantee
My Rating: 8.5/10 (Great price)
Visit ASM here: The Last Amazon Course
3. Proven Amazon Course (Best for Expanding Beyond Amazon)

Looking to amplify your Amazon selling game? If the name doesn't say it all, the wealth of information you can access with the Proven Amazon Course represents a screaming deal. This course is best for beginners and only costs $39 per month.
If unsatisfied, you can also take advantage of the 30-day money-back guarantee.
This Amazon course offers a comprehensive curriculum tailored for aspiring and current Amazon sellers.
🚀 Here's what you'll dive into:
Proven Prep and Ship: Get hands-on with techniques that not only streamline your prep and shipping processes but also amplify your profits and drastically cut down errors.
Advanced Sourcing Using Keepa: Navigate the intricate world of product sourcing with Keepa, an influential Amazon sales tracker. Gain insights on making profitable purchase decisions like a pro.
Virtual Assistant Integration: Ever wondered how top sellers manage their time so efficiently? The answer often lies in hiring virtual assistants. This module gives you a roadmap to integrate, manage, and maximize virtual assistants to bolster your Amazon business.
Proven Product Partnering: Step up your sourcing game by collaborating with successful Amazon sellers. This session unveils the secrets to expanding inventory, enhancing product variety, and elevating sales.
Trade Show Mastery: Believe it or not, you can conquer the ecommerce domain without ever stepping into a trade show. Find out the hacks to do it right.
Kindle Direct Publishing Course: Unleash the author in you! Transform your manuscripts into a flourishing business on Amazon's Kindle platform with tips and tricks tailored for success.
You can cancel your subscription at any time. This can make it more expensive than other courses on our list, but it does help you spend less upfront.
Many Amazon FBA business owners found this course helpful because it offers step-by-step modules that grow with your business. At the same time, you don't need a lot of prior knowledge to get started.
In essence, 'The Proven Amazon Course' is not just a course — it's a treasure trove of tried and tested strategies. Highly recommended for anyone keen to ascend in the Amazon marketplace!
Proven Amazon Course details
Program/Course: Proven Amazon Course
Product Owner: Jim Cockrum
Current Pricing: $999 (or $39 per month)
30-Day Money Back Guarantee
My Rating: 9/10 (Course has been put together by professionals who know how to sell on Amazon)
Visit ASM here: Proven Amazon Course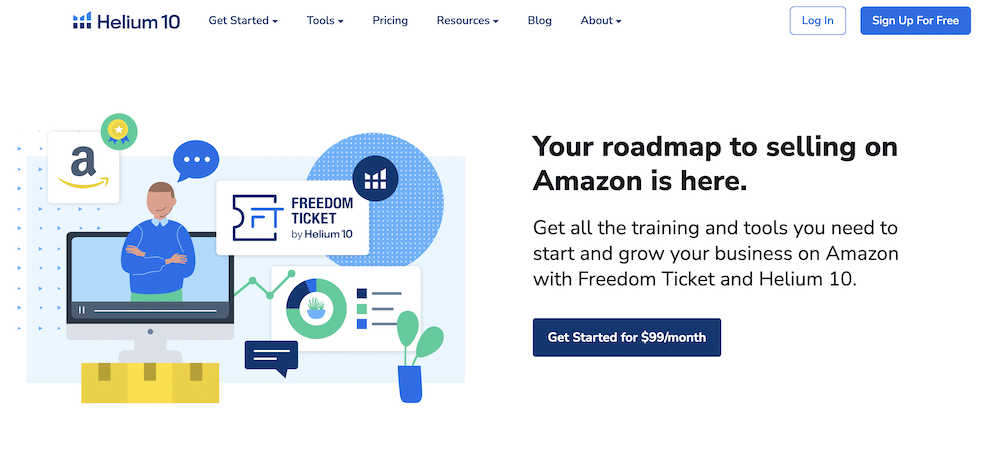 If you're already signed up through Helium 10, the Freedom Ticket course is free with your monthly subscription. However, you can also purchase the course as a standalone product for $997.
Helium 10 offers several tools you can use as an Amazon seller, including Refund Genie, Magnet, Cerebro, Xray, and Index Checker. Freedom Ticket, developed by Kevin King, shows you how to take your business idea to the next level with Amazon FBA.
Freedom Ticket does offer certification, which can be helpful if you're looking to take over brands from clients or simply show off your newfound knowledge. Over 2,000 students have earned their certifications thus far.
This particular Amazon FBA course is best for beginners.
🚀 Topics include:
The basics of selling on Amazon
Finding and manufacturing a product
Freight and logistics
How to make sales pages
Launching your brand
Using Amazon advertising
Though there is some bias toward the rest of Helium 10's products, this course offers critical insights necessary for Amazon FBA success. It's also on the more affordable side compared to other courses on the list.
Helium 10 details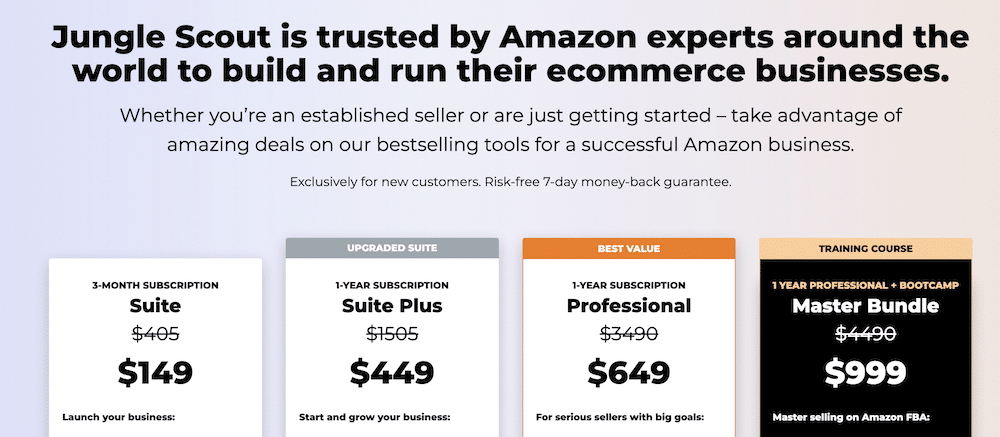 You can use Jungle Scout as a tool for your Amazon selling activities. It helps you conduct product research, track competitor sales data, identify profitable niches, and more.
Additionally, Jungle Scout provides you with educational resources, including webinars, tutorials, and other learning materials.
You must choose between three different subscription plans when you sign up for Jungle Scout Freedom Bootcamp.
These plans are:
Basic is $349 for 12 months of access
Suite is available is $589 for 12 months of access
Professional is $999 for 12 months of access
The Freedom Builder Bootcamp comes with live coaching and additional bonus content. It also evolves with Amazon to include the latest information.
🚀 Topics within this Amazon FBA course include:
Product research
Sourcing and shipping products
Listing creation and product launch
PPC advertising
Amazon brand registry
Scaling
Advanced strategies
This course is mainly geared toward newer Amazon sellers. You can also use Jungle Scout's range of tools to research and list products.
Plans come with a seven-day money-back guarantee and are self-paced. You can also access a community of Amazon sellers and tap into their knowledge as well.
Jungle Scout Freedom details
Program/Course: Jungle Scout Freedom
Product Owner: Greg Mercer
Current Pricing: Starting at $349 for 12 months of access
7-Day Money Back Guarantee
My Rating: 9.5/10 (Comprehensive coverage of Amazon business strategies and tactic)
Visit ASM here: Jungle Scout Freedom Course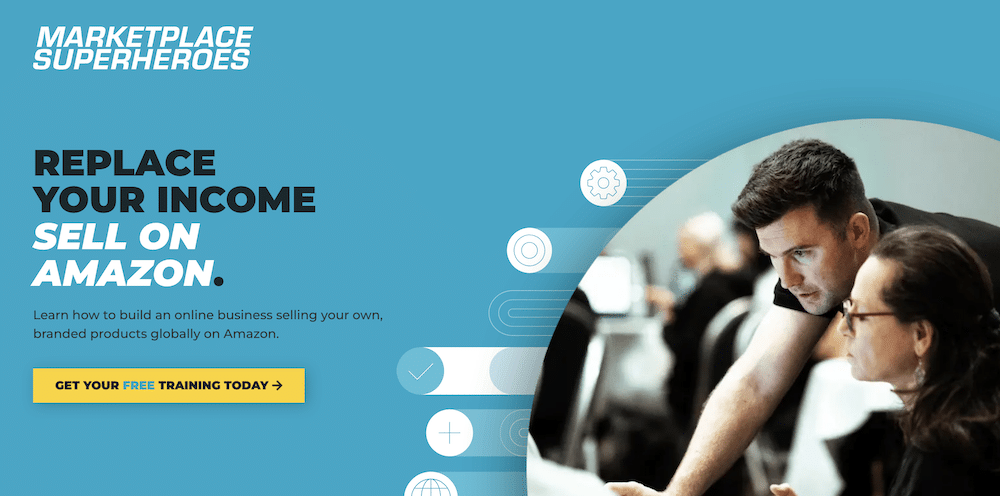 The Marketplace Superheroes course is best for entrepreneurs and business owners looking to branch out. This course costs $997 but comes with a 30-day money-back guarantee and a no-questions-asked return policy.
The course itself is well-structured and easy to follow. You'll move between written content and videos explaining various topics, including:
Selecting products
SEO and keyword analysis
Purchasing from suppliers
Videography and photography
Branding and packing
Shipping
Managing your Amazon account
PPC marketing
Expansion and entry into new markets
Unfortunately, most of the video content consists of speakers reading from PowerPoint presentations. All the same, you can easily skip through slides at your own pace without having to worry about audio.
If you need a more affordable way to pay for this course, you can make four monthly installments of $297. Complete the course, and you're well on your way to opening a successful Amazon FBA business.

At $3,995, the Blue Sky Amazon course is one of our list's most expensive. However, it comes with a 30-day money-back guarantee, so you can rest assured your money is well spent.
Blue Sky Amazon is a course created by Sophie Howard. She covers product selection and the basics of sales funnels in the course.
Given the cost of this Amazon FBA course, you might consider something a bit more affordable and comprehensive. However, you may find that Sophie explains concepts in such a way that makes it easier for you to get started with Amazon FBA.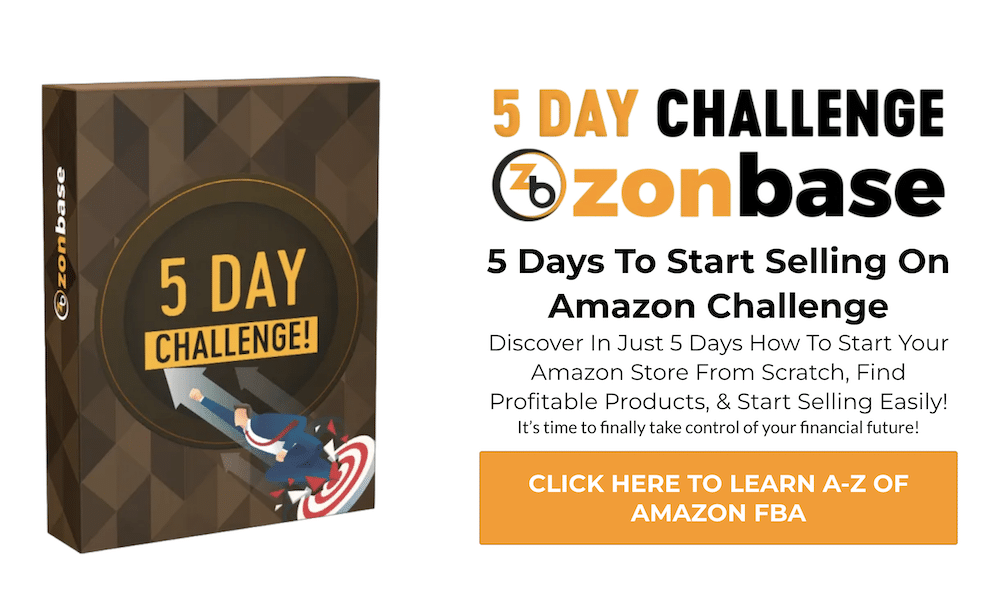 Costing a whopping $1, this 5-Day Challenge course only requires a workweek of your time. However, it's geared more toward experienced Amazon FBA sellers, so consider that if you're brand-new to the game.
The course does push the Zon Base software you can use to find profitable products to sell on Amazon. However, you get a 14-day free trial of the software with the course, so it's an excellent way to test it before you buy.
Topics within this course include:
Product research
How to find suppliers
Product listing and optimization
Though some question the course founder's reputation, this course is relatively cheap and straightforward. It's also time-oriented to give you the most knowledge in a short amount of time.
9. The Wholesale Formula
Some people ask about the formula for getting rich. With The Wholesale Formula Amazon FBA course, you can find an answer.
This well-structured course is $2,497 or $997 per month for three months. Your purchase comes with a 14-day money-back guarantee.
Geared toward business owners, The Wholesale Formula is one of the best Amazon FBA courses available. Areas of interest include:
Product research
Sourcing
Listing optimization
PPC advertising
Inventory management
Shipping and logistics
Brand building
This course covers everything from creating your Amazon FBA account to marketing your new business. If you want to pay for the standard course but can't afford a lump sum payment, you can also pay in four monthly installments of $874.
Benefits of Amazon FBA Courses
Do you need to complete an Amazon FBA course to get started with this Amazon service? No, but you stand a better chance of succeeding if you do.
Amazon FBA courses provide the framework you need to understand where you are in the process and what your next steps should be. Understandably, everyone has their own path to tread with Amazon FBA, but when you have expert guidance, each step becomes more manageable than the last.
Participating in Amazon FBA courses also gives you the confidence to pursue this passive income source. You can also network with other Amazon FBA sellers and share your thoughts and experiences.
Even if you end up ditching your Amazon FBA business or selling it for profit, you can learn to build a brand, establish customer service tools, and use your knowledge to benefit your next adventure. An Amazon FBA course is just the beginning.
FAQs
What is Amazon FBA?
The "FBA" in Amazon FBA stands for "fulfillment by Amazon." With this service, Amazon stores and ships products when you sell them through its website. This service is provided by Amazon that allows sellers to store their products in Amazon's fulfillment centers. Amazon then takes care of storage, packaging, and shipping of the products to the end customers.
Here's a breakdown of how it works:
Shipping to Amazon: Sellers send their products to Amazon's fulfillment centers.
Storage: Once received, Amazon stores the products in their warehouses.
Listing Products: Sellers list their products for sale on the Amazon marketplace.
Order Fulfillment: When a customer places an order, Amazon picks, packs, and ships the product on the seller's behalf.
Customer Service & Returns: Amazon handles customer service inquiries and returns for FBA orders.
Payments: Amazon collects payment from the customer and, after deducting their fees, sends the balance to the seller.
The benefits of using Amazon FBA include:
Prime Eligibility: FBA products are eligible for Amazon Prime, which can lead to increased sales since many Amazon customers prefer purchasing Prime-eligible products due to the benefits like two-day shipping.
Trustworthiness: Products fulfilled by Amazon tend to be trusted more by customers, as they expect Amazon's customer service and return policies to apply.
Hands-off Fulfillment: Sellers can focus on sourcing and listing products, without worrying about the logistics of storage, shipping, and handling returns.
Potential for International Sales: Using Amazon's Global Selling and FBA services, sellers can offer their products to customers outside their home country.
However, there are also some challenges and costs associated with FBA:
Fees: Amazon charges storage fees for products stored in their fulfillment centers and fulfillment fees for order processing, picking, packing, and shipping.
Complexity: There are strict guidelines for how products must be prepped and shipped to Amazon's fulfillment centers. Not following these can result in additional fees or refusal of inventory.
Inventory Risks: If products don't sell quickly, long-term storage fees can accrue, and there's also the risk of inventory becoming obsolete or damaged in the warehouse.
Commingling Issues: Unless sellers use the stickered inventory option, their products might be commingled with the same products from other sellers. This can occasionally lead to quality control issues.
In conclusion, while Amazon FBA offers many benefits that can simplify the selling process and potentially increase sales, it's essential for sellers to understand the associated fees and challenges. Proper research and calculations should be made to ensure profitability and the desired level of control over inventory and customer experience.
Can you make money with Amazon FBA?
Yes, many entrepreneurs have made significant money with Amazon FBA. Amazon FBA courses can help you start and grow an Amazon FBA account.
However, just like any business venture, success is not guaranteed, and the amount of money one can make varies widely based on various factors.
Here are some factors to consider and steps to potentially achieve profitability with Amazon FBA:
Product Selection: Choosing the right products is crucial. Research products that have high demand but low competition, and ensure the product is of good quality to avoid high return rates.
Cost Structure: Understand all the costs involved – from sourcing and producing the product, shipping to Amazon, Amazon's storage and fulfillment fees, and any advertising or marketing costs.
Pricing Strategy: Pricing products competitively, while ensuring a decent profit margin after all expenses, is essential. Regularly reviewing and adjusting pricing can help maintain competitiveness.
Inventory Management: Efficiently managing inventory helps in avoiding long-term storage fees and stockouts, both of which can eat into profits.
Optimized Listings: Ensure product listings are optimized with high-quality images, compelling product descriptions, and relevant keywords. This can help products rank higher in Amazon's search results.
Customer Reviews: Positive reviews can significantly boost sales. Promptly addressing any customer concerns and ensuring the product delivers on its promise can lead to better reviews.
Advertising: Using Amazon's advertising platform, Amazon Sponsored Products, can help increase product visibility and sales, especially when launching new products.
Ongoing Learning: The Amazon marketplace is continually evolving. Staying updated with the platform's changes, industry trends, and best practices can help sellers adapt and thrive.
Diversification: Don't rely on a single product. Over time, diversifying the product range can help stabilize income and mitigate risks associated with the dependence on one product's performance.
Monitor & Analyze: Regularly monitor sales, profit margins, and other key performance indicators. Using Amazon's analytics tools and other third-party solutions can offer insights into areas of improvement.
Challenges and Considerations:
Competition: The Amazon marketplace is competitive. New sellers can face competition from established sellers and even Amazon's own private label products.
Fees: Amazon FBA fees can be substantial. It's essential to factor in all costs to determine profitability accurately.
Regulations & Policy Changes: Amazon has strict policies, and they can change. Sellers need to ensure they remain compliant to avoid potential account suspension.
Economic Factors: External factors, like economic downturns, can impact consumer spending and thus sales.
In conclusion, while many sellers have found success and made money with Amazon FBA, it's crucial to approach it with the same rigor, research, and dedication as any other business venture. With proper planning, ongoing effort, and adaptability, sellers can navigate challenges and build a profitable business on Amazon.
How much does it cost to sell on Amazon?
Selling on Amazon involves a variety of fees, and the exact amount you'll pay depends on the selling plan you choose, the type of products you sell, how you decide to fulfill orders, and other factors. Here's a breakdown of the primary costs associated with selling on Amazon:
Selling Plans:
Individual Plan: No monthly subscription fee. Instead, you pay $0.99 for each item sold. This plan is suitable for those selling fewer than 40 items a month.
Professional Plan: $39.99 per month, plus additional selling fees. This plan is ideal for those selling more than 40 items a month.
Referral Fees:
Amazon charges a referral fee on each sale, which is a percentage of the total transaction (including the product price and any shipping or gift wrap charges). This fee varies by category, typically ranging from 6% to 45%, with most categories falling between 12% and 15%.
Fulfillment Fees (if using Amazon FBA):
Pick & Pack Fee: Cost for handling and packing the product.
Weight Handling Fee: Cost based on the weight of the product.
These fees vary depending on the size and weight of the product and the time of year (fees may increase during the busy holiday season).
Storage Fees (for Amazon FBA):
Monthly Inventory Storage Fee: Based on the volume (in cubic feet) of products stored in Amazon's warehouses. This fee can vary depending on the season (higher from October to December).
Long-Term Storage Fee: If items have been in Amazon's warehouses for over 365 days, there's an additional storage fee.
Shipping Fees:
If you're using Fulfillment by Merchant (FBM), you'll handle shipping costs, which will depend on your chosen carrier and service level.
If using Amazon FBA, some of the shipping costs are embedded in the FBA fees, but remember you'll still need to ship your products to Amazon's warehouses.
Closing Fees:
For media items (like books, music, videos), there's a flat $1.80 closing fee on all sold items.
High-Volume Listing Fee:
If you have a large number of listings that don't sell, you may incur a fee.
Removal Order Fees:
If you wish to remove or dispose of items in Amazon's warehouse, there's a fee depending on the item's size and weight.
Returns Processing Fee:
For categories where Amazon offers free returns, if a customer returns an item, you'll be charged a returns processing fee, which is the equivalent of the original fulfillment fee.
Rental Book Service Fee:
If you're renting out books, Amazon charges a rental book service fee of $5 for each rental.
Other Costs:
Advertising: If you choose to advertise your products on Amazon using Amazon Advertising, this will be an additional cost.
Amazon's Subscription Services: Tools like Amazon Brand Registry, Enhanced Brand Content, and A+ Content come with their costs.
It's crucial to understand and monitor these fees closely. Given the range of potential charges, it's easy for newcomers to miscalculate their margins. When considering selling on Amazon, perform a comprehensive cost analysis to ensure profitability.
Sell Instead of Spend on Amazon with These Courses
Amazon FBA courses include everything you need to know about the lucrative opportunity of selling on Amazon. After you complete an Amazon FBA course, you'll know exactly how to start and grow your new side hustle that could become your primary income source.
We hope this article helps determine which Amazon FBA course is best for you. While some courses require a substantial investment, they can be well worth it.
The knowledge you gain from these courses is also something you can pass along to earn extra money. Start your Amazon FBA journey off on the right foot with one of the courses above.
Which of the best Amazon FBA courses will you enroll in?